Dubai is really a fascinating and exciting place to discover with kids. There are so many things to do and see in Dubai with children which make it the perfect travel destination for families..
Vacationing with kids means selecting attractions that will keep their little minds occupied throughout.
Fun is a key factor to consider when choosing a destination and knowing all the kid-friendly places in Dubai in advance is a great help when planning a vacation. There are so many fun attractions in Dubai for kids and we are going to show you some of the best places to visit in Dubai with kids.

Dubai is the easiest destination to plan for a vacation with kids. Most families with children select Dubai as their favourite destination for family holidays. This is primarily because the city offers a wealth of comfort, facilities and is extremely safe. Dubai has a remarkable collection of attractions for kids that will make your jaw drop. If you look beyond Dubai's metallic towers, you can find plenty of fun activities to do and places to see. Without further ado, let's see what Dubai has in store for young visitors.
Your Ultimate Guide for the Best Places to Visit in Dubai with kids starts here
Aquaventure Waterpark, best water adventure in Dubai with children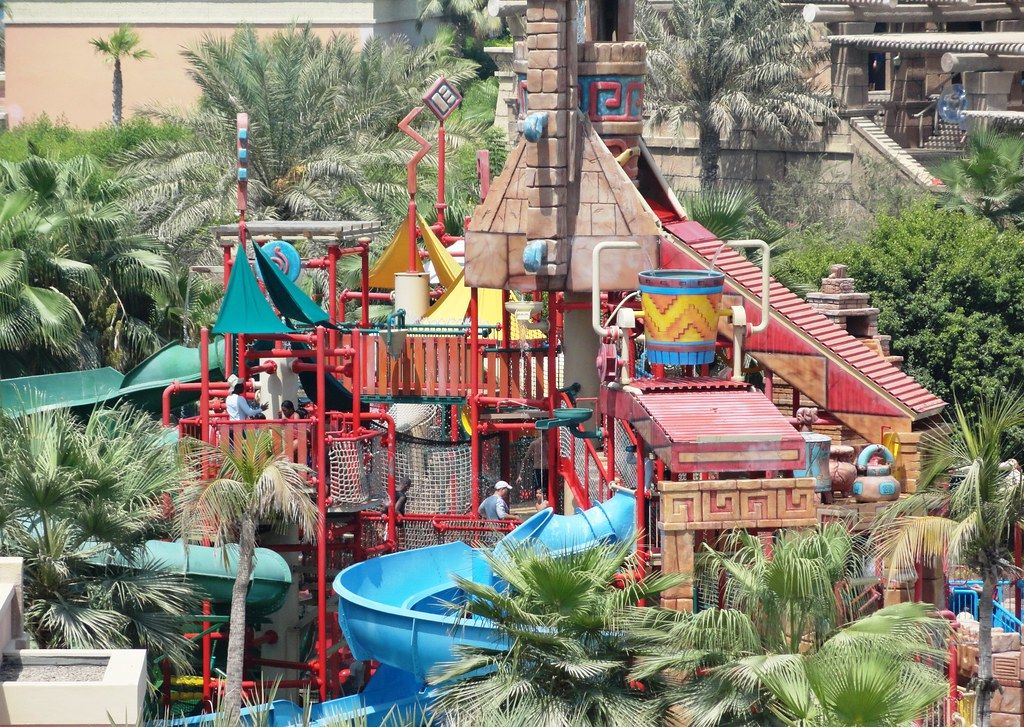 Access to Aquaventure Waterpark
Location -The Avenue at Atlantis the Palm Dubai, Crescent Road, Palm Jumeirah
Timings – 9.30 am to 5.30 pm daily.
Admission Cost starts from – AED 299 per person for Aquaventure Day Pass
What will you see in Aquaventure Waterpark?
This is the ultimate water playground to visit in Dubai. Aquaventure waterpark proudly boasts of being the biggest and the best water park in UAE, suitable for kids and adults alike.
If you love a good hair-raising water adventure, try out some of the most adrenaline-rushing water rides, such as Odyssey of Terror, which happens to be the tallest water slide in the world! Teenagers will love the knuckle-whitening high-speed thrills of Leap of Faith, Black Out, and Vortex. The Shockwave ride is perfect for families to scream and squeal in delight on the world's longest rafting water experience.
Adventurers who enjoy mild thrills will enjoy Surf's Up Wave Rider. For relaxation, there is a lazy river, cabanas, and a pristine stretch of beach to laze on. Kids have access to their own splash area with tumbling buckets and shallow pools to have fun in the water. In addition, kids 10 years of age and older can enjoy the Aquatrek Experience where they can spend 20 minutes underwater with a marine expert exploring a lagoon filled with sharks, turtles, and other marine creatures. Children aged 3 to 6 years can explore shallow pools, get close to sharks and starfish, learn about marine animals, and put on the hat of a mini marine biologist for the day.
Aquaventure Day Passes give you access to 105 different thrills and experiences, a laid-back, lazy river experience, surfing on the Surf's Up Wave Rider, and access to the private beach shores to look out over gorgeous vistas surrounding this fabulous water park. With the Aquaventure Super Pass, you also get access to the Lost Chambers Aquarium adjacent to the Aquaventure Water Park. Admission for kids under 2 years of age is complimentary.
LEGOLAND Dubai, the ultimate fun playground in Dubai for kids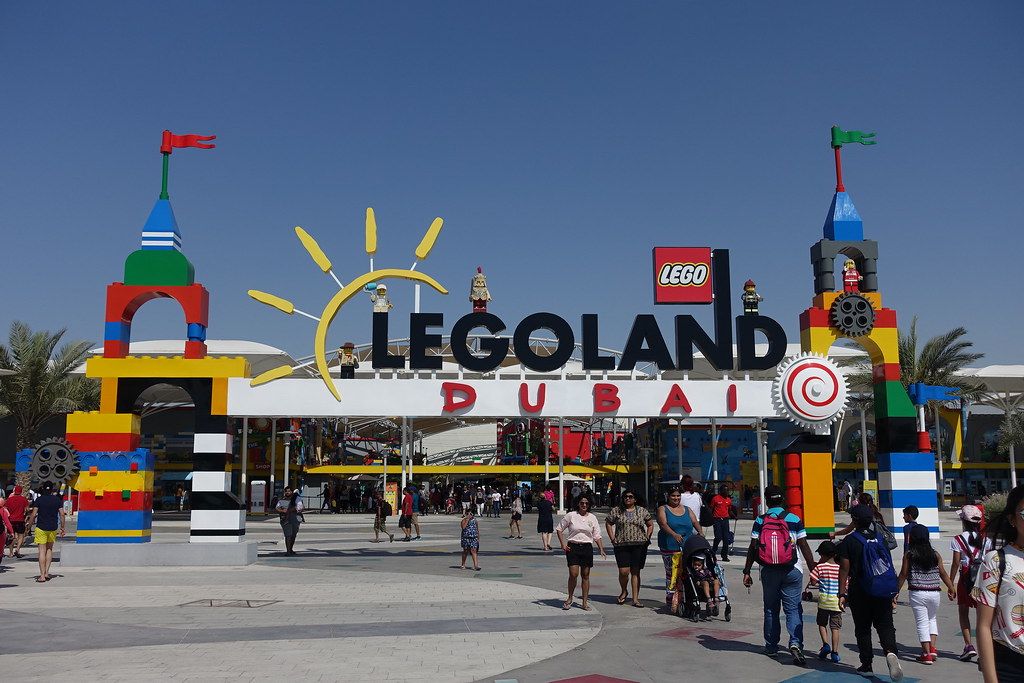 Access to LEGOLAND Dubai
Location – Dubai Parks and Resorts, Sheikh Zayed Road
Timing – LEGOLAND DUBAI – 10 am till 7 pm, LEGOLAND Waterpark – 10 am till 5 pm
Ticket cost starts from – AED 330 per person for full-day access.
What will you see in LEGOLAND Dubai?
LEGOLAND Dubai at Dubai Parks and Resorts is the first LEGO-themed attraction in Dubai. What makes it a unique attraction is that it is designed to keep a child's interest in mind even for kids as young as 2 years old. Theme parks are free for children under 3 years old. The whole theme park comprises an amusement park and a water park all themed on the famous lego blocks. Rides and activities at LEGOLAND are designed so kids can use their imaginations to construct things from Legos and use those for riding or participating in activities. Within the LEGOLAND Dubai theme park, you will find over 40 rides and activities where you and your children can enjoy kid-friendly thrill rides, build toys with LEGO sets, and much more. Watch your kids drive a LEGO Car and even get their LEGOLAND Driving license.
Even kids younger than 5 years can try out their driving skills at Junior Driving School. Additionally, kids can tour the LEGO Factory and learn more about how the play blocks are made, explore MINILAND and see a movie at LEGO Studios 4D. The DUPLO Valley is a dedicated spot for toddlers to have fun on train rides and run, tumble and jump around in a spacious play area.
LEGOLAND Water park will definitely get the kids all excited about having a splashy time. With brightly coloured slides and rides, this unique water park appeals to kids, even toddlers. With your kids, you can even build a raft and enjoy a ride on it or play in a giant wave pool. The Joker Soaker is an expansive water play area complete with slides, bridges, water jets, and sprinklers for the ultimate water fun. If kids are hungry after playtime, there are many restaurants and food stalls that serve delicious treats they will love.
LEGOLAND Dubai has launched the emirates' first LEGO-themed hotel, making it a one-stop-shop where families play, shop, dine and stay together. To sum it up, LEGOLAND Dubai is a complete kid-approved theme park and one of the best places to visit in Dubai with kids. You can opt to purchase one-day tickets that give access to only one park or buy a combo ticket where you get entry to both the parks.
Oli Oli, perfect place for young kids to have fun in Dubai
Access to Oli Oli, Dubai
Location – 62 4 A St, Al Quoz 1, Next to Oasis Centre.
Timings – Sunday to Friday: 9 am to 6 pm, Saturday: 9 am to 7 pm.
Ticket costs start from – AED 126 onwards
What will I see in Oli Oli, Dubai?
When you are shortlisting attractions where even toddlers can have a great time, you can find it is mostly water parks that have such play areas. However, Oli Oli Dubai is a one-of-a-kind play area designed particularly for kids aged 2 to 11 years. Termed as the 'Experiential play museum', Oli Oli is a vibrant attraction filled with colourful exhibits, water cannons, and climbing activities that will instantly allure kids. There is no right or wrong way to play here. The ample spaces and child-friendly interactive exhibits let children roam and play freely. They can swing through giant nets with loops in them, splash and have fun at Water gallery, create toys and racecourses and construct aircraft and rockets and test it with science-backed fun. The attraction encourages free play fused with imagination, engineering, and science, and also offers fun workshops that kids would love to participate in.
This indoor play area sprawls across two levels and has 8 galleries teeming with over 40 activities and exhibits for kids to explore and enjoy. Grownups can join kids in this fun recreational attraction and enjoy some quality time together. The arena also has a unique cafe called Le Petite Treehouse Cafe where you can take a pause and grab a bite with your kids.
IMG Worlds of Adventure, the perfect family adventure in Dubai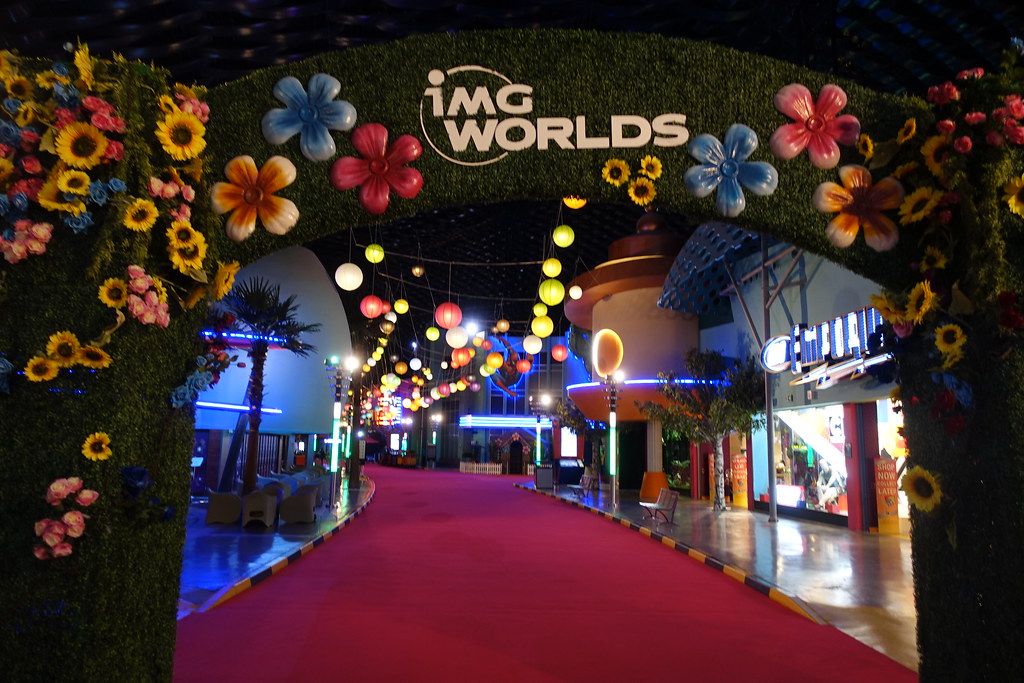 Access to IMG Worlds of Adventure
Location – E311, Sheikh Mohammed Bin Zayed Road, City of Arabia
Timings – Monday to Thursday – 12 pm till 10 pm and Friday to Sunday – 12 pm till 11 pm
Ticket cost starts from – AED 335 per person for General Admission ticket
What will you see in IMG Worlds of Adventure?
For those who do not want to spend the day out in the hot sun, Dubai has some fun options for families. Head to IMG Worlds of Adventure – the largest indoor recreational park in the world! Step into the world of MARVEL and Cartoon Network and relive your nostalgic memories of childhood while your kids have a fan moment with their favourite superheroes. There are five massive, fully air-conditioned zones in the indoor park, mostly centred around MARVEL and Cartoon Network, but one is based on prehistoric times, called The Lost Valley, filled with animatronic dinosaurs.
At the MARVEL zone, you can follow Avengers in their adventures, watch the action unfold, and join in the adventure. Some of the best rides and interactive shows to enjoy here are the Hulk Epsilon Base 3D, Avengers Battle of Ultron, Spider-Man Doc Ock's Revenge, and Thor Thunder Spin.
Cartoon Network zone will please young kids more than teens and adults as the rides are mellow and designed for a child-friendly experience revolving around Power Puff Girls, Ben10 and Adventure Time.
Visitors looking for a spine-tingling thrill should check out the Haunted House at IMG Boulevard and the Velociraptor roller coaster at Dinosaur Park – Lost Valley. IMG Worlds of Adventure also has a kid's play area – IMG Kids Zone, as well as a chic cinema experience – NOVO Cinemas – for some light-hearted moments with your family. Finally, the IMG Boulevard has a plethora of MARVEL and Cartoon Network merchandise, which you can take home as a souvenir of your trip to IMG Worlds of Adventure Dubai.
Elevate your view point at Ain Dubai one of the best attractions to experience in Dubai with your kids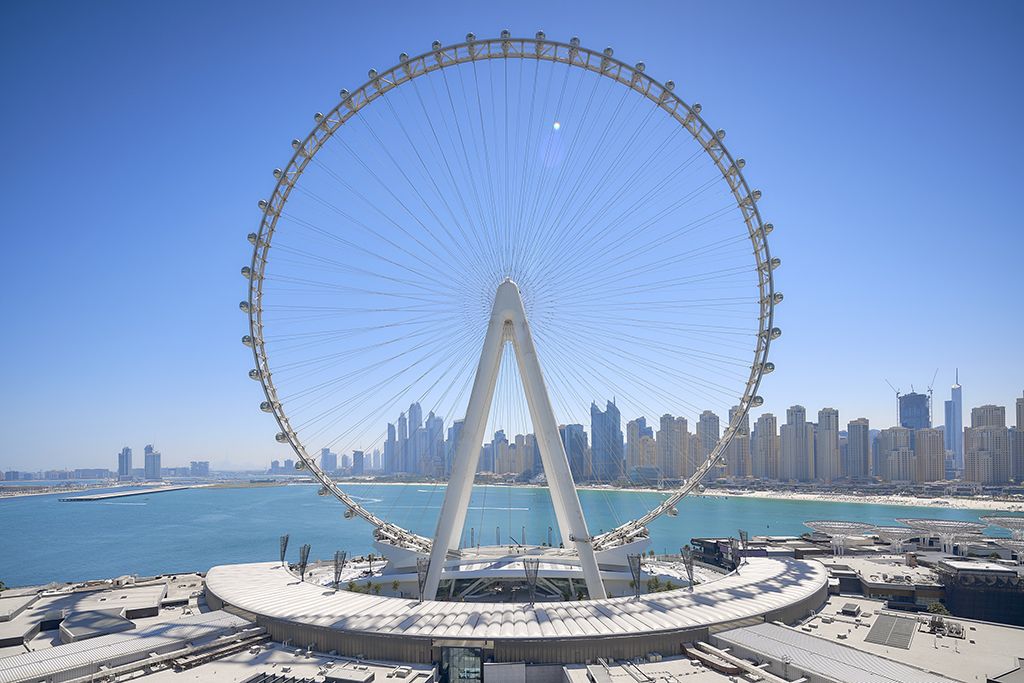 Access to Ain, Dubai
Location – Bluewaters Island
Timings – Tuesdays and Wednesdays – 10 am till 9 pm, Thursday till Saturday – 12 pm till 9 pm.
Ticket costs start from – AED 130 per person.
What will you see in Ain, Dubai?
If you are in Dubai with kids Ain Dubai is an excellent choice to enjoy Dubai's magnificent panoramas from various perspectives. Located on the newly built Bluewaters Island, straddled between the Persian Gulf and Dubai Marina, Ain Dubai is the newest iconic landmark of the emirate. At 250 metres, it breaks the record of being the largest observatory wheel in the world, surpassing the High Roller in Las Vegas with 82 metres in height. Featuring 48 fully air-conditioned spacious cabins, guests can enjoy a 38-minute ride that offers unrivalled panoramas of Dubai's exquisite city skyline and the Persian Gulf.
On an Ain Dubai experience, young visitors can roam around the spacious cabins and enjoy 360 degree, unobstructed views of Dubai's iconic landmarks such as Burj Al Arab Jumeirah, Burj Khalifa, and Palm Jumeirah. The sweeping views of the Persian Gulf are sure to leave them mesmerized. The best time to visit would be at twilight when the sun starts to descent into the horizon splashing the sky with blushes and streaks of evening hues.
The Ain Dubai is the perfect spot to capture those priceless family picture-perfect moments. With an Ain Dubai Family Pass, 2 adults and 2 children can experience this attraction at a better deal than opting for single tickets. You can also opt to combine Ain Dubai with Inside Burj Al Arab Jumeirah for a luxe experience or even pair it with a dinner cruise for that comprehensive sea and sky view experiences. Whatever you choose, the scenic sights viewed from Ain Dubai will be etched in the young minds of children for a long time.
Learn, understand and have fun in KidZania Dubai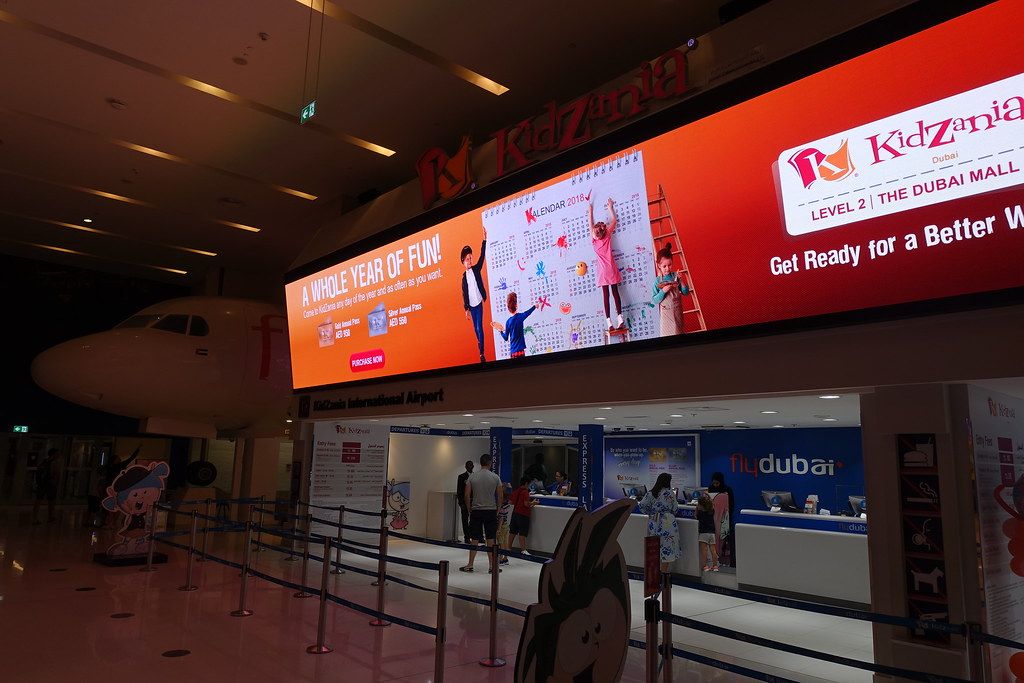 Access to KidZania Dubai
Location – 2nd Level, Dubai Mall Financial Centre Road.
Timings – Daily 10 am to 10 pm
Ticket costs start from – AED 195 per child.
What will you see in KidZania Dubai?
Let your kids step into a grownup's shoes for a day at KidZania Dubai. Located inside Dubai Mall, KidZania Dubai is one of the world-renowned fun-edutainment attractions that have won rave reviews from families. What makes this kid-friendly attraction so popular is that it fuses real-life skills and learning with fun interactions and thrill. Designed as a minicity run by the children, KidZania is the ideal model to let kids understand how the world works. Children get to choose from 70 real-life activities that help them understand teamwork, financial literacy, social and decision-making skills. They can get a peek into the professional lives of chefs, radio broadcasters, doctors, scientists and even explore and learn the daily work life of restaurants, department stores, and banks. They can don the hat of a city lifesaver by polishing their community service skills through role-play of firefighters, medical staff, and government officials.
With assistance from grownups, your kids can enter into this kid-friendly attraction take part in role-playing and various activities to earn some kidZos – KIdZania's official currency. Just like how adults have to manage their salary, kids also get the choice to either save their hard-earned money or spend them all! KidZos can be redeemed at KidZania stores to purchase merchandise, get discounts or even save them in a bank account at KidZania which can be used for future visits. KidZania encourages education through playtime and it is a perfect spot for you to leave your kids to have all the fun while you can have some leisure time for yourself.
Skiing in Dubai, don't miss this if you are visiting Dubai with kids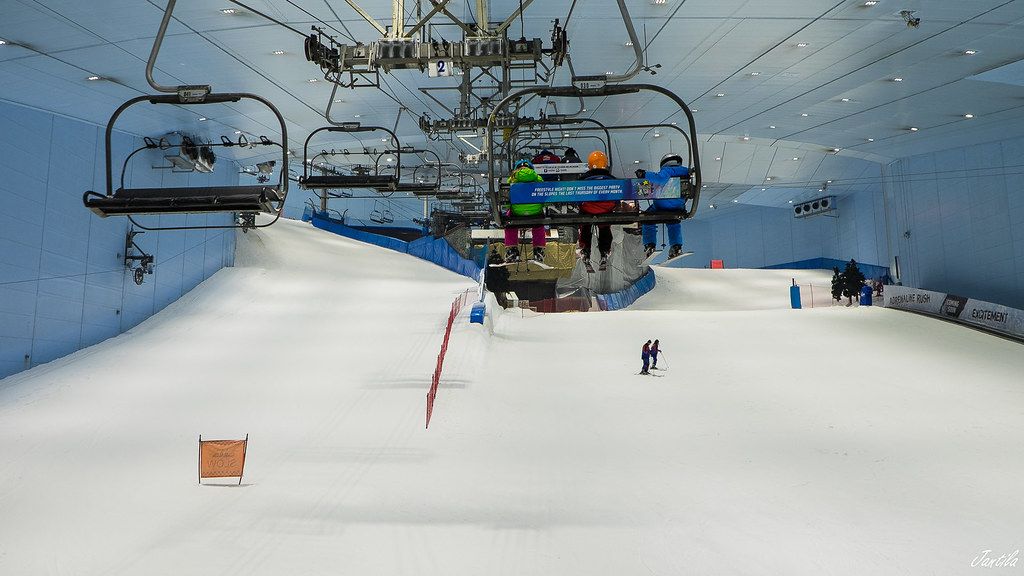 Where to ski in Dubai?
Location – Mall of the Emirates, Al Barsha 1
Timings – Monday to Friday – 10 am till 12 am, Saturday and Sunday – 9 am till 12 am.
Ticket costs start from – AED 220 per person.
How is skiing in Dubai?
Kids never think of the possibility of skiing in a desert city, but they can do it in Dubai. Head to Mall of The Emirates and watch their eyes grow wide and jaws drop at the sight of snowy landscapes! Inside Ski Dubai, wintry landscapes await to test winter sports skills of adults and children alike. This winter land lets everyone break free and have the time of their lives in the snow. This indoor snow playground extends over 22,500 square meters inside the Mall of the Emirates. It is designed in such a way that it mimics the look and feel of an icy mountain terrain where the cold air blows against your face while you admire the pristine white snow.
Kids can enjoy recreational rides and activities such as zorbing, ice caves, chairlifts, and snow bullets in the Snow Park. Also, they can try their skills at snowboarding and skiing at different levels of trails. Additionally, Ski Dubai offers a Ski School where kids can learn how to ski like a professional.
Keep an eye out for friendly penguins who come out to play. You can enjoy watching these cute snow penguins waddling around this ski attraction while you are in the midst of all the excitement. A complete family entertainer, Ski Dubai has something for all age groups and offers mild adventures with a dose of adrenaline thrill, simple joys of sipping hot cocoa and watching waddling penguins with your family. Being an indoor attraction, Ski Dubai is a perfect place to visit any time of the year and is one of the best ways to beat the heat if you are visiting during summers.
Dubai is simply an amazing destination for all, and kids will have a fantastic time
Kids are in for a treat when they visit Dubai! Even young minds would be intrigued by its grandiose and be enchanted by its elegance. Its reputation of being one of the safest cities to travel is an added advantage to choosing it for a family vacation. During a trip to Dubai, kids can take part in a game that counts how many record-breaking sites they view or visit. The recreational attraction stands apart for its extraordinariness and offers unforgettable experiences.
Even though the above Dubai kid-friendly attractions probably gave you lots of ideas to make your trip to Dubai with kids the best it can possibly be, there is so much more to discover. It wouldn't be a surprise if the young visitors get second thoughts about their Dubai holiday coming to an end. But who says all must be explored in one vacation to Dubai? Upon your return, you might find yourself promising your kids yet another exciting trip soon with equally mind-blowing experiences.
Guest post written by Neha from Dubai Wikia. Neha is a local living in Dubai, she has a wealth of information on everything you need to know to organise your best family holiday in Dubai. Check out her website for more travel tips and inspiration.
Like it Pin it 🙂