Immerse yourself in the vibrant tapestry of colours, smells, and sounds that is Marrakech. With a meticulous plan, you can explore the best of Marrakech in 2 days.
This enchanting Moroccan city is a fusion of old and new, where traditional souks nestle beside contemporary art galleries and where age-old palaces share the skyline with modern eateries. From the bustling Jemaa el-Fnaa square to the tranquil Majorelle Garden, every corner of Marrakech presents a new adventure.
When is the best time to visit?
The spring months of April and May offer the most pleasant climate for exploring this captivating city. So if you're ready to take in all that Marrakech has to offer, strap on your walking shoes and prepare for an unforgettable two-day journey to Marrakech.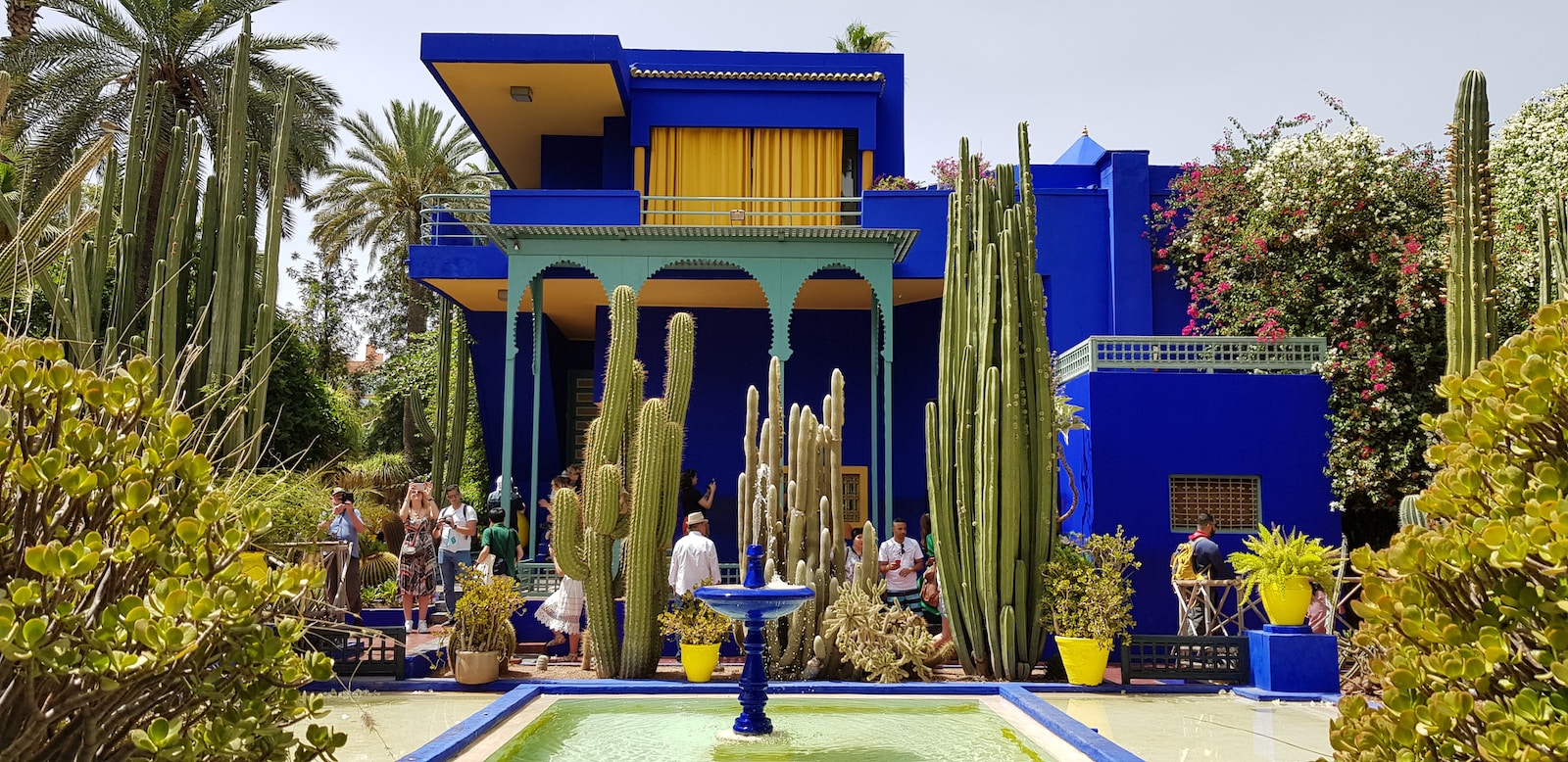 In this article, we will show you the best places to visit in Marrakech in 2 days. If you have more than 2 days and would like to explore the Moroccan Dessert, here are a few recommended tours we suggest to give you the best dessert experience.
How to get from Marrakech Airport to the centre of Marrakech?
Arriving at Marrakech Airport, you will find three primary means of transportation to the city centre – taxi, private transport, or bus.
Taking a taxi is the most convenient option, with vehicles readily available in the taxi rank just outside the terminal. The journey to the city centre should cost approximately 70-100 Dirhams. Be sure to agree on a price before starting your journey, as metered taxis are not common.
Private transport or shuttle services offer a more comfortable and stress-free way to reach the city centre. These can be booked in advance, guaranteeing a fixed price and ensuring that a driver will be waiting for you upon arrival. Prices can vary depending on the vehicle type and service level.
Lastly, for budget-conscious travelers, bus line 19 operated by Alsa City Bus provides a regular service between the airport and the city. Buses depart every 20-30 minutes, with the first bus at 06:00 and the last one at 00:30. A one-way ticket costs 30 Dirhams, while a round-trip ticket costs 50 Dirhams, which includes a free transfer within the city valid for 2 hours.
Regardless of the method you choose, the journey from Marrakech Airport to the city centre should take approximately 15-30 minutes, depending on traffic. By choosing the transportation option that best suits your needs and budget, you're off to a great start for your adventure in Marrakech in 2 days.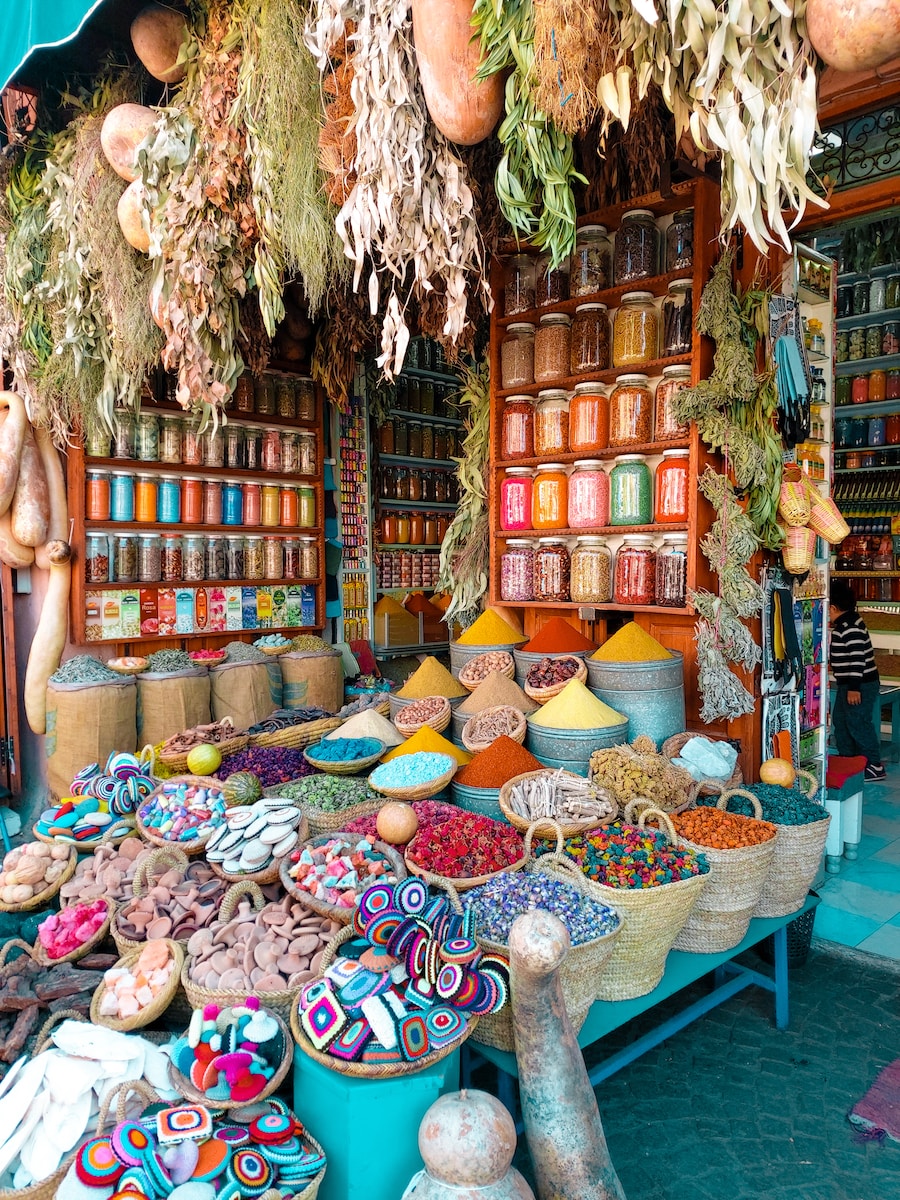 Best place to stay in Marrakech?
To experience the real beauty of Marrakech in 2 days make sure you stay in a Riad. A Riad is a traditional Moroccan house or palace with an interior garden or courtyard. The term stems from the Arabian term for garden, 'ryad.' These houses are characterized by their stunning architecture, with intricate designs, vibrant mosaics, and beautiful courtyards, offering a tranquil oasis amidst the bustling city streets.
Staying in a Riad is an integral part of the Marrakech experience. It offers a unique glimpse into the city's rich heritage and culture and provides a peaceful retreat from the bustling Medina. Most Riads in Marrakech have been transformed into boutique hotels, combining traditional Moroccan craftsmanship with modern comforts. From enjoying a traditional Moroccan breakfast in the courtyard to relaxing on the rooftop terrace with stunning views of the city, staying in a Riad is an experience not to be missed when exploring Marrakech in 2 days.
Also read Unravelling the Hidden Gems: 20 Enchanting Riads in Marrakech.
Explore the Beauty of Marrakech in 2 days
Day 1 in Marrakech
Start your journey in Marrakech with the epitome of Moroccan culture, the Jemaa el-Fnaa square. In the morning, the square is a bustling marketplace filled with vendors selling fresh produce, handwoven rugs, and traditional Moroccan wares. As the day progresses, the square transforms into a hub of entertainment with snake charmers, musicians, and henna artists.
Next, head to the Koutoubia Mosque, the largest mosque in Marrakech. Its beautiful minaret, a striking example of Moorish architecture, is a sight to behold. Although non-Muslims aren't allowed inside the mosque, the lush gardens surrounding it offer a tranquil escape from the bustling city.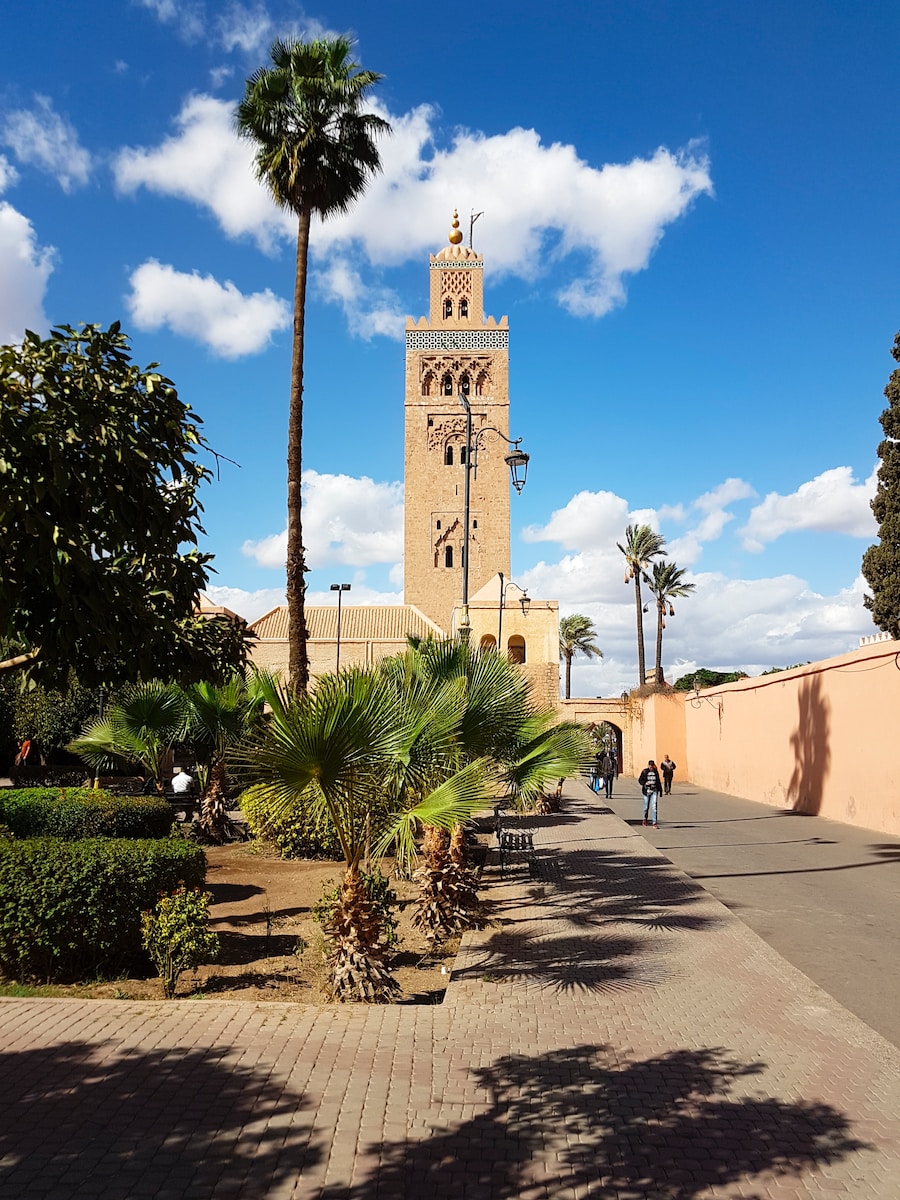 For lunch, visit the Amal Women's Training Center and Moroccan Restaurant. Here, you can enjoy delicious Moroccan dishes while supporting a non-profit organization that empowers disadvantaged women through culinary training. Or why not take a cooking class where you can learn to cook and taste some tasty Moroccan dishes?
Post-lunch, make your way to the Bahia Palace, a 19th-century palace known for its stunning gardens and intricate tilework. Afterwards, explore the maze-like alleyways of the Medina, filled with vibrant souks offering everything from spices to handcrafted jewellery.
End your day with dinner at the Nomad, a modern Moroccan restaurant with a rooftop terrace that offers stunning views of Marrakech. Their tagines come highly recommended. After dinner, if you're up for it, head back to Jemaa el-Fnaa to experience the vibrant nightlife, with street performers and food stalls creating a festive atmosphere.
Day 2 in Marrakech
Kick-start your second day in Marrakech with a visit to the Majorelle Garden. This two-and-a-half-acre botanical garden, designed by French painter Jacques Majorelle and later owned by fashion designer Yves Saint Laurent, is a tranquil haven away from the bustling city. Enveloped in exotic plants and trees, the garden is renowned for its cobalt-blue art deco studio, offering a striking contrast against the lush greenery. Remember to visit the Berber Museum located within the garden, showcasing the rich heritage and culture of Morocco's indigenous inhabitants.
Next, delve deeper into Morocco's artistic traditions at the Museum of African Contemporary Art Al Maaden (MACAAL). This private museum offers an in-depth look into Africa's contemporary art scene, with exhibits featuring works from North African artists and beyond.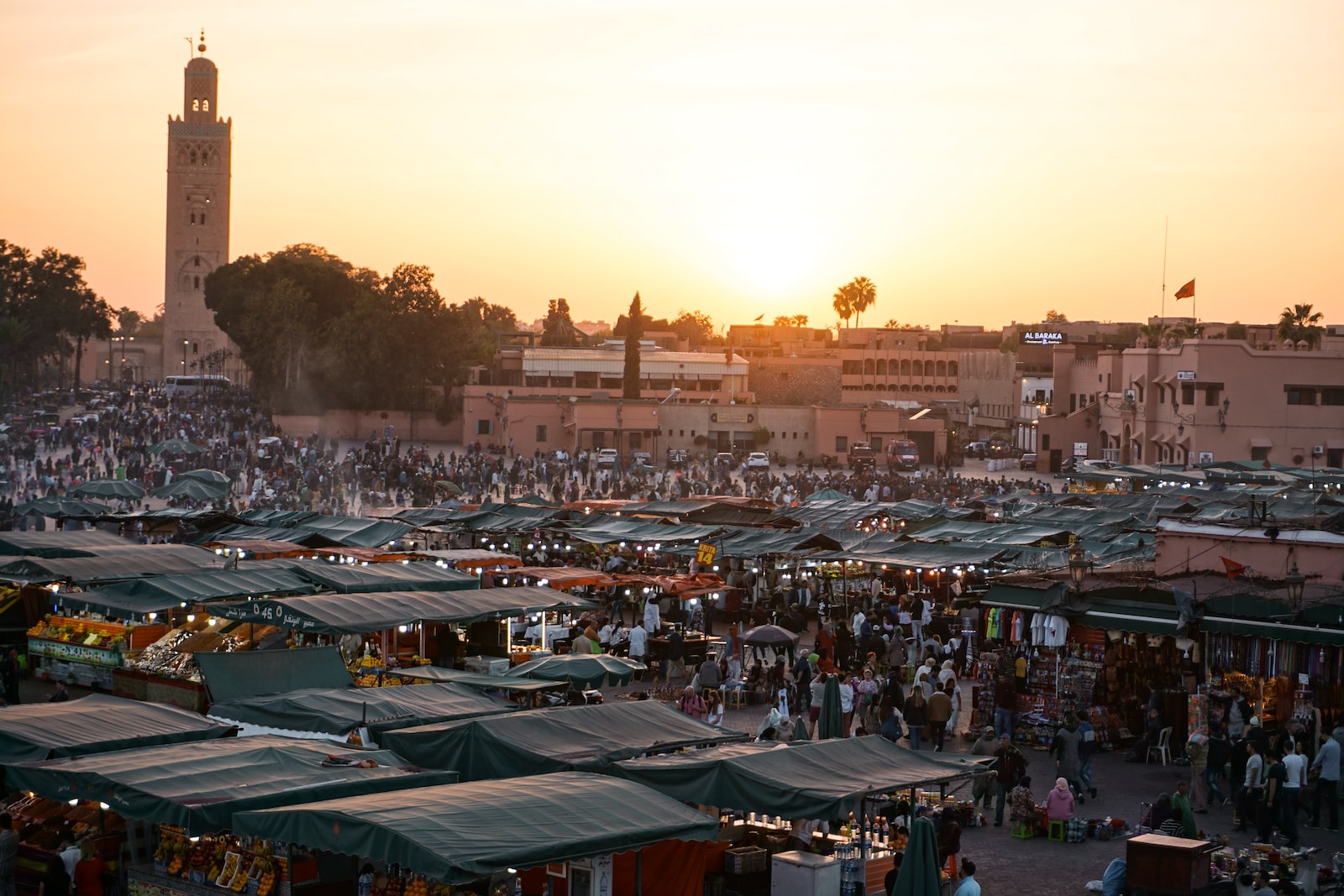 For lunch, head to the Terrasse des Épices, a stylish eatery tucked away in the heart of the Medina. This open-air restaurant not only offers a diverse menu of Moroccan and international dishes, but its rooftop setting provides panoramic views of the city, making it a perfect spot for a leisurely meal.
Following lunch, take a taxi or a leisurely stroll to the Saadian Tombs. Dating back to the time of the Saadian dynasty, these tombs were rediscovered in 1917 and have since become a major tourist attraction with their intricate carvings and pure historical appeal. Nearby you can also see the Bab Agnaou gate.
As the afternoon eases into the evening, visit the Menara Gardens. These 12th-century gardens, complete with a large artificial lake and a pavilion, offer a serene escape. The pavilion and basin, set against the backdrop of the Atlas Mountains, create a picturesque scene, especially at sunset. You could also indulge in a Moroccan spa and hammam experience.
Enjoy dinner at Le Comptoir Darna, where a feast of traditional Moroccan cuisine, belly dancing, and live music await, perfectly capturing the city's vibrant and lively spirit. End your journey of Marrakech in 2 days on a high note, with memories of unforgettable sights, sounds, and tastes that this magical city offers.
If you have more than 2 days in Marrakech, then definitely take the opportunity to take a day trip out of Marrakech. Here are a few wonderful options that you can book that are highly recommended.