The Ouzoud Waterfalls are nestled in the heart of the Middle Atlas Mountains in Morocco. They are a breathtaking natural spectacle and an absolute must-visit for those travelling in and around Marrakech. 
You may also want to read:
Multi-level waterfalls
The Ouzoud Waterfalls are among the tallest and most majestic in North Africa, with the highest drop cascading down from an impressive height of 330 feet (approximately 100 meters). The falls are composed of a series of waterfalls that create a network of cascades that overwhelm the senses with their thunderous impact and mesmerizing beauty. The sight of the multilevel waterfalls roaring down into the emerald-green pools below is truly awe-inspiring, showcasing nature's raw power and unparalleled beauty in its fullest grandeur. As the sun moves across the sky, rainbows often form in the misty spray of the falls, adding an ethereal beauty to the already enchanting scene.
Day-trip from Marrakesh
A day trip to the Ouzoud Waterfalls from Marrakech presents an exciting opportunity to escape the bustling city life and immerse oneself in the serene beauty of cascading waters, lush green landscapes, and the rich biodiversity that this region has to offer. The journey from Marrakech to these majestic falls is as thrilling as the destination itself, offering a unique glimpse into the traditional Moroccan countryside lifestyle. Whether you're an adventurous spirit, a nature enthusiast, or someone seeking tranquillity, the Ouzoud Waterfalls cater to all tastes and preferences, promising an unforgettable experience.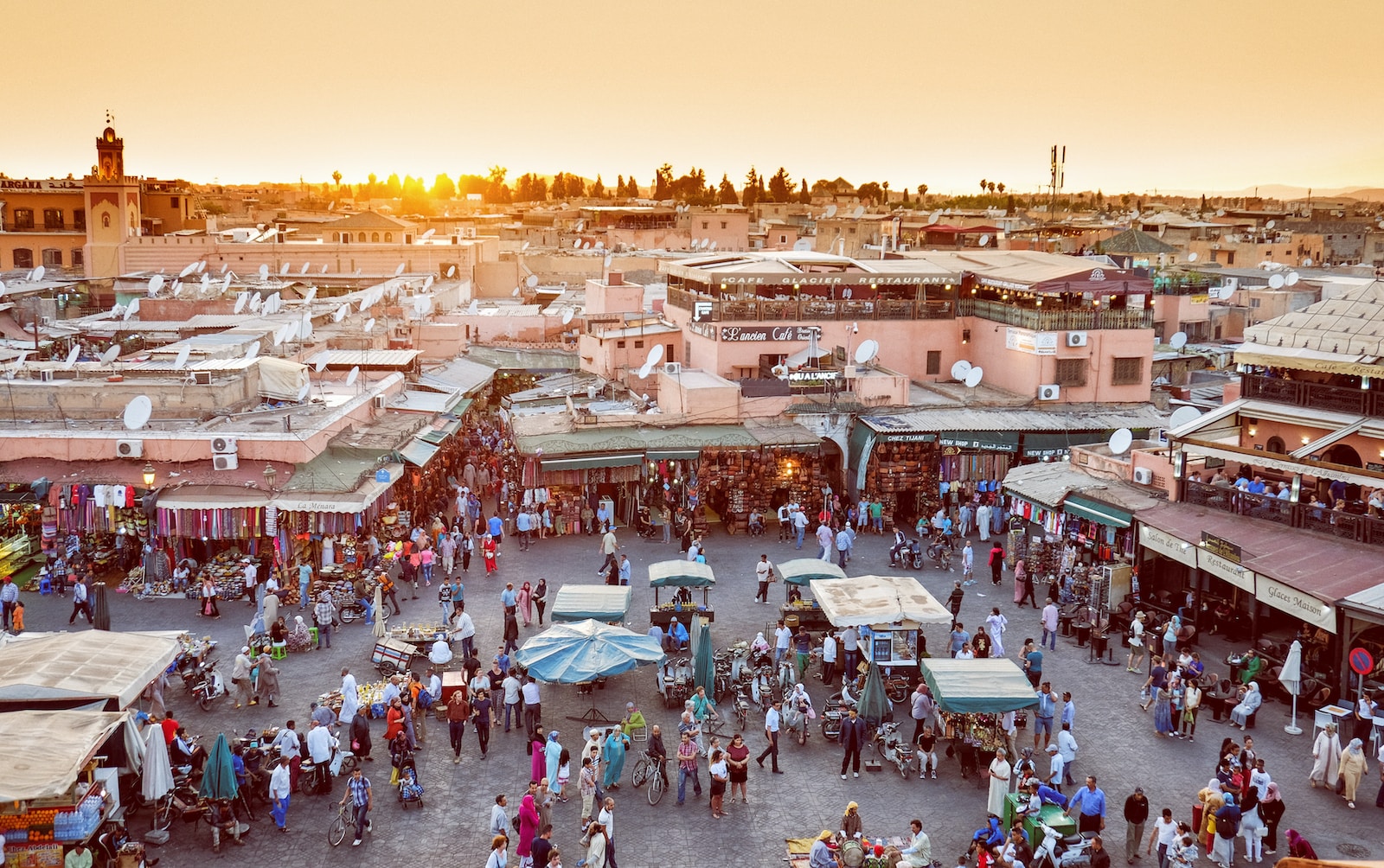 The distance from Marrakech to Ouzoud Waterfalls is approximately 150 kilometres, making it an ideal day trip destination. There are a few ways to get to the waterfalls:
Private Taxi: You can hire a Grand Taxi from Marrakech, which will cost you around 1200-1500 Moroccan Dirhams ($120-150) for the round trip. This option gives you the convenience and flexibility of planning your day as you wish.
Tour Operators: Another popular option is to book a guided day tour. Prices range from 200 to 500 Moroccan Dirhams ($20-50) per person, which usually includes transportation, a guide, and sometimes meals. Check out this great tour.
Public Transport: The most economical way to get to the falls is by local bus. Catch a bus from Marrakech's Bab Doukkala bus station to Azilal, and from there, hop onto a minibus that will take you to Ouzoud. The total fare would be around 60 Moroccan Dirhams ($6).
Remember that prices can fluctuate based on the season, day of the week, and bargaining skills. It is advisable to book your transport in advance during peak tourist season.
Best Tours to Book to Explore Ouzoud Waterfalls
Perhaps one of the best ways to explore the Ouzoud Waterfalls is to book a tour with GetYourGuide. The advantage of using GetYourGuide is that it's a platform that offers a variety of tours, each providing a unique experience. While some tours focus on the natural beauty of the falls, others include cultural experiences, such as visiting local Berber villages or tasting traditional Moroccan meals. With GetYourGuide, you can browse reviews from previous tourists to help pick the perfect tour for your day trip. Additionally, booking with GetYourGuide ensures stress-free planning, as many of their tours often include pick-up and drop-off at your accommodation in Marrakech, an experienced local guide, and even meals, depending on the package chosen. This way, you can focus more on enjoying the stunning Ouzoud waterfalls and less on the logistics of the day.
What to wear and pack for Ouzoud Waterfalls?
When visiting the Ouzoud Waterfalls, it's essential to dress appropriately for the trip. Comfortable clothing for warm weather is recommended, but bear in mind the fluctuating temperatures in the mountains; it can get cool, especially in the early morning and late evening. Opt for breathable, lightweight clothing, and consider packing a light jacket or sweater.
Footwear is key: robust, closed-toe shoes are ideal for navigating the rocky paths and potentially wet terrain around the waterfalls. If you're planning to swim in the invitingly cool natural pools, don't forget your swimwear.
Given the region's sunny climate, sun protection, including a hat, sunglasses, and sunblock, is a must. Lastly, if you're likely to be hiking or walking a lot, a good backpack to carry water, snacks, and other essentials will make your day trip to the Ouzoud Waterfalls from Marrakech a lot more comfortable.