Are you planning a trip to Tenerife but have no idea where to start? Do you want to see the best of Tenerife, then let us show you the best way to organise your Tenerife Road Trip Itinerary.
Tenerife is much more than its reputation for all-inclusive resorts and partygoers. Our 5-day Tenerife Itinerary is the perfect guide for you to enjoy an epic trip to see picturesque villages, incredible landscapes, idyllic black sand beaches, gorgeous hikes, volcano hikes and fun activities for families if you plan to visit Tenerife with kids.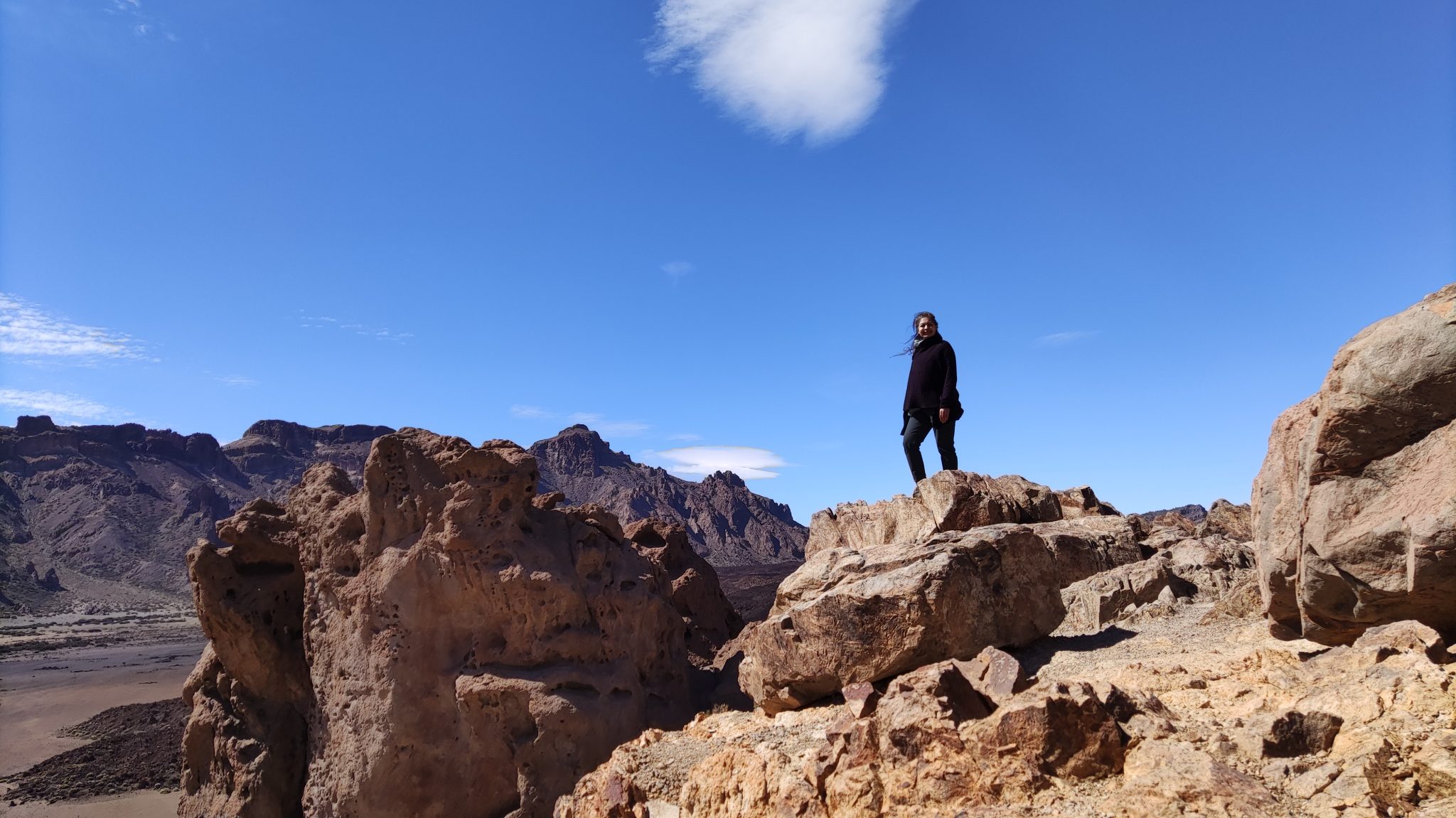 You can be based anywhere on the Island as the Island is not so large. Check out our guide for the best places to stay in Tenerife. Also, don't forget to check out our guide to the best things to do in Tenerife with kids, which will guide you on how to explore Tenerife with kids. With virtually year-round sunshine, the Canary Islands is a popular choice amongst travellers and vacationers.
This Tenerife Road Trip Itinerary is suitable for solo, couples and families and all age groups; there are so many places to see in Tenerife that you can use our Tenerife travel guide and adapt it to suit your interests.
Before we show you the best places to visit in Tenerife, here are a few travel topics to help you organise your trip. Or you can skip right to our Tenerife Road Trip Itinerary.
How many days in Tenerife?
Our Tenerife Road Trip covers five days in Tenerife, which was perfect for us to explore many different areas of the Island. However, you can easily spend a week in Tenerife or even two weeks in Tenerife to explore the whole island.
What is best time to Visit?
Tenerife has a sub-tropical climate and year-round sunshine which is why Tenerife is such a popular winter holiday destination. However, if you would like to avoid the peak season tourist season, then the best time to visit Tenerife would be March, May, September and October.
What is the best way to get around Tenerife?
The best way to explore Tenerife is by hiring a car, which can be easily done at Tenerife South Airport. There are many car hire companies including Top Car, Enterprise, Europcar, Goldcar, Hertz and Cicar. Cost does vary depending on the season and if you take full insurance. We paid around £35 per day in February, which included full insurance coverage. Driving in Tenerife is quite easy due to the highway which goes around the whole Island. In the busier places, parking can be a bit tricky, especially travelling during peak season. If you don't have access to a car, then you can explore Tenerife by bus. The bright green TITSA bus takes you to the main stops, you can get more information here. A 7-day travel card costs 50 Euros.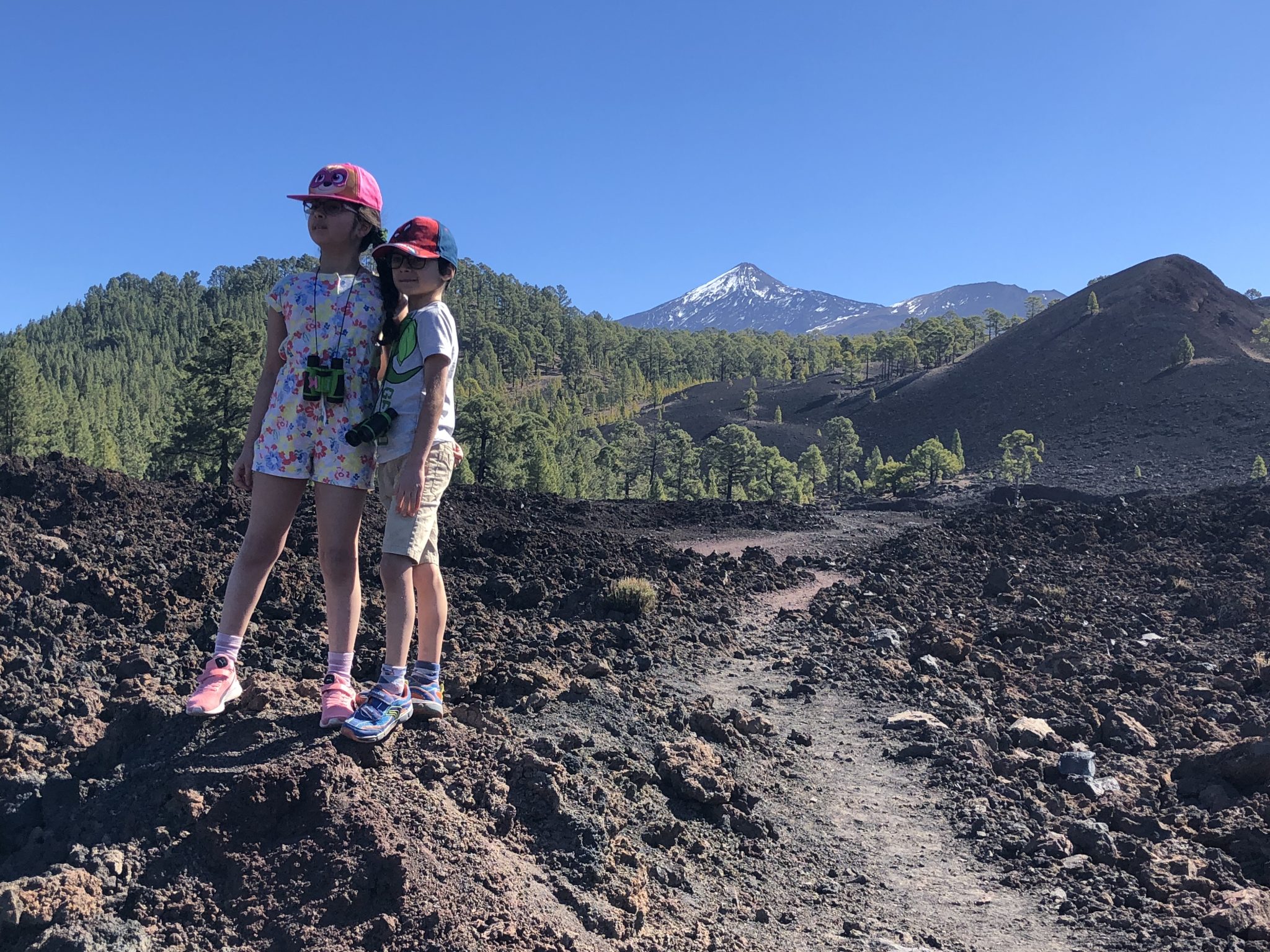 Is Tenerife expensive?
This of course is relative to what kind of holiday you are looking to book; you will pay more in a luxurious resort however in general compared to other European destinations Tenerife is an affordable holiday destination. For example, for our car hire, we paid £190 for five days. For our half-board hotel and flights from London to Tenerife, we paid around £1300 for a family of 4.
Day 1 Tenerife Road Trip, Puerto de la Cruz
Getting around
After arriving at Tenerife South Airport, pick up a car. A rental for five days typically starts from £190 for a small car, but this does vary according to the season you are visiting and how long in advance you booked your car hire in Tenerife.
We stayed at the Apartamentos Playa de Los Roques, half board. Half Board works out well for us as we can explore during the day and come back to a nice evening meal. We always start the day with a good, filling breakfast and in the afternoon go for a light lunch or boccadillos. Our apartment had beautiful views of the rocky coves; during our time there, it was really peaceful with just a few guests as it was still the cooler season. The only little difficulty we had was during the dining time as there was no menu in English, and the waiters mostly spoke in either Spanish or German as most of the guests were from Germany.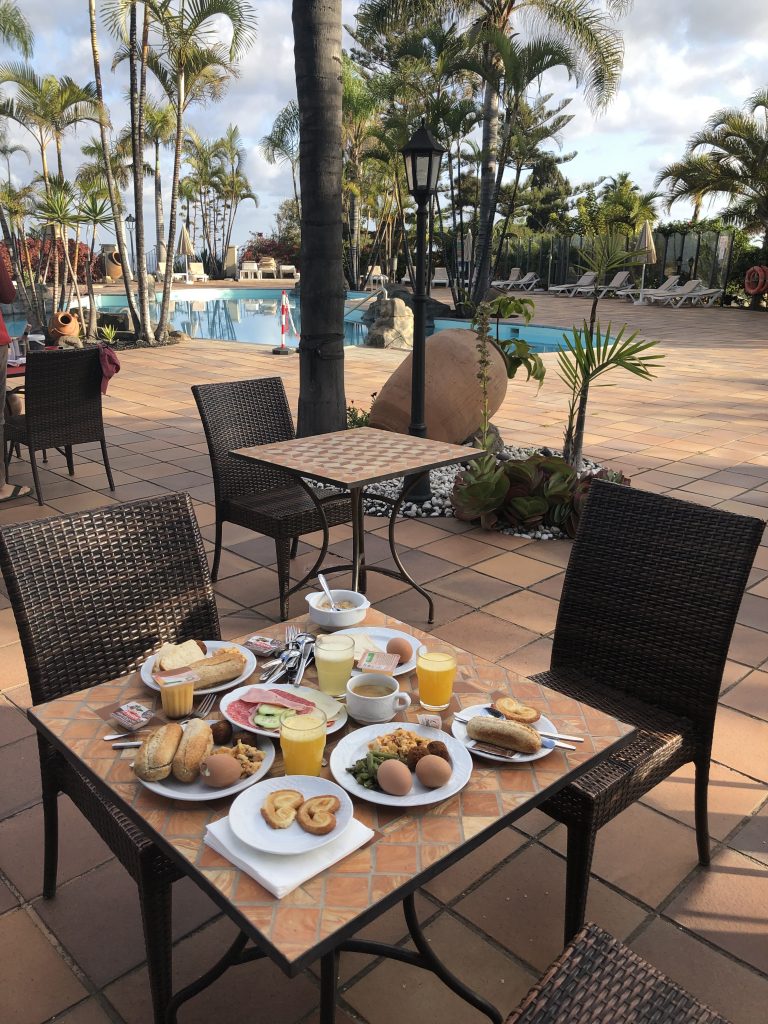 Puerto de la Cruz
We visited Puerto de la Cruz as we were based quite close to there. Puerto de la Cruz is the largest city in the Canary Islands. Here you can visit the Jardin Botanico with beautiful trees and a lily pond. Go to Risco Belle Aquatic gardens in Parque Taora. If you want to try some of the best churros and Porras head to the Harbour Churreria Perdomo open from 6 am to 6 pm Monday to Saturday (it may not open during the off-season, so check before heading there). Then take a lovely walk along the coastline and La Ranilla; the historical old town where you will find bright and colourful houses.
If you like seafood, you can try La Cofradia de Pescadores. Nearby you can visit the beaches Playa Martinez and Playa Jardin and enjoy some tapas at Arcon, try the "papas arrugadas" or Titos Bodeguito for Canarian cuisine.
In the afternoon, you could head to Santa Cruz where you can walk along the waterfront promenade Plaza Espana and walk eastwards. If you still have energy, visit the famous Playa de las Teresitas where the sand is imported from Africa, so you can relax on a golden sand beach.
Day 2 – Hike along the Chinyero Volcano walk
We headed for a beautiful hike perfect with little kids, el Sendero del Chinyero (Chinyero Volcano walk). Make sure to wear trainers or hiking shoes as there are loose rocks.
The circular walk is around 5.7km, the walk starts within a pine forest and then changes into a more volcanic rocky walk. See if you can spot the lizards 🙂 We took around 4 hours to complete the circular walk as the kids were trying to catch the lizards.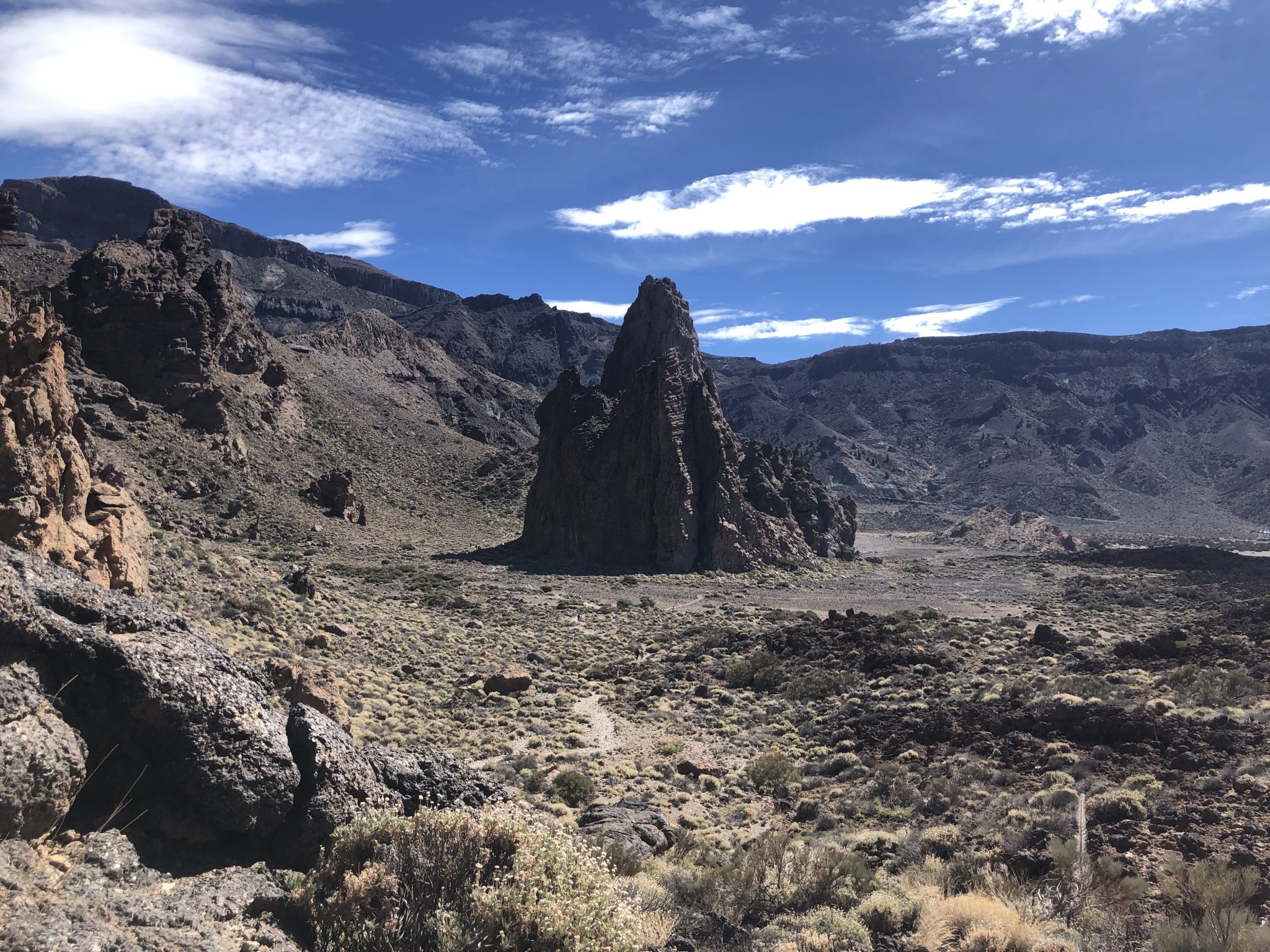 Day 3 – Visit Mount Teide National Park
Visit Mount Teide National Park (Parque Nacional del Teide) a World Heritage Site by UNESCO and visit the highest mountain in Spain at 3,718m, one of the most popular national parks with a volcano. This place is not to be missed as you will see some very unique landscapes making you feel like you are on Mars; you will see petrified lava, craters and volcanoes. There are many different tours and walks you can do here or even take the cable car to Roques de Garcia pinnacle formations, a family-friendly 1.5 hr walk around the Roques.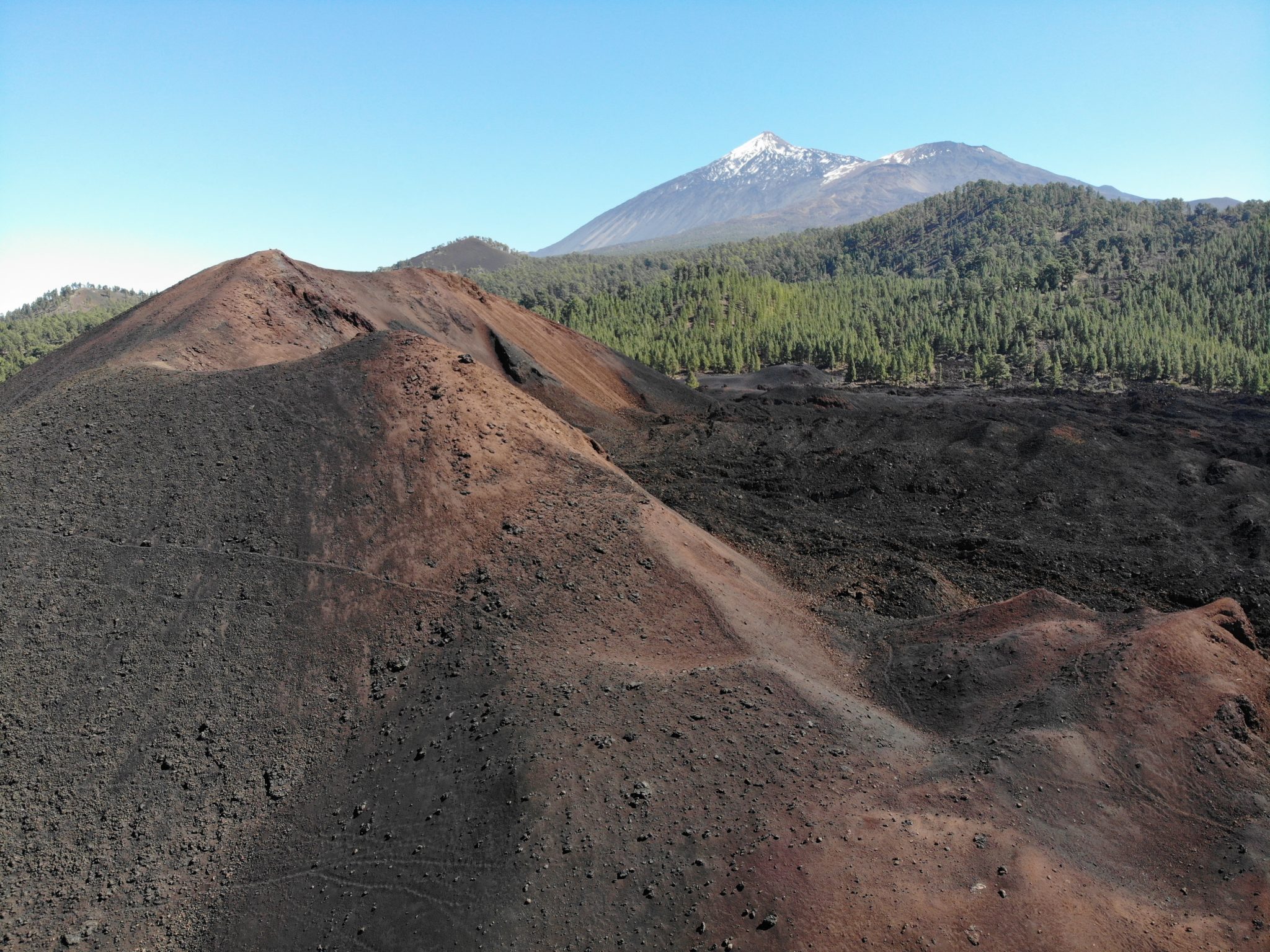 Tips:
Free tour of Observatorio del Teide, volcano Teide experience
Eat at El Rincon de Roberto, slow-cooking Canarian cuisine.
On the way back, we visited La Laguna, a beautiful town in Tenerife where you can see lots of cute colourful houses. Make a stop at Coffee and Pastry to try the custard croissants or delicious cakes. Walk around, eat at mercado Monday to Saturday or Pasteleria Diaz or La Casa de Oscar for pintos.
Day 4 – Rambla de Castro and Natural Pools at Garachico and a visit to Masca Valley
Start your day with a beautiful coastal walk which is around 8km Rambla de Castro in Los Realejos. You can start your walk at Los Roques beach and then end at Hacienda de Castro. This walk will take you through beautiful palm groves overlooking the sea. You will also see the ruins of Gordejuela. In fact, our balcony view from our hotel room had the beautiful view of the rock formation "Los Roques" 🙂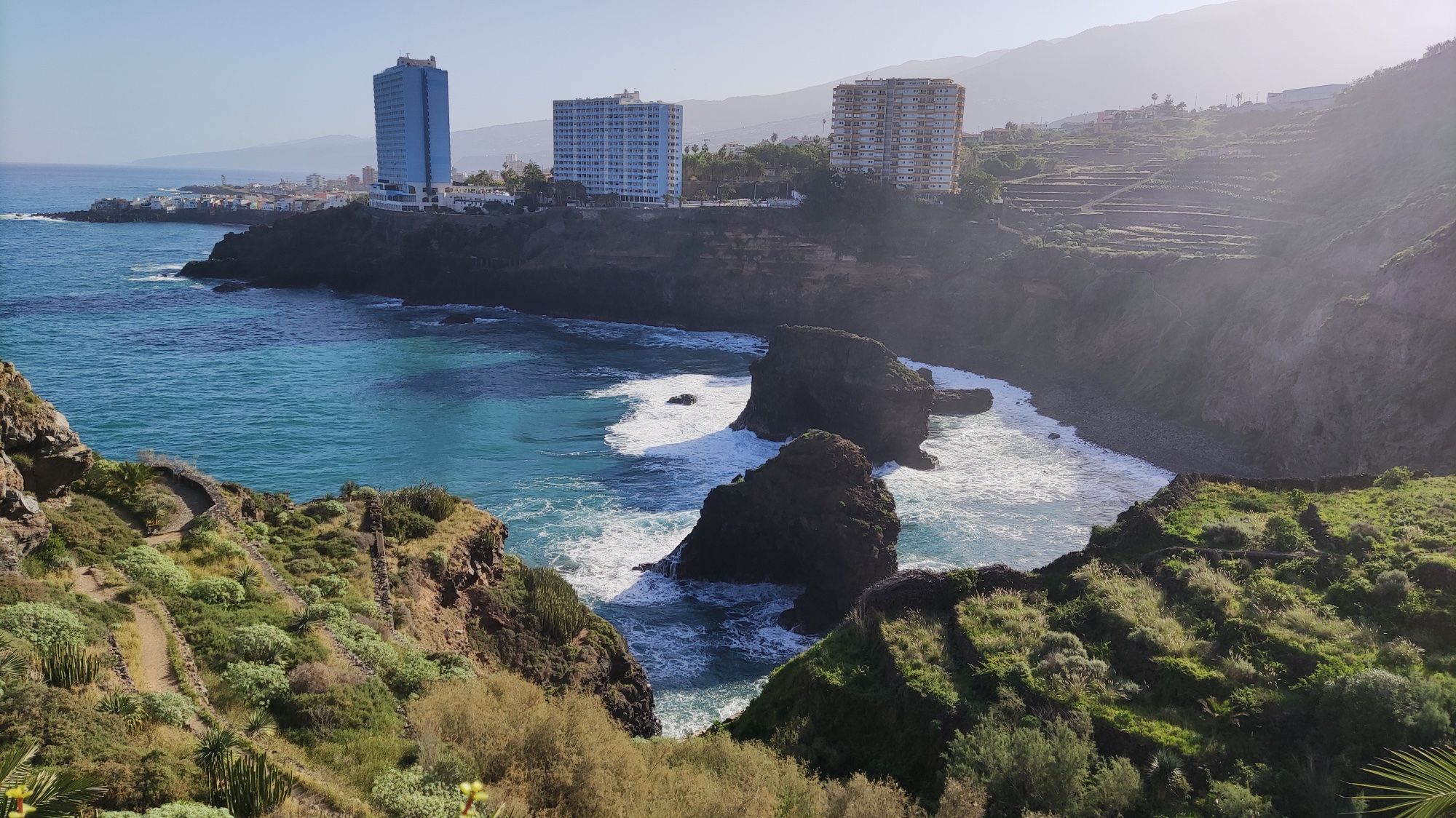 From here, you can drive to Garachico, which might take you around 30 minutes. For a nice view, go to the Mirador de Atalaya. Garachico is a great place to see the Natural Pools, which are dotted along the seafront and also known as El Caleton. These volcanic pools were created by Trevejo volcano's last eruption in 1700; when the lava reached the sea, these volcanic natural pools were created. Don't miss these amazing natural landscapes during your visit to Tenerife.
If you are not feeling too tired and want to see another incredible place, then head to Masca Valley, which is a 45 minutes drive from Garachico. For more family-friendly options, check out our Guide on what to do in Tenerife. One of the best things to do in Masca Valley if you like hiking is to hike down the famous Gorge of Masca to Los Gigantes. The hike can take around 4 hours, the reward is to end your hike at Masca Beach and go for a dip in the water. From here, you can then take the boat to Los Gigantes to avoid the hike back.
Day 5 – Ride through or hike on Anaga Mountains
Anaga Mountains, is home to forests, rugged mountains, unspoiled villages, spectacular scenery and a great place for Hiking enthusiasts. There are many stunning hiking trails in the Anaga Mountains to explore.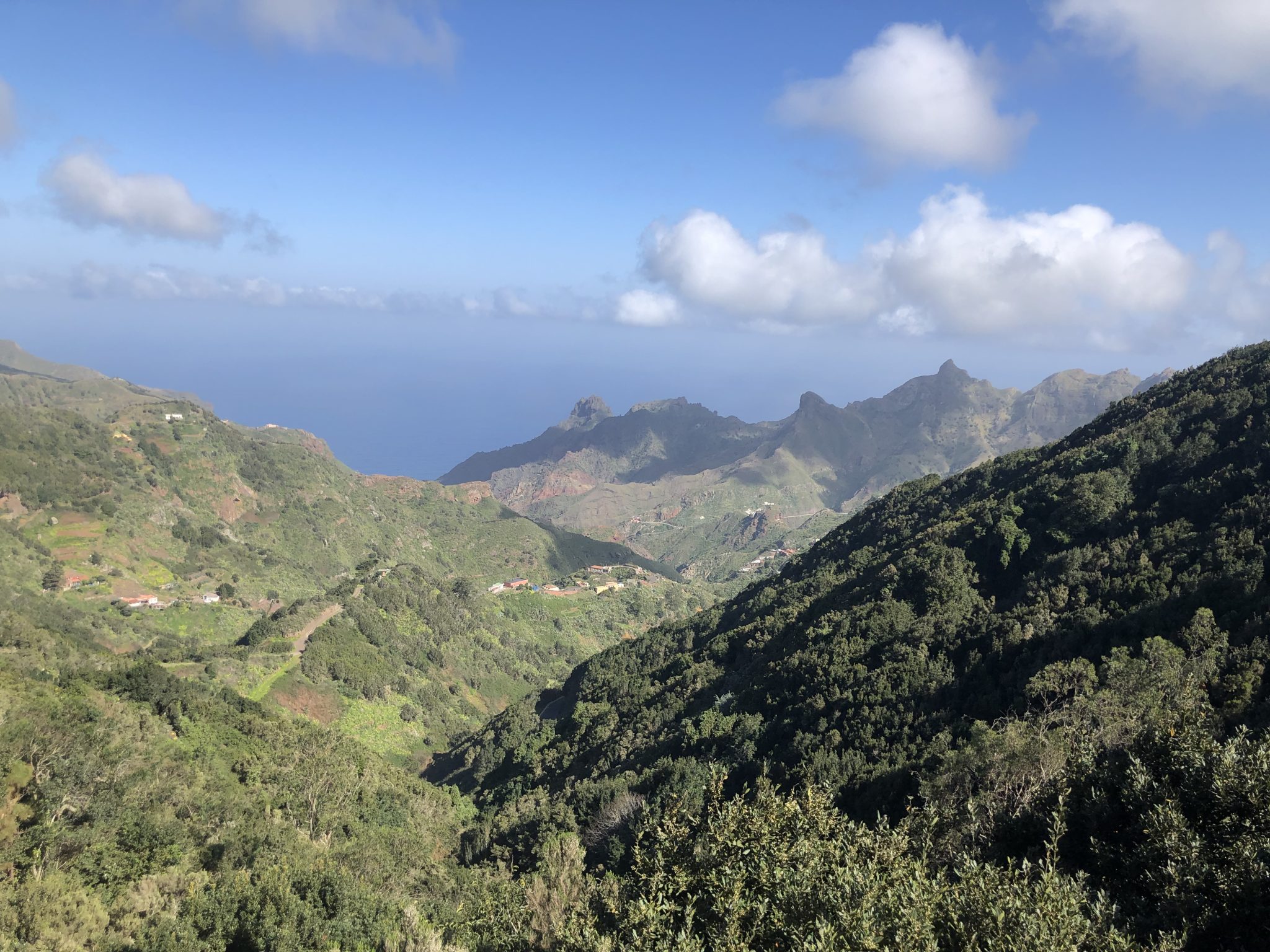 Firstly you can visit Afur where you can do a walk to Playa Tamadiste, this is a long hike, and we did just over half and saw streams and beautiful views. You need good sturdy shoes for this hike. There you will find several walks. Simply follow signs for Taganana stunning mountain range. On your way to Taganana stop at the Mirador de Jardina where you will find stunning views of Mount Teide if it is not cloudy and colourful houses and the beautiful coastline.
Eat at El Fronton for grilled fish with mojo, a Canarian spicy sauce with potatoes. For some goat's cheese, stroll 250m to casa paca local producer.
Once you arrive in Taganana keep driving along the winding coastal road to Playa de Benijo. You have to walk down the stairs and parking is difficult to find but great to see some big waves and wilderness. If you are exploring Tenerife by bus, it will drop you in Taganana, and you can walk to the beach from there.
5 days in Tenerife was perfect for us, but we would definitely return again as there is so much to discover on this beautiful island. Please adapt your Tenerife travel itinerary to your interests, below are a few more suggestions you could integrate into your Tenerife holiday.
Other Itinerary Ideas if you plan to stay in Tenerife for longer
Visit Loro Parque, great for a family day out in Tenerife with kids.
Visit Puerto de Los Cristianos, where you can book Dolphin or Whale rides.
Adeje, visit beaches including Playa la pinta Puerto Colon, Playa Fannabe and Playa Duque.
Further away is Playa la Arena, a beach cove with a beautiful black sand beach, not recommended for swimming.
Visit Loro Parque
We spent the day at Loro Parque, book your ticket here for the best deals. There is a free train that departs from Plaza Reyes Catolicos to Loro Parque, and the last train leaves Loro Parque at 6.45 pm. Or you can park your car inside Loro Parque for 4 euros.
TIP there is parking outside for free, so if you see a person asking you to pay for parking, it might be a scam. Inside the park, there are many amazing shows, including our favourite, the sea lion show, as well as the parrot show, dolphin and orca show. Loro Parque has made this fun and educational at the same time.
Puerto de los Cristianos
Boat trips to see Dolphins, harbour, eat at Sopa Sofa for breakfast. La Cabana del te, La Tapa, Pescaderia fresh ish take home to cook or get them to fry it.
Las Galletas
Mirador Stone pebble beach. Neptune tour, La Caldera del Rey riding stable, climbing, BBQ, Eat at Meson Las Lanzas fresh and homely.