Kerala, also known as 'God's own country' is an idyllic destination for a family vacation. This southern Indian state is known for its lush green hills and serene backwaters, perfect for relaxing and exploring. From the colonial charm of Fort Kochi to the rolling tea plantations of Munnar and the tranquil houseboat rides in Alleppey, this 10-day Kerala itinerary will give your family a taste of all that Kerala has to offer.
In this Kerela road trip itinerary, we will show you how to organise your trip effortlessly by giving you all the details on when the best time to visit Kerala is, the best places to visit in Kerala, the best places to eat in Kerala and the best places to stay in Kerala and how to travel from one part of Kerala to another as Kerala covers a large area.
You might also be interested in reading:
Practical things to know about Kerala
When is the best time to visit Kerala?
The best time to visit Kerala is between September to March, as the weather conditions are ideal for tourists. The temperature during this period is pleasant, and the humidity levels are low. The peak tourist season is from December to February when the weather is mild and pleasant. The monsoon season, from June to September, brings heavy rainfall and can make travel difficult, so it's best to avoid visiting during this time.
What languages are spoken in Kerala?
The language spoken in Kerala is primarily Malayalam. However, English is also widely spoken in most tourist areas., although in some remote places, you may find Google Translate helps.
What is the best way to travel around Kerala?
When it comes to travelling within Kerala, the best way is to book taxis either through a reliable travel agency or through online booking services like Uber or Ola. Uber and Ola work really well within the local area you are in. We suggest booking a taxi for longer distances; these can be arranged at the hotel or homestay you are staying in. Booking your taxis in advance is always advisable to avoid any last-minute hassles.
Pin and Share article for later 🙂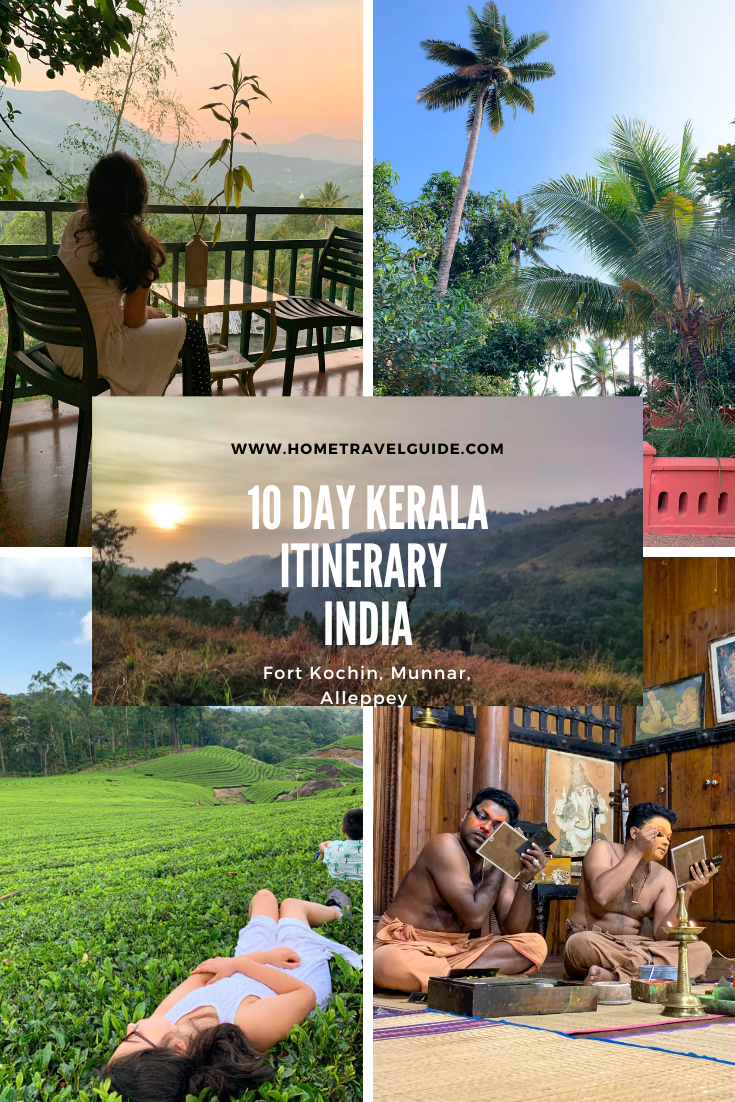 Best 10-Day Kerala Itinerary
Day 1 – Arriving in Fort Kochi
You'll begin your trip in Fort Kochi, renowned for its rich history, stunning architecture, and vibrant culture. This is the oldest European settlement in India. Start by wandering through the streets of Mattancherry, where you can find beautiful Portuguese architecture and centuries-old churches. After lunch, stroll down Jew Town, where you can browse through antique shops selling antiques and traditional artefacts. In the evening, head to one of the local beachfront restaurants to enjoy some freshly caught seafood while watching a stunning sunset.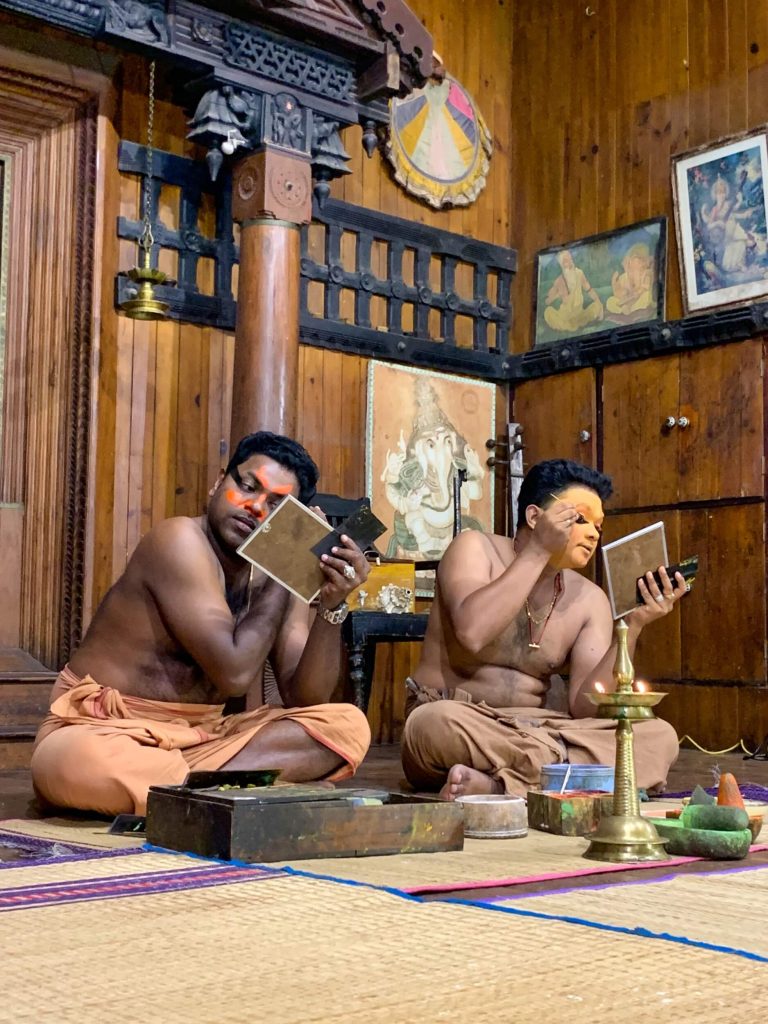 Where to stay in Fort Kochin?
We recommend booking a homestay to get the best authentic experience. Check here for the best rates in Fort Cochin.
Day 2 – Exploring Fort Kochi
Begin day two with a visit to St Francis Church—the oldest European church still standing in India before heading over to Santa Cruz Basilica. Spend the rest of your day browsing through quaint boutiques or exploring Chinese fishing nets along the harbour. You can also buy fresh fish from the fishermen. Make sure you negotiate your price and get it cooked by the local restaurants nearby.
Day 3 – Fort Cochin
Where to eat in Fort Kochin?
Here are some of the best places to eat in Fort Kochin
Dal Roti: Located on Princess Street, Dal Roti is a must-visit for anyone who loves Indian cuisine. The restaurant's menu features a range of vegetarian and non-vegetarian dishes, including the region's staple items such as dosa, biryani, and curry. The dishes are prepared using fresh, locally sourced ingredients and spices that provide a unique flavour.
Fusion Bay: Situated in the bustling Fort Kochi area, Fusion Bay is a favourite haunt among tourists and locals alike. It offers a combination of Indian and European cuisine, which is a testament to Fort Kochi's diverse cultural heritage. The restaurant's ambience is inviting, and the staff is friendly and dedicated to providing an unforgettable dining experience.
Oceanos: For seafood lovers, Oceanos is the place to be. The restaurant is situated close to the beach and serves an extensive menu of fresh seafood dishes prepared with a blend of spices and flavours from Indian and European cuisines. Besides, there is an excellent selection of exotic drinks and desserts, which makes it a perfect spot to unwind after a long day.
Kashi Art Cafe: This quaint little cafe in Fort Kochi is a haven for those who appreciate art and good food. It has an impressive collection of contemporary art and serves a range of delicious snacks, sandwiches, salads, and desserts. The cafe is renowned for its coffee, which is sourced from the nearby town of Wayanad, and for its stunning location that overlooks an enchanting courtyard. If you are a chocolate lover, try the chocolate cake. It is super delicious.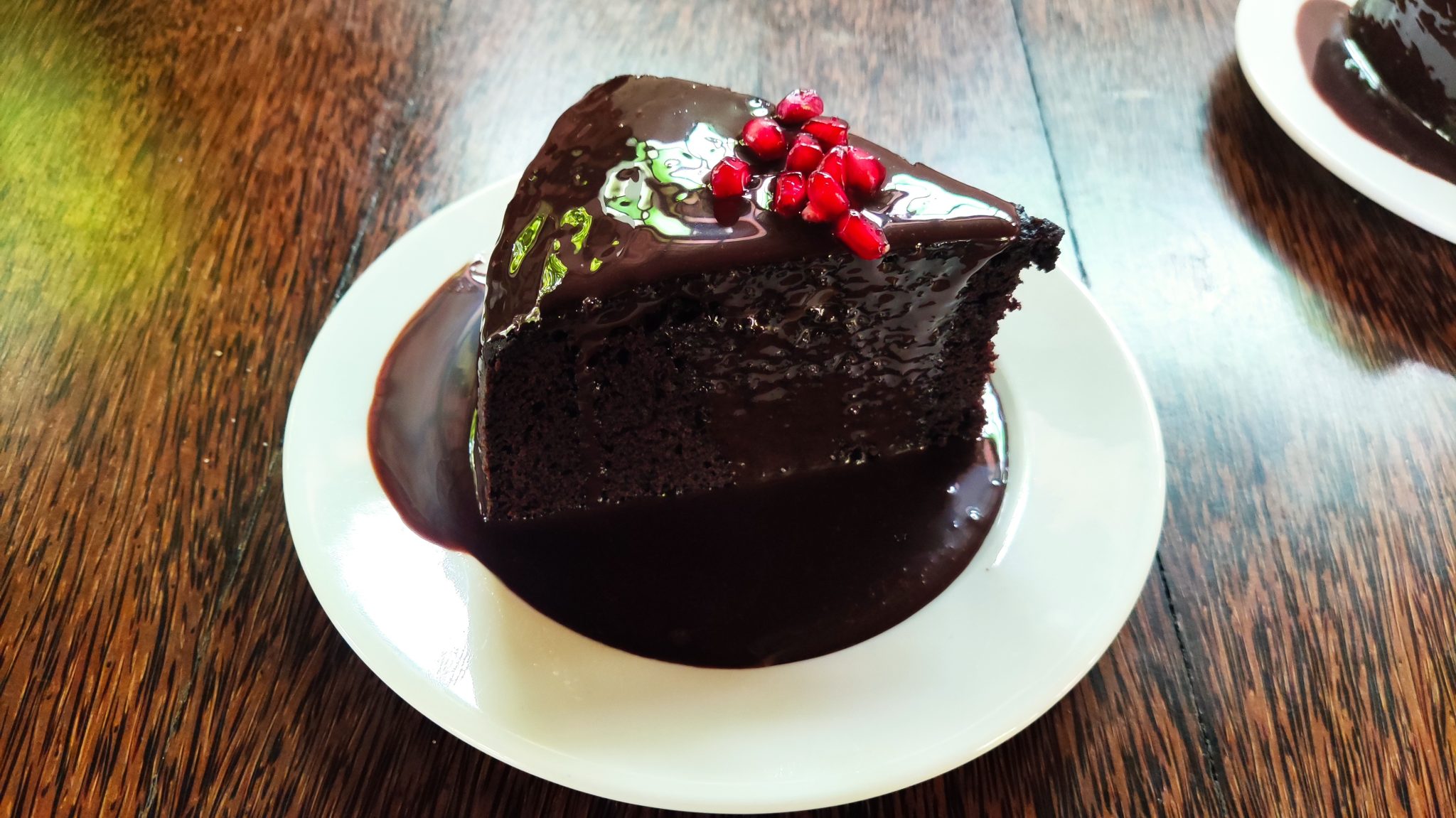 Eighth Bastion: The Eighth Bastion restaurant in Fort Kochi is the epitome of luxury dining. Located in the city's heart, this upscale restaurant offers a unique dining experience with a menu that includes a fusion of Indian and gourmet international cuisine. The ambience is elegant and cosy, with an emphasis on impeccable service, making this an unforgettable dining experience.
Fort Kochin to Munnar – A taxi can easily be arranged, driving time around. If you get car sick, make sure to take your medicine as you approach Munnar: the roads are winding.
Day 4- Off To Munnar
After breakfast, it's time to make your way up into the hills as you drive towards Munnar. Munnar is a stunning hill station nestled in the Western Ghats of Kerala, India. It is known for its idyllic landscapes, cool climate, and tea plantations that span across acres of land. Visiting the tea plantations in Munnar is an experience unlike any other, offering a chance to witness the intricate process of tea production and indulge in the soothing aroma of freshly brewed tea. Stop at Top Station for stunning views across the Western Ghats before continuing for a few more hours until you reach your destination in Munnar. Spend your first night here surrounded by rolling tea plantations and misty hilltops.
For a beautiful tranquil stay, book the Mistletoe Homestay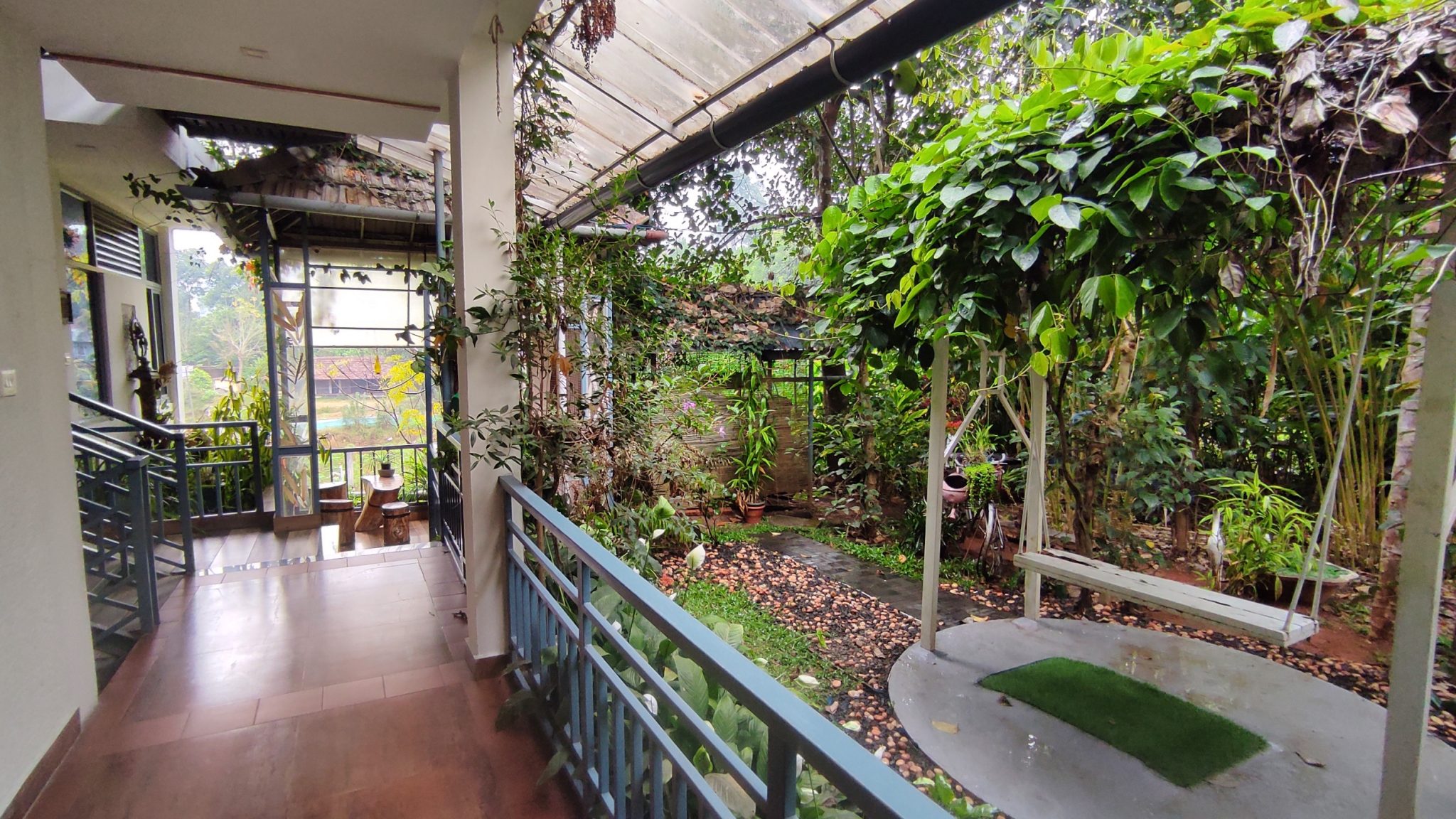 Our stay at Mistletoe was wonderful. We loved our rooms which were spacious and beautifully decorated. We also had a beautiful view of the spice plantations along with a lovely balcony terrace. Delicious, fresh breakfast was served every morning. My favourites were the fresh juices, especially the passion fruit juice and their delicious home-cooked pizzas and freshly baked bread made in their stone oven. We loved the food so much that we ate lunch and dinner here. Try their avocado salads; depending on the season, you will get avocados from their garden. Joe, Jeena and their kids were wonderful hosts. They also organised lovely tours for us, including a jeep tour to see the spice plantations and tiger cave.
Day 5 – Time to explore Munnar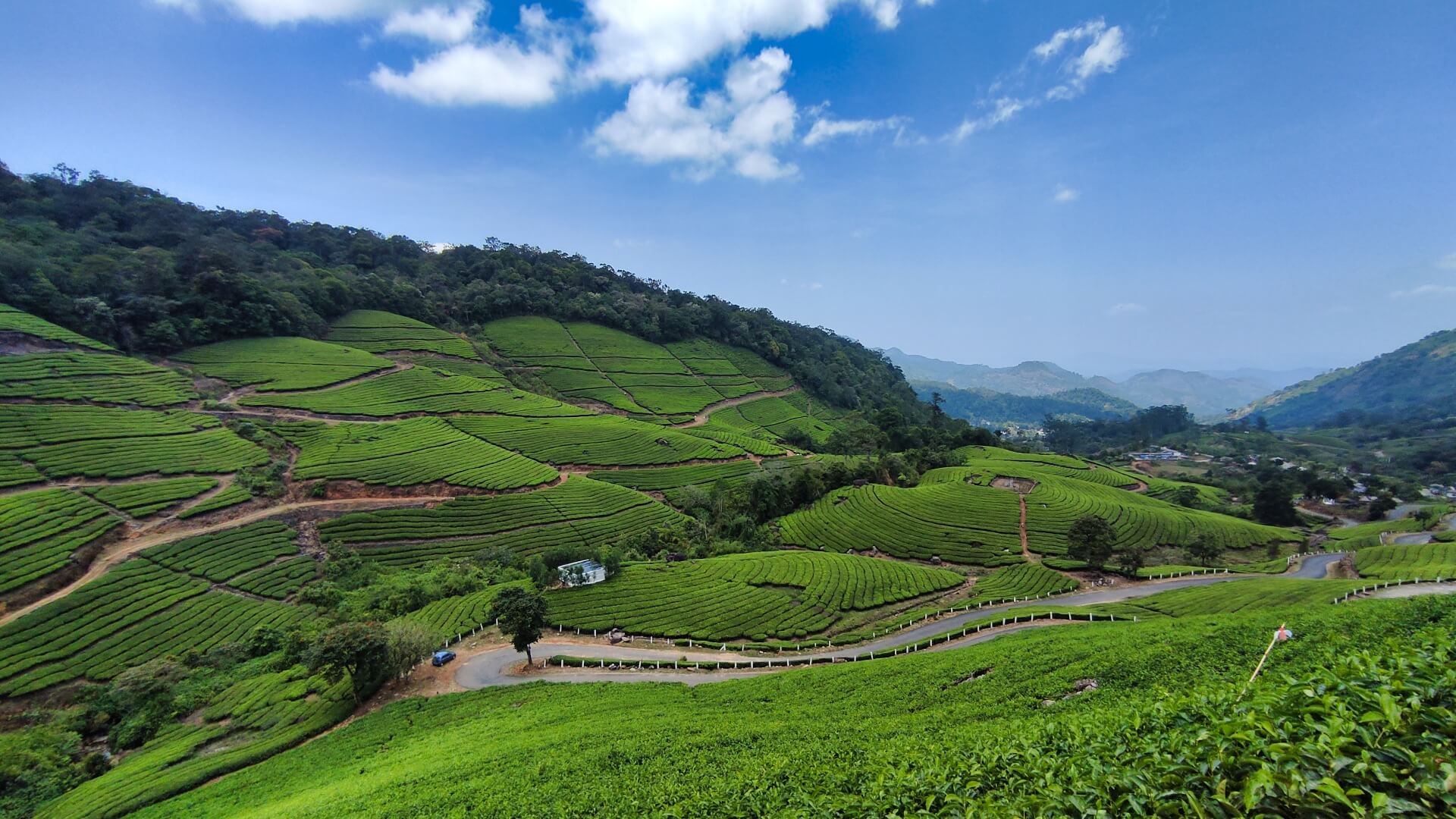 The plantations are spread over a vast area and offer tourists a chance to explore and learn about tea production. The tea plantations in Munnar are primarily managed by the Tata Tea Company, which owns several tea estates in the region. The tea-making process is incredibly intricate and requires skill and patience at every stage. The tea leaves are carefully harvested, sorted, and withered before being processed into their final form.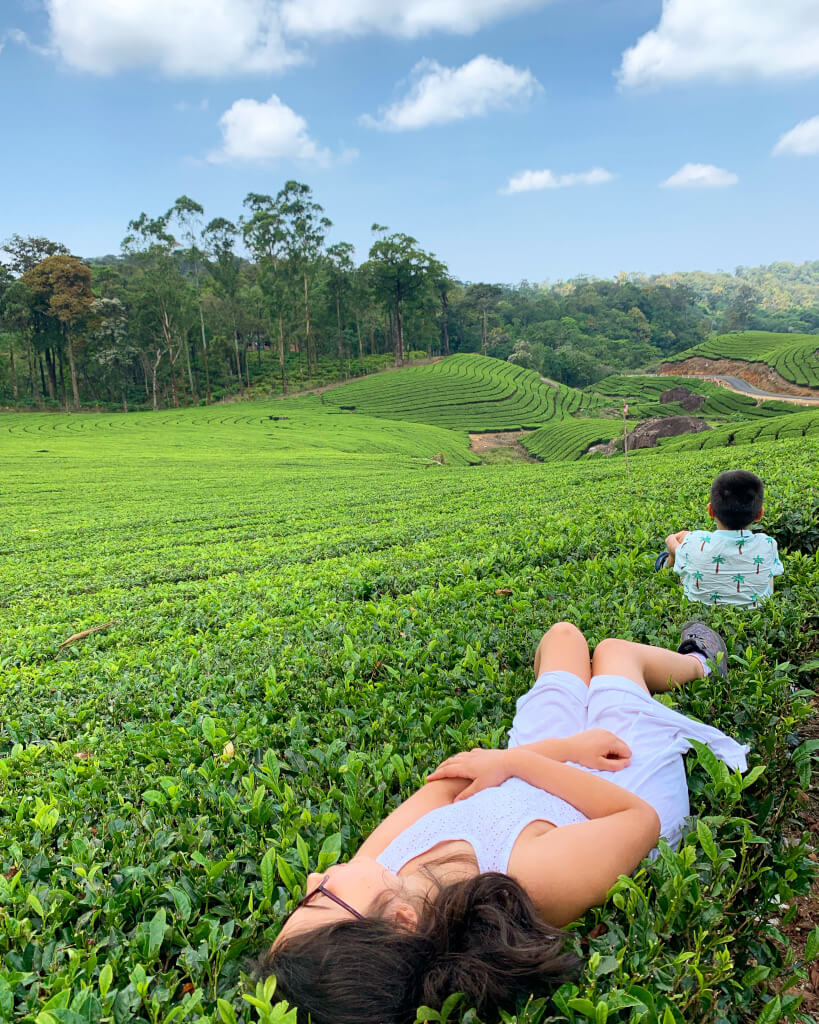 Start your day with an organised tour with a knowledgeable local guide who can take you to see Mattupetty Dam, a tea museum, and visit a tea plantation and spice plantation.
Additionally, the tea plantations in Munnar offer stunning views of the surrounding hills, with visitors being able to admire the lush greenery and the quaint charm of the hill station. This is definitely a place not to miss during your Kerala itinerary.
Day 6 – Munnar
Start your morning with a full-day village tour to see the wild elephants in their natural habitat in Anakulam. This can easily be organised with an auto-rickshaw or taxi. Your hotel can arrange this or visit Eravikulam National Park, home to the endangered Nilgiri Tahr mountain goats.

In the evening, we recommend you watch the Kalarippayattu show at Kalari Kshethra, where you can see a traditional martial art form of Kerala which originated around 3000 years ago and is known as the mother of martial arts. If you want, they also have a Kathakali show, an Indian classical form of dance. The entrance costs about 200 rupees.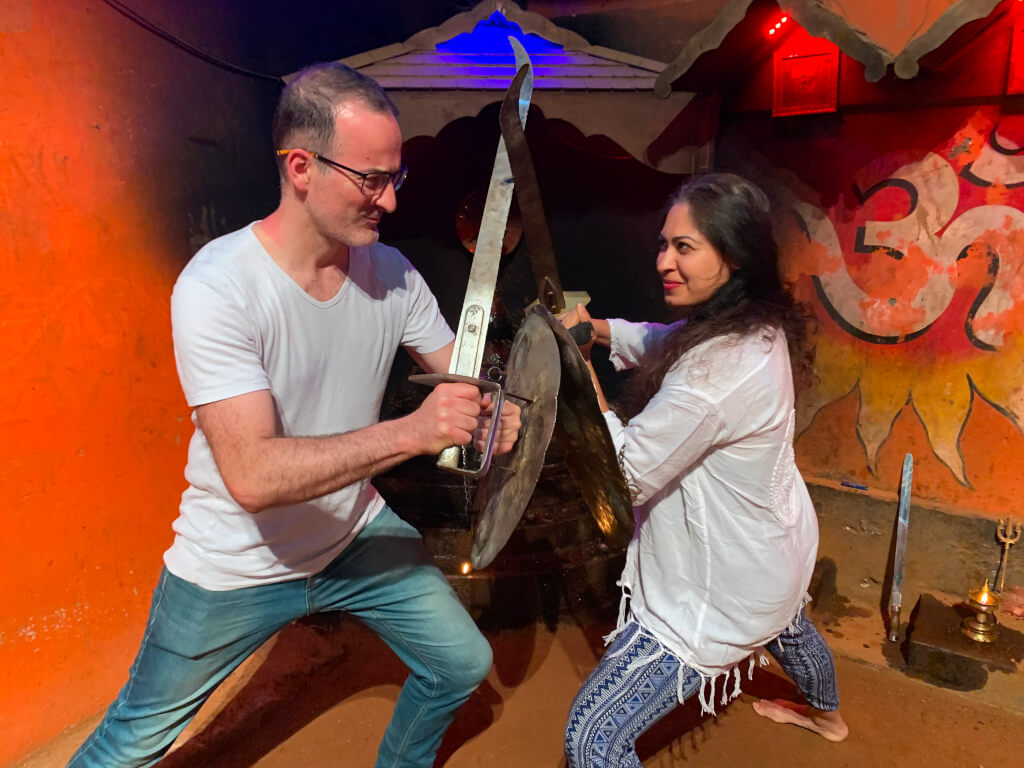 The next part of our Kerala itinerary takes you to Alleppey. Alleppey is known for its beautiful backwaters. It should definitely be on your Kerala itinerary.
Getting from Munnar to Alleppey will take you around 4 hours. The taxi will cost around 6000 rupees.
Day 7 – Drive from Munnar to Alleppey
The driving time is about 5 hours.
Alleppey is known as 'The Venice Of The East' thanks to its intricate network of canals running through it which used to be used to transport spices, coffee, tea and cashews. Alleppey, also known as Alappuzha, is a picturesque town located in the southern Indian state of Kerala. Known for its serene backwaters, quaint canals, and beautiful beaches, Alleppey is a popular destination for travellers looking to experience the natural beauty of Kerala. It is often included in many Kerala itineraries due to its unique and laid-back atmosphere and the variety of activities it offers.
Whether you want to take a leisurely houseboat ride through the backwaters, soak up the sun on a pristine beach, or sample some delicious local cuisine, Alleppey has something for everyone. As part of our Kerala itinerary, we will be sharing some of the top things to do and see in Alleppey, as well as the best accommodation to book in Alleppey.
Where to stay in Alleppey?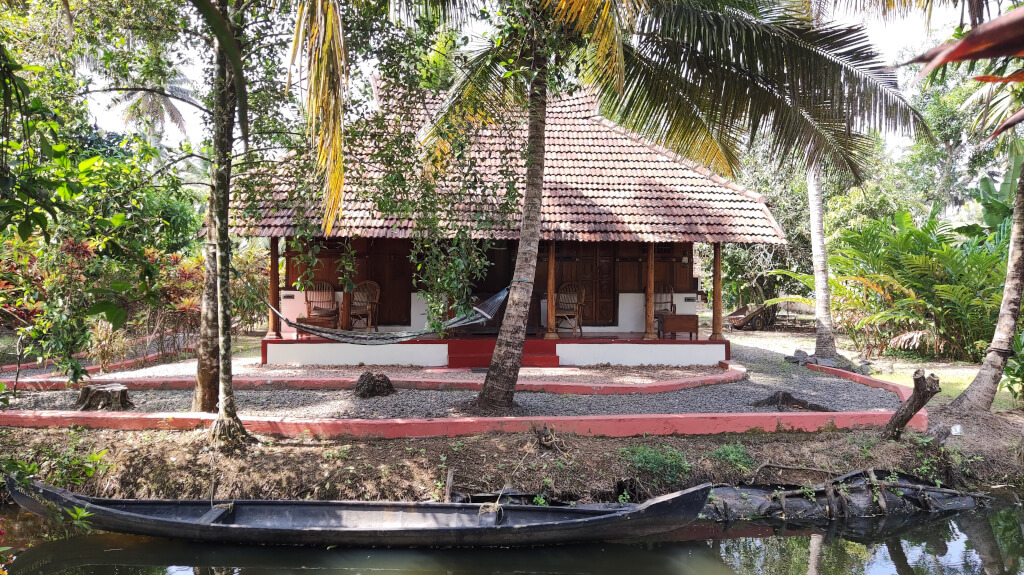 During our stay in Alleppey, we stayed at the beautiful Emerald Isle Heritage Homestay. You can find our full detailed review here. We absolutely loved our stay with Emerald Isle Heritage Villa. They are located in a beautiful location right on the river banks. The property is surrounded by rice fields, ponds, lush green gardens and flowers. It is the perfect place to relax and enjoy Alleppey.
Where to eat in Alleppey?
Depending on your location, you will find many street food vendors and small eateries that serve delicious local cuisine. Be sure to try local specialities such as fish curry, appam, and puttu. If you stay at Emerald Isle Heritage Hotel, they can organise your meals, and we definitely recommend this as they prepare fresh home-cooked food, which is absolutely delicious.
If you fancy trying out some restaurants in Alleppey, here are some of the best places to eat in Alleppey for seafood, vegetarian or Kerela cuisine.
Thaff Delicacy: Thaff Delicacy is a popular restaurant in Alleppey that serves various traditional Kerala dishes, including seafood, chicken, and vegetarian options. Their prawn curry and fish fry are highly recommended.
Halais Restaurant: Halais Restaurant is a multi-cuisine restaurant that serves various dishes, including North Indian, South Indian, and Chinese cuisine. Their seafood platter is a must-try.
Cafe Catamaran: Cafe Catamaran is a charming cafe by the beach serving delicious seafood and international cuisine. Their wood-fired pizzas and seafood platter are highly recommended.
Dreamers Cafe and Restaurant: Dreamers Cafe and Restaurant is a cosy eatery that serves traditional Kerala dishes, including fish curry, prawn roast, and puttu. Their seafood thali is a must-try.
Mushroom Restaurant: Mushroom Restaurant is a popular vegetarian restaurant serving various Indian and Chinese dishes. Their thali meals are highly recommended.
Indian Coffee House: Indian Coffee House is a chain of restaurants that serves traditional South Indian breakfast items, such as dosa, idli, and vada. Their filter coffee is a must-try.
Day 8- 10 Explore the beautiful backwaters of Alleppey
One of the most popular activities in Alleppey is to spend a night on a houseboat, also known as a kettuvallam. These traditional boats were originally used for transporting goods along the backwaters but have been converted into comfortable floating homes for tourists.
Staying on a houseboat allows you to experience the tranquillity of Kerala's backwaters in a unique and memorable way. You can watch the sun rise and set over the water and witness the local fishermen going about their daily routines. The houseboats have all the modern amenities you need, including comfortable beds, attached bathrooms, and even air conditioning.
During your stay on the houseboat, you'll be served delicious local cuisine, including fresh seafood and vegetarian dishes. You can relax on the deck, soaking in the serene surroundings or take a canoe ride to explore the nearby villages.
Houseboats can be booked for a minimum of one night and up to several days. It is essential to book in advance, especially during peak season, to ensure availability.
The cost of a houseboat in Alleppey can vary depending on the season, size of the boat, and level of luxury. As a general guide, a one-night stay on a standard houseboat for a family of four can cost anywhere from INR 8,000 to INR 12,000 (approximately USD 110 to USD 160). In contrast, a more luxurious option can cost upwards of INR 20,000 (approximately USD 270).
What else can you do in Alleppey?
Apart from staying on a houseboat, there are several other things to do in Alleppey that make it a popular destination for travellers in Kerala. Here are some of the top activities and attractions in Alleppey:
Explore the Backwaters: One of the most popular activities in Alleppey is exploring the backwaters. You can hire a canoe or a motorboat and go on a leisurely ride through the canals, passing by lush green paddy fields and coconut groves.
Relax on the Beach: Alleppey has several beautiful beaches, including Alappuzha Beach and Marari Beach. You can soak up the sun, go for a swim, or simply relax and enjoy the views.
Visit the Alleppey Lighthouse: The Alleppey Lighthouse, built in 1862, is a historic landmark and a popular tourist attraction. Climb up the tower to enjoy panoramic views of the town and the surrounding backwaters.
Learn about Local Culture: Alleppey is known for its rich cultural heritage, and there are several opportunities to learn about local art, music, and dance. You can attend a Kathakali performance or visit the Kerala Folklore Museum to learn about traditional crafts and art forms.
Try Local Cuisine: Kerala is famous for its delicious cuisine, and Alleppey is no exception. Be sure to try local specialities such as fish curry, appam, and puttu.
Visit the Krishnapuram Palace: The Krishnapuram Palace is a beautiful palace built in the 18th century, known for its stunning architecture and art collection.
Take an Ayurvedic Spa Treatment: Kerala is known for its Ayurvedic treatments, and Alleppey is no exception. You can visit one of the many Ayurvedic spas in the town to indulge in a relaxing massage or treatment.
These are just a few of the many things to do and see in Alleppey, making it an ideal destination for travellers looking to experience Kerala's natural beauty and culture.
Day 10 – Enjoy a last local delicious breakfast.
On your last day, enjoy a nice breakfast and prepare to drive back to the airport. By following this 10-day itinerary, your family will get an authentic taste of all that Kerala has to offer, from colonial charm in Fort Kochi to breathtaking views atop Munnar's rolling hillsides and tranquil houseboat rides along Alleppey's serene waterways. With plenty of activities such as wildlife spotting, beach lounging or spice shopping, there's something for everyone here.
Kerala is a beautiful destination offering a peek into Indian culture and tradition. With rich cuisine, beautiful landscapes, and friendly people, it is the perfect place to unwind and experience the simplicity of life.
Check the official Kerala Tourism office for more information: https://www.keralatourism.org/