When most people visit Vietnam, they tend to go to Hanoi, Hoi Chi Minh City, or Ha Long Bay. But this charming town set on the Thu Bon River in central Vietnam is not to be missed! Known for being one of the prettiest cities in Vietnam, there is an atmospheric and historic old town feeling here. Hoi An is one of the best places to visit in Vietnam with kids. It is a destination you'll want to put on your list with a mixture of ancient temples, museums, colorful lanterns gracing the storefronts, and canals running through the town. Hoi An is also a great base for trips around Vietnam. You can easily spend a few days in Hanoi to complete your Vietnam trip. Or head to other family friendly destinations in South East Asia.
Located on Vietnam's western, central coast, Hoi An sits along the Thu Bon River. Named a UNESCO World Heritage site, it's incredibly rich in culture and history. To reach Hoi An, you can take a direct flight from Hanoi or Ho Chi Minh City to Da Nang International Airport. The flight time is just under one hour and a half, and then it's approximately a 50-minute drive to Hoi An from the airport.
The weather in Hoi An can be hot, humid, and rainy, which is typical in central Vietnam. Therefore the best time to visit Hoi An is during the dry season, from February to July. The temperatures will be milder, with less rain and warm sunshine for your outdoor activities.
There are a lot of things to do in Hoi An with kids and many activities you can enjoy as a family. Which is why it is such a Hoi An is a popular family destination in Vietnam.
Don't forget to Pin and Share this article 🙂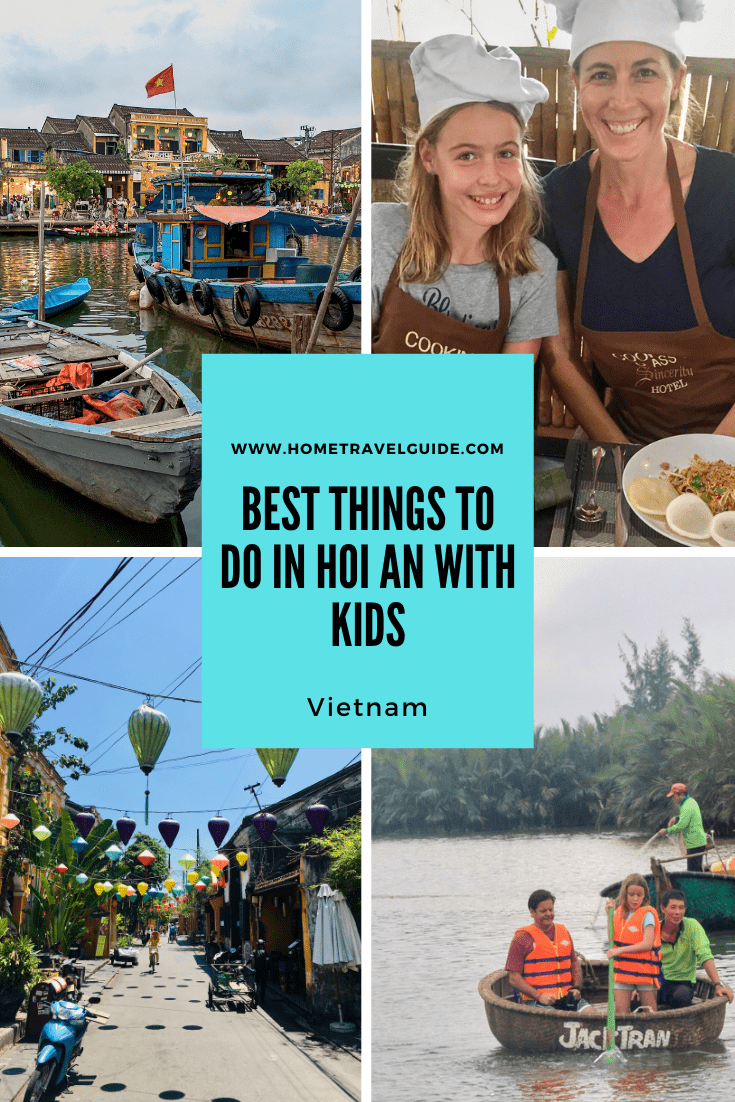 Here are our top 5 five must-do experiences you must do in Hanoi with kids:
1. Get something custom made at a tailor shop in Hoi An
2. Take a boat ride on the Thu Bon River in Hoi An
3. Try paddling a round basket boat
4. Learn water buffalo farming techniques in Hoi An
5. Take a cooking class in Hoi An
Get Something Custom Made at a Hoi An suit tailor Shop
Hoi An is known for its tailor shops. People will travel all the way here to get a custom-made suit. But it's not only for suits. The whole family can participate and enjoy getting something custom-made. Either come prepared with something you would like custom-made or spend some time looking through their photos and patterns for ideas. Maybe it's a dress for your daughter or shorts for your son. The possibilities are endless.
Once you determine what you'd like designed, the fun part begins. You will look through rows and rows of fabric to pick what you want. They'll take your measurements, and then the work will start on customizing your design. Most tailor shops take a couple of days to make your clothing, so it's best to do this first when arriving in Hoi An. Prices will vary depending on the shop you purchase from and the item you have custom-made.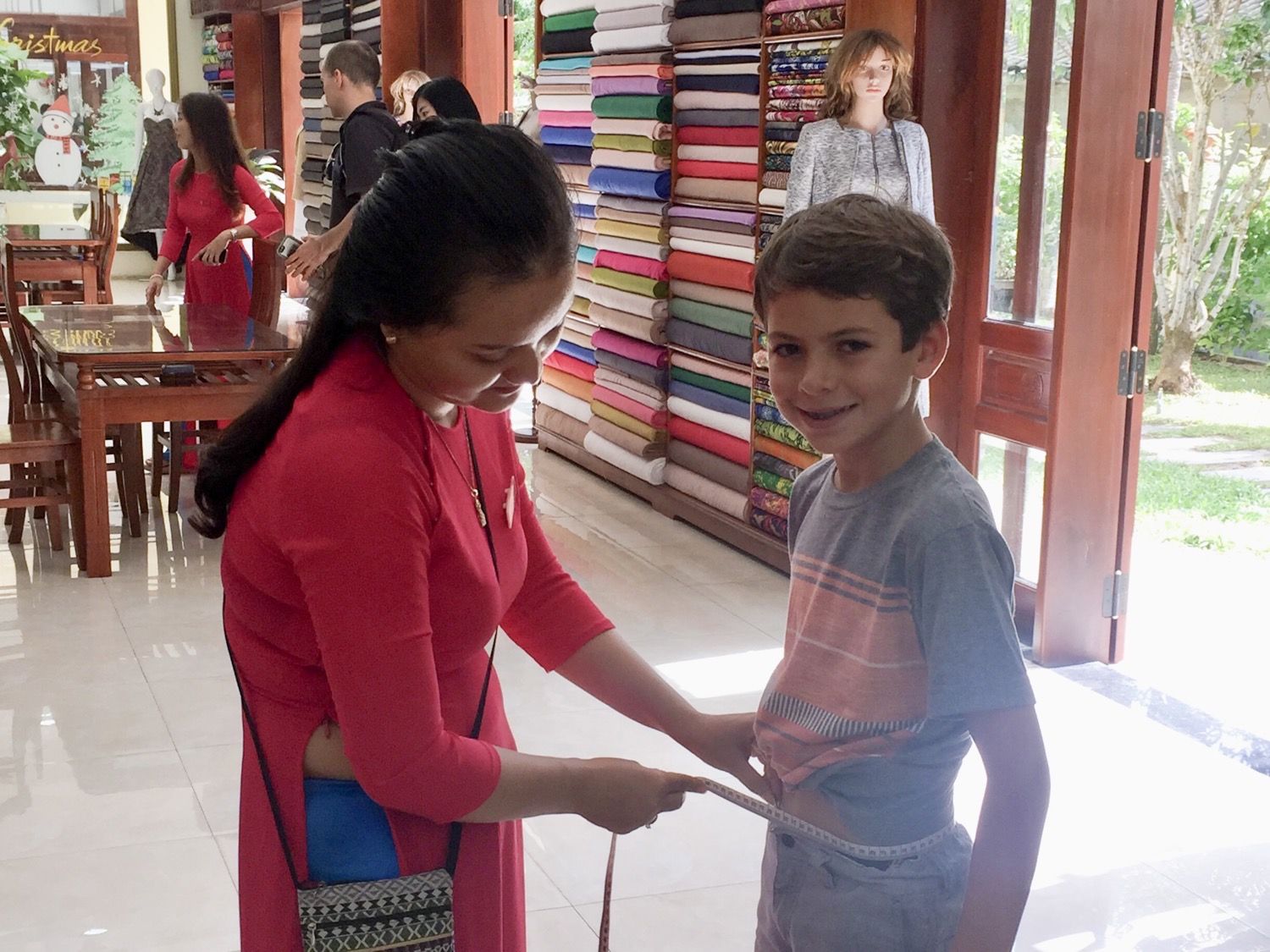 Take a Boat Ride on the Thu Bon River
The Thu Bon River runs between Hoi An's ancient town. Head to the waterfront, and there you'll find boats awaiting your journey. There are options for half-day tours to explore the river farming communities. Or opt for a shorter one-hour boat trip that will take you up and down the river with views of the Old Town. Twilight is a beautiful time for a boat ride as the town comes alive under the glow of the colorful lanterns.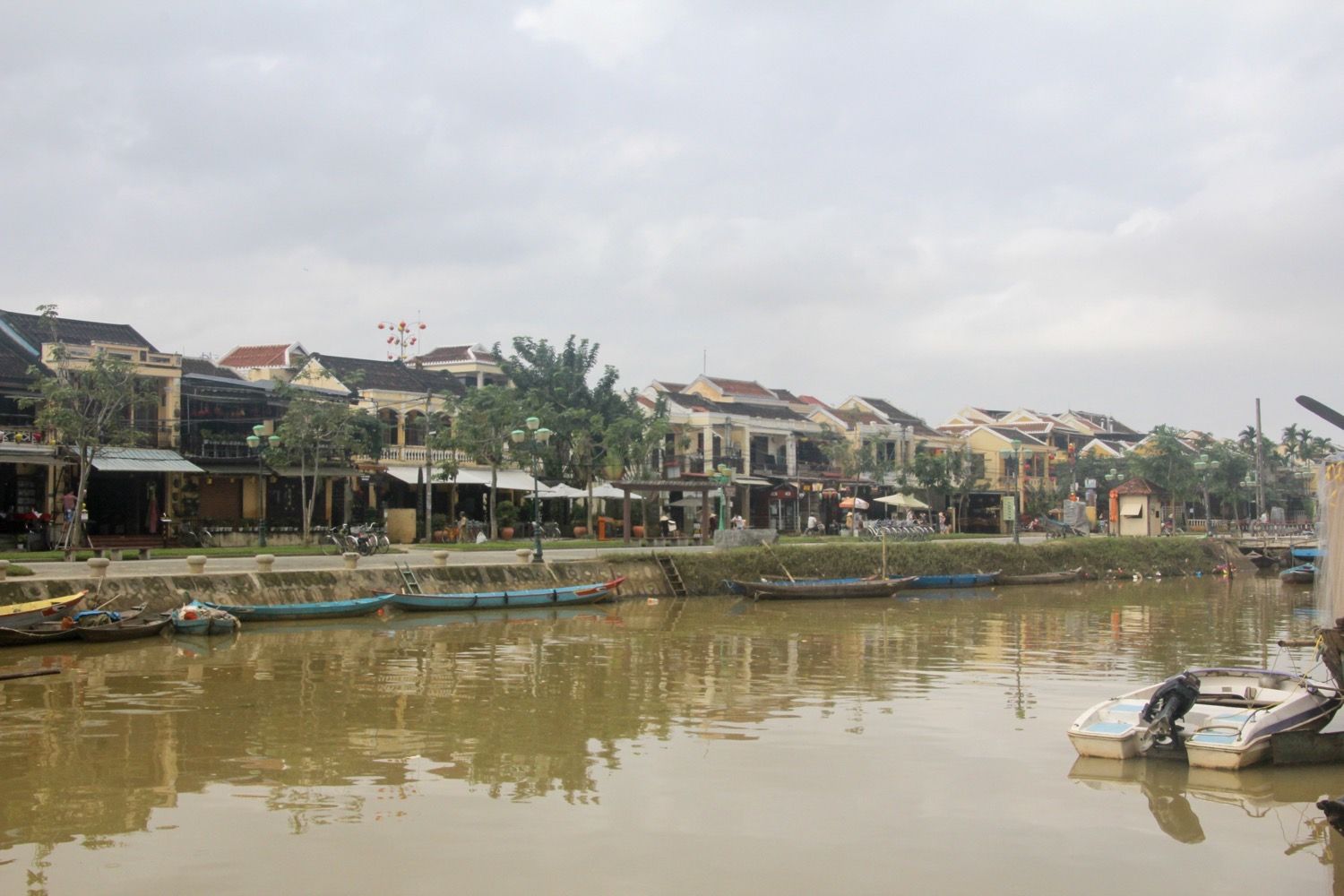 Try Paddling a Round Basket Boat
Ready for squeals of laughter from your kids? Then try your hand at a local fishing technique by paddling a round basket boat. While it may seem easy, it's more complex than you think. Most tours depart from Hoi An and will take you to the nearby local fishing village. You will board a larger boat that will take you past local river farming communities and will learn a bit about the round basket boats these farmers use. Next, it's your turn to try. You will hop into a round boat and will try your best to paddle without spinning in circles! Tip: try paddling in a figure-8 motion. The cost for this experience is about $11 USD per person and lasts approximately two hours.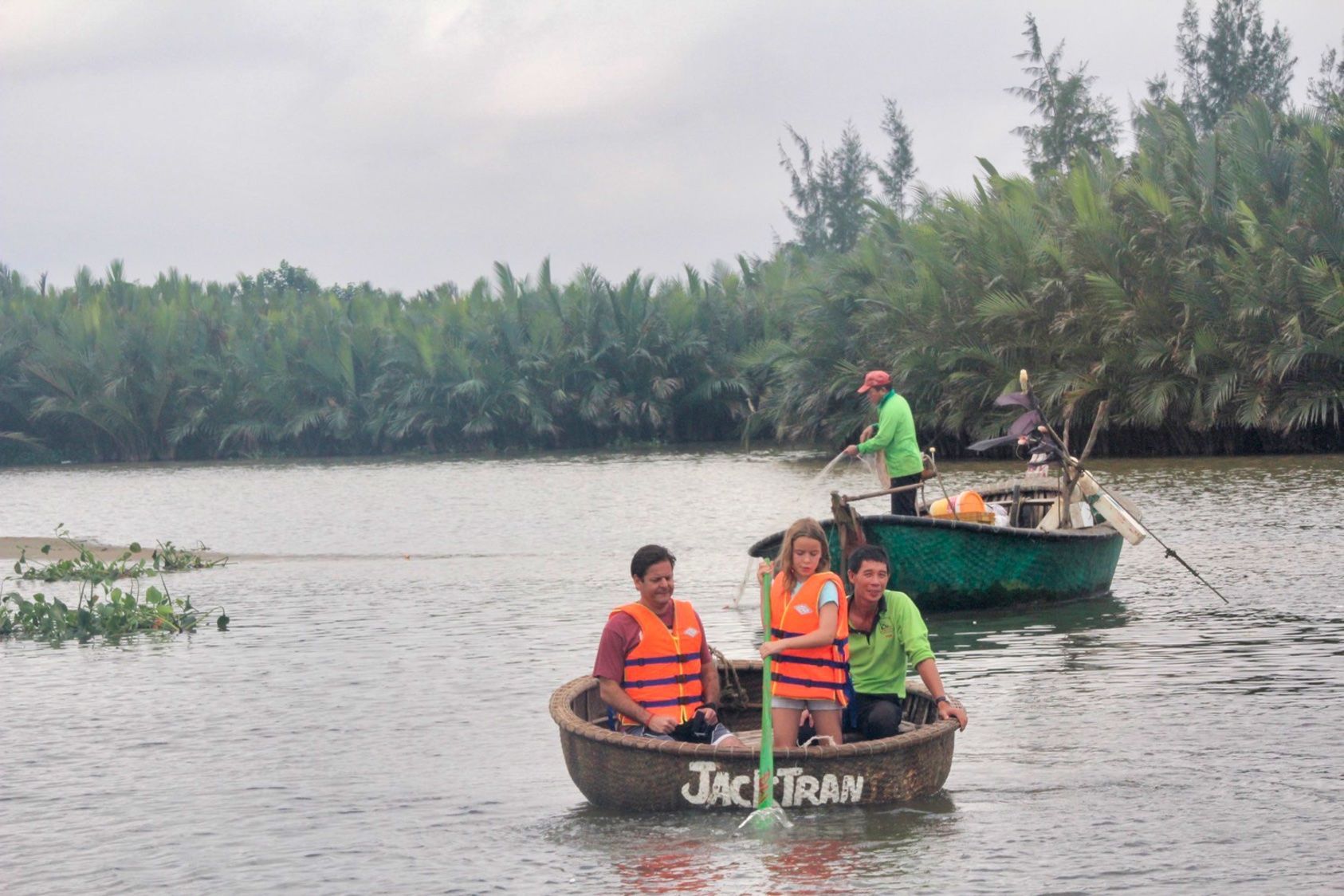 Learn Water Buffalo Farming Techniques
Water buffalos are incredibly beneficial in the rural farming villages of Hoi An. The water buffalo pulls plows in the rice fields and carries heavy loads for the farmers during the harvest season. It's a fun experience for family travelers and helps build an appreciation for this local farming technique.
You will start by meeting the farmer and learning a few directional sayings in Vietnamese so you can steer the water buffalo. Then up you go to ride the water buffalo across the rice fields. Hold on tight if you happen to go through water! This tour is usually paired with the round basket boat tour for $34 USD per adult and $17 USD for children under 11 years old.
If you prefer not to ride on the back of the water buffalo, there is an option to ride in a pulling cart behind the water buffalo. The cost for the pulling cart ride is approximately the same as above, $34 USD per adult and $17 USD for children under 11 years old.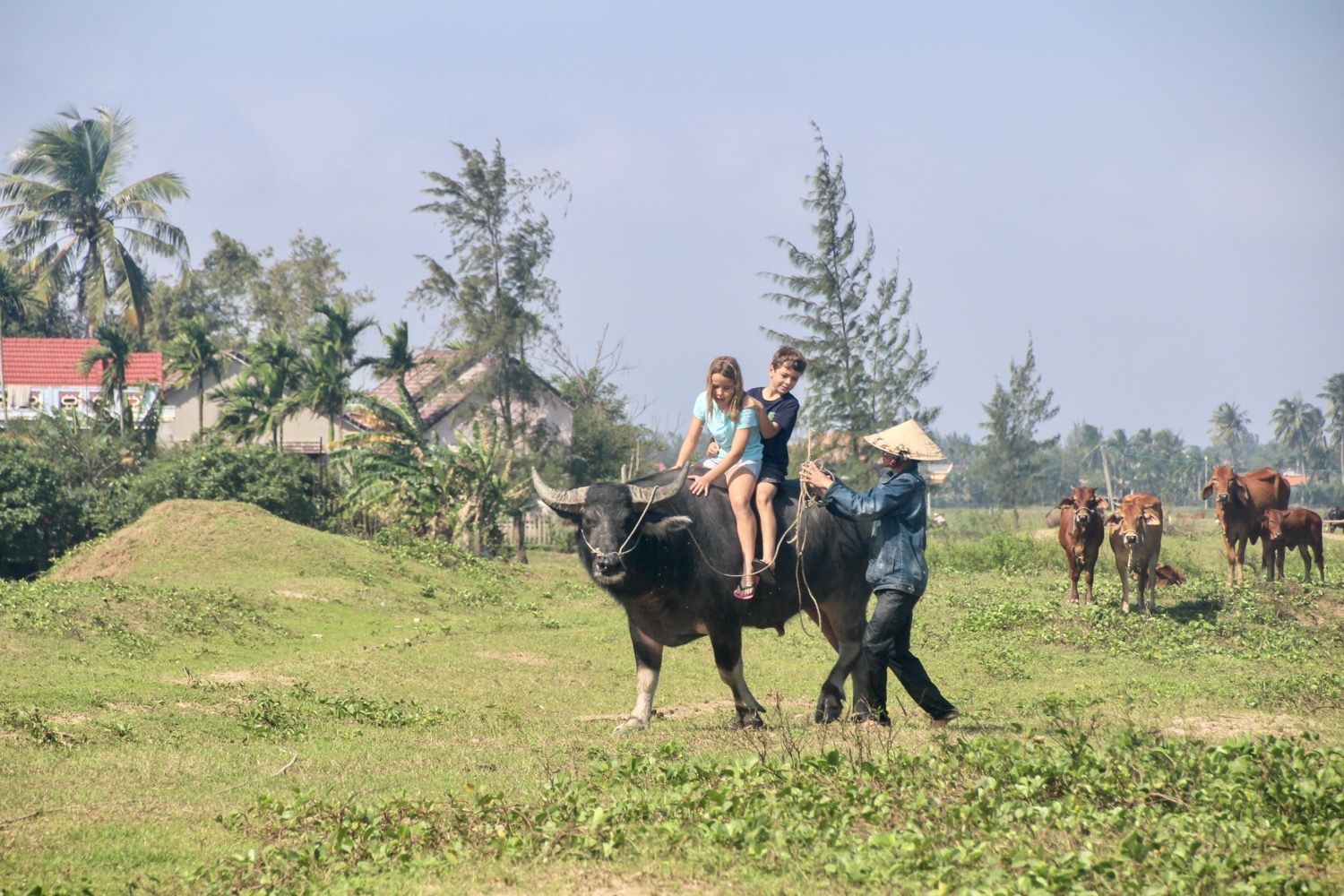 Take a Cooking Class
Participating in a cooking class offers a great insight into the local culture. And it's pretty fun too! Plus, if you have picky eaters, they will surely gain an appreciation for foods they might not have normally tried. Many of the cooking classes in Hoi An will start with a trip to the local market to purchase the necessary ingredients. And then you'll slice, dice, and sauté your way to a delicious Vietnamese meal. Prices average about $35 USD per adult and $20 USD per child.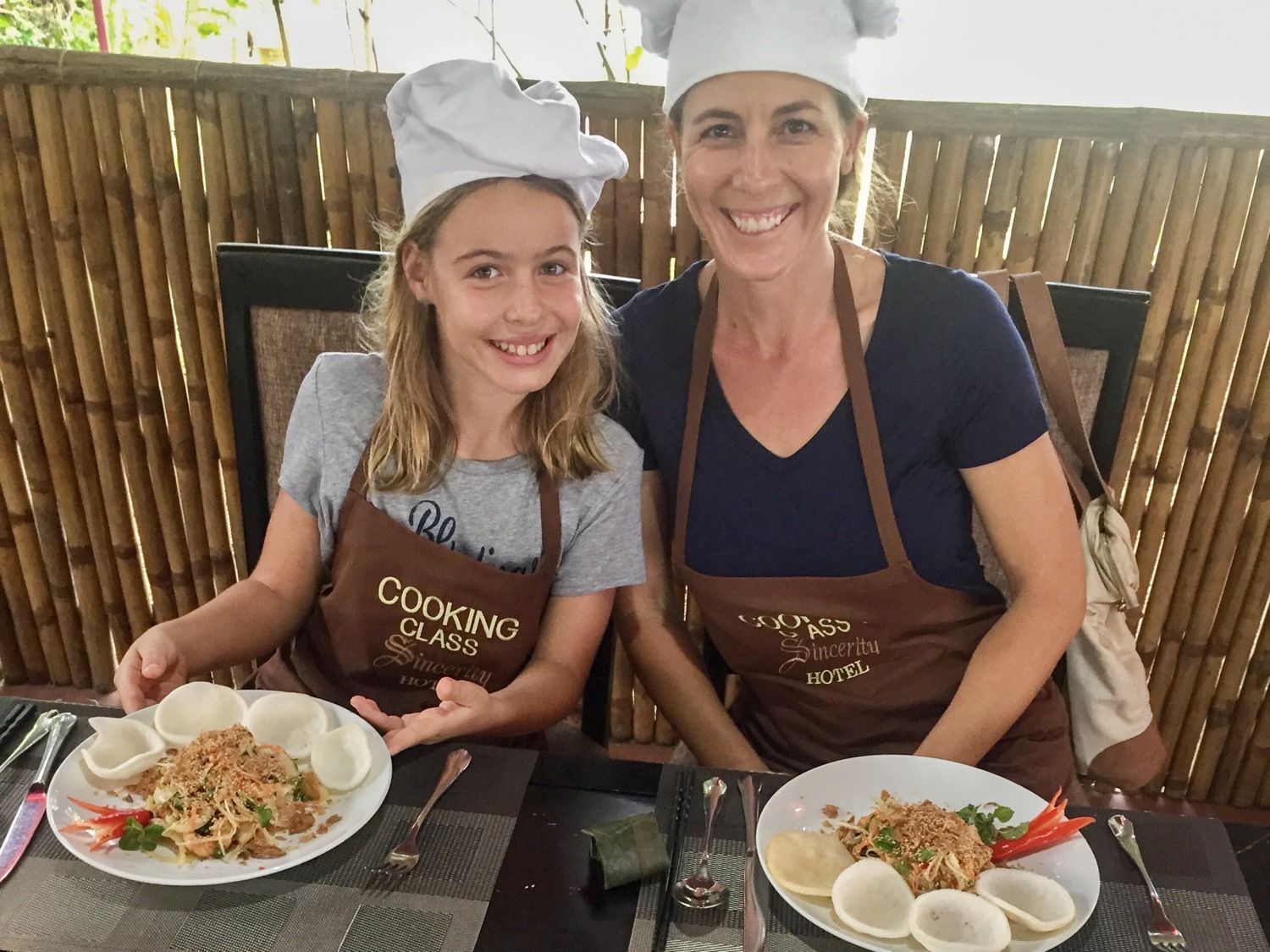 Plan to spend a few days in Hoi An participating in these local activities. There are also bike tours available and a beach nearby for a day of relaxing. Of course, make sure you spend some time wandering through the Old Town and enjoying the sights and smells that await you in beautiful Hoi An.
Written by our guest contributor, Laura Cox who is the founder of Travel 80 by 80, a family travel blog dedicated to inspire and help families navigate international travel with confidence and purpose.