Vietnam is an ideal destination for families with young children. Vietnam offers families a wealth of activities to enjoy together, from exploring the Mekong Delta to visiting Hoi An's ancient temples. The Vietnamese culture is also very family-oriented, so travelling with kids is a great way to experience the country. Plus, Vietnam boasts beautiful beaches, rivers and landscapes that are sure to delight everyone in the family. Not to forget the incredible Vietnamese food. So if you're looking for an amazing family vacation destination, then make sure to visit Vietnam with kids. There are many different ways to travel to Vietnam, depending on your budget, time frame, and interests.
Our Ultimate Vietnam Guide will tell you everything you need to know about travelling to Vietnam with kids. We will cover the best tips for travelling with kids, the best time to visit different parts of Vietnam, the best things to do with kids in Vietnam, the different areas to visit in Vietnam, how to find family-friendly accommodation in Vietnam and a family travel itinerary to Vietnam. Be warned this is a long and detailed guide to everything you want to know about Vietnam with kids. Feel free to use the contents index to skip to certain parts of the article that interest you more :). Also, please share, pin and comment on this guide to help others organise their perfect Vietnam Holiday with kids.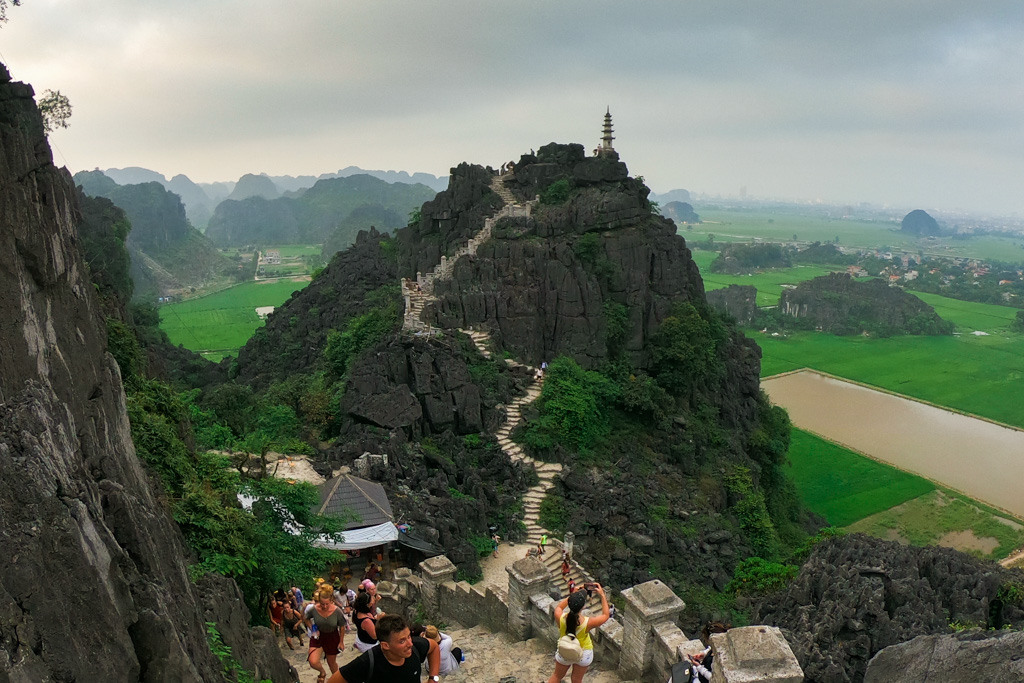 So Where Exactly Is Vietnam?
Vietnam is a Southeast Asian country on the eastern coast of the Indochina Peninsula, with its capital city being Hanoi. Vietnam shares land borders with China to the north, Laos and Cambodia to the west and the South China Sea to the east. Vietnam's landscape is diverse and ranges from subtropical forests in the north to tropical savannas in the south. Vietnam has two main international airports located in Hanoi and Ho Chi Minh City, making it easy to fly in and out of the country. Vietnam also has an extensive railway system that can take you from one end of the country to the other. Within Vietnam, many different places are worth visiting, such as Hoi An, Hanoi, Da Nang, Phu Quoc, and Halong Bay.
When is the best time to visit Vietnam?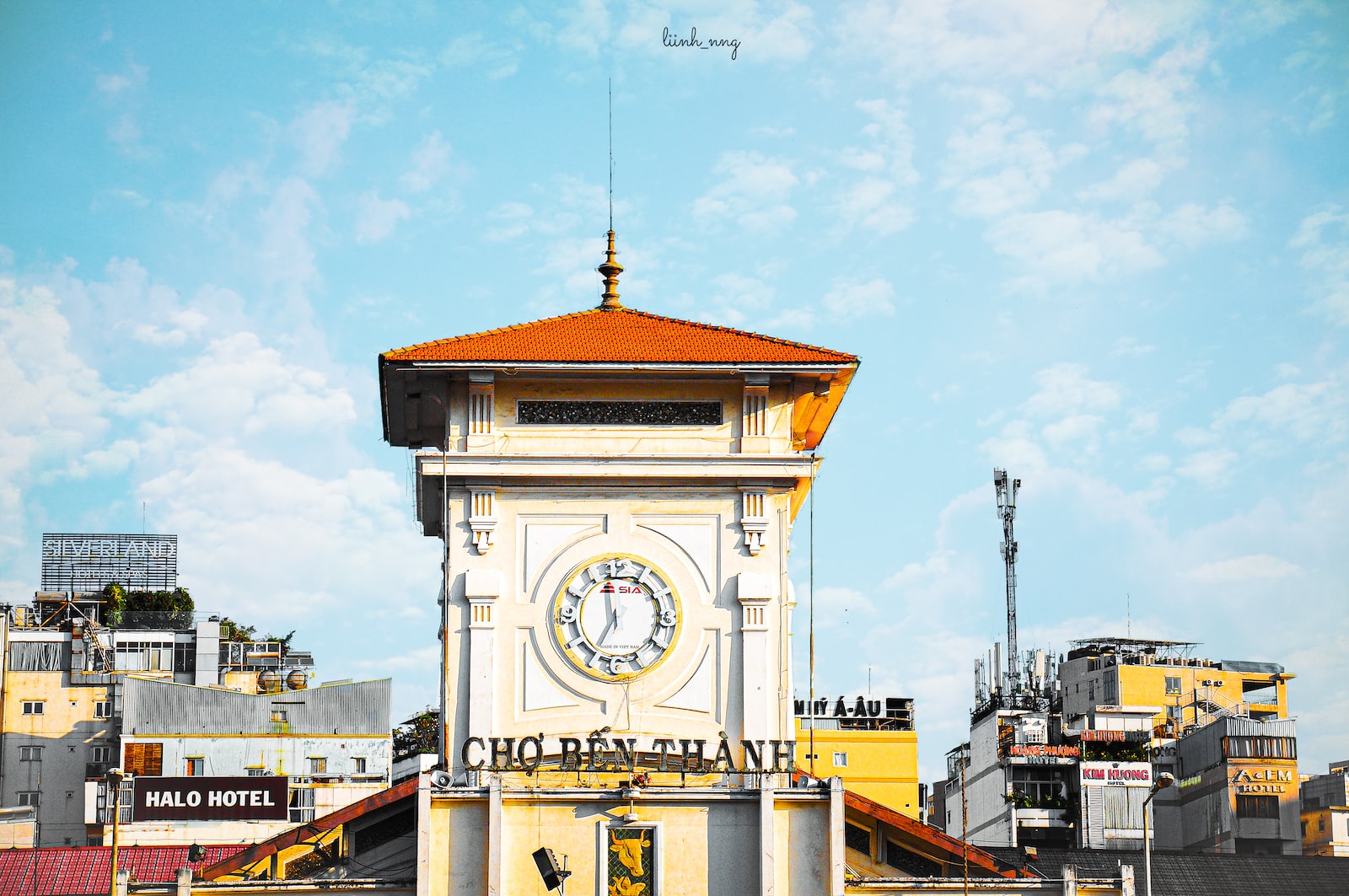 Vietnam is a tropical country with a diverse climate that can be divided into three main regions: the north, the south, and the central highlands. The weather in Vietnam varies considerably from one region to the next, so it's important to know what to expect before you travel to enjoy your family trip to Vietnam.
In a general overview of Vietnam, the rainy season typically runs from May to October, with the peak rainfall occurring in August and September. This is also the typhoon season, so if you're planning on travelling to Vietnam during this time, it is important to be aware of the potential for severe weather. The hot season runs from March to April, when temperatures can reach up to 40 degrees Celsius. This is also the dry season, so if you're planning on visiting Vietnam during this time, be sure to pack plenty of sunscreen and hats. It is also peak tourist season, so you can expect higher prices and larger crowds. The cool season runs from November to February, when temperatures hover around 20 degrees Celsius. This is the ideal time to visit Vietnam, as the weather is pleasant and there is less chance of severe weather conditions. Also, if you're looking to avoid the crowds, January and February are good months to travel. Prices are lower at this time of year. When travelling with kids, it's best to avoid Vietnam during the school holidays (December and January) as accommodation prices will be higher and facilities may be more crowded.
Break Down of weather conditions in different parts of Vietnam
Ho Chi Minh City is located in Southern Vietnam and experiences a tropical climate with two distinct seasons: wet and dry. The best time to visit Ho Chi Minh City is during the dry season, from December to April when temperatures are cooler, and there is less rain. March to May is hot and humid, while June to November is wetter due to monsoon rains. Other popular places to visit in the South of Thailand include Phu Quoc, Can Tho and Binh Thuan.
Hoi An is located in Central Vietnam and experiences a tropical climate with two distinct seasons: wet and dry. The best time to visit Hoi An is during the dry season from January to May, when there is little rain and temperatures are more moderate. June to August is the rainy season, so it's best to avoid Hoi An during these months if possible. Other popular places to visit in Central Vietnam include Da Nang, Hue, Nha Trang, Da Lat and Phong Nha.
Halong Bay is located in Northern Vietnam and experiences a temperate climate with four distinct seasons: spring, summer, autumn and winter. The best time to visit Halong Bay is between April and May, when the weather is dry and sunny. June to August is the rainy season, so it's best to avoid Halong Bay during these months if possible. Other popular places to visit in North Vietnam include Hanoi, Ninh Binh, Sapa, Bai Tu Long Bay, Dong Van Plateau and The Perfume Pagoda,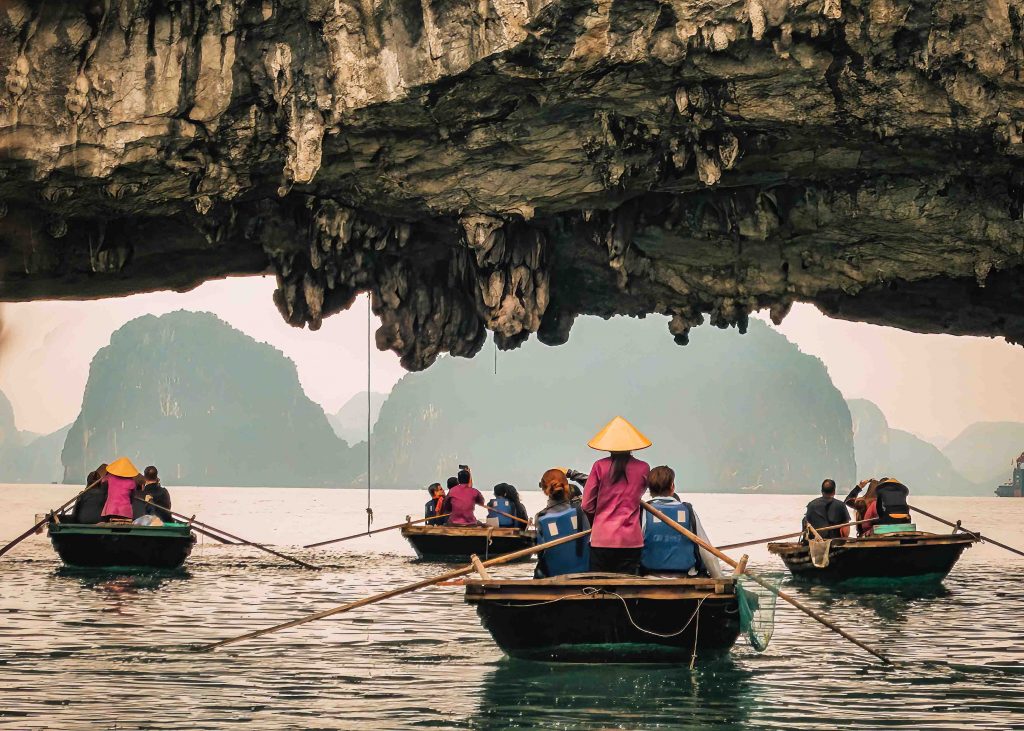 What is the best way to travel in Vietnam?
Generally, the best way to travel in Vietnam is by bus, as this gives you the opportunity to see more of the country and its scenery. It is also the cheapest way to travel in Vietnam. There are plenty of bus companies that run routes between Vietnam's different cities and towns, so you can easily get from Ho Chi Minh City to Hoi An or Hanoi.
The fastest way to get from Ho Chi Minh City to Hoi An is by plane. This is the fastest option and will take approximately 1 hour. You can also choose to take the train, which takes 4-5 hours, or the bus, which takes 6-7 hours. If you are travelling with kids, the best option is probably the plane unless you don't mind an adventure like us 🙂 Make sure to bring plenty of snacks and drinks for them as there are often not many stops on long bus journeys.
Some Useful Travel Distances between towns and cities in Vietnam
Ho Chi Minh City to Hanoi, you can either take a flight, which takes around 2 hours or take an overnight train, which takes around 18 hours. To get from Ho Chi Minh City to Hoian, you can take a direct flight which takes 1 hour or take a bus or train followed by a short taxi ride. The journey by bus or train will take around 12 hours in total.
Some of the best tips for travelling to Vietnam with kids
Vietnam is a very kid-friendly destination, but here are a few tips to ensure you have an incredible stay in Vietnam with kids.
What visa do you need to travel to Vietnam? If you are travelling from the UK, then up-to-date information can be found at the Vietnam Embassy. You can stay in Vietnam for 15 days without a visa, but for anything longer you will need to get an online visa for Vietnam.
You may want to pack a few essentials for your trip to Vietnam: flip-flops, mosquito repellent, rainjacket depending on the season, wet wipes and hiking flip-flops.
When it comes to street food, Vietnam is a paradise for foodies of all ages. From pho and banh mi to fried spring rolls and fresh fruit smoothies, there's something for everyone to enjoy. Just be sure to ask your kids if they're adventurous eaters before ordering, as some of the dishes can be quite spicy. Only drink filtered water.
Taxis are a great way to get around Vietnam, especially if you're travelling with young children. The best option is to use Grab. The fares are very reasonable, and most taxi drivers speak basic English. Just be sure to agree on a price before getting in the car, as Vietnam does not have meter taxis. Scooters are also a popular form of transportation in Vietnam, if you do decide to take one, make sure you wear a safety helmet.
Vietnam is generally a safe country to travel to, but there are always risks when travelling with kids. Be sure to keep an eye on your belongings, as pickpockets can be found in any tourist area. And while Vietnam's traffic can be chaotic, it's actually one of the safest countries in Asia for pedestrians. Just use common sense, and you'll be fine.
If you travel to Vietnam with toddlers, take a baby carrier rather than a pushchair, as pavements are not always present.
Now that you know a few practical tips about travelling to Vietnam with kids, it's time to start planning your trip! To help you organise your travel with kids, we will split activities in order of popular places to visit in Vietnam.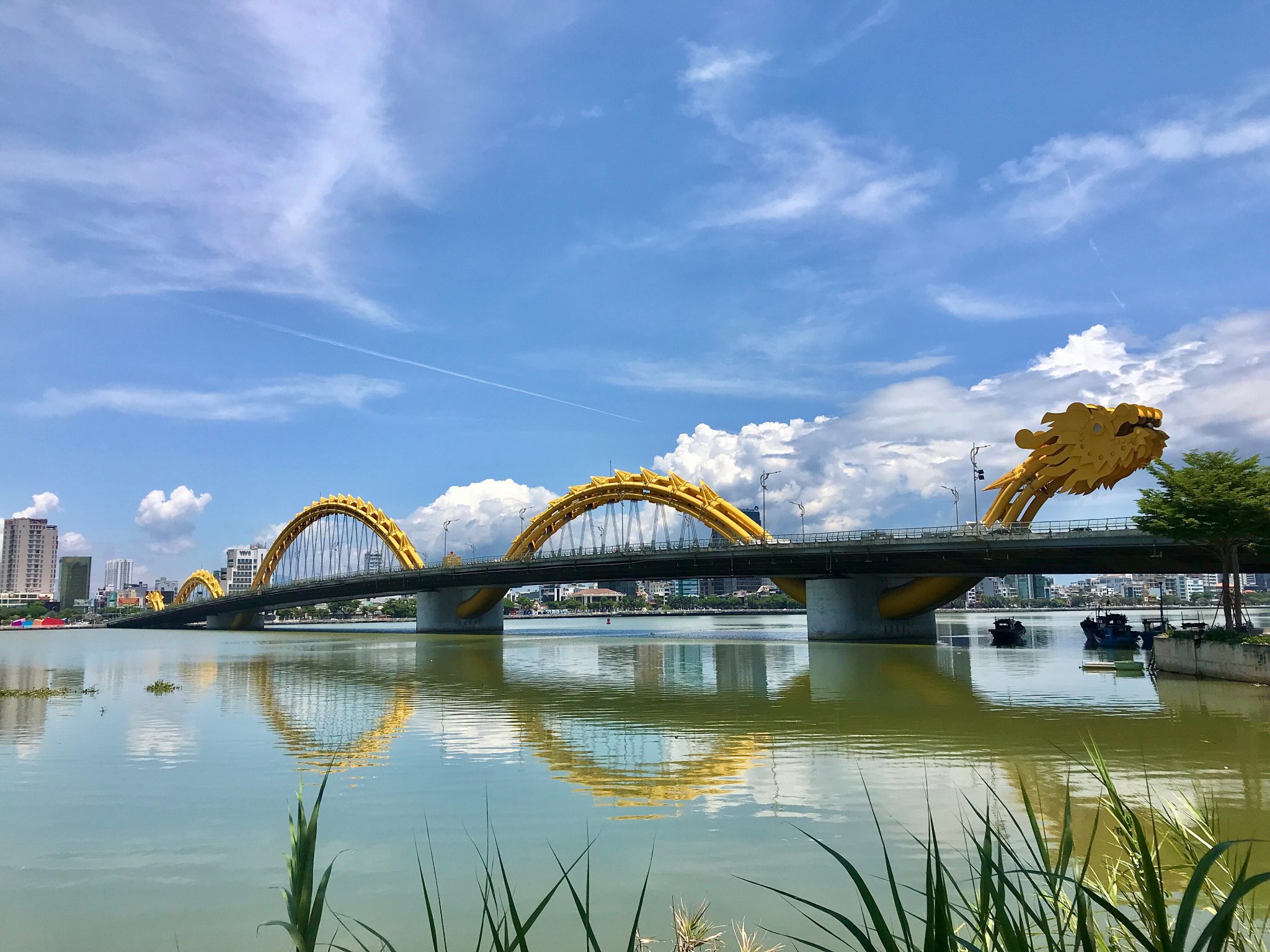 Here are some of the best things to do in Vietnam with kids
Things to do in Ho Chi Minh City with kids
Ho Chi Minh City is a vibrant, fascinating city full of culture and history! A visit to this incredible destination offers a wealth of experiences, from the bustling street markets that come alive at night with sounds, smells, and music to cycling through the tree-lined streets surrounded by locals going about their daily lives. Ho Chi Minh City is full of surprises – you can explore centuries-old temples in ancient districts or sip cocktails in modern rooftop bars offering spectacular views over the wide urban expanse. There's something for every traveller here, so keep reading our guide on why you should visit Ho Chi Minh City with kids.
For older kids, a visit to the War Remnants Museum could be really interesting, which has exhibits on the Vietnam War or the Ho Chi Minh Museum.
Take a boat tour to Cao Dai and Cu Chi Tunnels. Vietnamese soldiers used those tunnels during the war.
Take a 1 to a 3-day boat tour of the Mekong Delta and visit the floating markets in Cai Rang or take a local guide to visit the rice noodle business or chocolate farm. Find Mekong Delta Tours here on GetYourGuide.
Visit the souvenir market at Ben Thanh.
Visitors can explore colonial landmarks such as Notre Dame Cathedral or stroll through Chinatown (Cho Lon).
Visit the numerous temples and pagodas dotting the cityscape, including Jade Emperor Pagoda, Quan Am Pagoda, Thien Hau Pagoda, Cao Dai Holy See or the Giac Vien Pagoda. Visit the Hindu Temple Mariamman, a small but beautifully decorated temple.
For a panoramic view of the city, head to Saigon Skydeck which you will find at the top of Bitexco Financial Tower.
Visit the Independence Palace, and make sure to visit the basement where you see the Telecomms centre and the tunnels. Nearby is also a peaceful park, Gong Vien Van Hoa Park for the kids to relax after a day of visiting.
For family-friendly accommodation in Ho Chi Minh City check booking.com.
Things to do in the Mekong Delta with kids PLUS excursions to Angkor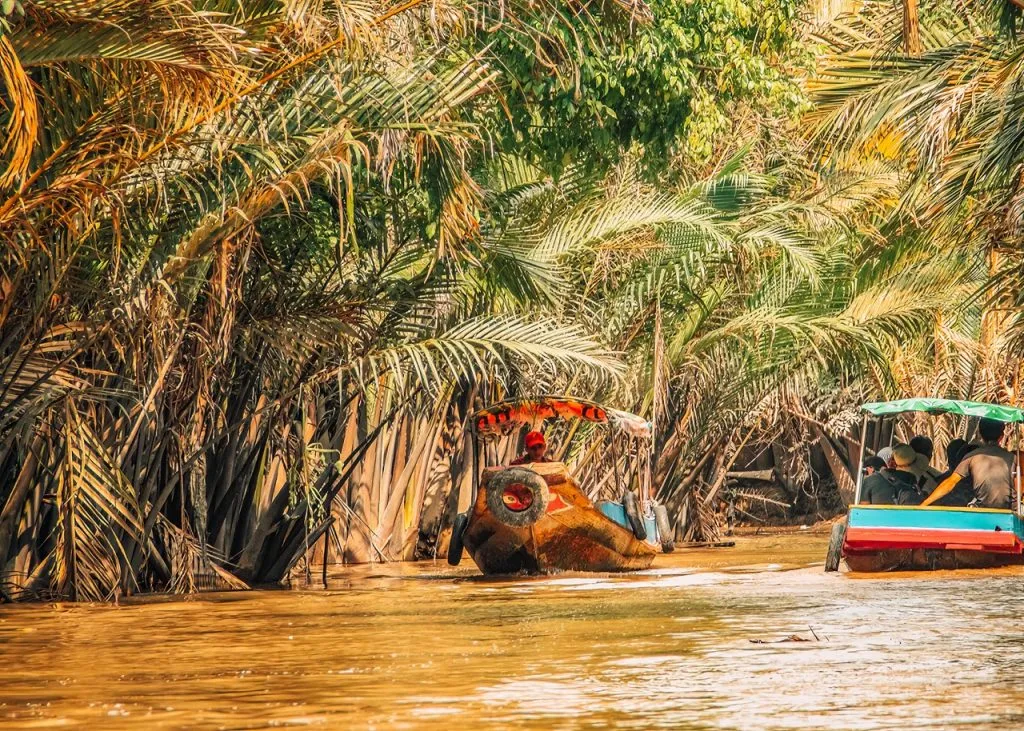 Most people, when they visit Vietnam, will stick to the main towns in Vietnam. However, if you would like to experience more off-beaten places with the kids and rural Vietnamese life then you may consider spending a few days exploring the Mekong Delta.
Experience rural life by taking a day long boat tour to Vinh Long where you can see traditional villages.
Visit Can Tho to visit the famous flating markets. you can hire a Sampan boat to take you to Cai Rang Market or simply book here GETYOURGUIDE;
For sunset take a taxi to Chua Doi to see thousands of bats covering the sky.
If you are a beach lover then make a trip to Phu Quoc Island, you will find beautiful beaches, coves, jungle trails and snorkelling, all perfect adventures with the kids.
The Mekong Delta area is an excellent place to expand your travels to see Siem Reap and Angkor in Cambodia. It is a long journey of around 12 hours, but if it is on your bucket list, it could be a great way to see the landscape of Cambodia.
Things to do in Hoi An with kids
Hoi An is a UNESCO World Heritage site and is well-known for its beautiful architecture and vibrant night markets. It's also a great place to take kids, as there are plenty of kid-friendly activities to enjoy here. Hoi An is an incredibly kid-friendly city with plenty of activities to entertain little ones – from making lanterns and riding bikes to watching traditional performances and sampling the local cuisine. So don't hesitate to add Hoi An to your next family vacation!
Visit the Hoi An Museum of History and Culture to learn about Vietnam's rich history, or take a walking tour of the old town to see its well-preserved architecture. Or explore one of the many temples that dot the city.

One activity that both parents and kids will enjoy is lantern making. Hoi An is the perfect place to make lanterns because it's known for its traditional lanterns. Lantern making is a great activity for kids because it's creative and hands-on. Plus, it's a fun way to learn about Vietnam's rich culture and history. A visit to Hoi A wouldn't be complete without taking part in a lantern-making workshop. You can visit the Hoi An Artcraft manufacturing workshop or head to one of the many shops around town and let your kids pick out their favourite design. Then, watch as they transform a simple piece of cloth into a colourful lantern that they can take home and use to decorate their room. It is definitely one of the best activities to do in Vietnam with kids.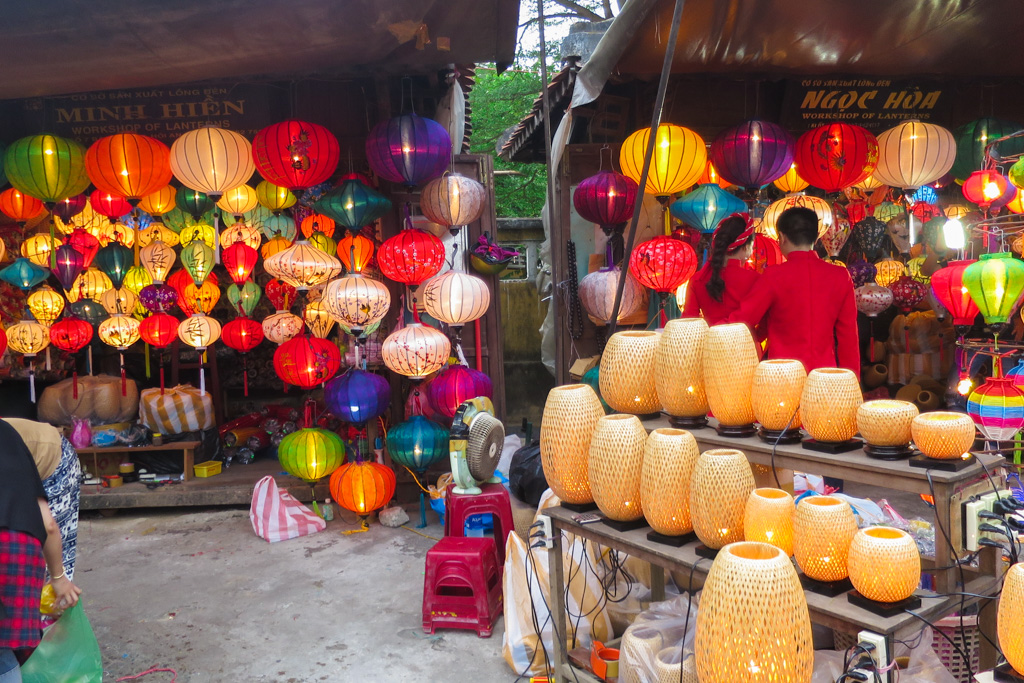 Visit the Japanese Covered Bridge: One of Hoi An's most iconic landmarks is the Japanese Covered Bridge. Dating back to the 1590s, this wooden bridge was built by Japanese settlers and spans over a small river in the centre of town. Kids will love crossing the bridge and exploring the nearby temples.

Ride Bicycles: One of the best ways to explore Hoi An is by bicycle. Not only is it eco-friendly, but it's also a great way to get some fresh air and exercise. There are numerous places around town where you can rent bicycles for a few hours or even the entire day. If you're feeling really adventurous, you can even join a guided bicycle tour and see some of Hoi An's hidden gems that you would have missed otherwise. Visit Cua Dai Beach, about 5km from Hoi An with lovely white sand.

Sample Local Cuisine: No trip to Vietnam would be complete without trying some of the delicious local cuisines. From Pho noodle soup to banh mi sandwiches, there are plenty of dishes that both adults and kids will enjoy. Many restaurants in Hoi An have English menus, so it's easy to find something that everyone will like. Eat at Morning Glory with many street-style food options or The Sea Shell for banh boa, and steamed buns.

Watch a Traditional Performance: For an authentic Vietnamese experience, make sure to catch a traditional performance while you're in town. Several shows are happening every night at different venues around Hoi An. From music and dance performances to puppetry shows, there's something for everyone to enjoy. After the show, stick around and chat with some of the performers – they love meeting visitors from all over the world!
Taking a boat ride through Hoi An's waterways is a must-do for any visitor, especially those travelling with kids. The boats are typically small and relaxing, making for a great way to see the sights.
For family-friendly accommodation in Hoi An check booking.com
Things to do in Hanoi with kids
In Hanoi, you can explore the Old Quarter, the French Quarter and Ba Dinh Square and see temples and pagodas such as the Temple of Literature and One Pillar Pagoda. There are so many fun things to do with kids in Hanoi! From temples and museums to puppet shows and cooking classes, there's something for everyone in this beautiful city. With its rich culture and friendly people, Hanoi is a great place to travel with kids.
Watch a water puppet show. Water puppet shows are a staple of Vietnamese culture, and they're also great entertainment for kids. These traditional shows tell stories through puppets performing on a small pool of water. You can find water puppet shows all over Vietnam, but they're especially popular in Hanoi. The best place to watch a water puppet show in Hanoi is at the Thang Long Water Puppet Theatre. This theatre is located in the heart of the old city and offers shows for adults and children. The puppets are traditionally made out of wood and then lacquered so they can float on water. The puppets are controlled by ropes above the water and perform various skits and dances. It's a fun and interactive way to learn about Vietnamese culture and history.
Take a cooking class: Vietnam is known for its delicious cuisine, so why not learn how to cook some of the country's signature dishes? Many cooking schools in Vietnam offer family-friendly classes, so it is one of the best interactive things to do in Vietnam with kids.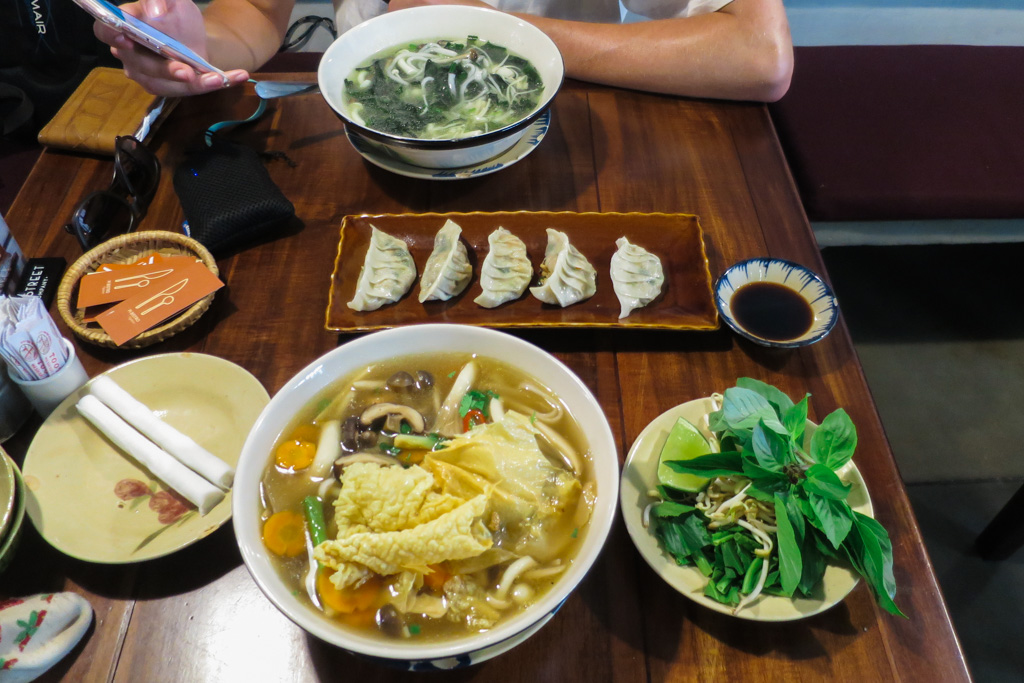 Visit Hanoi Old Quarter – For a more traditional experience, take a stroll through the Hanoi Old Quarter. This area is full of narrow streets, each named after the trade that was historically conducted there (e.g., silk street, copper street). Today, these streets are lined with shops selling everything from souvenirs to clothes to food. It's a great place to wander around and do some people-watching. Be sure to try some delicious street food at Dong Xuan Market- it's some of the best in Vietnam!
Dedicated to Confucius, the Temple of Literature is a must-see in Hanoi. Take a walk through history as you explore the different courtyards and buildings, many of which date back hundreds of years. Kids will love learning about Vietnam's rich culture and seeing all the different statues and artwork.
Visit Hoan Kiem Lake for a peaceful walk, watch people practising Tai Chi or the locals playing chess. If you are looking for the best views of Hanoi, then head to Lotte Observation Deck, there is a clear glass floor sky walk, which the kids will definitely find thrilling.
For family-friendly accommodation in Hanoi, check booking.com
Ha Long Bay
Halong Bay is a UNESCO World Heritage site in northeastern Vietnam. It's known for its emerald green waters, caves, sandy coves and limestone islands. The best time to visit is November. You can take a cruise through Halong Bay to admire its beauty or go kayaking or swimming in its waters. No matter what your interests are, Vietnam has something to offer everyone. Visit the beautiful cave Hang Dau Go, Hidden Timber Cave, Hang Thien Cung, Hang Sung Sot, Pelican cave, Dong Tam Cung, Hang Trong, and Dao Titop.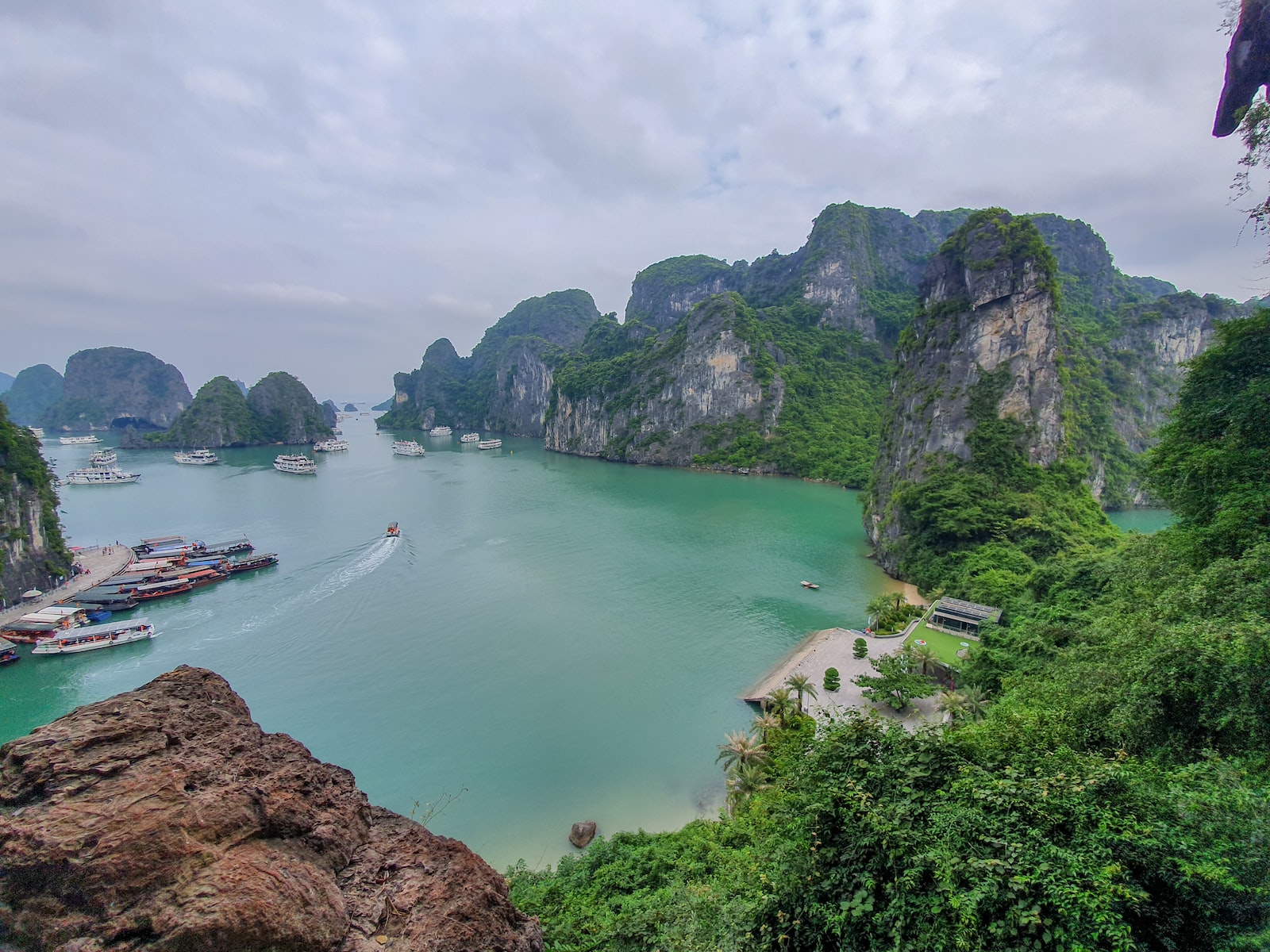 Visit Halong Bay: Halong Bay is one of Vietnam's most popular tourist destinations, and it's easy to see why. This gorgeous bay is dotted with limestone islands, making it a truly unique place to visit. There are plenty of activities to keep kids entertained in Halong Bay, from swimming and kayaking to exploring caves and visiting temples.
Trekking in Sapa, which has beautiful rice terraces and lush vegetation at 1600m get, hosted by Ethos spirit of the community
Hue (Huế)
Hue is the cultural and historical centre of Vietnam. You can visit the Dong Ba Market. Or cycle through the scenic villages to discover Thanh Toan Covered Bridge, a hidden gem in Hue as well as the Royal tombs of Hue.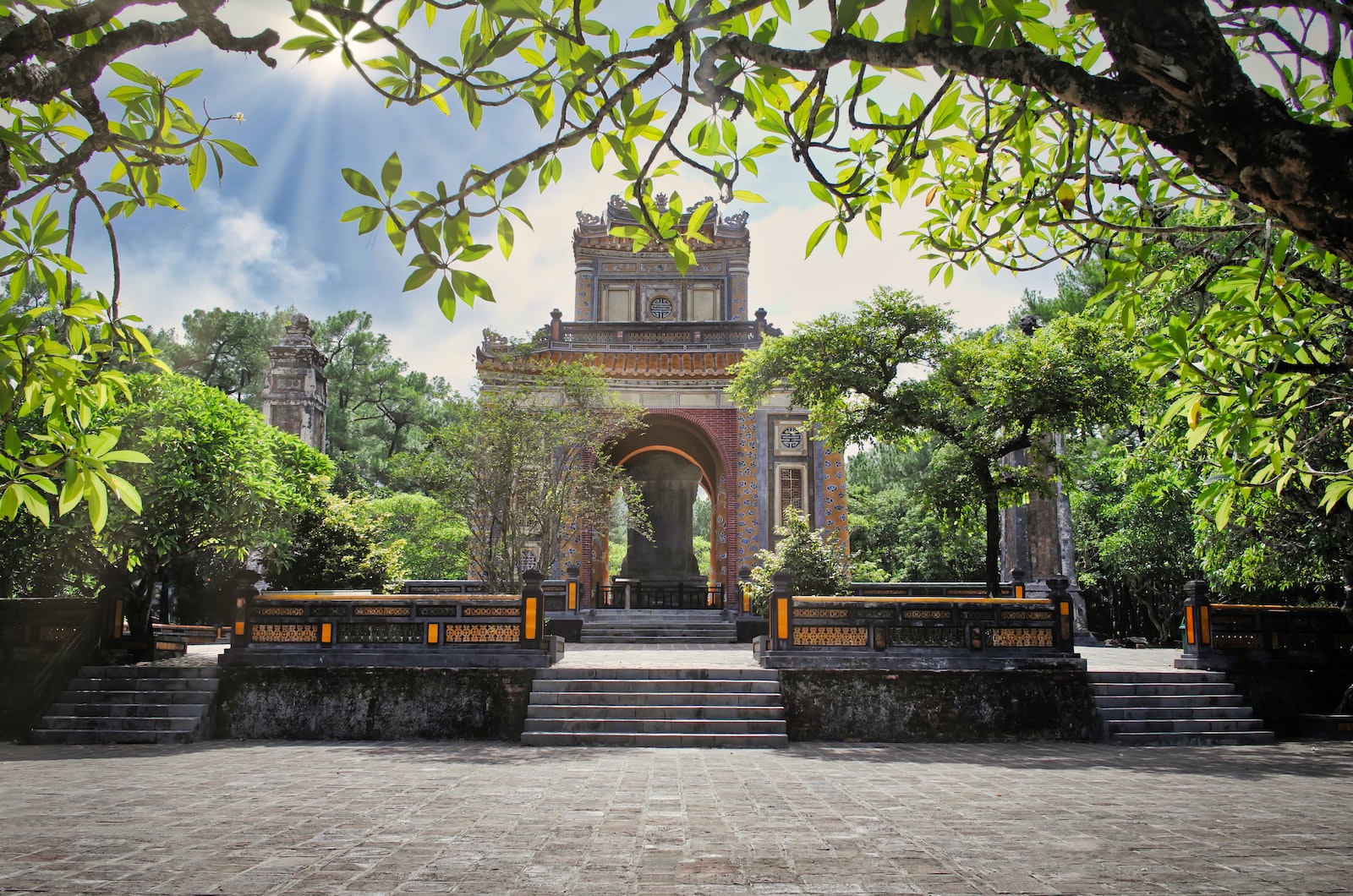 Take a boat ride along the Perfume River. You can hire a boat from the pier at Le Loi Street. Visit Thuan A Beach, one of the best beaches in the Hue area.
May to August are good months to swim here. Also, explore Hue Citadel, a huge fortress. Eat at La Boulangerie Francaise for delicious baguettes or crepes or Le Hahn for authentic Hue street food such as banh bao (steamed rice cakes).
Da Nang
The coastal city Da Nang has beaches such as My Khe Beach, where you can relax or try your hand at surfing. Da Nang is Vietnam's third largest city and is a great place to relax on the beach or explore some of the nearby islands. There's no shortage of things to do with kids in Da Nang. From swimming and sunbathing at My Khe Beach to exploring Phung Chau Park, which features calm ponds, walking paths and plenty of trees for shade perfect place for kids to run around and explore. Or taking a boat ride down the Han River and the striking Dragon Bridge which spits Fire and Water after 9pm.
Visit Marble Mountains between Danang and Hoian. Here you can explore caves and shrines in grottoes like the Huygens Kyong Cave.
Visit Ba Na Hill Station, about 40 miles from Danang. This was a former French hill station which is on top of the mountain at 1400m. From here, you can visit the world's longest non-stop cable car, hiking trails to waterfalls, Cau Vang bridge held up by the giant stone hands.
Phu Quoc
The island Phu Quoc off Vietnam's southwest coast is famous for its resorts and beaches, such as Sao Beach. One of the best things to do with kids here is simply to relax and enjoy the beach 🙂 stay at the Viet Than bungalows on the beach or for a family friendly accommodation try the Green Bay resort
Off-the-beaten-path destinations to visit in Vietnam
If you have more time in Vietnam or this is your second visit to Vietnam or you are visiting Vietnam with teenagers, then maybe you want to visit more off-the-beaten places in Vietnam, here are a few more options.
Cat Ba Island is lovely to visit for waterfalls, lakes, mangroves and hills. The Island's main attraction is Cat Ba National Park.
My son a UNESCO World Heritage site is 25 miles from Hoi An and Danang. Spectacular Hindu art and architecture temples which are surrounded by mountains.
Visit Ninh Binh, there are lots of places to visit near Ninh Binh, including the historic sight of Hoa Lu. Nearby is the very big temple complex Bai Dinh Temple. 6 miles away from Ninh Binh is Tom Coc you can visit by rowboat to visit the 3 long caves. Visit the fishing village of Kenh Ga, which you can visit by boat. If you want to see langurs visit Van Long Nature Reserve.
Yok Don National Park is the largest National park in Vietnam. Half-day treks can be organised with a visit to the Mnong village
For an authentic homestay experience, stay on stilt houses visit Mai Chau Valley . Try the local alcohol. Visit the market town of Moc Chau to try fresh milk, creamy yoghurt and sweets.
Phong Neha Ke Bang National Park, a UNESCO world heritage site. Visit the Phong Neha Caves with underground grottos, river system, stalagmites and stalagmites. There is also the Son Doong Cave, one of the largest caves in the world.
Bai Tu Long Bay with hundreds of tiny islets, and lovely beaches and is less crowded than Halong Bay. You can join a tour from Hanoi.
Perfume Pagoda is Vietnam's most spectacular sight to visit, with 30 Buddhist shrines nestled in the forested mountains where pilgrims make their journey. There are boat trips that go to perfume pagoda from there, you can climb on foot for around 2 hours or take the cable car.
Vietnam is a magical country that has something for everyone. Whether you're looking for adventure or relaxation, you'll find it here. And if you're travelling with kids, Vietnam is a great choice as there are many different ways to get around and plenty of things for them to do. We hope you found our travel guide for Vietnam with kids useful and informative. Please do share and PIN and leave us a comment with some of the places you really enjoyed visiting with kids in Vietnam.
Thanks and see you on the next adventure 🙂