Vietnamese cuisine is known for its vibrant and flavourful dishes, which draw inspiration from both traditional Vietnamese recipes as well as influences from other countries. There are many popular dishes in Vietnam you must try, including the famous Pho Noodle Soup to decadent Banh Mi sandwiches, it's no wonder Vietnam has become a much-loved destination for foodies everywhere! If you're planning your own trip through the beautiful country of Vietnam, then make sure to check out all of these popular Vietnam foods.
Vietnamese cuisine is renowned for using fresh ingredients and unique spices, which create flavorful and healthy dishes. The best way to explore a country is through its food. The article below is a roundup of some of the best and most popular dishes in Vietnam that you have to try.
You may also be interested to read about our
Full Vietnam Destination Guide
Are you travelling to Vietnam with kids? We have useful guides about the Top Experiences to have with kids in Hanoi and Top 5 Experiences you must have in Hoi An with kids.
Here are our Top 13 Popular Dishes in Vietnam
Bánh Xèo, Sizzling Pancake
Recommended by Louis from Outdoor Explorer
When you think of Vietnam, pancakes are probably not one of the first things that come to mind. However, they are a popular dish in Vietnam that you will love; delightfully crispy pancakes made from rice and turmeric.
Known by locals as bánh xèo, the name literally means sizzling pancake, which refers to the noise made when the pancake batter is dropped into the hot oil.
Bánh Xèo are usually filled with vegetables like bean sprouts and basil, plus a protein like pork or seafood. They are accompanied by Vietnamese fish sauce (nuoc cham), which you can dip the pancake in for added flavour.
They are a very filling and great food to have after a long day hiking and exploring Vietnam's natural beauty.
Bánh xèo is a very common street food in Vietnam, typically eaten on the side of the road while sitting at a plastic table, though high-end restaurants are increasingly offering their own take on this classic dish.
Expect to pay about 45,000 VND for a serving of bánh xèo, depending on the filling you choose. They are available all over Vietnam.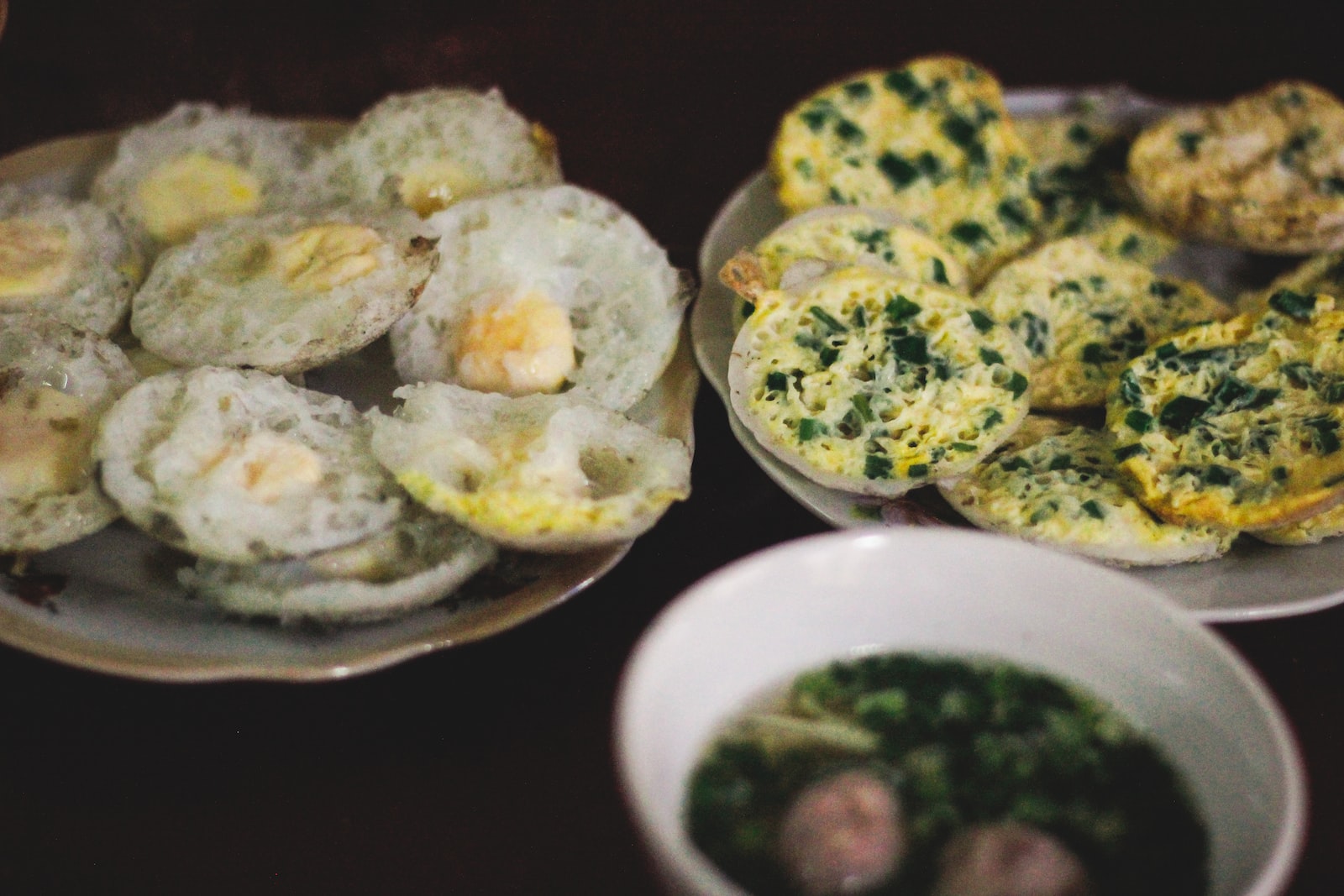 Banh Mi, Vietnamese Sandwich
Recommended by Ben from Ticket 4 Two Please
Banh Mi is one of the staple foods of Vietnam and is certainly something you need to try when visiting the country.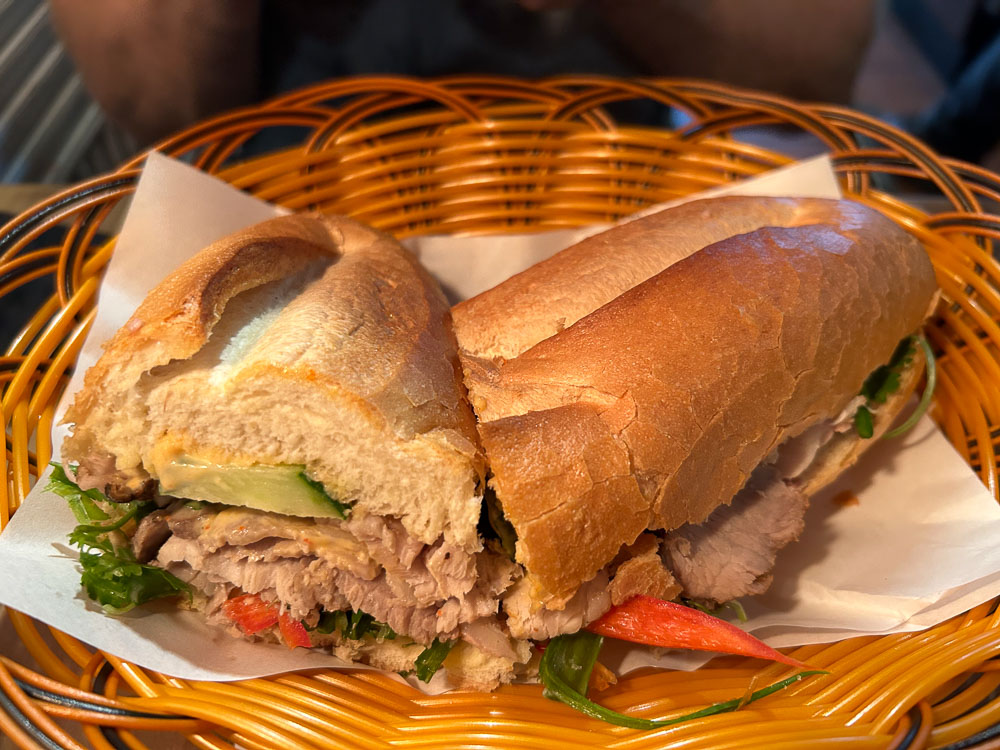 For those that aren't familiar with Banh Mi, it is essentially a Vietnamese Sandwich stuffed with many tasty fillings – pate, savoury meats, mayonnaise, crunchy pickled vegetables, fresh herbs, spicy chillies and a handsome whack of seasonings and dressings.
Originating in Saigon, Banh Mi is a by-product of the 19th Century French Colonial era, where the French brought baguettes with them to Vietnam. The Vietnamese loved these baguettes and added their own twist to them – hence why a typical Banh Mi consists of chillies, herbs and meats.
By the mid-20th Century, Banh Mi was a staple food in Saigon, now Ho Chi Minh City, and all throughout Vietnam. Today, the best place to try this delicious Vietnamese food is in HCMC, the place where it was originally created.
Street Vendors can be found on every corner of the city, flogging their own unique twist on this Vietnamese classic. They can start from as little as 20,000 VND from street vendors but expect to pay around 100,000 for a Banh Mi in a cafe.
Many Banh Mi sellers nowadays even add a warm fried egg into the sandwich to compliment the meat – it really is delicious and something you definitely need to try in Vietnam!
Vegan Banh Mi, Vegan Vietnamese Sandwich
Recommended by Kaitlyn from Carry On Only
Vegan banh mi is a must-try for anyone who loves the traditional banh mi sandwich but wants a plant-based option. Made with tofu or seitan and paired with veggies like cucumber, carrot and fresh herbs, this sandwich is a delicious and healthy alternative. The flavours of the filling are complemented by a crispy baguette, giving it a crunch with every bite.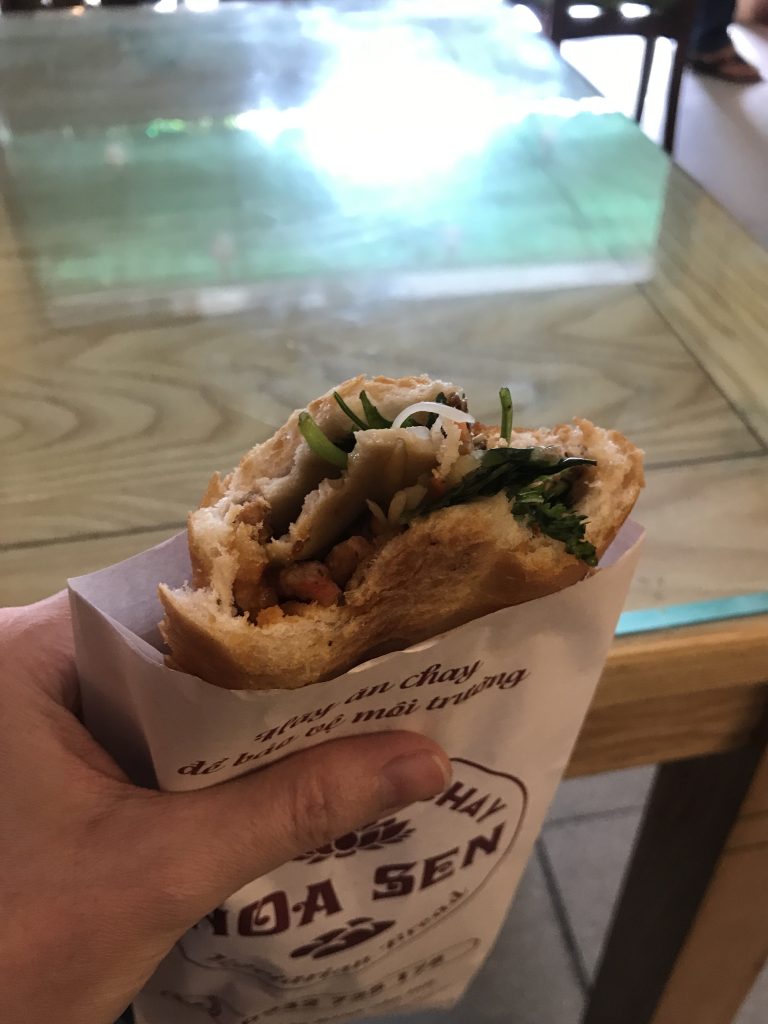 Banh My Chay Hoa Sen in Hoi An is one of the best places to buy Vegan Banh Mi. Expect to pay 30,000 VND. They heat up their baguettes, so you'll always have a nice warm sandwich with tasty fillings. The shop is located in the old city.
Address: 659 Đ. Hai Bà Trưng, Phường Minh An, Hội An, Quảng Nam, Vietnam
Vegan banh mi is a popular street food usually found on food carts. The Happy Cow app and Google Maps are both valuable resources for finding vegan banh mi in Vietnam. Simply search for "vegan banh mi" or "banh mi chay" in the Vietnam city you're in, and you'll be presented with a list of nearby locations that offer this popular dish.
Com Tam, Broken Rice
Recommended by Nicholas from Rambling Feet
Com tam literally means 'broken rice' in Vietnamese and is so named because it traditionally uses those grains that were fragmented during the rice milling. While this product is considered inferior in quality, it is still frequently used to whip up cheaper and more filling meals for the poor. The dish usually comprises five components on a single plate—the said rice, a grilled pork chop ("suon"), finely shredded pork skin ("bi") and an egg meatloaf ("cha")—plus a bowl of fish sauce dip on the side.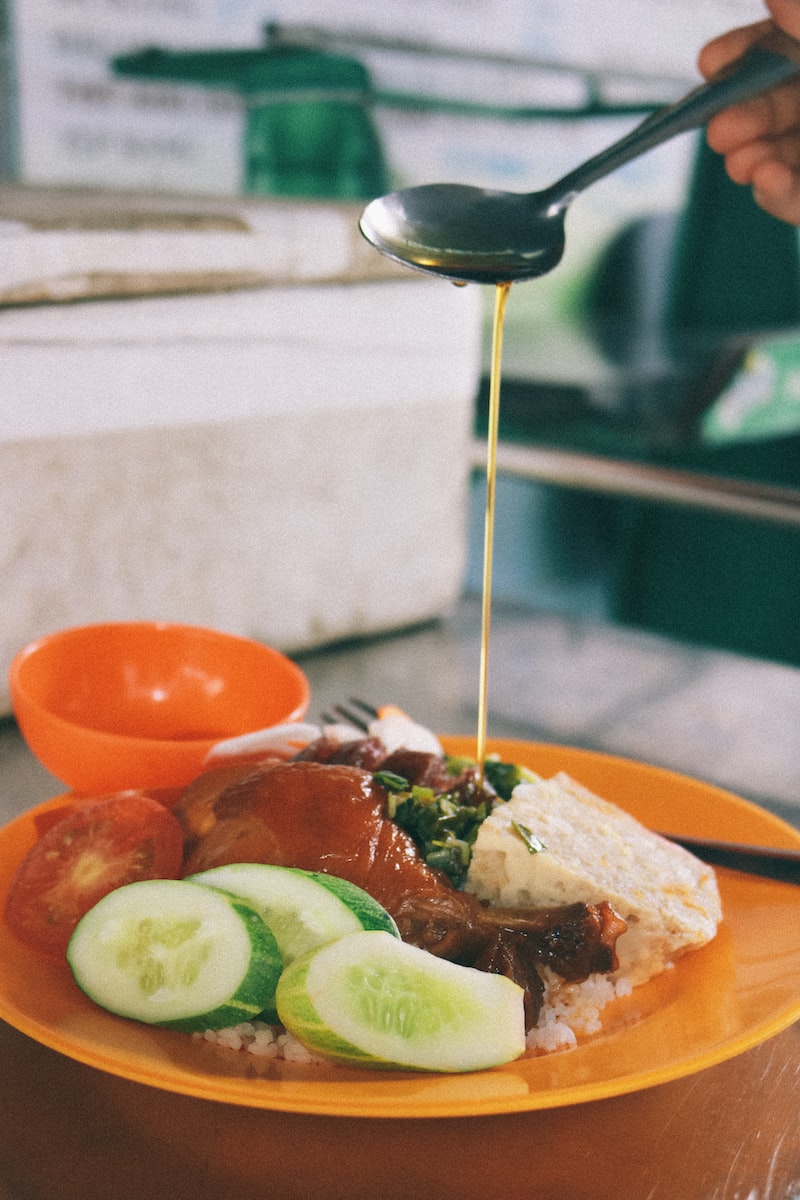 Com tam is a common and popular dish in the southern part of the country, a regular lunchtime solution that you can find in many streetside holes-in-the-wall in Ho Chi Minh City. Not only is it something that regular Vietnamese folk eat, but it is also tasty and satisfying, with a pleasing combination of savoury, smoky, sweet and sour notes. A chain with several outlets around the city, including in air-conditioned malls, is Com Tam Cali. There, com tam may set you back 80,000 to 100,000 dong for additional, fancier toppings, but it can be had for 45,000 dongs at simpler places like Banh Mi Hong Hoa.
Bahn Trang Nuong, Rice Paper with Toppings
Recommended by Elizabeth of Three Week Traveller
Banh Trang Nuong is a rice paper with eggs, sausages, vegetables, and cheese as toppings which are cooked over an open fire. You can also order a vegetarian option. It's a traditional snack from Da Lat, a city on top of a mountain 6 hours northeast of Ho Chi Minh City.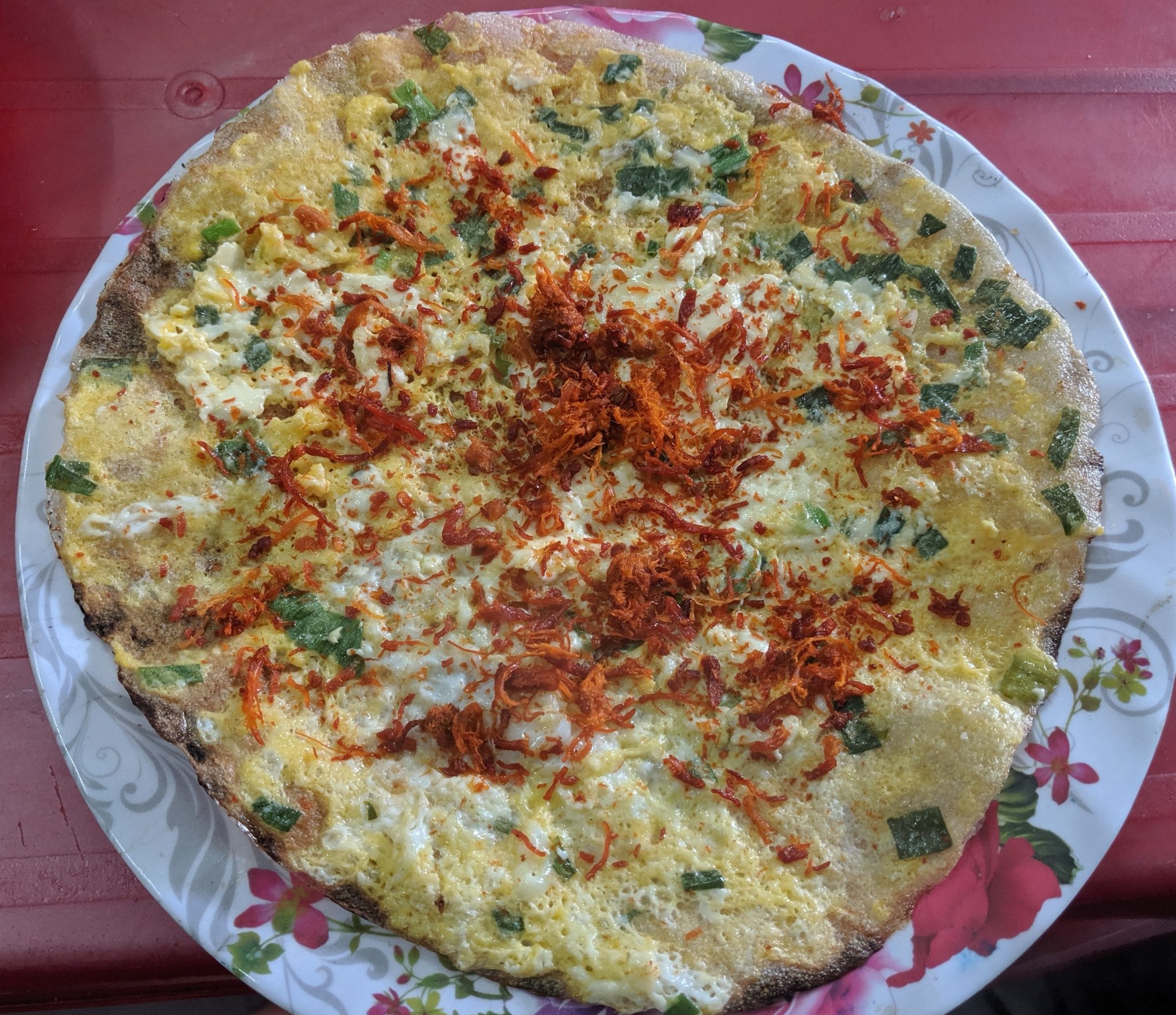 Once everything is cooked, the rice paper will either be folded or served open. It's also called Da Lat pizza by foreign tourists because you can cut it into pizza slices to munch on easier. If you have 3 weeks in Cambodia and Vietnam, you definitely have to stop by Da Lat to eat the tastiest Bang Trang Nuong. The best place to try one is at Bánh Tráng Nướng 112 or at the steps of Da Lat central market, where dozens of vendors sell it. You might be able to find it in the streets of Hanoi, Da Nang, and Ho Chi Minh city, but rare. You can try your luck by asking some locals for a suggestion.The price depends on the toppings you choose, which is between $1.5 to $2.
Bánh Bao, Steamed Buns
Recommended by Jill from Jillonjourney
One of the most popular dishes in Vietnam loved by both locals and tourists, these soft, steamed buns with their hearty fillings will make your mouth water.
Baos are a delicious dish found in many Asian countries with Cantonese-influenced cuisines, such as Malaysia and, of course, Vietnam – where they're called Báhn Bao. You can find them at Vietnamese street food stalls, in markets, as well as in restaurants.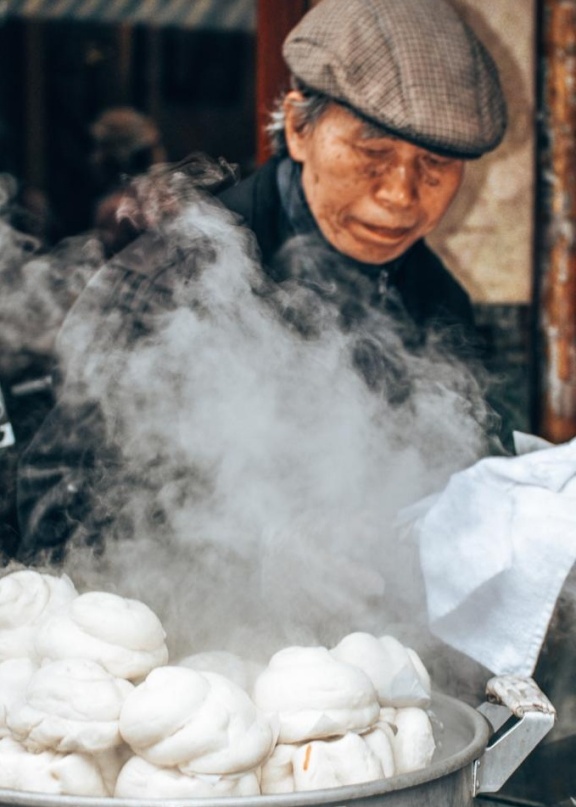 Many fans agree that the best buns are found in market stalls.
Usually, Baos are filled with meat, but you can also find vegetarian versions. There's a very traditional way of preparation that takes its time. So to have them ready for the market at breakfast time, local Bao masters need to get up extremely early. After preparing the dough and different kinds of filling, they steam them in traditional bamboo baskets.
Despite all the hard work and love put into the preparations, Baos typically only cost around 10 000 – 15 000 Vietnamese Dong (around $ 0.50 – 0.70).
While Baos are a typical breakfast, you can enjoy them any time of the day. So they're also a perfect afternoon snack.
Bun Bo Nam Bo, Beef Vermicelli
Recommended by Stephanie from Historyfangirl
Bun Bo Nam Bo is sometimes described in English as stirred beef vermicelli or as cold beef noodle salad. Either way, this is one of the tastiest dishes, and you need to try it while in Vietnam!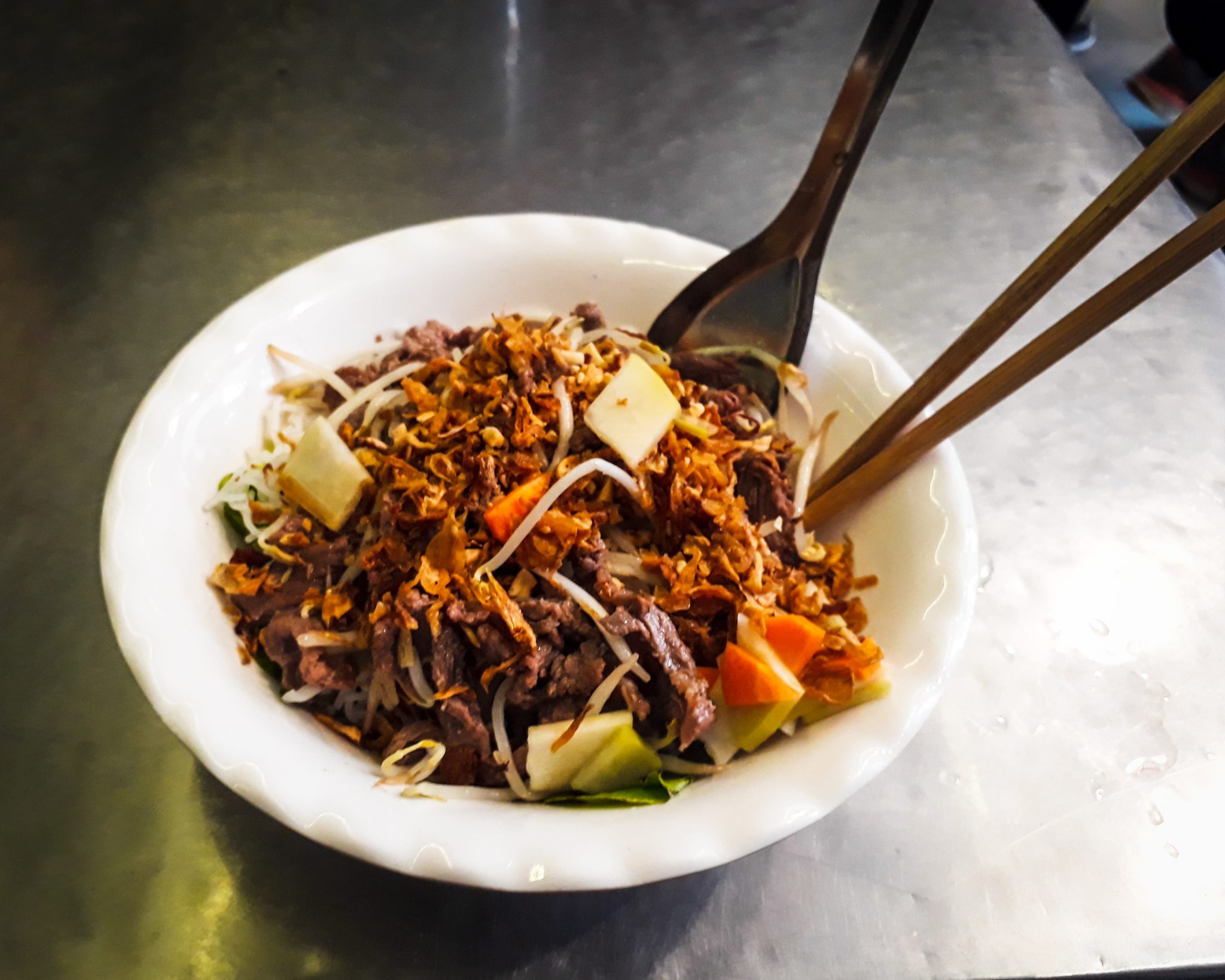 Its name literally means "Southern Beef Noodles," but no one knows if it really comes from the south. It is thought to have originated around Saigon, but it is possible it was invented in Hanoi and simply named after a style of cooking associated with the south at the time.
Wherever it originated, the dish has gone national, and is one of the most popular dishes in Vietnam, you can find it all over the country.
However, there are differences in how the dish is prepared depending on the region you are visiting. Further, locals know the best Bun Bo Nam Bo restaurants to go to, as the recipe at each establishment is a closely held secret. And since this dish is commonly available for less than $5, you don't need to worry about choosing a location based on price!
The broth is made from fish sauce and water, and the dish features beef as its protein and includes cucumber, lettuce, bean sprouts, fried shallots, peanuts, and cilantro.
If you fall in love with Bun Bo Nam Bo and want to make it once you're home, bring a bottle of fish sauce with you as one of your Vietnam souvenirs.
Pho, a Vietnamese Soup Dish
Recommended by Denise from Chefdenise
Pho is not only one of the most popular dishes in Vietnam but one of the most traditional foods to eat in Vietnam. A ramen-like soup with rice noodles and meat topped with greens and a squirt of lime, it is simply delicious.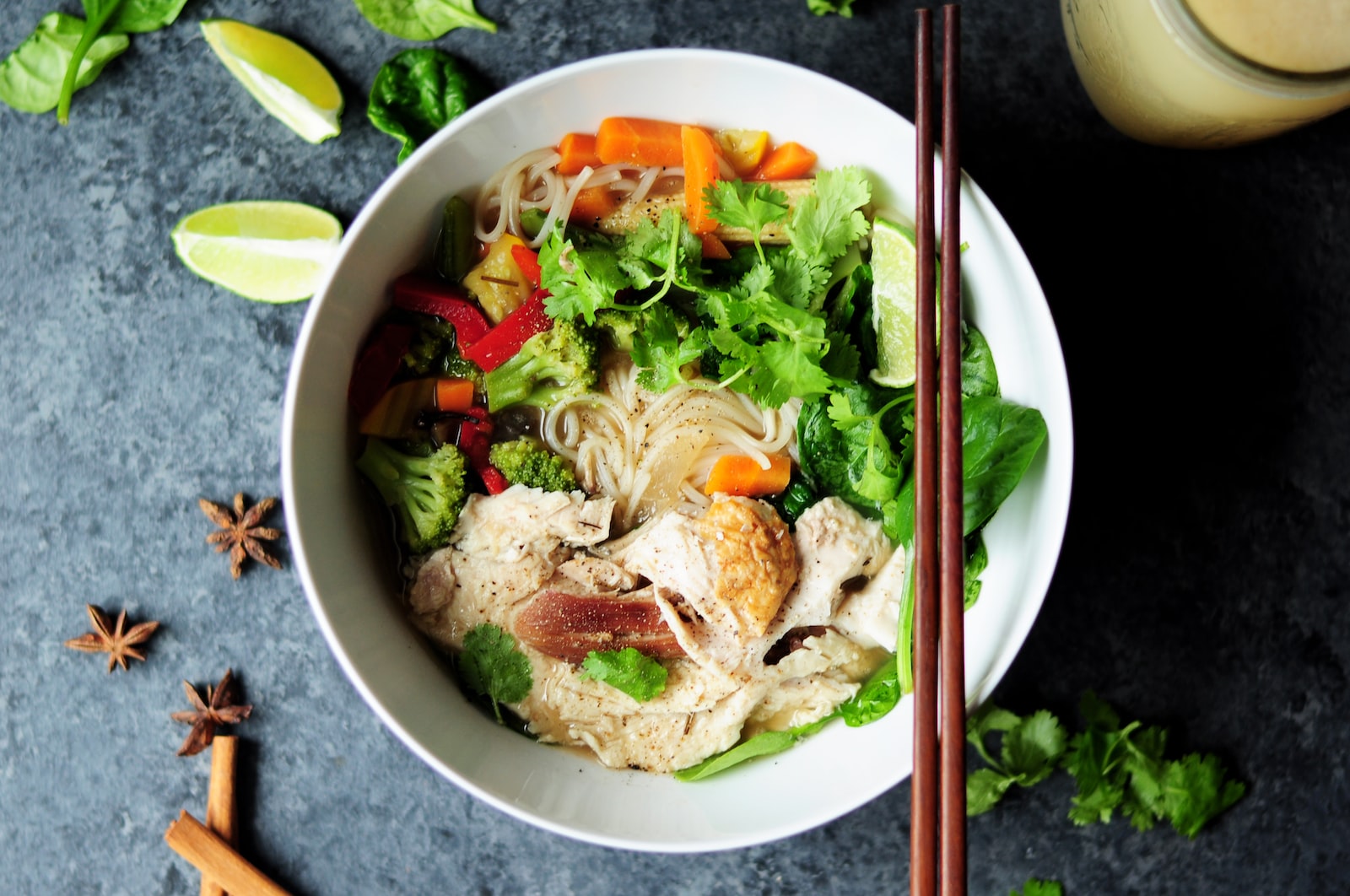 Most food historians agree Pho began as a breakfast dish in the late 19th century in Northern Vietnam. Today the Vietnamese eat Pho any time of day, and you should too. But beware—most often, the meat will arrive raw in your bowl and is meant to cook in the hot broth at your table. It just takes a minute or two before it's ready.
Pho is Vietnam's most famous dish but also one of the most popular dishes in the capital city, Hanoi, and many restaurants specialize in the dish. Be leery of eateries that translate the menus into English, they are the most likely to be tourist traps. Phở Gia Truyền Bát Đàn, Pho 10 Ly Quoc Su, Phở Sướng, and Phở Thìn 13 Lò Đúc are all highly recommended.
Chè chuối, a sweet dish made with bananas
Recommended by Jessica from Uprooted Traveler
Chè chuối is a classic dessert in Vietnam, made from ripe yellow bananas, pearl tapioca, and sweet coconut milk, topped with toasted sesame. The dish uses a specific type of banana, chuối sứ, which, while small in size, is sweet and flavorful.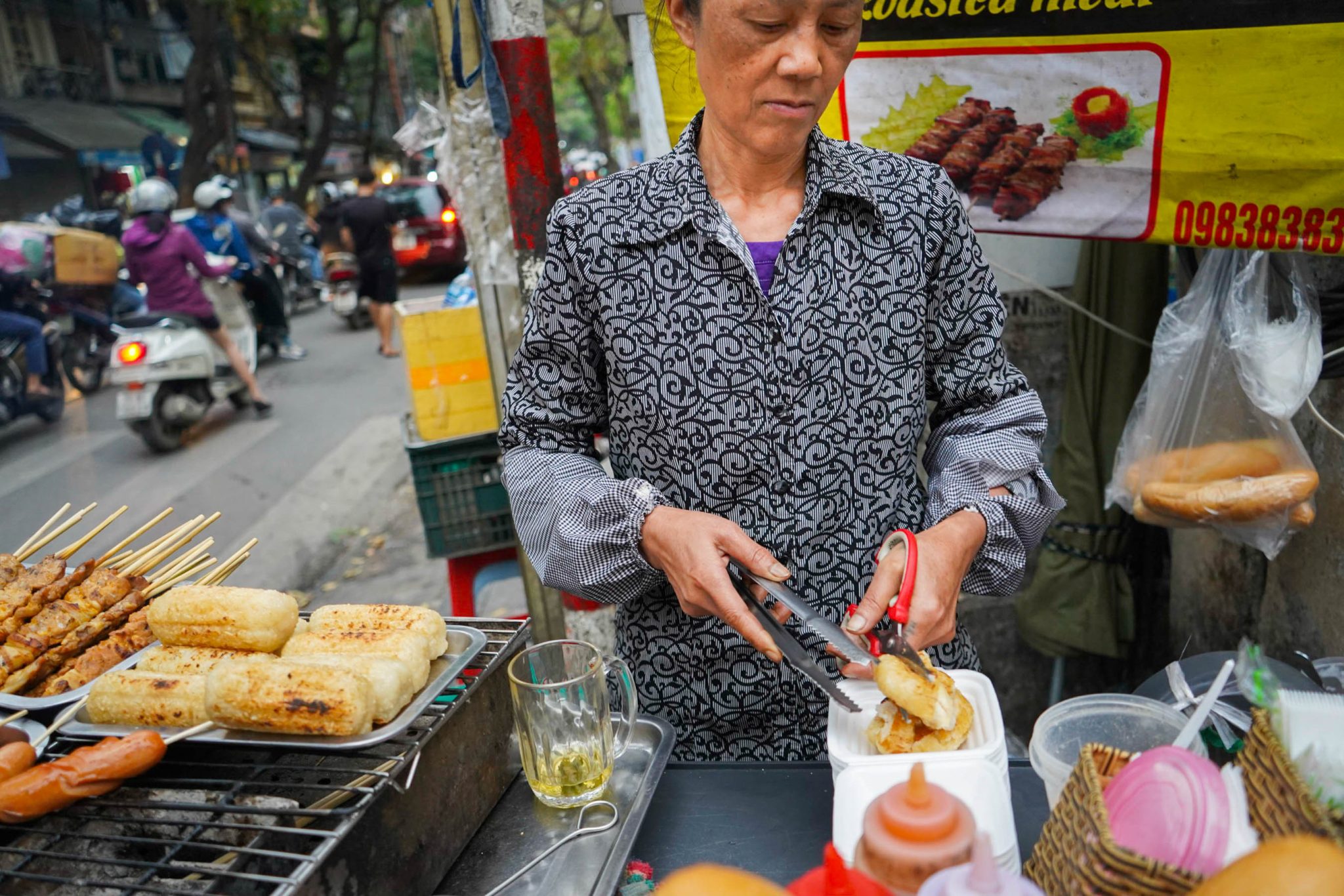 You may see this pudding-like dessert served, instead, with peanuts instead of sesame, which is a more modern take on the dish. Sometimes, chè chuối is served on ice, but this sweet soup is actually best when eaten warm, when you can most enjoy the fatty flavor and fragrant aroma of this dish.This dish originated in southern Vietnam and while you'll see plenty of street vendors peddling it around Ho Chi Minh City, you'll also easily find it throughout the central and northern portions of the country as well, especially in larger cities like Hanoi. You can expect to pay 10,000 VND (or about .45 cents) for a serving from a street vendor.
Banh Cuon, Steamed Rice Rolls
Recommended by Catherine from Nomadicated.
From the first bite, it's easy to see why banh cuon is available in every food market and is so popular in Vietnam. This classic Vietnamese dish is light yet tasty, flavorful, and cheap, making these steamed rice rolls a traditional breakfast favourite.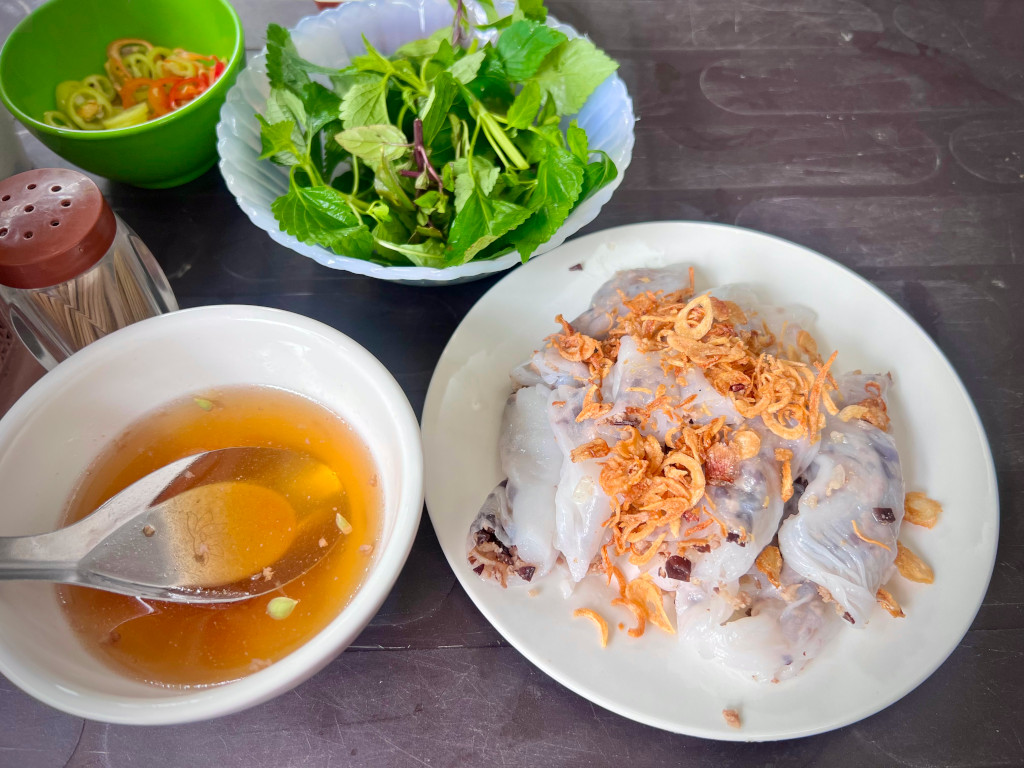 Bahn Cuon may be simple, but almost always freshly made to order. The chef carefully rolls a thin sheet of rice batter on top of a damp mesh. The sheet is then steamed over boiling water and topped with ground pork, mushrooms, and minced shallots. A sprinkle of crispy fried onions provides a nice crunchy texture to the dish. Once cooked, the rolls are cut into small slices and served with a side of nuoc cham, the classic Vietnamese dipping sauce.
Every bite brings a hint of savoury, while the crispy fried onions add texture, and the sauce adds a sour tang to the mix.
The best part about banh cuon is its price. As a classic street food dish, each region of Vietnam has its own unique variation. But one thing in common – it'll never cost much. Street food kiosks in rural areas like around the Ban Gioc Waterfall may be priced as cheap as 10,000 VND, while in restaurants, it will seldom set you back more than 35,000 VND.
Bun Cha, Vietnamese Grilled Pork and Noodles
Recommended by Jade from twotalltravellers.
We love trying and cooking new foods in Asia and when visiting Hanoi, you must try one of the best dishes in the city – bun cha! Fill yourself up with a steaming bowl of smoky, grilled pork, soft rice noodles and fresh herbs. Bun cha consists of two different types of meat – minced and sliced – and you certainly won't go hungry afterwards as the bowls are always huge! The broth is both sweet and sour, and you will be served a garnish of garlic, chilli and coriander (cilantro) to add to it if you wish.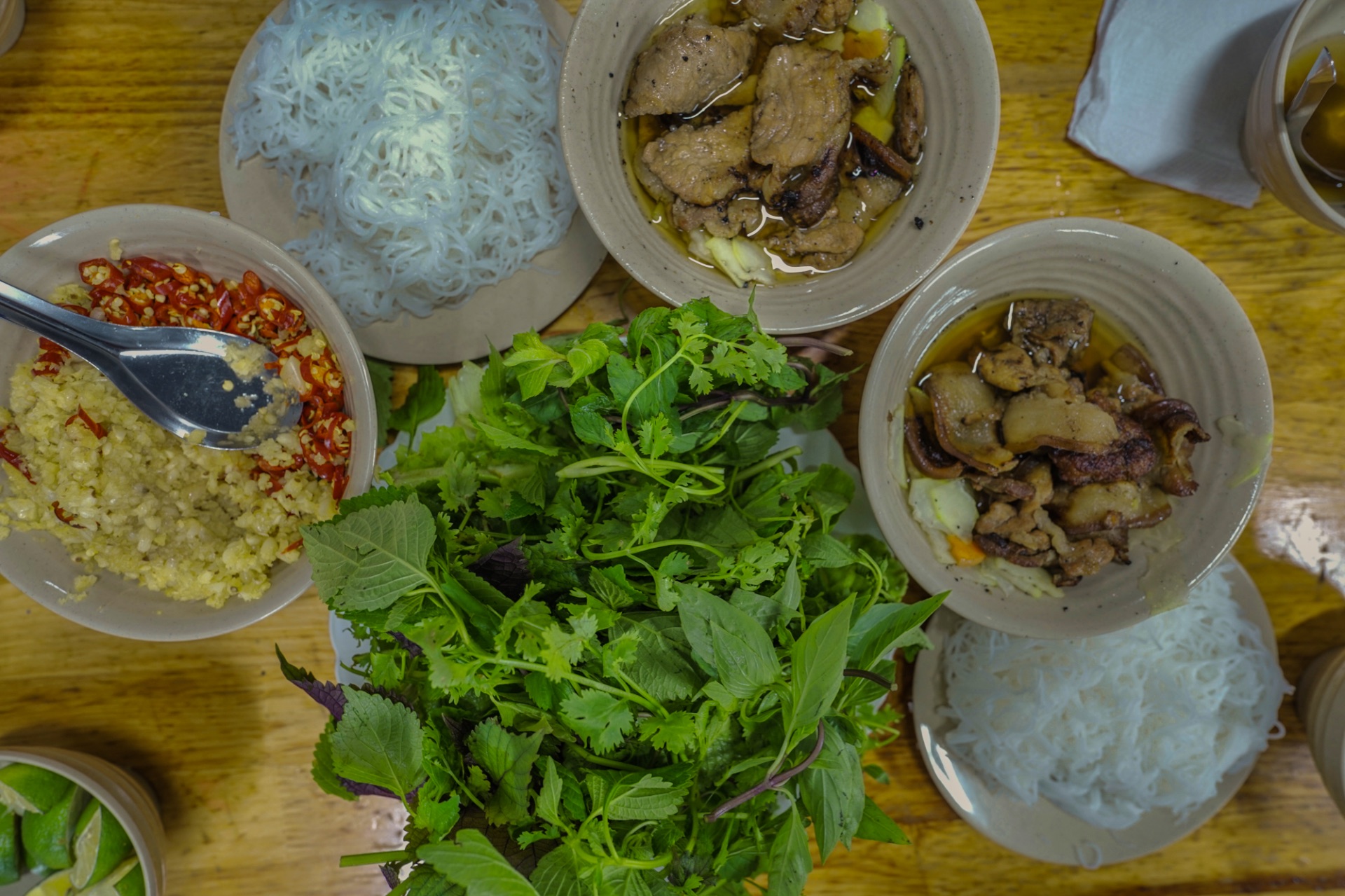 The best places to find bun cha are in Hanoi's Old Town streets. You'll see signs everywhere but stick to the busiest restaurants as their food is likely to be good! Expect to pay between $2 and $4 dollars for your meal. If the staff also bring over an extra plate of spring rolls or crispy crackers, be aware that these aren't included, and you'll have to pay extra for those if you eat them.
Egg Coffee
Recommended by Paula from Trulyexpattravel
Although every cafe in Hanoi has its own story and its own way of making it, the one thing they all have in common is egg coffee origins. Egg Coffee was first created in 1946 in Hanoi; Nguyen Van Giang produced this crazy idea due to the rising shortage of Milk in the country. The egg was first whisked at the Sofitel Legend Metropole Hotel bar. He discovered that the egg white extracts the bitterness, enhances the caffeine, and produces a very light, fluffy sweet flavoured cappuccino.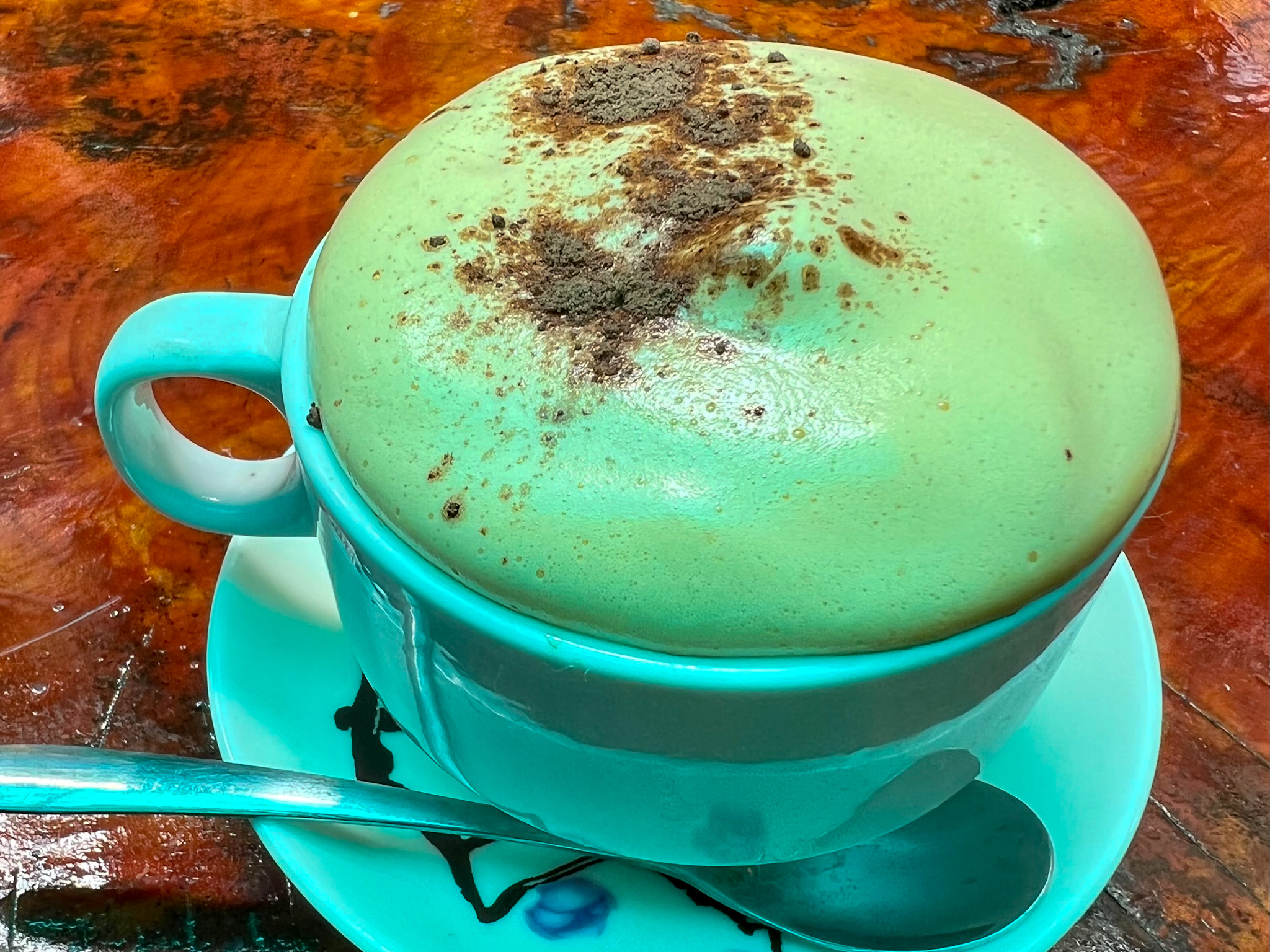 Although the coffee is sold throughout Vietnam, it is most well known in its birthplace, Hanoi. Cafe Giang has been making egg coffee since 1946; however, avoid peak hours as the lines can be extensive. Here it is served with chicken egg yolk, coffee powder, condensed Milk, and cheese.
Another option is to try egg coffee at Cafe Van, right by Train street (a narrow, winding street cluttered with cafes and restaurants, where now and again, a train will pass through). You can pay anything from around VND35,000 – VND45,000.
Try a Food tour, it is the best way to discover Vietnamese food. The day tours sometimes also introduce you to local foods:
Goi Cuon, Vietnamese Spring Roll
Recommended by Vidyut from Triplyzer
Whether you are travelling solo through Vietnam or with friends, you are bound to encounter this delicious Vietnamese cuisine. Goi Cuon, essentially a Vietnamese Spring Roll, is quite popular as a street food. Each delicious bite is a fusion of fresh ingredients consisting of vermicelli noodles, tofu, lettuce, and local herbs. Shrimp or pork is added in a non-vegetarian variation. The filling is then rolled in a thin rice paper and either served fresh or deep fried.
The crisp Goi Cuon goes well with a cold Vietnamese coffee making it a snack perfect for a quick grab. You can enjoy it at a street food stall, small eateries as well as in popular restaurants such as Quan An Ngon in Ho Chi Minh and Bun Cha Huong Lien in Hanoi. It usually costs 20,000 VND for a small plate.
We hope you found this article useful, please do Share and Pin and see you on the next adventure 😉