Are you looking for a thrilling adventure that combines stunning landscapes, rich history, and cultural immersion? Look no further than a day trip from Corfu to Albania! Located just a short ferry ride away from the Greek island of Corfu, Albania offers a unique and off-the-beaten-path destination for travellers seeking to explore the beauty of the Balkans. In this article, we'll provide you with all the information you need to plan an unforgettable day trip from Corfu to Albania.
Alternatively, consider going to road trip to Albania and follow our guide: 10-Day Road Trip Albania – The Ultimate Itinerary.
Getting to Albania from Corfu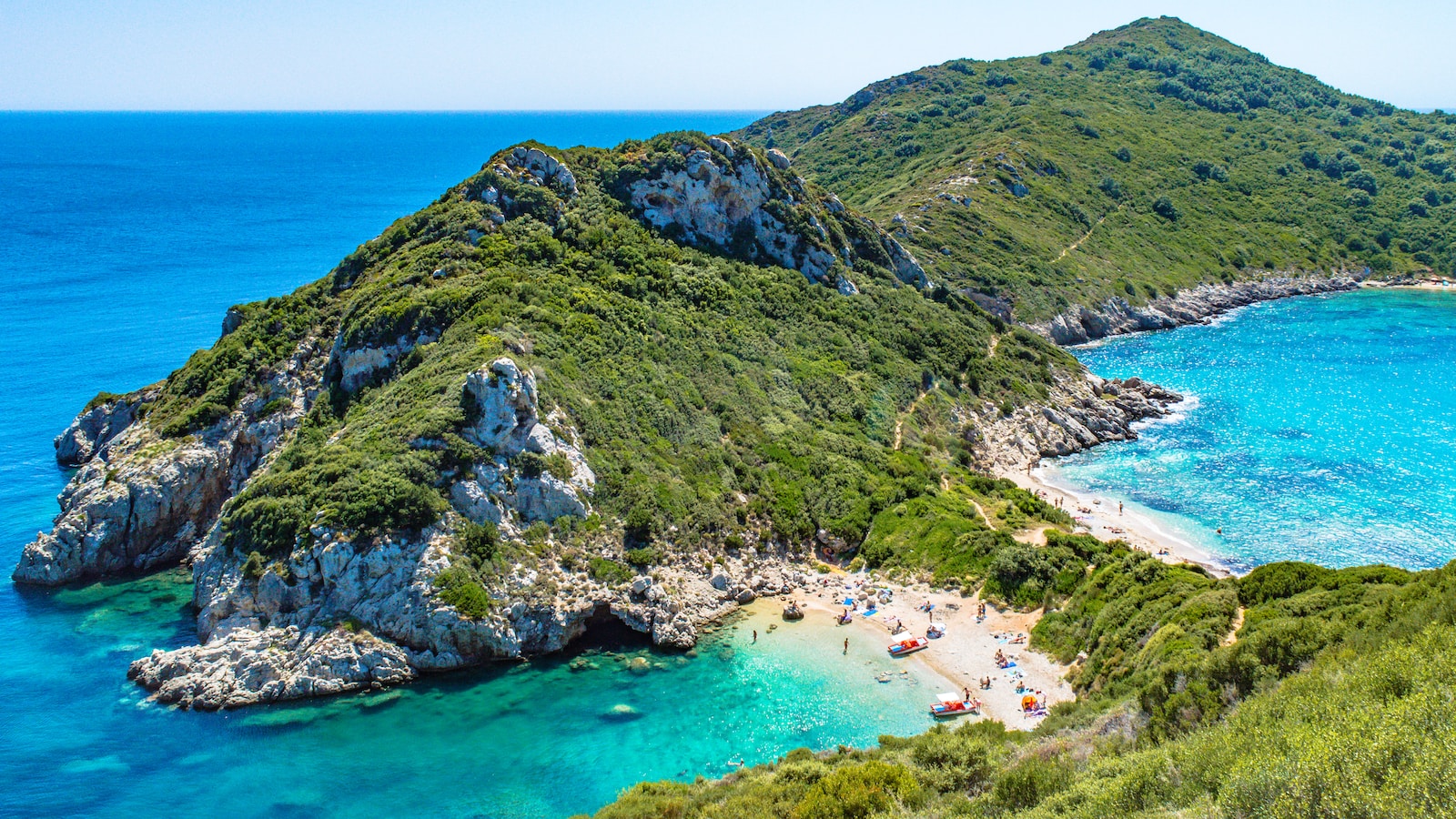 The easiest and most convenient way to travel from Corfu to Albania is by ferry. There are regular ferry services that operate between Corfu and the Albanian ports of Saranda and Vlore. The ferry ride takes approximately 30 minutes to 1 hour, depending on the destination, and offers breathtaking views of the Ionian Sea and the Albanian coastline.
To book a ferry from Corfu to Albania, you can visit the websites or contact the customer service of ferry operators such as Ionian Cruises, Sarris Cruises, or Finikas Lines. You can also check with local travel agencies or inquire at the port of Corfu for up-to-date information on ferry schedules, availability, and prices. You could also check price comparison sites like Direct Ferries.
Prices for ferry tickets from Corfu to Albania vary depending on the ferry operator, the destination in Albania, and the time of year. As of 2023, fares for a one-way ticket start at approximately €15 to €30 per person, depending on the season of travel. Children under 12 pay around. It's advisable to book your ferry tickets in advance, especially during peak travel season, to ensure availability and secure the best prices.
Upon arrival in Albania, you must go through the immigration process at the port of entry. Make sure to bring your passport and any necessary travel documents, as Albania is not part of the Schengen Area and has its own entry requirements for foreign visitors.
Exploring Picturesque Saranda, Albania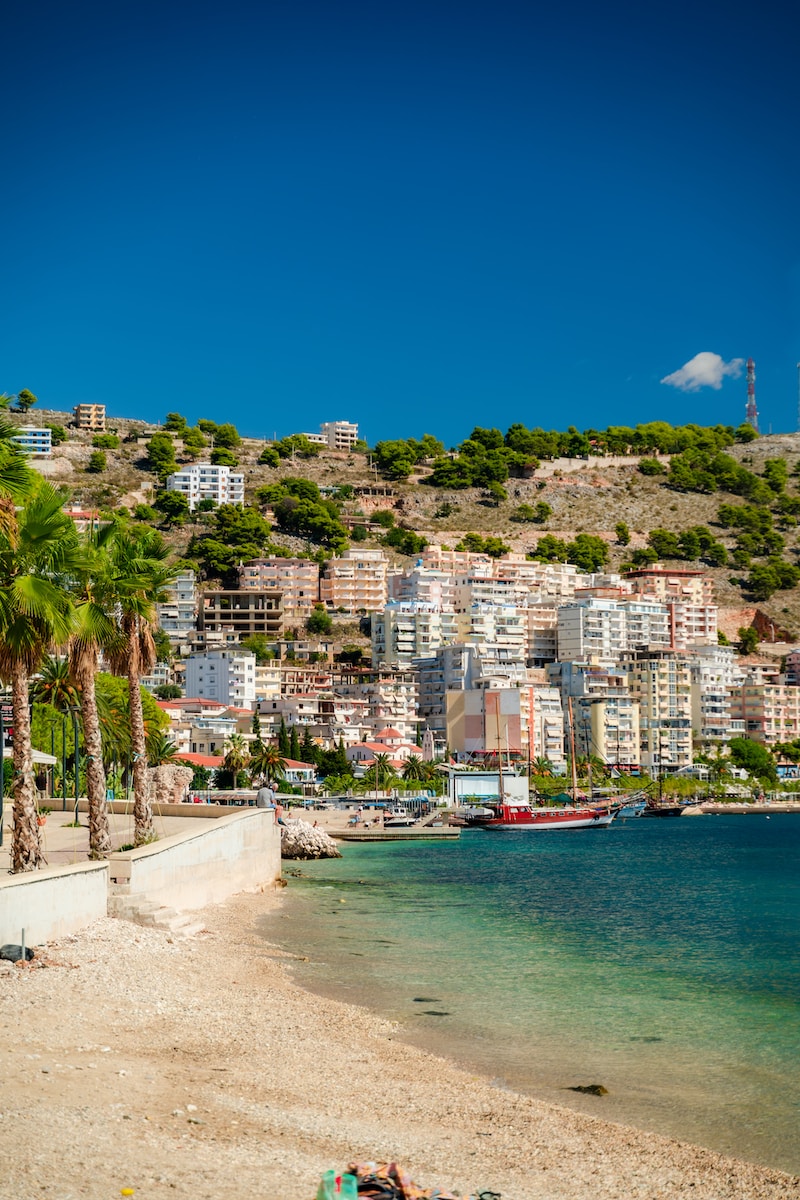 Saranda, a picturesque coastal town in southern Albania, is a popular destination for day-trippers from Corfu. With its crystal-clear waters, beautiful beaches, and rich history, Saranda perfectly blends natural beauty and cultural heritage.
Start your day trip by exploring Saranda's ancient archaeological site of Butrint, a UNESCO World Heritage Site. Butrint is an impressive Roman city that dates back to the 8th century BC and offers a fascinating glimpse into Albania's rich past. Wander through the ruins of temples, theatres, and fortifications, and marvel at the well-preserved mosaics and artefacts that showcase the city's former glory.
After visiting Butrint, head to the Castle of Lekuresi, a medieval castle perched on a hill overlooking Saranda and the Ionian Sea. From the castle's walls, you can enjoy panoramic views of Saranda's coastline and the nearby Greek island of Corfu.
If you're a beach lover, Saranda won't disappoint. The town boasts several pristine beaches, such as Mirror Beach, Santa Quaranta Beach, and Mango Beach, where you can relax, swim, and soak up the sun.
Indulging in Albanian Cuisine
No visit to Albania is complete without sampling its delicious cuisine. Albanian food is known for its hearty and flavorful dishes, influenced by Mediterranean, Ottoman, and Balkan culinary traditions.
During your day trip, make sure to try local specialities such as qofte (Albanian meatballs), fergese (a savoury dish made with peppers, tomatoes, and cheese), and byrek (a baked pastry filled with meat, cheese, or vegetables). Don't forget to wash it all down with a glass of raki, Albania's national alcoholic beverage.
Final Thoughts
A day trip from Corfu to Albania is a perfect opportunity to explore the hidden gems of the Balkans. From the ancient ruins of Butrint to the stunning beaches of Saranda, Albania offers a unique and unforgettable experience for travellers seeking adventure and cultural immersion. So, pack your bags, hop on a ferry, and embark on a journey to discover the beauty of Albania from Corfu. Bon voyage!
More reading: