Istria is one of the most amazing places in Croatia, fall in love with the spectacular scenery, charming villages, some of the best rocky beaches with turquoise waters and local delicacies of truffles, seafood and olive oil. The best way to experience this gem is by organising an Istria itinerary road trip and visiting the places to see in Istria described below. This article covers 'blue Istria' along the coast and 'green Istria' inland.
We have organised the perfect Istrian Itinerary that will cover the most amazing places to see in Istria Croatia. This Istria itinerary is perfect for solo, couples and family travellers. During your Istria holidays, you will be covering some of the most beautiful places to visit on Croatia's Istrian Peninsula including Rovinj, Pula, Porec and some smaller Istrian villages.
Before we help you plan your ultimate Istrian Peninsula road trip below are a few practical tips and information you may find useful to visiting Istria.
PIN & SHARE ARTICLE FOR LATER 🙂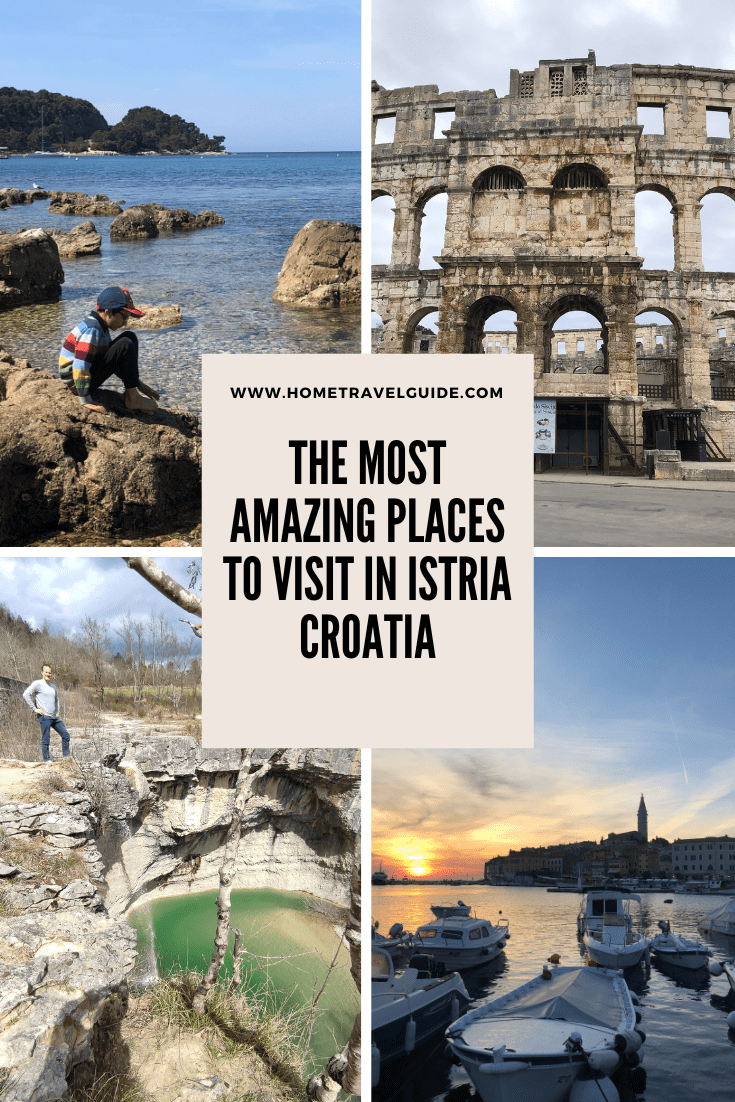 Practical information to note during your travels to Istria Croatia.
Currency in Croatia
The currency in Croatia is the Croatian kuna (current exchange rate here: EURHRK). Make sure to exchange money beforehand or you can change money easily once in Croatia. We found that the ATM machines do charge quite a high commission, there was only one we found in Rovinj in the main square which was fine.
Driving in Istria
We strongly advise hiring a car during your trip around Istria as it will give you the freedom to explore a few different regions in your Istria itinerary. You can easily hire a car from Pula Airport in Croatia. However, if you do not drive then it is still possible to travel by bus. For more information on bus routes check here. Getbybus is a reasonable option which can take you from Pula to Rovinj for 5 euros or Pula to Porec for 9 euros.
Istria Airports
The nearest and main airport is Pula Airport.
Depending on which airport you arrive in, take the opportunity to visit the beautiful villages of Istria, they are not so far from each other and you can easily base yourselves in at least 2 different towns. We stayed in Pula for a couple of days and then Rovinj. Both of these regions will be covered further down in this ultimate guide for the most amazing places to see in Istria Croatia. We will give you some suggestions on some beautiful day trips to do so that you can experience more of Istria as it is a spectacular region.
Weather in Istria
The weather in Istria is similar to the Mediterranean climate with mild winters and hot summers. Ideal to visit Istria between April to October. August would be the best time to swim but also peak summer time so more crowded too.
An Idea of distances in Istria
Some useful distances to note if you are travelling from Pula
From Pula to Rovinj is 40km (by car around 45 minutes)
From Pula to Poreč is 60km (by car around 55 minutes)
Map of Istria to cover your Istria itinerary
Visit Rovinj, our favourite and charming town in Istria
Rovinj definitely has to be part of your Istria itinerary, there is a lot to see and do in beautiful Rovinj, so you can easily spend a few days here. Simply soak in the atmosphere of Rovinj, it is a very special and beautiful little town by the sea. Walk around the cute cobbled streets exploring hidden gems in Rovinj and stop in a cafe or sit by the harbour. Visit St Euphemia Church and the bell tower. If you have a sweet tooth or simply like people-watching, make sure to take a seat and try the delicious cakes at Viecia Batana Cafe. It gets busy here for a reason, they have the best cakes in Rovinj and at quite a reasonable price around 2 Euros.
Golden Cape Forest in Rovinj
In Rovinj, you could also spend the day at Golden Cape Forest. This place is a truly stunning walk along the rocky shores sit by the pebble beach coves and experience the beautiful turquoise water of Croatia. Croatia really does have some of the clearest water in the world. There are a few cafes along the walk that you can stop at. If you are coming off-peak then bear in mind most places may be closed until the season starts around Mid April. You may also see some rock climbers. Along the route, there is a wooden play area for kids and a picnic table area.
Why not do a boat tour from Rovinj
Croatia is famous for its tour boats along the Islands, most of these tours open around Mid April and there are many choices dotted along the harbour. Some of the tours even include lunch or drinks on board. For the best deals and options, you can book Island tours or sunset dolphin tours which are quite popular and definitely one of the best things to do in Istria. If you are looking at where to stay in Rovinj there are many beautiful accommodations to suit your individual needs.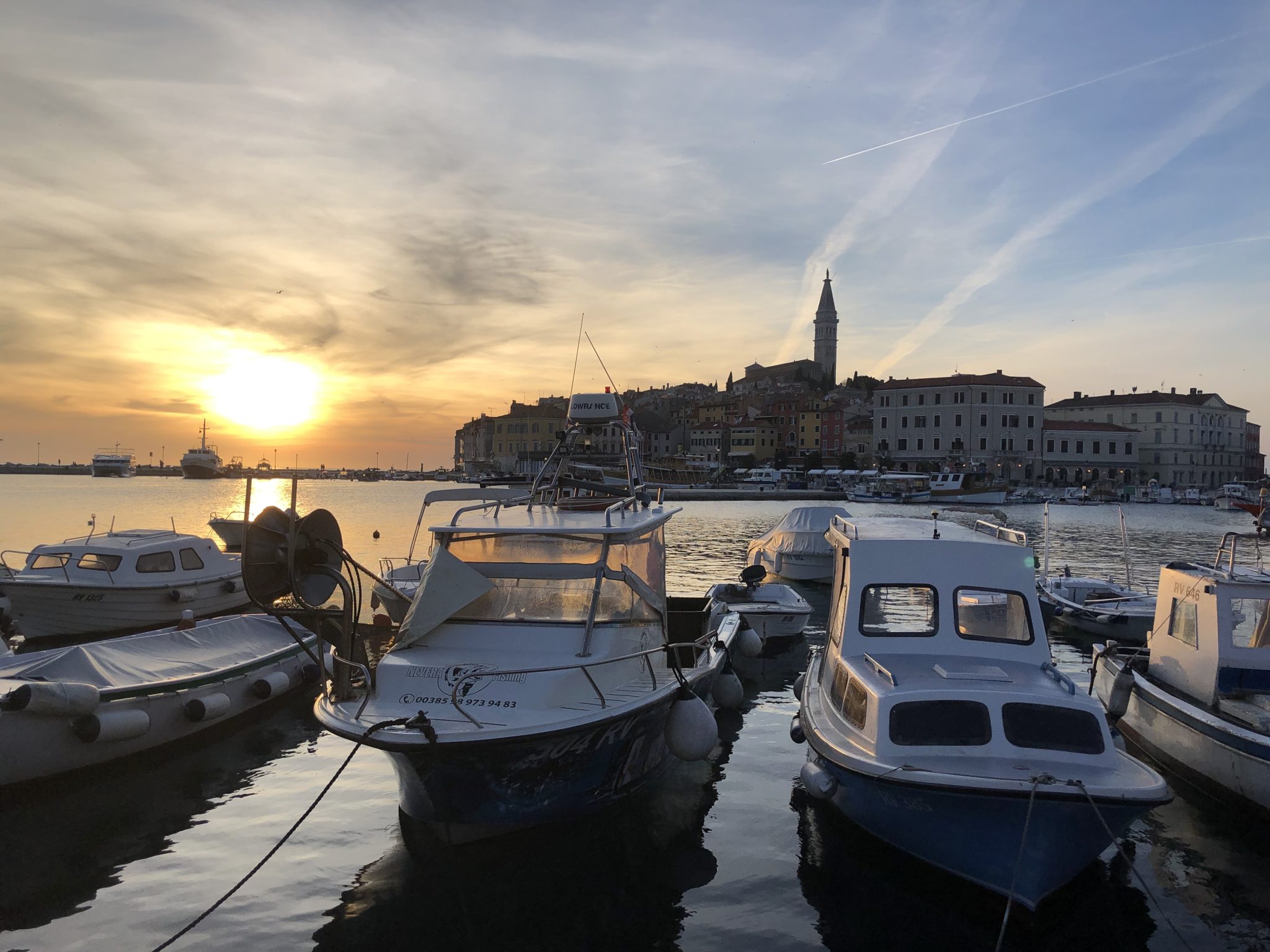 Visit Ancient Roman Ruins in Pula as part of your Istria itinerary
Pula is the largest town in Istria and is in the Southern part of the Peninsula. It still has a strong Roman heritage. You could spend a few days in Pula as there are a few interesting places to visit here. We went in April and found this to be one of the best times to visit Croatia as there were no crowds. Travelling in Croatia off-season has its advantages.
You could visit Pula's Aquarium which is especially fun and educational for the kids. The Aquarium is actually in an old fortress which makes the location even more unique; inside there are 2 tunnels which the kids will find very amusing. Depending on the season you will see turtles, butterflies as well as all the aquatic animals.
LOCAL TIP – Asking a local is the best way to find those Istria hidden gems. If you turn right from the exit of the Aquarium there is a little rocky cove where you can see the crashing waves which is beautiful.
In the afternoon you can do a walking tour of Pula to see the impressive Roman Amphitheatre, Temple of Augustus, Forum City's main square; stop by the art cafe Cvajner in the main square, walk by Arch the Sergii, the Gate of Hercules, Pula market and Zerostrasse. If you are still there in the evening the cranes light up at the Uljanik Shipyard Harbour which is quite unique to see.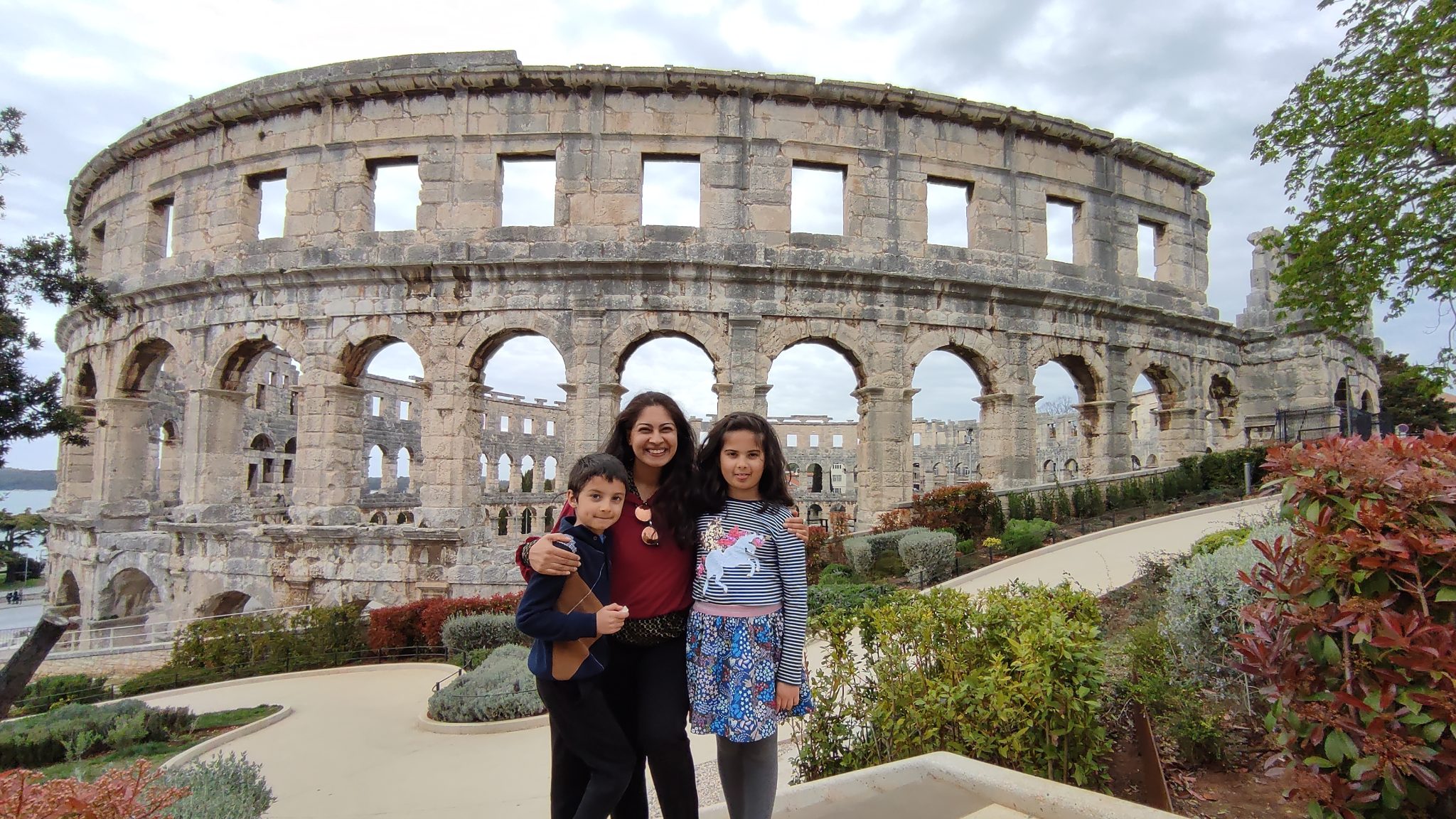 If you are spending a few days in Pula then we would recommend a visit to Meduline Beach. It is best to go during the peak time as then you could take a tour boat that takes you around the different Croatian Islands and sea caves along the Pula coast. (Off-peak these are closed).
Road trip along Istrian Coast 'Blue Istria'
Porec is another historical town with stunning coastal views. Visit the Euphrasian Basilica which was built in the 6th century, a UNESCO world heritage site. Explore Porec's old town which is surrounded by the sea. If you would like to do some beach activities there are lots of choices from pedal boats, banana rides, jet skis, motor boats and kayaking. You can easily spend the morning on one of the beaches including Pical, Brulo or Porto Busola. As the coast is rocky the beaches are rocky beaches. You can find manmade sandy beaches but these are within the resorts.
If you are looking for scenic routes, beautiful views and beaches then head to Lim Fjord. Here you can explore the bay and try some fresh oysters and mussels. You can easily find a boat in Porec that can take you on a tour to Lim Fjord. Tours typically cost around 250Kn (30 euros) per person and include lunch and selected drinks.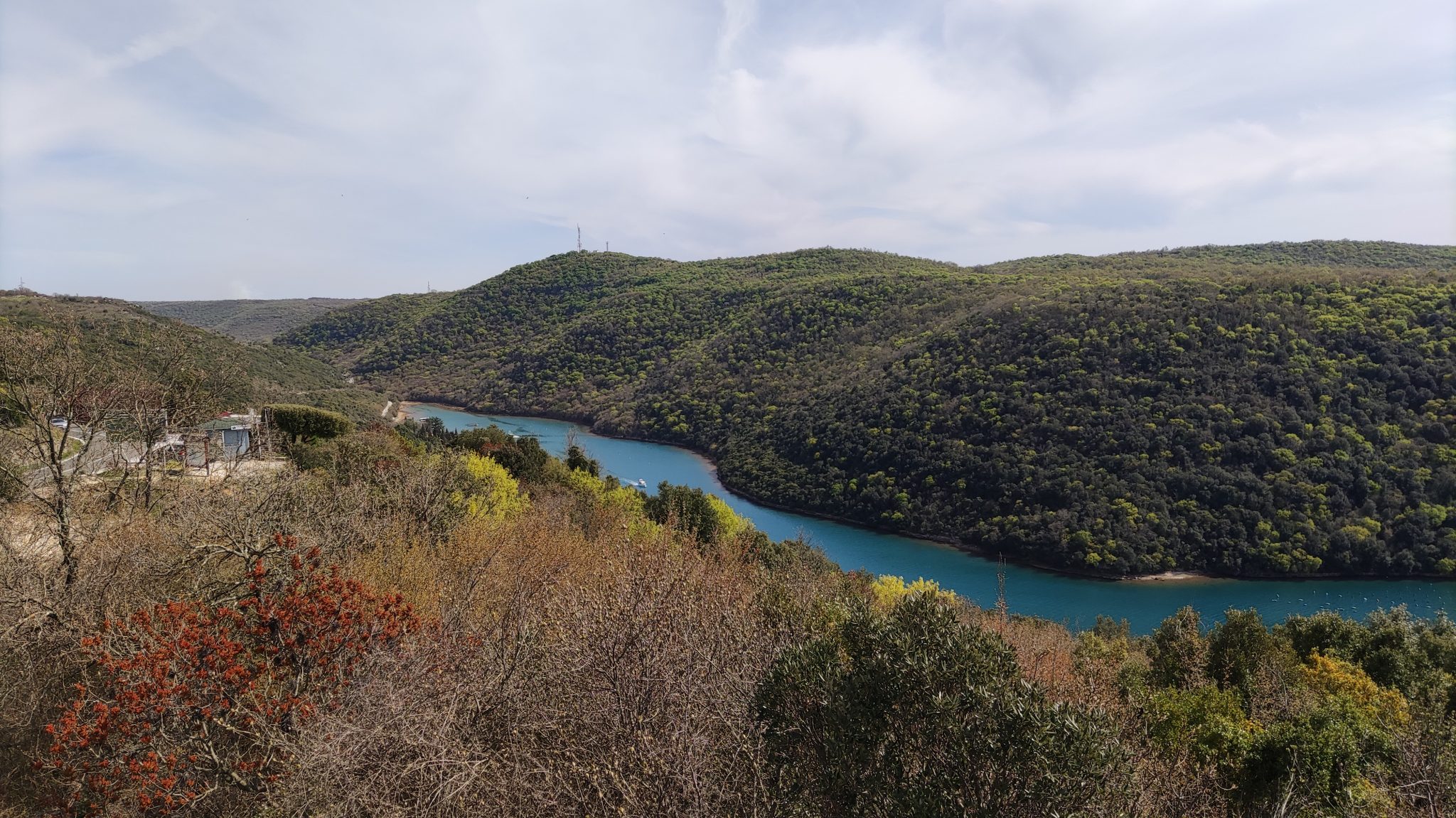 If you have more time some other beautiful places to visit in Blue Istria are Rabac where you will find some of the most beautiful beaches in Istria. Cape Kamenjak for some of the best beaches in Istria, rugged coastlines, hiking and cycling trails. Or make a visit to Novigrad a charming small fishing town.
Visit charming villages in Istria
Istria is surrounded by beautiful villages; here are a few must-see villages during your Istria itinerary road trip around the Istrian Peninsula to make some nice day trips. Motovun is perched on a 270m hill a lovely place to explore some vineyards and Olive groves. You will also find some cosy cafes which always make for a relaxed stopover. You could even go truffle hunting with a guide around Mira Valley in the truffle season. Or why not visit the Hum in Croatia; officially the smallest town in the world.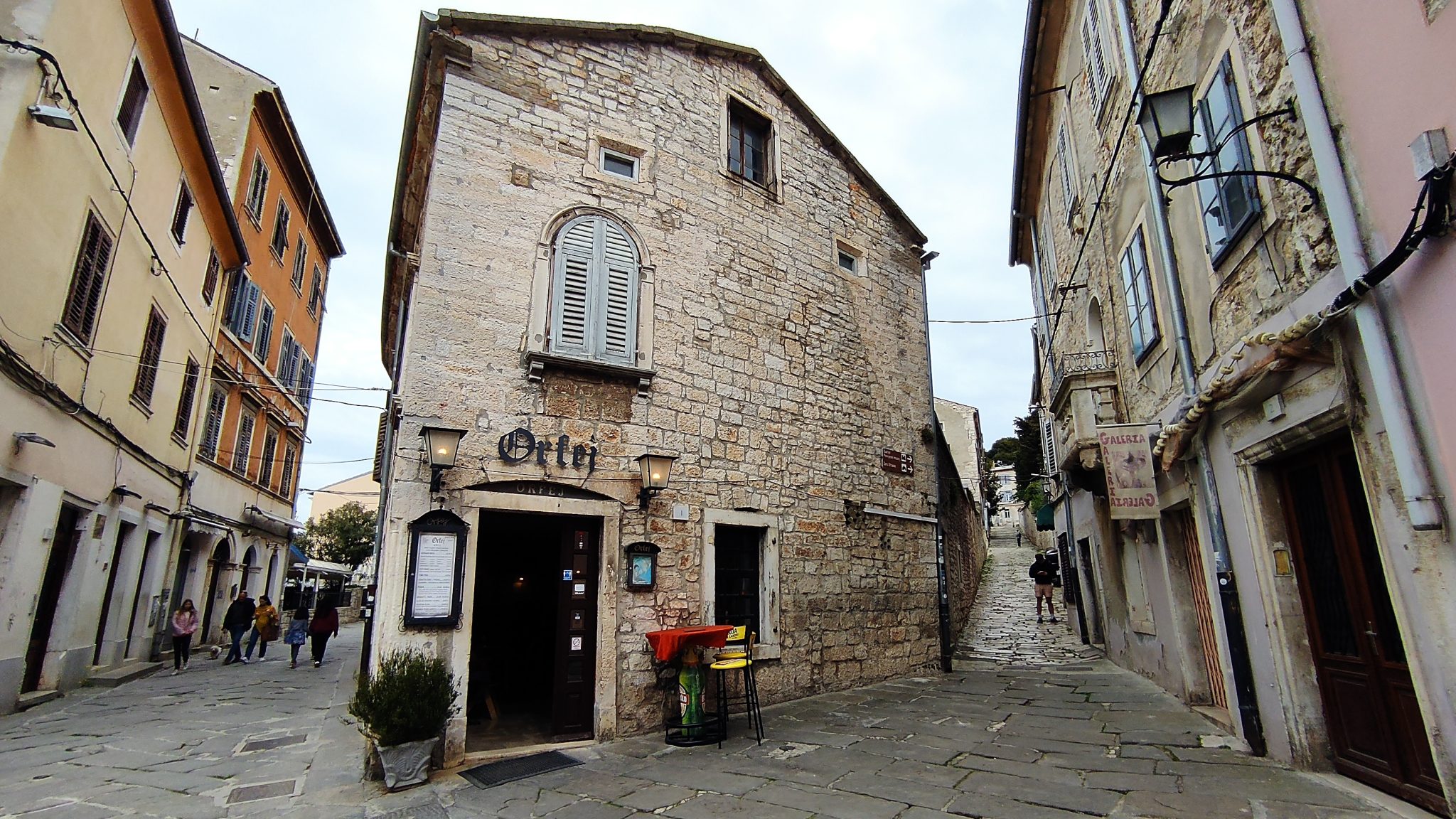 Visit a beautiful Istria Waterfall
If you love chasing waterfalls; there are a few waterfalls that you could include in your Istria Itinerary depending on your route. The best time to visit waterfalls would be in Spring or Winter season. Some beautiful waterfalls include Butoniga waterfall, Butori Ponor waterfall, Gologoricki dol Waterfall, Kotli waterfall, Pazin waterfall and Sopot waterfall. We headed to Sopot which is located near a small village Floricici. Waterfall Sopot is about 25m high. You can capture some beautiful photos from above but you can also climb down to the gorge. It is not an easy climb down as it can be unstable with the rocks but we did manage with our kids.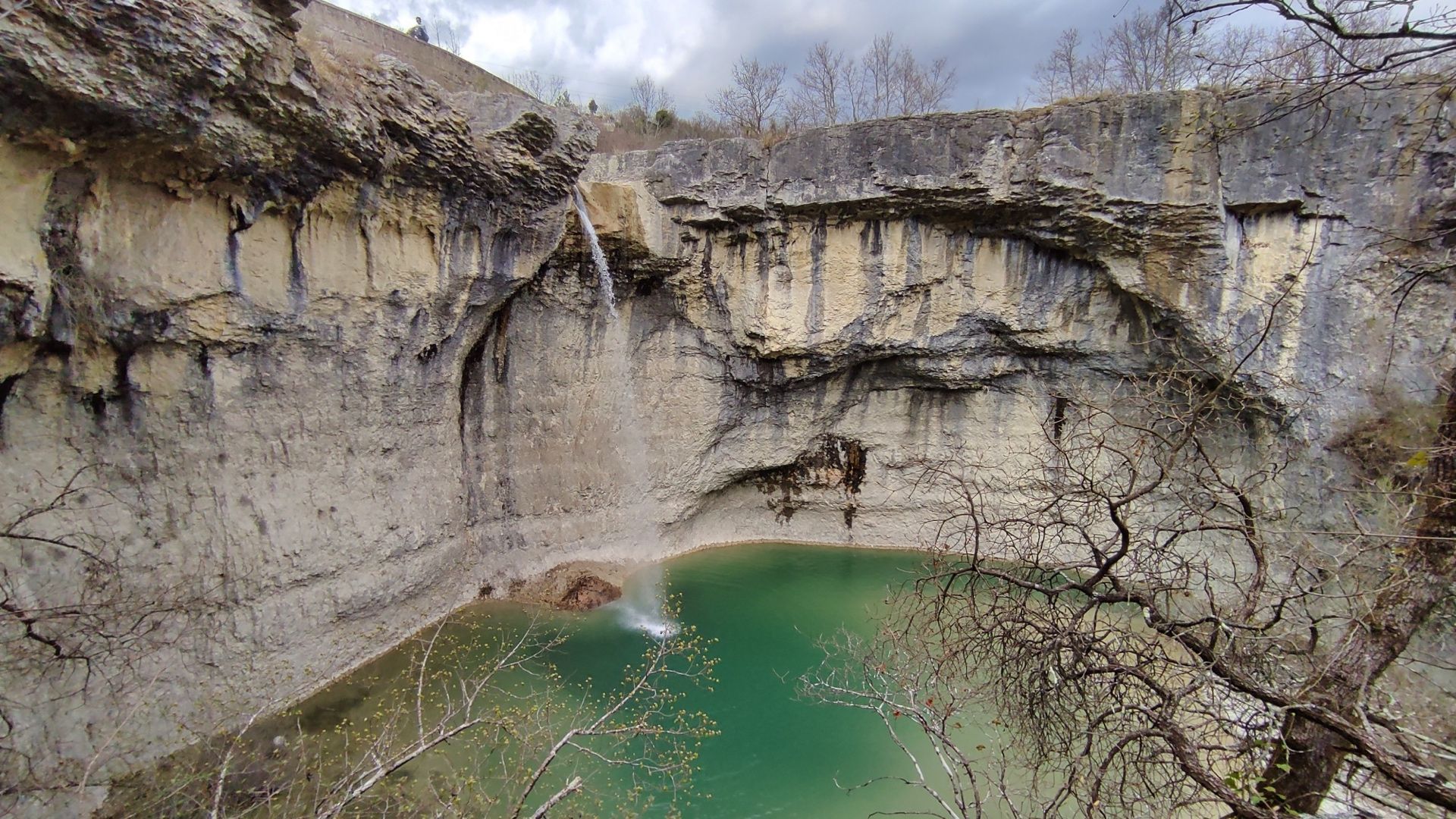 Eat at a local 'Konoba' restaurant.
Konoba is the term given to local restaurants, the food is usually fresh, tasty and local. In Pula, we would recommend the Boccaporta but book in advance as they get really busy. If you are in Rovinj you could visit Konoba Jure. It is a little out of the centre but they have some delicious options freshly made, try the Seafood pasta or the gnocchi gulash which were delicious. There is no menu as it changes according to what they have available. Finish off your meal with a local drink Rakija or Biska.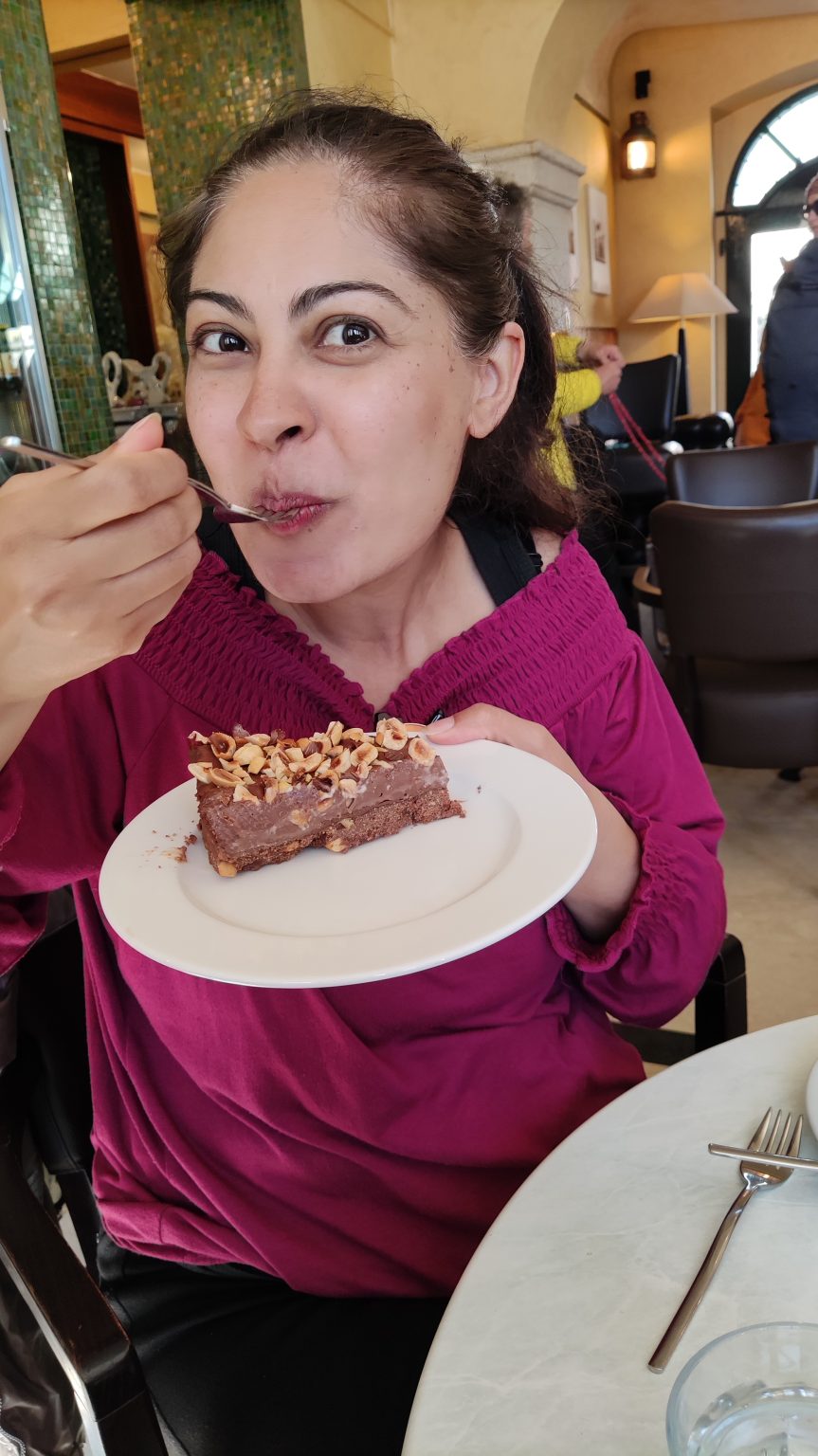 For a unique experience visit the Horse Centar in Lanterna
One of our favourite family activities during our Istria itinerary trip was horse riding amongst the olive trees. The Horse Centar in Lanterna caters for beginner riders where you will be accompanied by staff and more experienced riders who will have a guide. For more experienced riders you have a choice to ride at night, in nature or even in the sea. If you are staying for longer they can also provide programmes, these are great for children who want to learn horse riding. There is also a little farm where you can see the goats, pigs and chickens. For more information and bookings check out the Horse Centar website.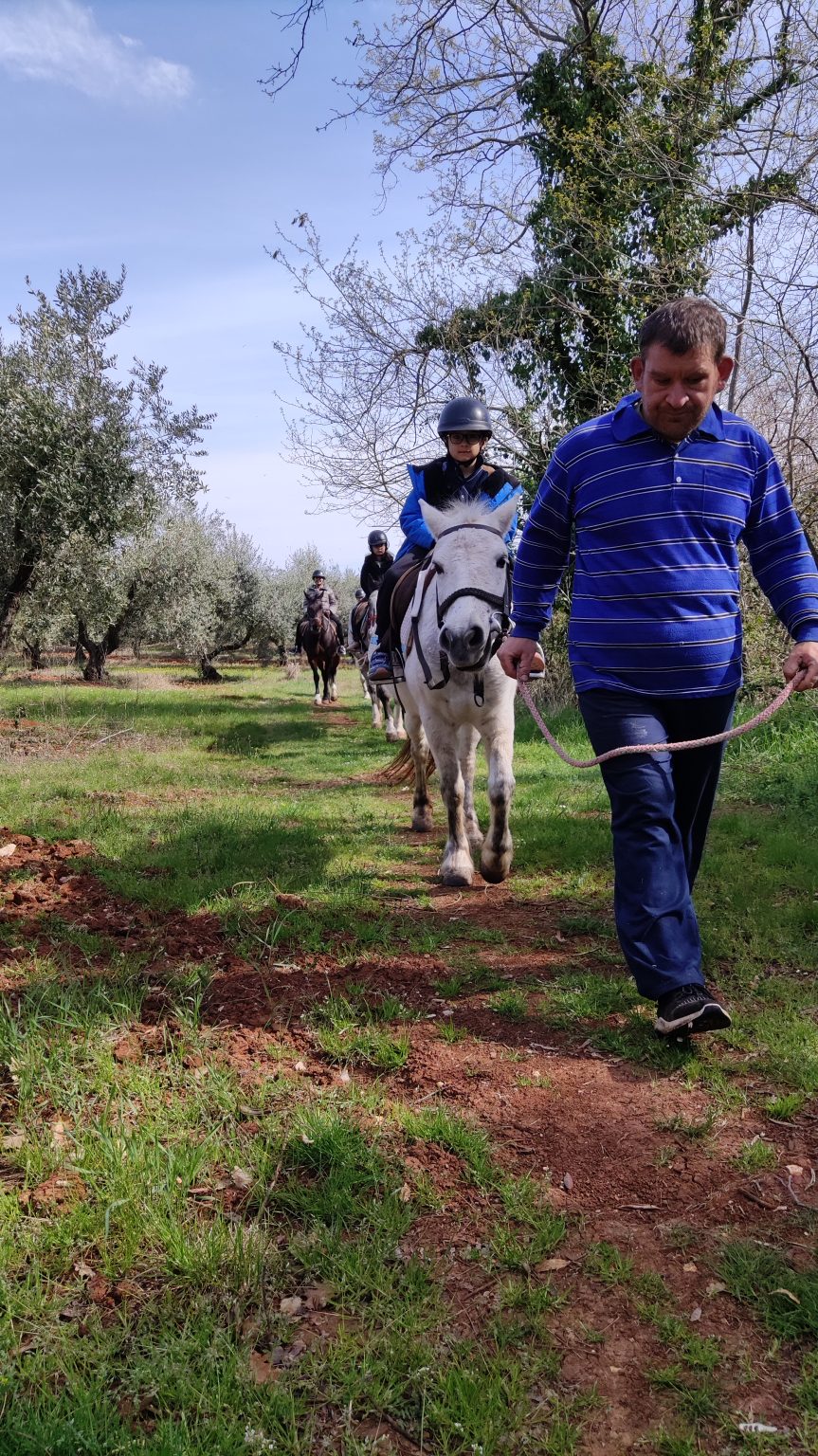 Other Places of Interest in Istria if you have more time
As we went off-season there were some places that were not yet accessible. On our next visit, we would definitely make a visit to the Brijuni Islands part of Croatia's National Park. You can take a boat from Fažana. Your ticket will include a return boat trip, entrance to the National Park and a train ride tour to visit Veli Brijun Island and the museum.
We hope you found some good ideas for your own Istria itinerary as there are so many lovely places to see in Istria. we would love to hear your favourite places to visit in Istria.
Show your support by pinning and sharing our article 🙂 Also let us know your favourite places to visit in Istria?