Look no further! you have just found the ultimate guide for all the fun things to do in London with kids. London is a paradise for families as there is so much to do and experience. From beautiful strolls in gorgeous parks and gardens to thrilling boat rides; London is an incredible city for kids and has it all. With the help of our experienced travel bloggers, we have come up with the ultimate family guide for London with lots of choices covering all age ranges. We will keep updating this list so make sure to save and pin this article.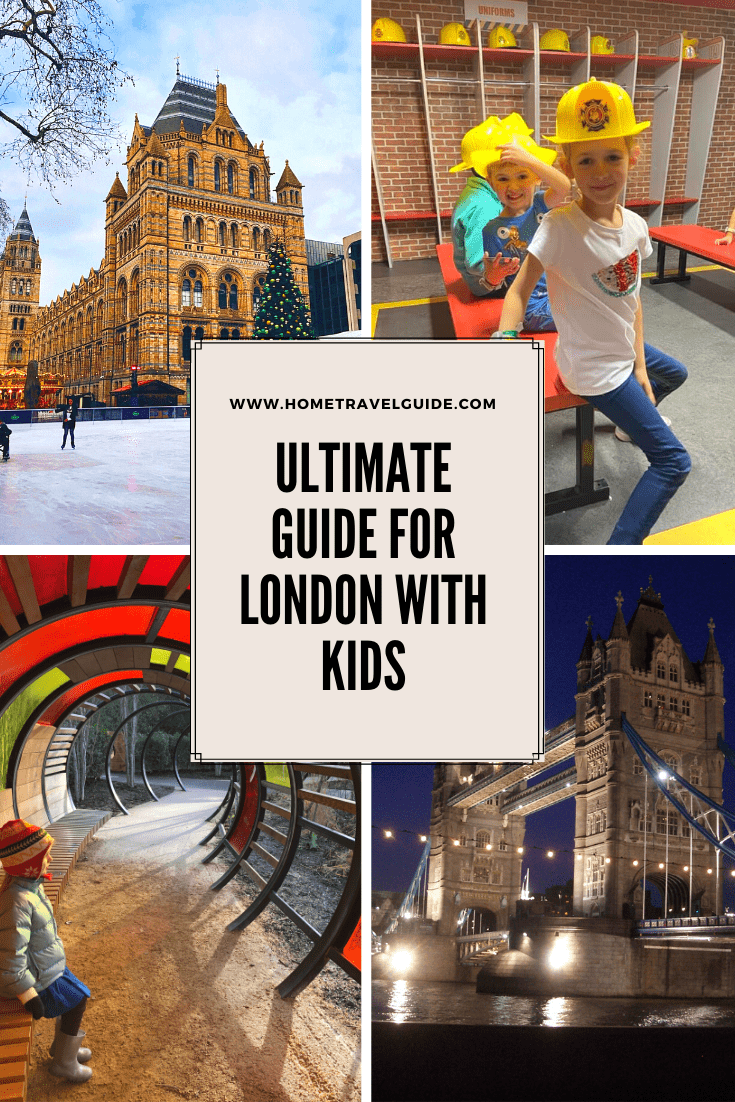 If you are planning to come to London during the Christmas period don't forget to check out our
Free things to do in London with kids during Christmas.

And if you are looking for greenery and parks in London, you will be well served with Explore the Best Parks in London,
What is in this guide?
Our full guide on fun things to do in London with kids has many different options including free things to do in London and is the perfect guide if you are visiting London for the first time or whether you love to visit London regularly. If you are visiting for a few days consider taking the London pass which saves you money and time with over 80 family fun activities included.
Disclosure: This post may contain affiliate links or gifted items. You do not pay anything extra but help us to run our travel blog so that we can carry on providing you with travel itineraries and destination guides for free. See our full disclosure policy for more details.
Thames Clippers River Roamer & Emirates Airline and London Underground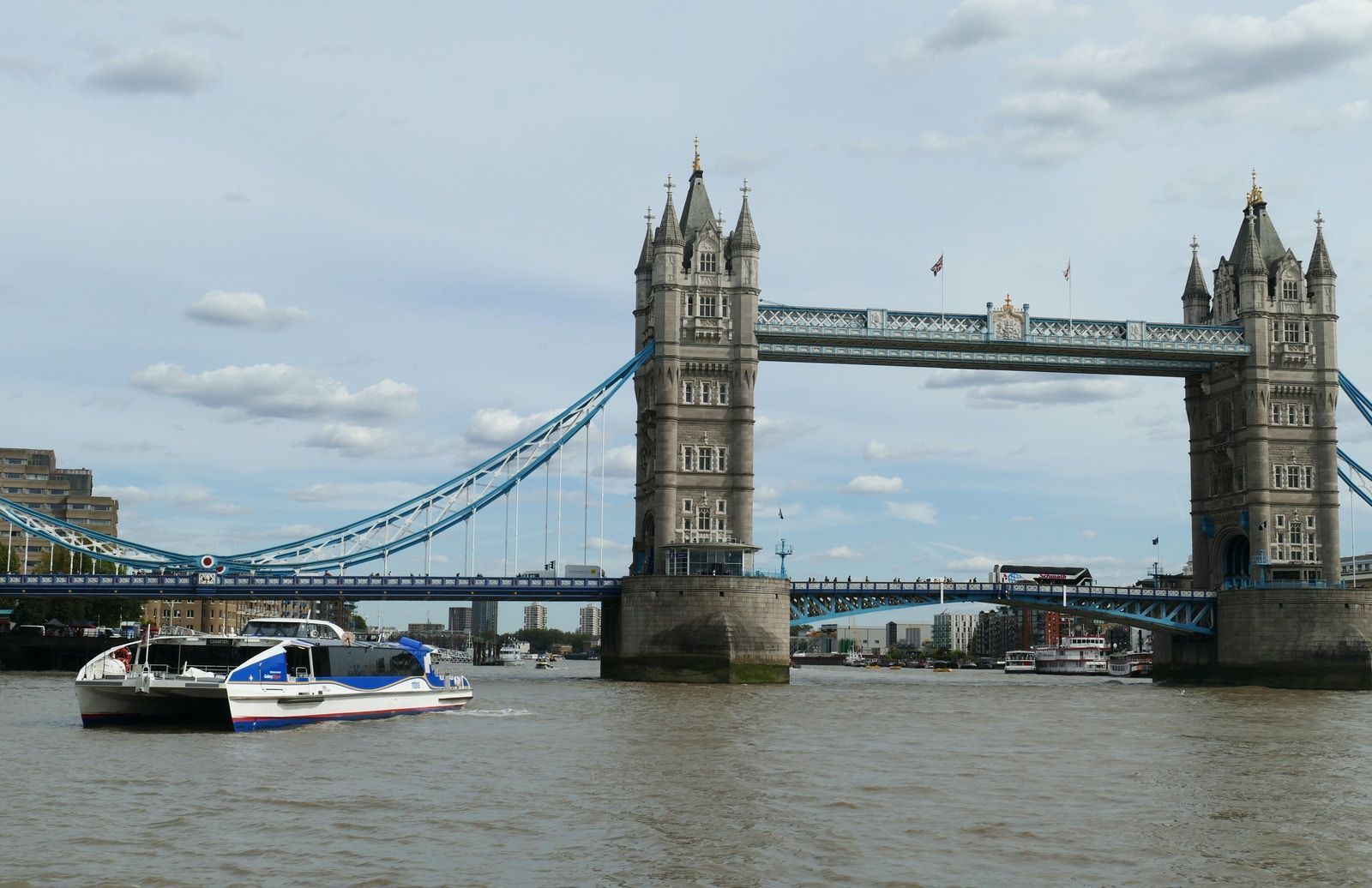 I love organising days out in London; one that our kids enjoyed in particular was experiencing different types of London Transports. We started by taking the London Underground to Westminister. From there we caught the Thames Clipper Riverboat with our Combined Thames Clipper River Roamer and Emirates Airline cable car ticket.
The ticket also allows you to step on and off the different stops along the River Thames so is a great way to visit London. You can stop on and off from piers including Westminister, London Eye, Embankment, London Bridge and North Greenwich. You can then get off North Greenwich Pier to take the Emirates Airline Cable Car which is a unique experience in London with beautiful views over London's skyline, Queen Elizabeth Olympic Park and the O2. We recommend taking the cable at sunset so you get to see London's beautiful sunset views.
Recommended by Author of Hometravelguide @travelingbambinos
Afternoon Tea with kids on bus
Location: Outside Somerset House
Nearest tube station: Embankment Station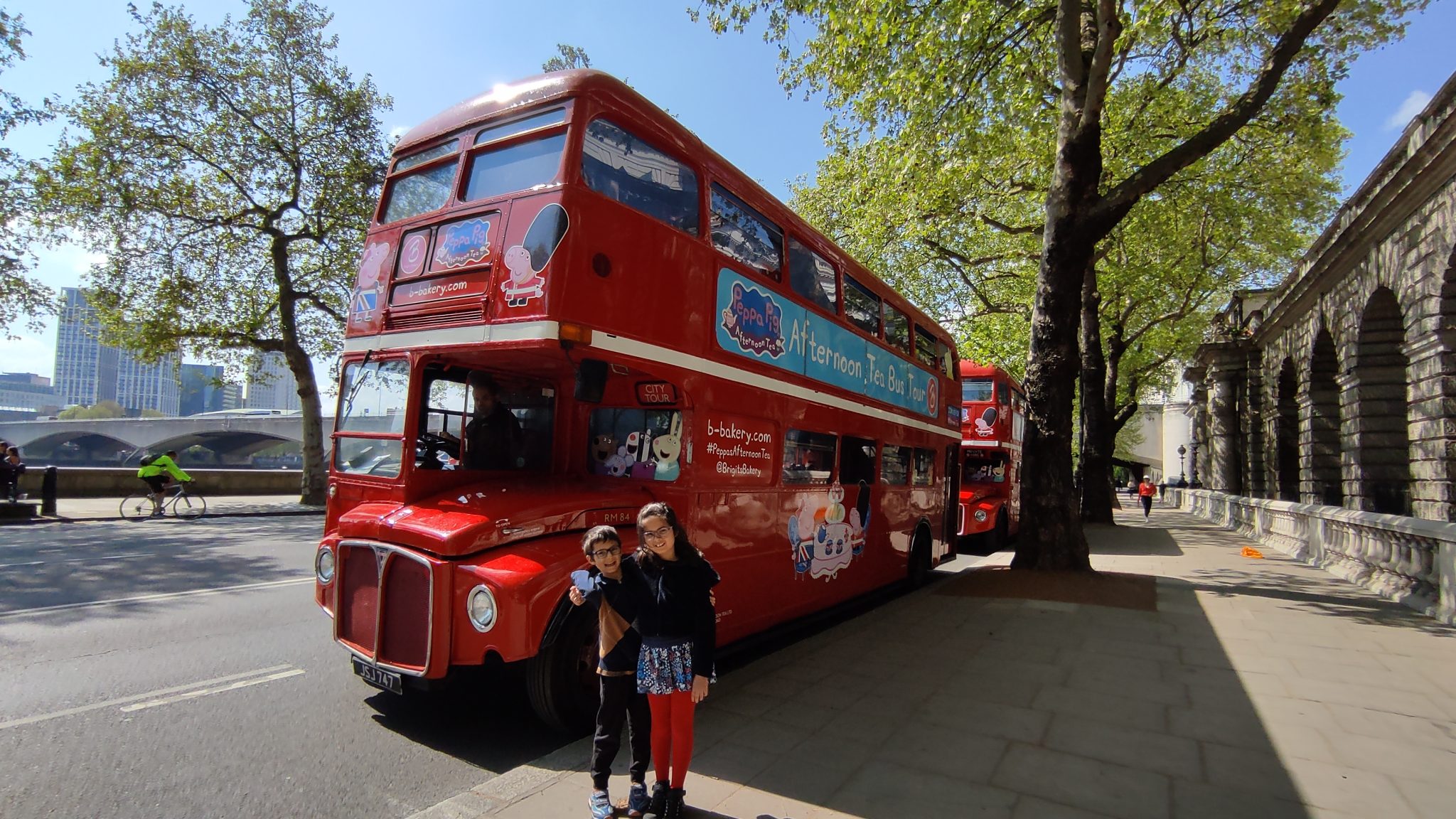 If your little ones love Peppa Pig then don't miss this unique experience with your kids. Peppa Pig Afternoon Tea Tour Bus is the ultimate fun experience, in fact you might end up having more fun than the kids! Enjoy a scrumptious afternoon tea with all the tasty treats including scones, cakes, fruit tart, mini pizza, a selection of mini sandwiches and drinks.

There will be sing-along songs and fun explanations during your tour. You will see all the major London landmarks including; Big Ben, The Houses of Parliament, Westminster Abbey, Hyde Park, Tower Bridge, St Paul's Cathedral, Borough Market, Buckingham Palace, Piccadilly Circus and more. At the end of your tour, you will also be given a fun activity book to take home.
The duration of the tour is 90 minutes and the prices start from £45 for adults and £35 for Children.
Recommended by Asha, Author of Home Travel Guide and @travelingbambinos
Interactive indoor city made for kids at Kidzania
Location: Westfield London Shopping Centre Ariel Way, London W12 7GA
Nearest tube station: Shepherds Bush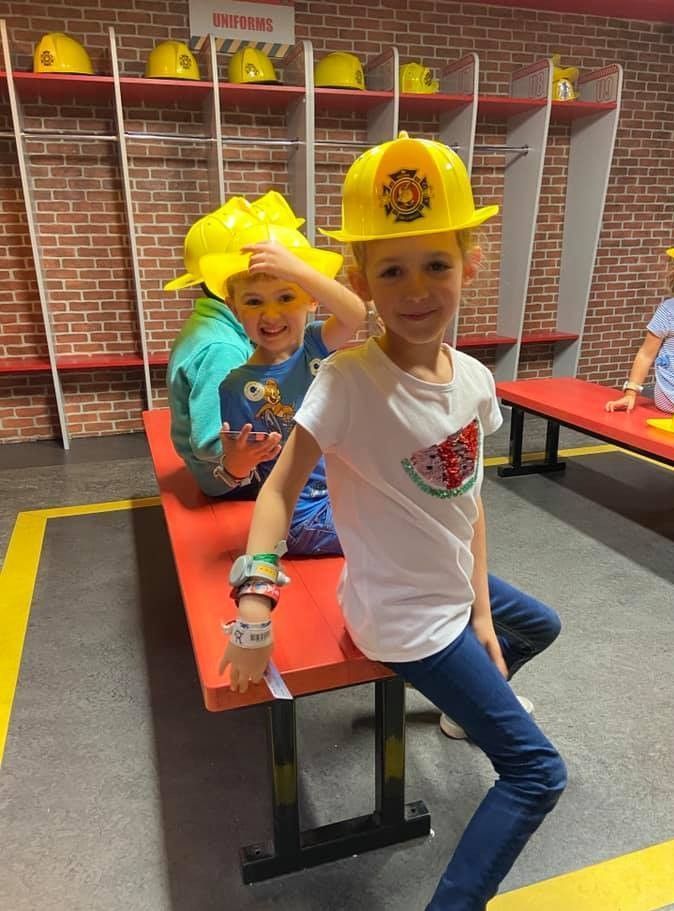 Kidzania is one of the most fun attractions for kids in London. In this scaled-down city, kids can try out different jobs, earning money via their own play bank card. They get the chance to see what it's like to work as a pilot, TV news presenter, window cleaner, firefighter and much more via a series of immersive experiences.

Each activity takes between 5 and 20 minutes to complete. Most career choices are suitable for kids aged 4 to 14, although a few of the activities are more suited for those aged 8 and over as they involve quite a lot of reading.
Parents aren't allowed into the workplaces but can stand in the virtual (indoor) street and watch through the windows. However, if your kids are aged eight or older and confident enough, you can leave them in Kidzania while you enjoy some time alone. Kids have a lot of fun playing the grown-ups and learning grown-ups activities.

Kidzania is located inside the Westfield shopping centre in London's Shepherd's Bush. You can get food inside Kidzania, but you'll find much better options in the restaurant area of the Westfield. It's a good idea to take some snacks into Kidzania with you for your four-hour session and then enjoy a meal together afterwards.

A visit to Kidzania costs £16 for adults and £25 for kids if you book online, or £18 for adults and £38 for kids if you pay at the door.
Recommended by Jenni from CruiseMummy
Mad Hatter's Tea Party, an Alice and Wonderland themed afternoon tea experience
Location: 50 Berners St, London W1T 3NG
Nearest tube station: Goodge Street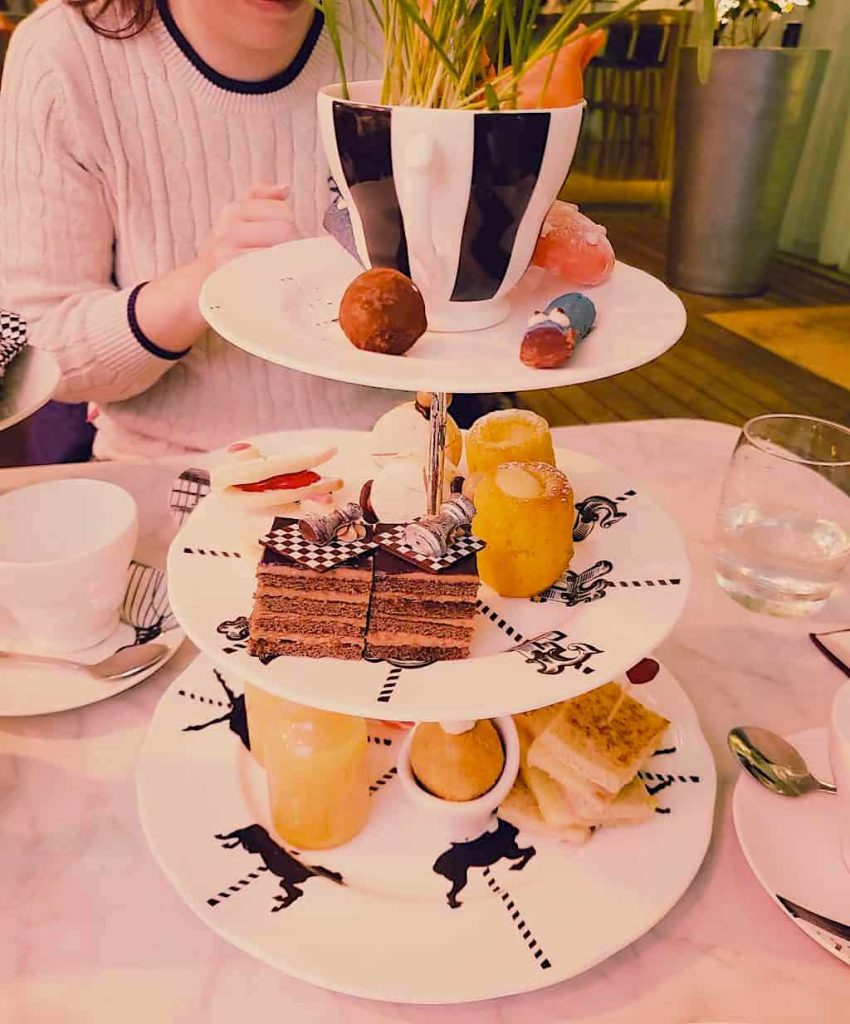 Looking for one of the truly unique fun things to do in London with kids? If so then head to SOHO for afternoon tea to remember at the Sanderson for one of the best afternoon teas in London with kids.
See, this luxurious spot is known for its wonderful, Mad Hatter's Tea Party, which is an Alice and Wonderland themed afternoon tea experience that features menus presented inside vintage books.
So, once you select your preferred tea from the menu (try the Queen of Hearts with hints of rose, vanilla, and chocolate) it will be brought out to you in glass jars that mimic the ones Alice found after falling down the rabbit hole – complete with a little tag that reads, "drink me".
From here, you'll devour a decadent selection of finger sandwiches like cream cheese with croque-monsieur and grilled vegetables with tomato on an avocado brioche roll.
Next, enjoy warm scones with clotted cream and raspberry jam that are followed by an assortment of desserts like an exotic fruit "Drink Me" potion, vanilla macarons, lemon curd financier, and more.
Understandably though, this is an incredibly popular experience. Therefore, reserve a table either in the restaurant or the stunning outdoor courtyard well in advance. Prices also start at £48 for adults and £35 for children.

Also, be sure to add some semi-formal attire to your London packing list since this is a more refined afternoon tea that requires you to dress up a bit.
Recommended by Kelly, Girl with the Passport
For other amazing Afternoon Tea experiences for kids, you could try The Savoy where you can try the themed 'Tiger came to tea' experience. Why not try a unique London experience by having your Afternoon tea on an iconic London bus which drives around London with B Bakery.
London Zoo
Location: Outer Cir, London NW1 4RY
Nearest tube station: Camden Town Station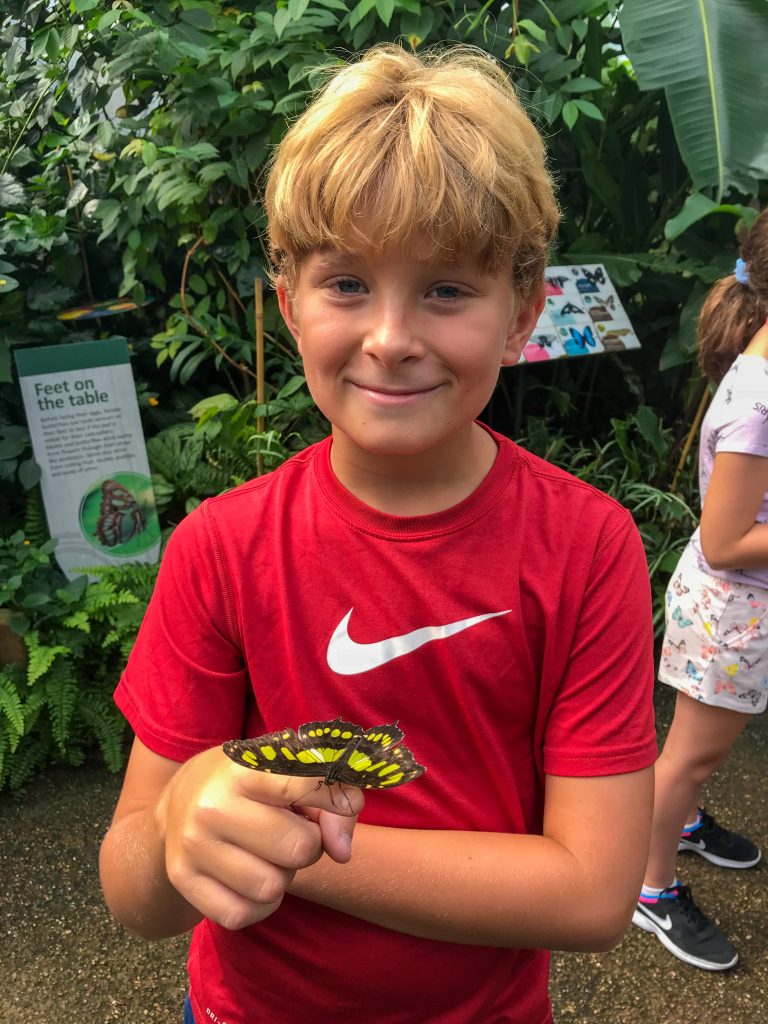 Visit the wild side at the London Zoo where you'll find over 650 species of animals including splashing penguins, diving otters, majestic lions and so much more. This iconic zoo houses a huge diversity of animals and you can plan your visit around animal feeding times and animal encounters. With multiple walking loops and 36 acres, you need at least half a day to explore the entire zoo and more if you plan to attend some of the activities that happen throughout the day.
It is clear that the London Zoo exhibits are created thoughtfully with a high level of concern for animal welfare. The zoo is packed with information about the animals and the important steps we can all take to conserve and protect natural habitats. Some of your ticket cost goes towards supporting conservation work around the world.
Opening times vary throughout the year and you can purchase tickets only online at the moment. Tickets during peak times are £31.50 for students and £35.00 for adults. If you're visiting the zoo from the city, the easiest way to get there is by tube, but it is also possible to drive and park. Once you're there, you can grab a snack or lunch at the Terrace Restaurant inside the zoo where you can find a range of standard food for reasonable prices.
Recommended by Gretchen Stuppy Carlson from Teen Travel Adventure
London Aquarium
Location: Riverside Building, County Hall, Westminster Bridge Rd, London SE1 7PB
Nearest station: Waterloo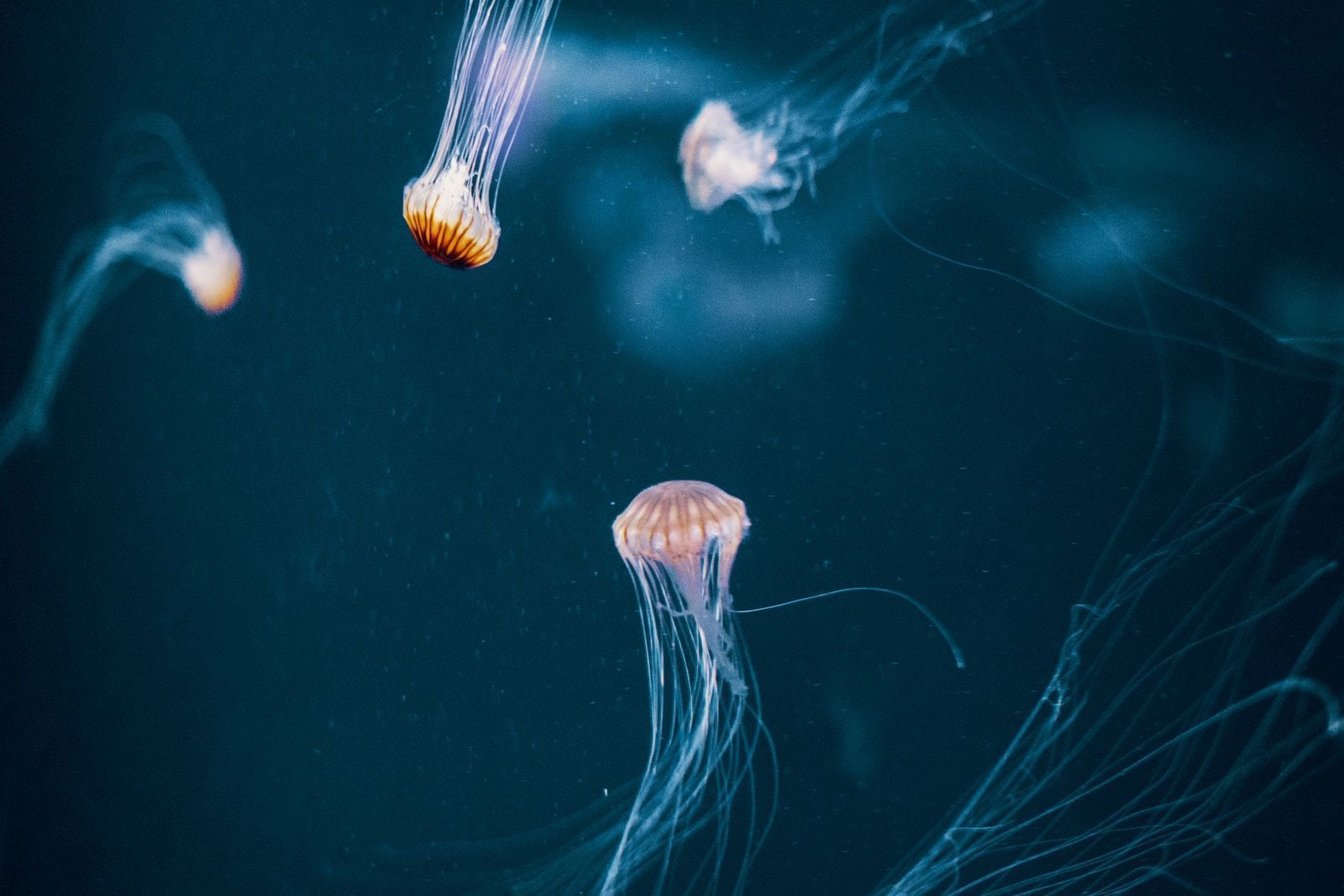 You'll find Sea Life London Aquarium located on the lowest level of London's County Hall on the south bank of the Thames, right in between Westminster Bridge and the London Eye. Although the aquarium is small, it is visually impressive. An underwater tunnel allows kids to feel completely immersed in ocean life.
The aquarium is structured into three zones: Rainforest Adventure, Coral Kingdom, and Ocean Invaders. Kids can grab a ranger mission pack full of activities, dress-up accessories, and games to use during their visit. Attractions include sharks, penguins, a coral reef, and touch pools where kids can touch a starfish.
A standard ticket costs £27 pounds if bought online here, or £30 pounds at the door. For kids ages 3-15, a standard ticket costs £24.50 in advance or £27 at the door. A flexible entrance time will cost you £10 more per person. Children under 3 enter for free. The aquarium is now cashless so there's no real reason not to book ahead of time and save a couple of pounds.
The County Hall building has always attracted Asian restaurants. You can hit up Hannah Japanese Restaurant, Bao Fa Garden Chinese Restaurant, or a number of other nearby Japanese restaurants if you're looking for a snack after your visit. The aquarium itself offers vending machines, but no café or restaurant.
Recommended by Ada from Beyond the Yellow Brick Road
Tower of London
Location: The Tower of London, London, England, EC3N 4AB
Nearest station: London Bridge Station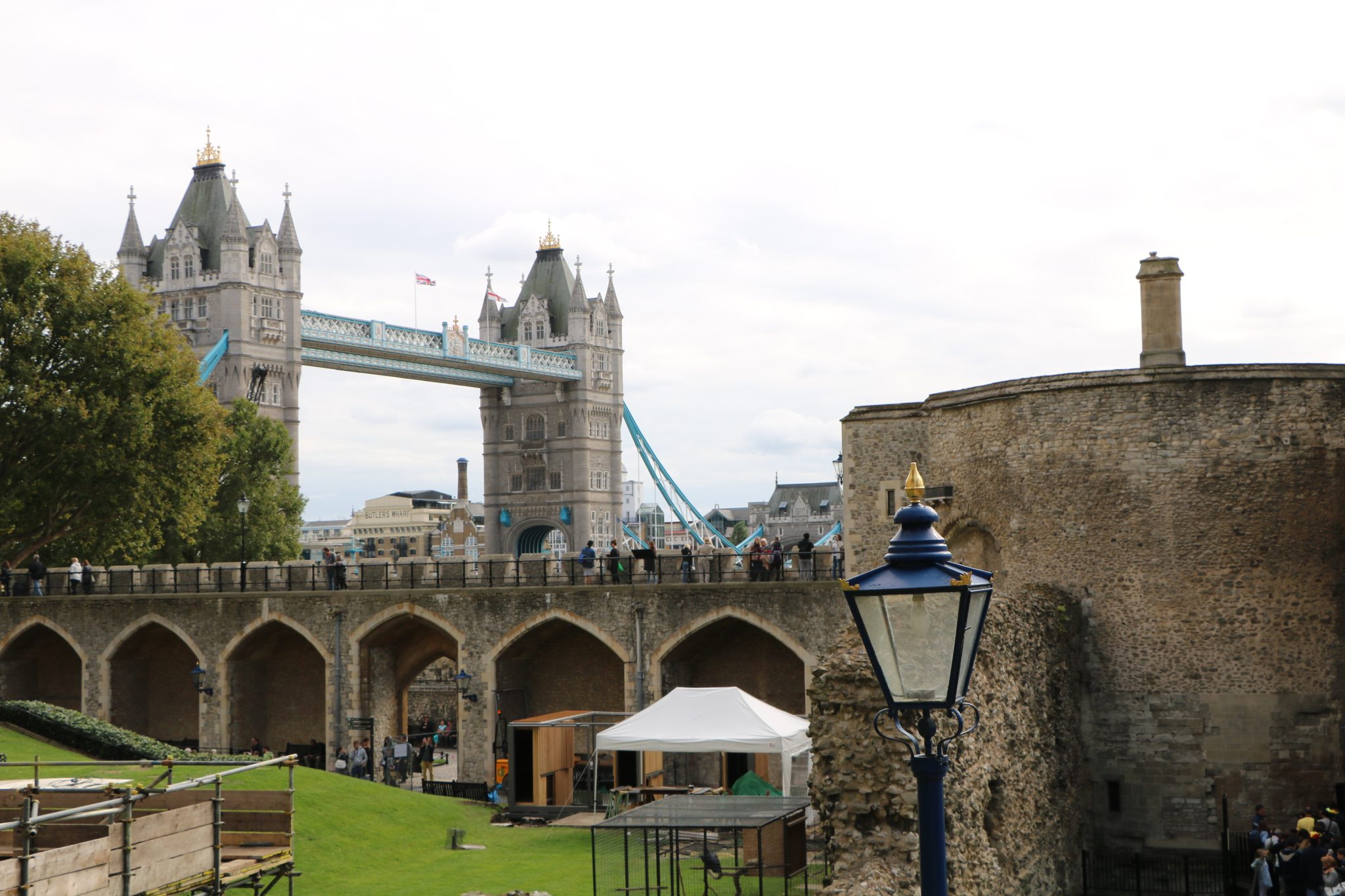 There is nothing better for kids than learning history where history took place. It's why a stop at the Tower of London is a must-do when visiting London with kids.
The Tower of London is so rich in history as it once was a fortress, then a palace, but also a prison. You and your kids will learn so much during your visit.
You'll want to plan for at least half a day to really explore the park. And make sure to wear comfortable shoes, as it's a lot of walking. Also, don't forget to ask for your kids' family trails so they can complete the activities as you progress in your visit.
To make the most of your visit, make sure to get on one of the guided tours. They are held every hour and hosted by the "Beefeaters". The guided tours are included in the daily admission. The guide will share stories from the 1000+ years of history of the Tower of London. After, your guided tour, head out to the Jewel House to admire the Crown jewels.
If you forgot to pack a lunch, there is a Prêt à Manger nearby where you can grab some sandwiches and coffees. And you'll be right by Tower Bridge to take some beautiful pictures. If your kids like historical sites like the Tower of London, you might want to drive outside London and explore the towns of Oxford and Cambridge.
Recommended by Emilie from Love Life Abroad
London Dungeon
Location: The Queen's Walk, London SE1 7PB
Nearest station: Waterloo
What child doesn't like to combine amusement and gory details of real-life events from the past? These gory stories of a time long ago in old London Town are fascinating, thrilling and a little scary.

London Dungeon is conveniently located at a short walk from Waterloo station, (not far from the London Eye). We suggest that this is suitable for older kids, 12 years plus.

The children will love to hear the stories of Jack the Ripper and Sweeney Todd as they enter each dungeon. But, beware because the children (and yourself) will be spooked and entertained by well-rehearsed actors.
The London Dungeon keeps the kids enthralled as they are both educated about London's dark history through tales of long ago that they otherwise would have been bored with within a traditional museum.

You will find rides, backdrops and some scary people who reenact times of long ago. The experience takes approximately 1 hour and 30 minutes. You can also combine a few other attractions in the area when purchasing tickets online. There are three types of tickets the Standard, the fast track and the VIP ticket, which includes a drink and photo at the end.

A standard ticket starts at 27 pounds, but you can purchase a bundle online that includes other major attractions like the London Aquarium or Madam Tussauds.
Why not try a truly British tradition and stop in at The Library at County Hall for an English afternoon tea and introduce the kids to a perfect afternoon spoiled with delicious scones, beautifully cut sandwiches and sweet pastries that will have everyone happy. The Library county hall is only a 3-minute walk from London Dungeons.
Recommended by Paula from Truly Expat
Exploring Camden, London
Location: Camden Town
Nearest tube station: Camden Town and Chalk Farm Road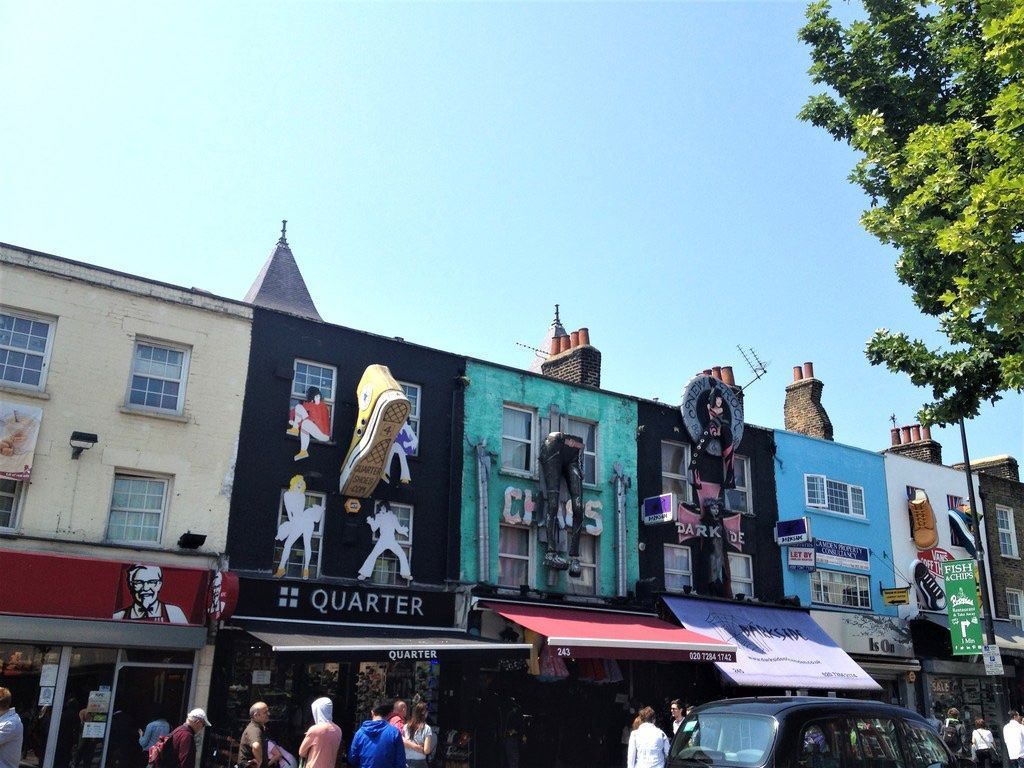 Camden is a colourful neighbourhood just north of Central London. It is perfect for a family day out in London. To get there, take the Northern Line (Black) to Edgware or High Barnet and disembark at Camden Town station.
Once above ground, your kids will be amazed by the brightly coloured houses with artful fronts along Camden High Street. Some feature huge shoes attached, others a very large pair of jeans and yet another one a colourful elephant with Indian patterns around it.
Also known as Little Venice, it comes as no surprise there are several canals in Camden. If your kids love to walk, you can walk all the way to Primrose Hill and Regent Park along the canal after you're done exploring Camden Town. 
But before you leave, be sure to visit some of the Camden Markets where you browse through souvenirs or grab a bite to eat from one of the many stalls selling excellent street food.
From deep-fried halloumi fries to bao buns stuffed with pork and freshly made falafel to Indian curries, whatever you and your kids feel like having, you can buy it at Camden Market.
Stables Lock Market, Camden Lock Market and Camden Canal Market are fun for kids as they almost seem like a maze with tiny alleys that bring one surprise after the other. Be sure to keep an eye on your little ones as it's easy to get lost here.
Recommended by Lotte from gezondweekmenu.nl
West End Theatre Shows in London
A really fun thing to do in London with kids is to visit the West End for a Theatre performance. After all, England is the home of Shakespeare! Not far from Picadilly Circus is London's hub of theatre, the West End. From incredible musicals to play performances, the West End is where you'll find a range of the highest quality stage entertainment. In fact, the West End has been home to some of the world's most famous actors and actresses, as well as some of the best shows in the world.
While there is a range of shows, the West End always has several family-friendly shows running, having hosted performances like The Lion King, Frozen, Matilda, Shrek the Musical, Wicked, and more. For younger kids, look for a matinee, but even evening shows are kid-friendly. Kids love the grand theatres and outstanding shows, plus visiting the theatre in London is almost like going to a movie theatre in most countries. While the performances and venues are grand, visiting the theatre in London is a bit more relaxed than you might find in other cities. In fact, during intermission, Cadbury candy boxes and ice cream are sold in aisles, which makes it great fun for kids.
Book and explore top musicals and performances at the London Theatre.
For a pre-show meal, Gordon Ramsay's kid-friendly Heddon Street Kitchen (kids eat free!) is on Regent's Street, not far from the West End. You can either walk or hop on the bus to get there (and if you have time, take a spin around Hamley's Toy Shop on Regent's Street.) Visiting the West End for a theatre show is definitely one of the most fun things to do in London with kids!
Recommended by Keri of Bon Voyage With Kids
More theatre shows in London
If you are looking for less mainstream theatre shows head to Unicorn Theatre near London Bridge which is great for younger kids, they have performances and shows for kids from 6 months plus. The prices here are also more affordable than the West End. For a totally unique and cool experience in London check out Shakespears Globe Theatre where you can step back in time with lively performances of Shakespears theatre and even have a tour of the 16th Century playhouse.
Take a boat trip along the Thames in London
Taking a cruise down the Thames is a popular activity for anyone visiting London with many fantastic boat trips and cruises available including some with afternoon tea or dinner available as you sail down past some of London's most famous landmarks and sights.
Whilst a Thames cruise is good fun for all the family the recent addition of some boat trips especially designed to appeal to kids has made this a popular activity to include in London itineraries when visiting with children.
The first boat trip we would recommend is a history tour of the Thames with a difference. Based on the popular Horrible History books the Terrible Thames boat trip is a hit for kids interested in learning about the history of the city and the river that runs through it (but in a fun way!)
The cruise departs Tower Bridge Quay and lasts for 45 minutes. During the trip kids will learn all about Henry VIII, Anne Boleyn and more delivered in a fun and highly entertaining way by the crew in historical costume. Tickets are available to purchase through the Terrible Thames website and cost £15.00 per child, £25.00 per adult (a family package is available for £72.00 (1 adult and 3 kids or 2 adults and 2 kids) Make sure to book in advance as this is a very popular excursion.
Another popular London boat trip for kids is the Thames Rockets. Travel along the river by speedboat passing over 20 London landmarks and sights along the way. Depart the London Eye with Thames Rockets on one of their signature tours including the popular Captain Kidd's Canary Wharf Voyage. Tickets start from £36.95 for children and £41.95 for adults.
Recommended by Tracy from UkTravelplanning
London Eye
Location: Riverside Building, County Hall, London SE1 7PB
Nearest Station: Waterloo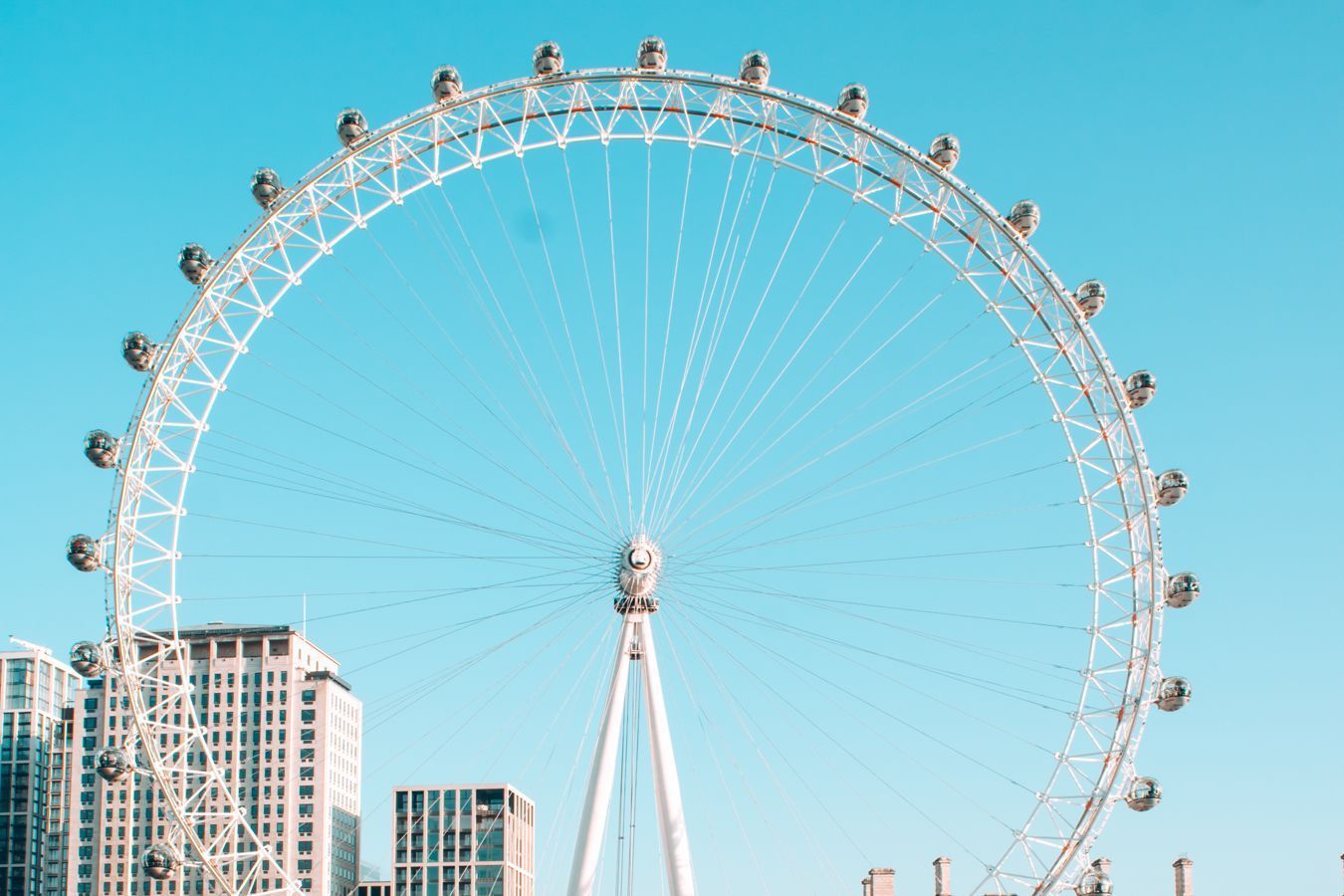 One of the most fun things to do in London with kids is riding the London Eye. This is a very popular and iconic attraction in the city. The London Eye is a very large Ferris wheel. In fact, when the Ferris wheel opened, it was the largest Ferris wheel in the world. Nowadays, it is still one of the largest in the world.
During the ride that takes about 30 minutes, you have an incredible view of the city. You'll be able to see some of the most iconic London sights, such as Big Ben, Buckingham Palace, the House of Parliament, Tower Bridge, and the City of London. Seeing this from above is an amazing experience that kids will love for sure, especially when visiting London for the first time. You can find the London Eye on the River Thames close to the House of Parliament. Getting to this attraction is very easy to do, as there are good public transport connections.
The price of a standard ticket for riding the London Eye costs £27 per person. Moreover, when going here as a family with at least 2 children and one adult, the per person price is £24.50. Close to the London Eye, you can find various food venues, including an ice cream parlour next to it.
Recommended by Dymphe from Dymabroad
The Best London Playgrounds for Kids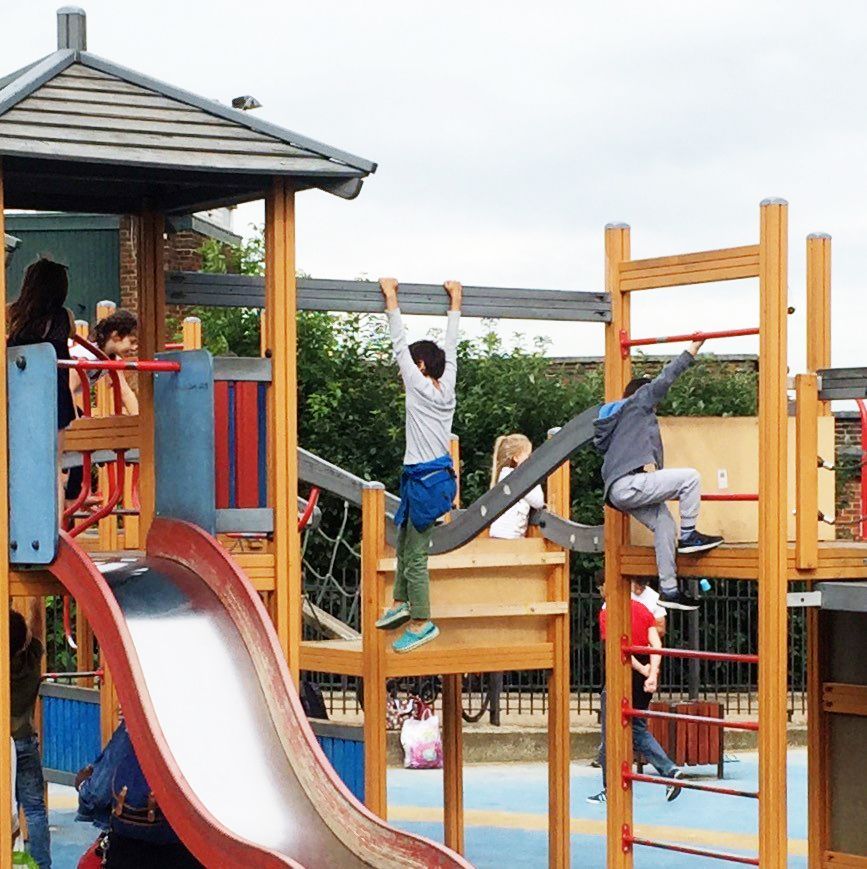 When planning a London Itinerary, one of the best free resources to enjoy with kids and add to it are the countless playgrounds scattered throughout the city. They are really on every corner, and while visiting some of the main attractions you will surely come across some of these, but it is good to take note of two or three that are particularly well designed and strategically located near places of interest.
The first to mention is definitely the Diana Memorial Playground. Located in Kensington gardens, it is easy to access after a stroll in Hyde Park. The playground is huge, divided into various thematic areas including one for the little ones. The areas are all interesting, with slides, tunnels, and bridges, but the area that wins overall is certainly the one with the sand and a giant pirate ship. Admission is free (as for all playgrounds) and cannot be reserved, but the staff at the entrance monitor the number of people (adults can only enter if with a child) and long queues form during the weekend.
Moving to another of the royal parks, The Regents Park, here you will find 4 playgrounds to choose from. The latest refurbished, Gloucester Gate Playground, is the one that deserves special attention. Like the previous one, it is quite large and divided into areas with a climbing area, water play area, sand swings and more. But the best attraction is the 50m zip line where kids line up to feel the adrenaline!
The last playground to remember is Parliament Hill Playground and Paddling Pool. This playground is more classic, and not integrated into a sort of park, like the previous two, but as you can easily guess from the name this playground is perfect in summer when the paddling pool is open and delights hundreds of children from a few months to 7/8 years and more!
The final bonus? All London playgrounds are always closed with a gate. No risk of children escaping inadvertently.
Recommended by Clotilde from A princess travelling with twins
More play areas in London for kids
London has incredible green spaces and children of all ages love playing in the park, for younger children you have the playgrounds but there are also activities going on for older children. Hyde Park is a great park to explore with kids; you can take a dip in the Serpentine lake during the warmer season, row or pedal a boat and even book horse riding. Holland Park has a great playground and you may even spot the peacocks near the Japanese garden. For a unique option why not visit the Sky Garden,
Visit Tower Bridge in London
Location: Tower Bridge
Nearest Station: London Bridge
Tower Bridge is one of the most iconic sights in London. Crossing the Thames this beautiful bridge is somewhere that you can walk across to get over to the Tower of London. Built-in the late 19th century the middle of the bridge lifts up to let boats pass through. It costs nothing to walk or drive over the bridge but you can also pay a little to climb up to a walkway across the top which gives the most spectacular views over the city.
Climb 42 metres up and watch life on the Thames pass by beneath you. There is a glass floor here that adults and kids alike will absolutely love to step out onto and watch the world below. There's a really lovely film to watch at the top which tells you some more of the history of the area and shows old footage of the bridge in the Victorian era and later.
Tower Bridge is one of the key sights of London so climbing up and getting this new perspective is something everyone will remember. There isn't anywhere to eat on Tower Bridge but plenty of places nearby, St Katharine Dock has some particularly great restaurants and some of the best family hotels in London are based in this area if you want to make a weekend of it.
Recommended by Nichola from Family Hotel Expert
For something original visit Brick Lane Market
Location: Tower Hamlets in East End
Nearest Station: Liverpool Street or Aldgate East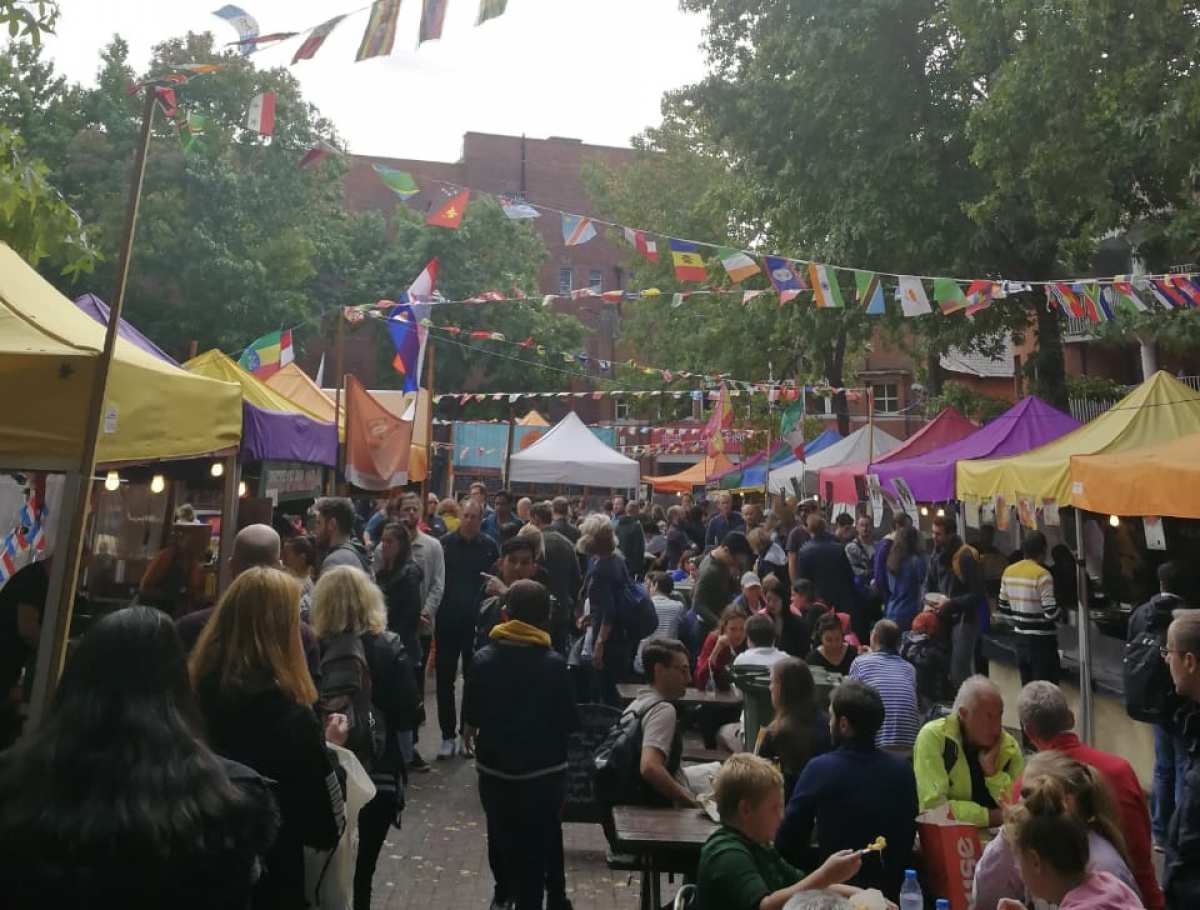 Brick Lane market, located in the heart of Tower Hamlets in East End, is a particularly fun thing to do in the city. One of the better street markets in London, it features food stalls, art houses, pop-up stores, cafes, and boutiques. You will also come across a multitude of independent vendors offering a huge variety of artisan products and other interesting items.
Find everything from vintage goods and children's toys to antiques, clothes, and books. A big part of Brick Lane market are the Sunday Upmarket, the Vintage Market, and Backyard Market which are all situated within the Old Truman Brewery. The market is also renowned for its immense assortment of cuisines and kids will enjoy sampling the wonderful and weird food from around the world.
The neighbourhood is an eclectic mix of people from all walks of life. There are often numerous street performers and musicians around with the live music adding to the already vibrant and fun atmosphere. The market operates every Sunday from around 9 a.m. to 5 p.m. Popular with families, art students, and bargain hunters, this quirky and unique place should not be missed for an afternoon well-spent.
Fortunately, it is very easy to get to Brick Lane market from central London with Liverpool Street and Aldgate East being the nearest tube stations. Shoreditch High Street overground station is also just a short saunter away. If you're looking for something unusual and fun to do with kids in London on a Sunday this is your place.
Recommended by Rai from Araioflight
Victoria & Albert Museum Scavenger Hunt
Location: Cromwell Rd, London SW7 2RL
Nearest Station: South Kensington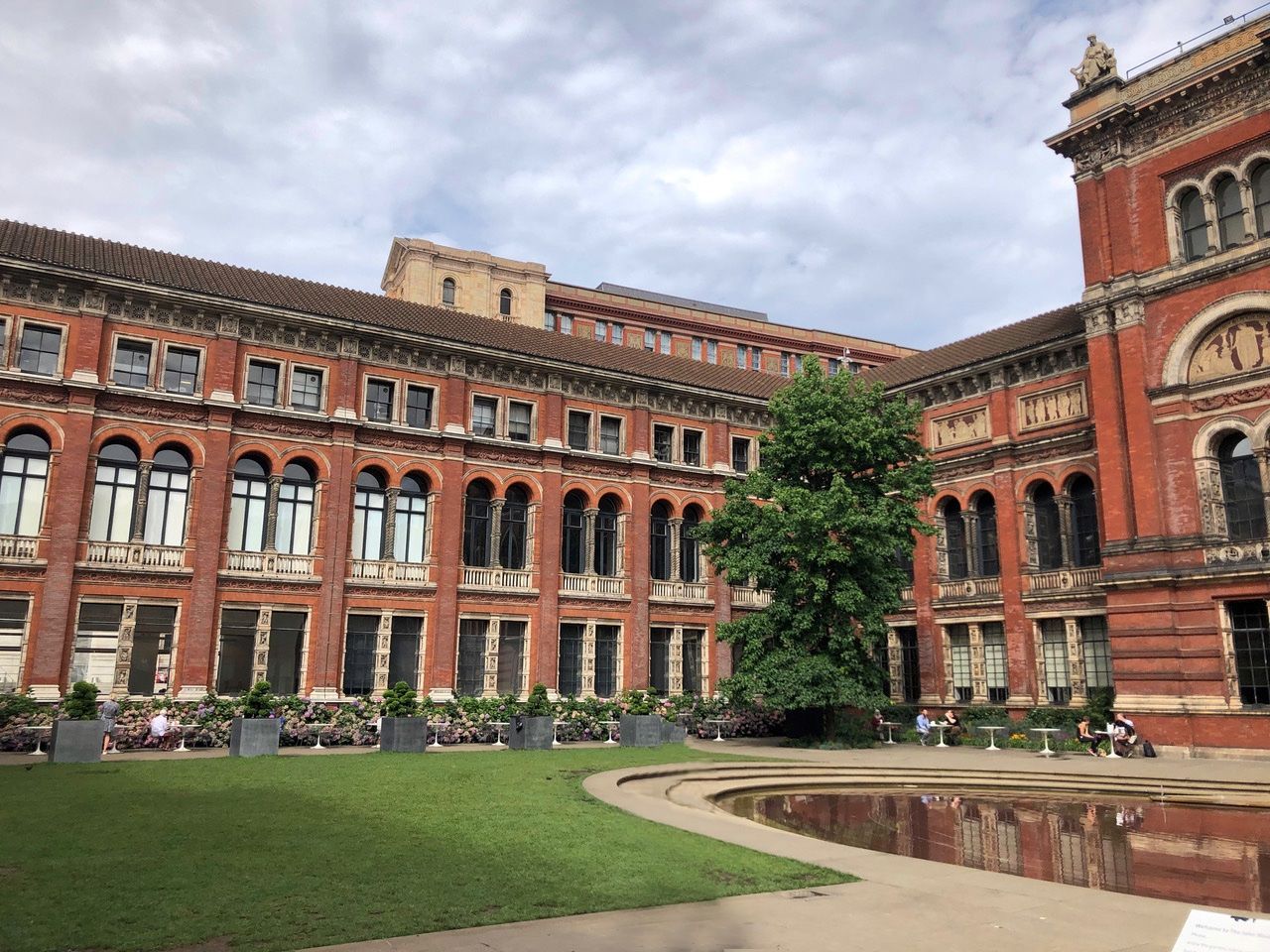 One of the most fun experiences that you can do with your kids in London is to do an organized scavenger hunt in the Victoria & Albert Museum, booked through a company called THATMuse. The company offers different types and lengths of scavenger hunts at different museums in London and Paris. Depending on which one you choose, how many people, and how much time you want the company involved in the actual running of the scavenger hunt, will impact the cost. For example, an "Express Family Hunt" in the V&A will cost around 100 euros for a family of 6. This means that a representative meets you at the museum, then gives you instructions on what to do and a sealed envelope with the answer. You then run the scavenger hunt yourselves and look at the answers afterwards by yourselves. The other option, the "Catered Booking" is more expensive and a representative gets more involved in the actual running of the hunt.
The actual scavenger hunt is an absolute blast and a fantastic way to explore the museum, learn, and bond as a family. You divide yourself into teams – the number of which depends on the size of your group and your personal preference and then, you set a length of time to complete the hunt. By the time you are finished, you will have gone to every single room in the museum, studied multiple exhibits, learned about history and key artefacts, and then, made an absolute fool of yourself doing funny challenges that you have to photograph as proof of completion.
It is a fantastic activity for all age groups, but it is particularly amazing for older kids and teenagers that are a lot harder to keep engaged. Key tips for this London activity include starting as early as possible to beat the crowds, wearing comfortable shoes that you can run in, and dressing lightly as there is no air conditioning in the V&A. If you get hungry, there is a cafe on-premises.
Recommended by Nicole from Gofargrowclose
If you like scavenger hunts then another way to see London in a fun and adventurous way is to take part in a treasure trail. These are a wonderful way to discover the iconic landmarks of London in a fun way and one of the most family-friendly activities you can do. Treasure Trails offer quite a few different trails to explore in the City of London.
Natural History Museum London
Location: Cromwell Rd, South Kensington, London SW7 5BD
Nearest station: South Kensington
One of the coolest museums that are for free in London and perfect for families with kids is the Natural History Museum in London. Young and old love the huge exhibition of one of the best museums in town! Here you can marvel at countless exciting, interactive exhibits, which are incidentally displayed in one of the most beautiful buildings in London. Really cool and an absolute highlight for kids are the huge dinosaur skeletons, where also the first found T-Rex skeleton is exhibited.
But there are more highlights! The earthquake simulator is also interesting, where you can feel the forces of a quake. In addition, kids love the mammal section with the huge model of a blue whale located in the spectacular central hall. The "Cocoon," an 8-story building made of a silk cocoon, is also not to be missed.
There are also several smaller cafes in the museum where you can have a drink and a meal with your family. At the Central Cafe, you will find a great selection of sandwiches and healthy salads, but also delicious cakes, pastries and fruits.
A visit to the lovely museum store with the cuddly animals, as well as for dinosaur- and other nature-inspired gifts should not be missed.
Recommended by Martina PlacesofJuma
Science Museum in London
Location: Exhibition Rd, South Kensington, London SW7 2DD
Nearest station: South Kensington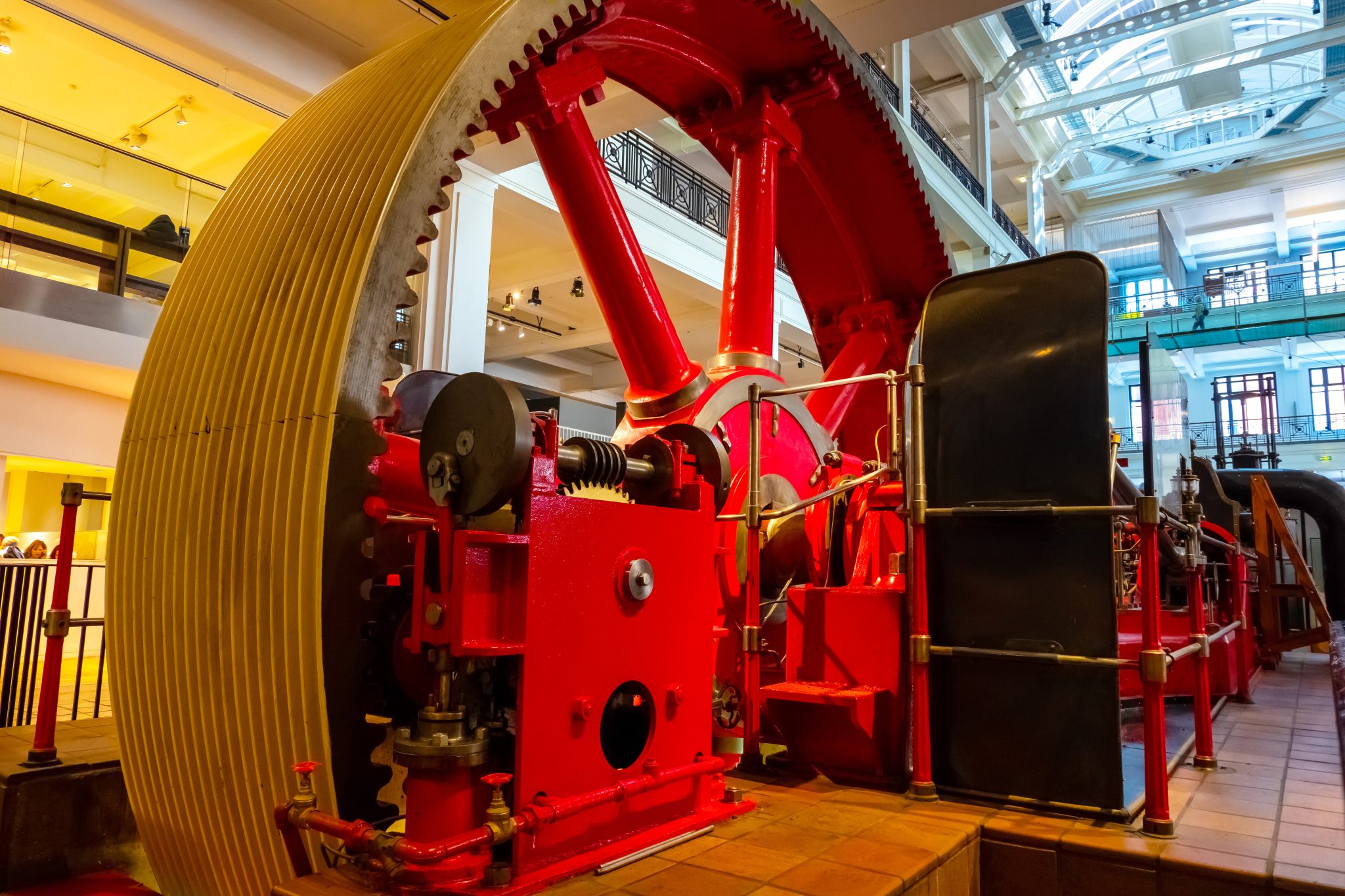 London's award-winning Science Museum is free to visit and packed with exciting things for kids of all ages to see and do, including seeing spacesuits worn by recent astronauts (with all the gory details about how astronauts go to the loo that kids are desperate to know about!), plus, understanding the technologies needed to secure the future of our planet, and visiting the incredible flight gallery.
Whether you're visiting with world-weary teens or tiny tots, the exhibitions and interactive activities are guaranteed to fire up their imagination. Exhibitions change frequently, so it's useful to check the museum website to help plan your visit. Located in Exhibition Road in South Kensington, the Science Museum is just a few steps from the nearest underground station, making it very easy to visit. Open Wednesday to Sunday from 10 am to 6 pm, the best time to visit is first thing in the morning. (Covid restrictions mean that visits remain free, but do need to be booked online at https://www.sciencemuseum.org.uk/home)
After your visit, one of the most kid-friendly places to stop for a bite to eat is Honest Burgers at 24 Thurloe St, London SW7 2LT. There's a good selection of burgers, including beef, chicken, and meat-free, and the rosemary chips are delicious!
Recommended by Coralie from Grey Globe Trotters
More London Museums
If you are looking for more Museum's in London to visit with kids there are many more options including; Transport Museum where your kids can pretend to drive a London bus or get behind a tube train simulator. The Museum of London Docklands is great for older kids as they go back into time and can see what an air raid shelter used to look like. The Horniman Museum is a really fun place to explore for younger kids, don't miss the butterfly house. The Cutty Sark offers an interactive experience onboard a ship, you may even have the opportunity to sail a virtual ship! National Maritime Museum for an action-packed fun day out in London with the kids.
Hop-on Hop-off Bus Tour London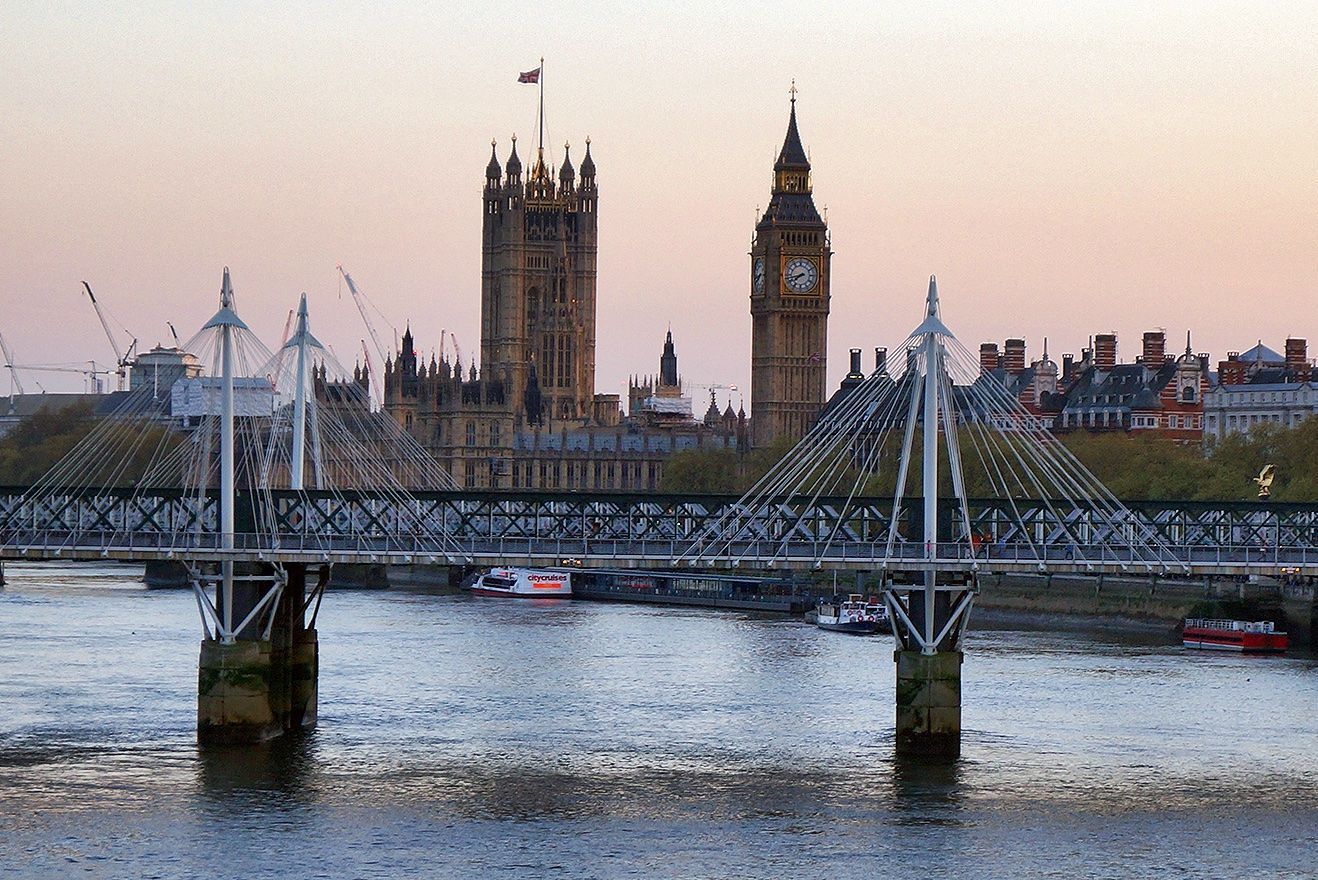 Hop-on Hop-off bus tour is one of the best ways to see the interesting London tourist spots. You can see the most iconic sites with your 24 or 48 hours ticket, such as Big Ben, St Paul's Cathedral, Buckingham Palace or the tallest skyscraper in Western Europe – Shard.

There are over 60 different stops during the Hop-on Hop-off bus tour, so you will have lots of chances to visit some of London most beautiful landmarks. Multilingual audio guides in English, French, German, Spanish, Italian or Russian will allow you to learn interesting facts about the capital.

It is fun and entertaining for kids because most of them love rides. Also, you don't have to worry about how to get to certain locations with your children. It will save you a lot of trouble and make your trip stress free.
However, a bus tour can not replace a visit to London Eye or Madame Tussauds in person. You might want to consider buying a combined ticket that will give you the opportunity to see those amazing places with your children. Those kinds of tickets will help you save a lot of money while visiting one of the most expensive cities in Europe.
Recommended by Paulina from Ukeveryday
Shrek Adventure, London
I visited Shrek Adventure in London in 2019, and my then 4-year-old daughter still remembers that incredible experience. Shrek Adventure is located on the same street as the London Dungeon and the London Eye, and if you'd like a complete experience of all three, combined tickets are available and for cheaper too.
For younger kids, Shrek Adventure is a magical journey through their favourite movie. There are live-action scenes performed by actors that have kids enthralled, and there is even a short experiential movie where kids think they are living the adventure with their favourite characters too. I'll be honest here, I enjoyed the tour too. In fact, by the end of it, you are sure to think that it was way too short and should have gone on for longer (just like I did).
We loved best the interactive live-action scenes, for example, the one where Shrek barges in to rescue kids trapped in a cell by villains. One thing to note is that photography was not allowed inside the premises, except for one designated area right at the end. There is no restaurant within the tour but there is a tuck shop nearing the end where kids can get packaged snacks and drinks. Do visit with your little ones, we highly recommend it.
Recommended by Sayali Bedekar Patil from Yotripp
Harry Potter Studio Tour, just outside of London
Location: Getting there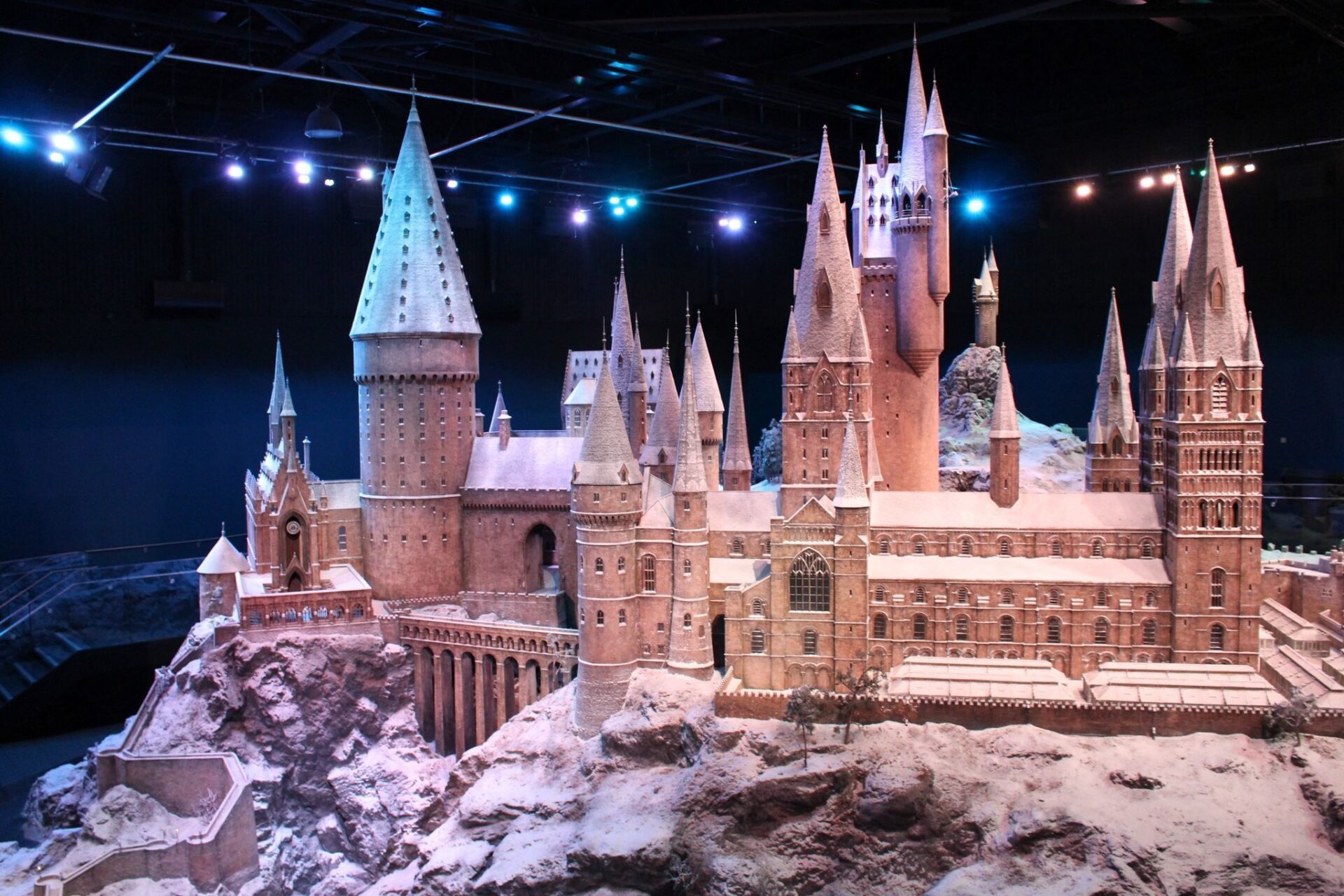 The Harry Potter Studio Tour is based in Watford, just outside of London. If your children are Harry Potter fans, this place is an absolute dream. The vast majority of scenes from the 8 Harry Potter films were shot in these studios and you can now wander around these sets and learn all about how they made the magic come to life.

What's particularly great for children is that there are lots of elements to really immerse yourself in the world of Harry Potter – you can ride a broomstick, sit in an old Ford Anglia, drink butterbeer (non-alcoholic, of course!), meet Buckbeak in the Forbidden Forest, walk down Diagon Alley, and more!
There are new elements added every few months so even if you've been before, it's worth checking to see if they've added any new extensions.

The tour now has so many new sections that the whole thing will take you a good few hours to walk through if you're stopping to properly admire every exhibit. There are a large number of food options here too including the Chocolate Frog Cafe, the Food Hall or the Backlot Cafe.

Tickets cost £39.95 per child and £49.95 per adult and it's best to book ahead online as slots sell out fast.
Recommended by Laura from What's Hot
Kew Gardens, Royal Botanical Gardens
Location: Royal Botanic Gardens, Kew, Richmond, TW9 3AE
Nearest tube station: Kew Garden Station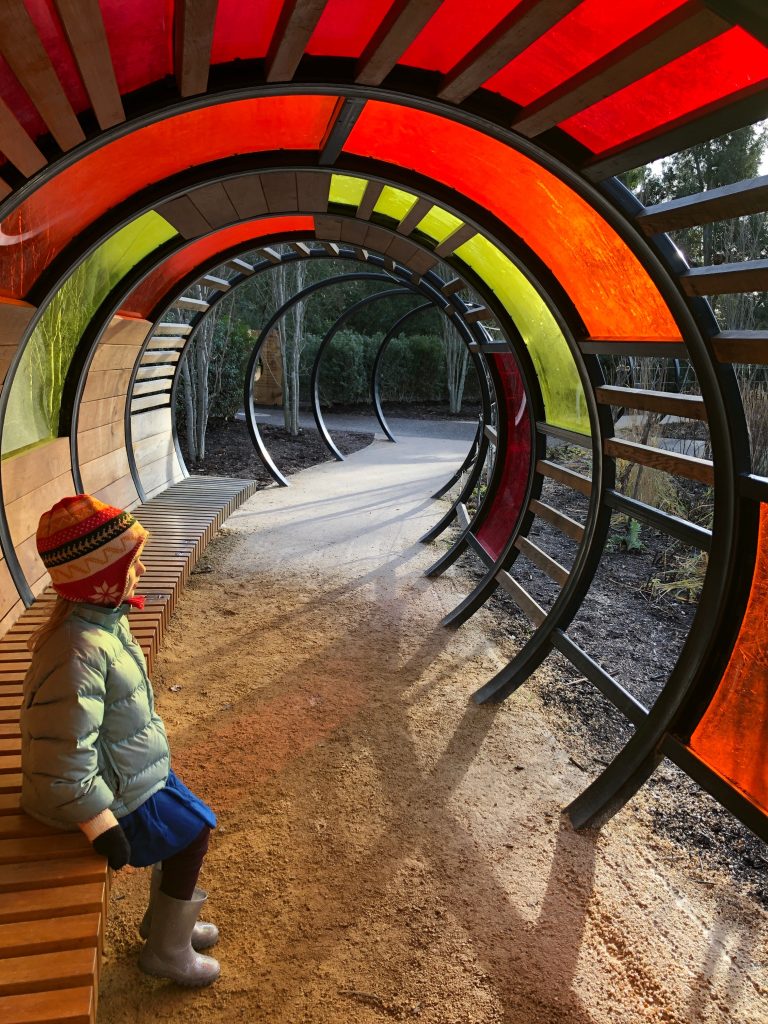 Also known as the Royal Botanical Gardens, the Kew Gardens is recommended by local parents as a must-do in London. There you will find both the most biodiversity in the world and a kids' paradise. With many natural playscapes to explore throughout the park and a super fun climb through the old Wakehurst's tree's experience, kids will be busy and happy.
When visiting London with kids, the Children's Garden is the perfect stop! Think of it as an extensive natural theme park, filled with play structures and a canopy walk through 200-year-old oaks where children (2-12 years old) can learn about all elements that plants need like air, water, sun, etc… You will need to book a reservation for this attraction.
For kids who love rocks and water displays, the Kew Gardens has something for them too. Their Rock garden is one of the oldest and largest in the world and its waterfall is mesmerizing for the whole family.
What's more? It is a budget-friendly attraction for families since children 16 and below are free! The Botanical Garden is also a one-stop-shop since it offers a great selection of eateries. For a true kid-friendly atmosphere, you can enjoy a meal at the newest multi-sensory "Family Kitchen & Shop". This restaurant is located right beside the children's Garden and offers all the kids' favourites such as pizzas and an ice cream bar.

Recommended by Maud Maciak from Gowhee
Make sure to Save and PIN this article as we will keep adding to it 🙂