When it comes to travel products, we always look for the most practical and useful items that would suit our travel needs. I have always found finding the right car booster seats the most difficult. During our 9-month world trip, we struggled a lot with car seats and often had to pay quite a lot of money to rent out the car seats. As we were travelling to many different countries it was not really practical to buy the car seats as they tend to be quite bulky and heavy. We tend to travel light so we need something easy to carry and a car seat that we trust will keep our kids safe.
I was recently contacted by the company Mifold which specialise in compact and portable car safety seats for children between the age of 4 and 12 years. I will be reviewing their multi-award-winning Mifold Comfort grab and go booster seat and Hifold highback fit and fold booster car seats.
Disclosure, We were gifted the Mifold and Hifold car seats in return for a review on our blog and Instagram. All opinions are as always our own.
Things you need to know about the Mifold Comfort Grab and Go Booster seat
Features of Mifold Car Booster Seat
Suitable for ages 4-12 years old
Suitable for weight 15-36kgs and up to 150 cm tall
Group 2/3 car seat
Safety standards: ECE R44.04 in the UK and Europe, NHTSA FMVSS 213 in the US, the CCC in China and the RSSR in Canada (cannot use currently in Australia and Taiwan)
25cm x 23cm x 2cm when folded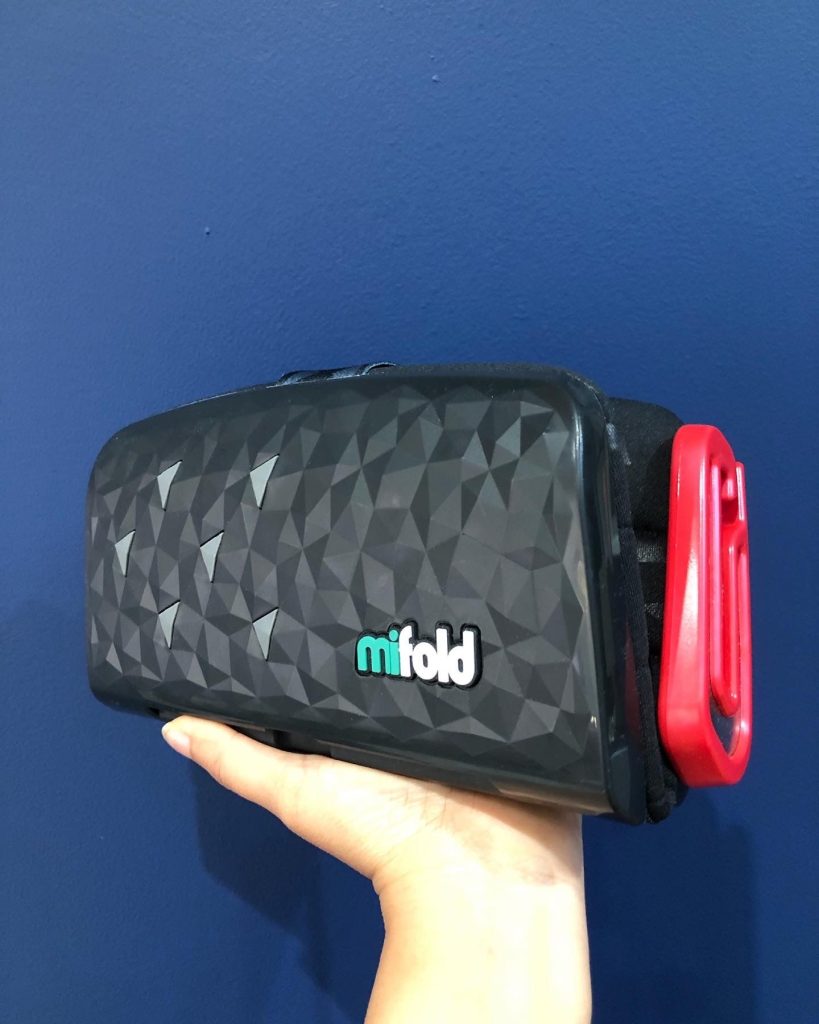 Our experience with MiFold Car Booster Seat
I was pretty surprised at how small and compact these seats were so my first question as a parent was to make sure that they follow the safety level of booster seats and whether they can be used on travel abroad. The Mifold Comfort seat has been approved by the European Regulation ECE R44/04. It also meets US and Canadian standards
Safety-wise, we like the fact that the adult seat belt can be adjusted to fit the individual size of the child with the use of the adjustable safety clip. In our previous car booster seats, the seat belt would always be uncomfortable around the shoulder and neck area, however, the adjustable safety clip avoids this problem. The lap belt is also lower on the child unlike when you use a booster seat.
Mifold Comfort grab and go seats are exactly that; you can literally grab and go. Due to their compact size, they are really easy to take with you either on holidays but also if you need a friend or family to do pick up runs from school. You don't need to worry about lending your bulky car seat; so they make a good addition to your fitted car seats.
The Mifold seats are also really easy to use; you simply unwind the shoulder belt strap; which allows you to open the seat. The seat has 3 adjustable seat guides to fit the size of your child. The quick-clip also ensures that you can adjust the seat belt to the height of your child.
We tried our 2 Mifold comfort seats on our Road trip to Tenerife. It was so practical to carry these with us as they are light, compact and can fit into your hand luggage. By carrying our own car seats we were able to save money on our car rental but also did not have to carry big bulky car seat boosters with us on the plane. Or kids were happy to use these seats for a week travelling around the Island.
Hifold Car Booster Seat Review
Things you need to know about the Hifold Booster Seat
Features of Hifold Car Booster Seat
Suitable for age 4-12 years old
Suitable for weight 15-36kgs and upto 150 cm tall
Group 2/3 car seat
Safety standards: ECE R44.04 in the UK and Europe, NHTSA FMVSS 213 in the US, the CCC in China and the RSSR in Canada (cannot use currently in Australia and Taiwan)
25 x 34.4 x 34.4 cm (9.8 x 13.5 x 13.5 inch) when folded
Adjustable in 4 different areas (headrest height & width, shoulder width, and seat width)
Weight 4.6 kg
Click here to see a video on how to unfold and use the Hifold Booster car seats accurately
Our experience with Hifold Car Booster Seat
We have been using the Hifold for a few months now for my 6-year-old. We were looking for something comfortable but we also needed something that we could easily fold down and travel with. So far we are quite satisfied with the Hifold car seat because we can adjust the seat belt using the lap and shoulder guides so our child is more secure. We also feel more comfortable taking this on our travels because it still has the side impact protection and headrest side protection which many travel booster seats don't have.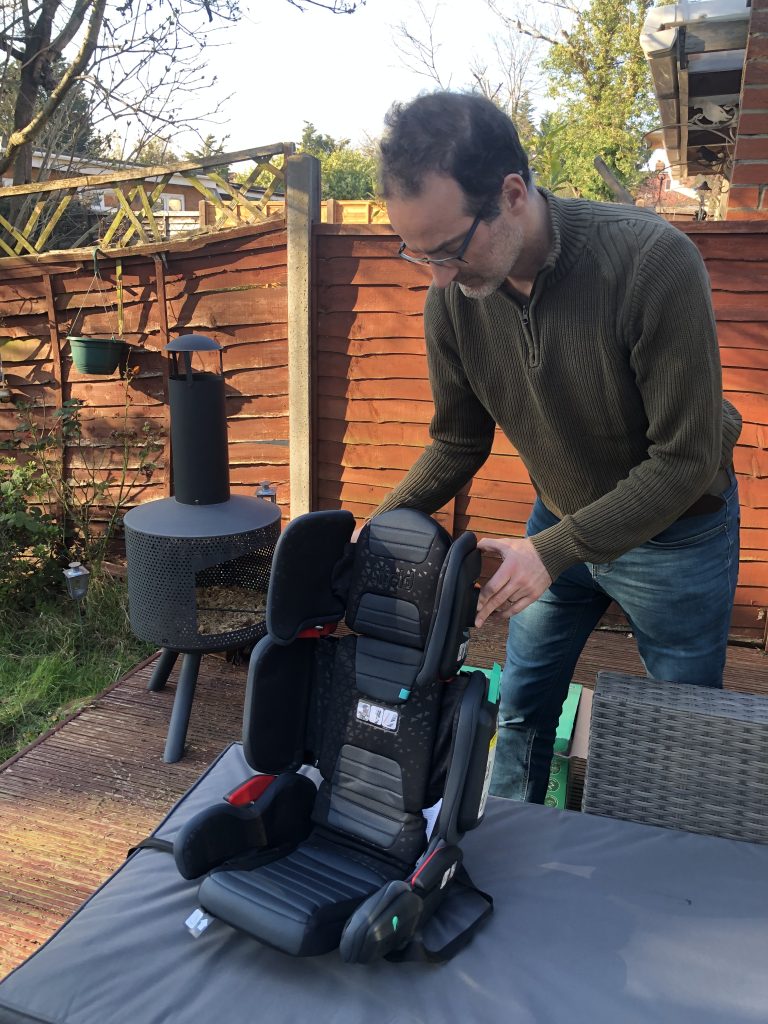 Would we recommend the Mifold and Hifold Booster Car Seats?
Having used both the Mifold and Hifold Seats we would recommend these seats for different situations. We love the fact that the Mifold is lightweight and compact to carry on our travels. It is perfect for holidays and taxi rides. On our 1-week road trip to Tenerife, the Mifold seats were really the perfect solution for us. I would probably not use them for really long travels or regular travel as my kids love to look out of the window and the seats are understandable lower than the bulky car seats. Also, I would prefer to use the Hifold seats for longer travels because they have added side and headrest protection. Both products are definitely a great solution for globetrotters and for those who need a practical, easy and safe solution.
Read more reviews