The UK in the winter is one of the most beautiful, and definitely the best time to visit England. As the English weather can be unpredictable throughout the year; winter time is an appealing time of the year; just make sure you have the right weather gear. We have compiled the most beautiful places to visit in England in winter.
One of the biggest advantages to travel in winter is that you will come across less crowds and queues. It may get busier during the Christmas period. But then you have the opportunity to see some beautiful Christmas lights and Christmas markets, especially in the quaint little villages.
There are so many things to do in England in winter including picturesque country walks, visiting some of the most beautiful villages which stand still in time, indulging in an afternoon tea, forest adventures with the whole family and dining in cosy, firelit traditional English pubs.
With the help of some fellow explorers, we have compiled a list of some of the best winter holiday destinations in England and some top tips of what to see and do there. Make sure to put these beautiful places in your England Travel Bucket List.
Truro, Cornwall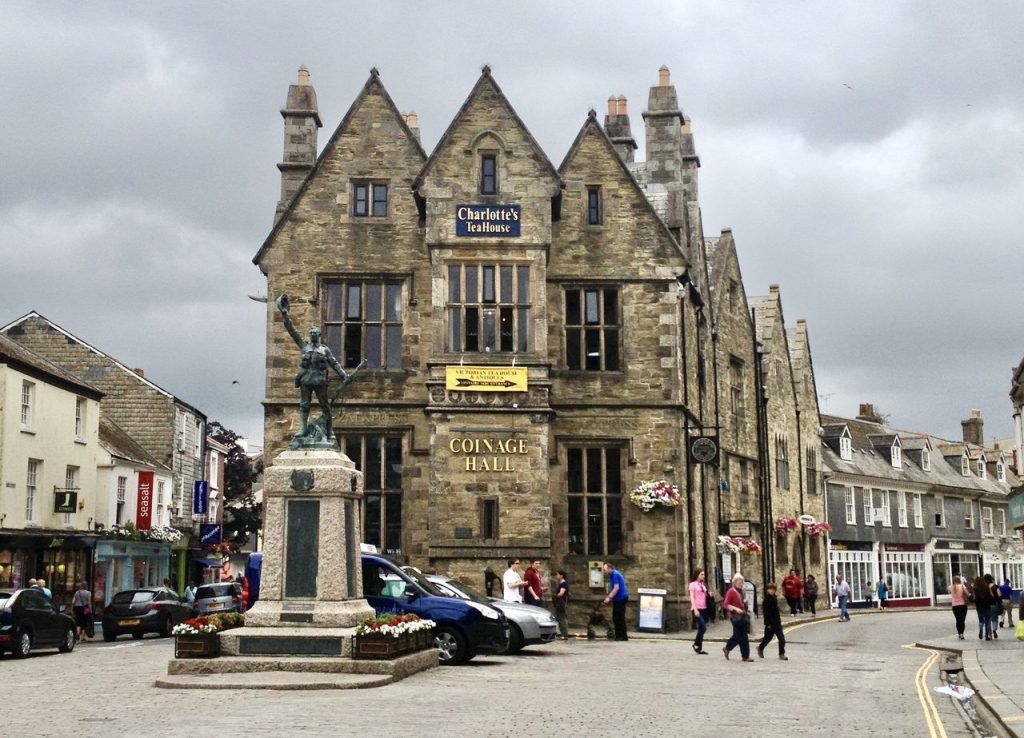 One of the most enchanting villages to visit in England in winter is pretty little Truro, Cornwall's only city. Truro is tucked away in possibly the most beautiful corner of England. There you get to enjoy a lovely historic city without the crowds that often visit Bath, Oxford, and Cambridge.
Visiting Truro is delightful year-round, but winter is extra special. The town is decked out with thousands of twinkling lights. Also, the Winter Gift Fayre is the place to be when shopping for quality festive treats and gorgeous gifts. There usually are over 80 stallholders from South West producers showcasing their local products, arts and crafts.
Another amazing winter event is the City of Lights, Truro's midwinter lantern festival. Watching the procession of little kids and adults alike carrying their willow-stick-and-tissue lanterns is something truly special.
Explore the historic town and visit the beautiful Truro Cathedral with its colourful stained-glass windows, impressive high altar and a black ebony statue of Madonna and Child. Learn about Truro's mining and engineering history and see some local art at the Royal Cornwall Museum. Opening hours are Tuesday-Friday (10 am-4 pm) and admission is free.
Warm your hands with a cup of tea at Charlotte's Teahouse, an authentic Cornish tea room that transports you straight into your grandmothers living room. Drink a pint at the Tap Yard or grab a bite to eat at one of the many restaurants in Truro.
If you plan to spend the night in Truro, book yourself into The Alverton. This hotel is situated in the heart of town and housed in a wonderfully restored 18th-century building.
Recommended by Lotte from Gezond Weekmenu. 
Bibury, Cotswolds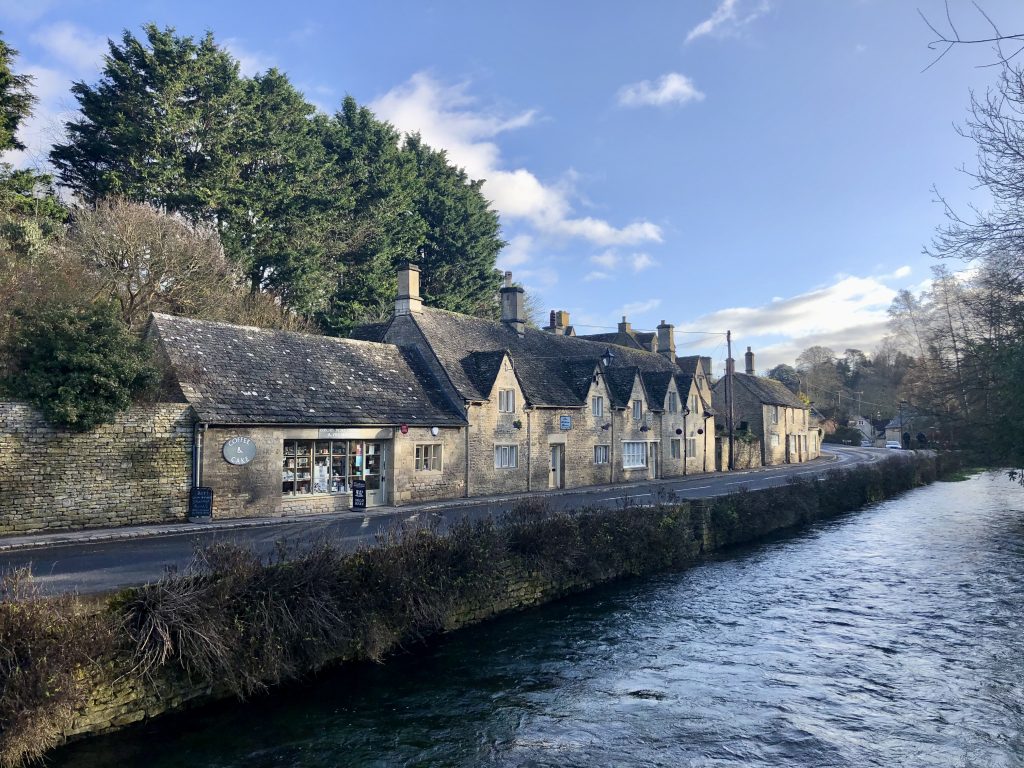 If you'd like to visit the west of England, Bibury is a beautiful village in the Cotswolds. The River Coln runs through the middle of Bibury, where you will also find the Bibury Trout Farm. Bibury is home to Arlington Row, a row of picturesque cottages that is a popular spot to visit while in the village. Stroll around Bibury and admire the rest of the village's appeal to its many visitors. There are plenty of other walks in the area, through the countryside or from one village to another, such as the Bibury Circular walk.
Bibury is special to visit, particularly in winter, due to its rustic charm commonly associated with English villages. On the rare occasion that there is snow in England. Bibury is a phenomenal place to capture photos of the Cotswolds with snow-topped roofs. Bibury is a well-loved village in the Cotswolds, therefore by visiting in winter you may be able to see it without the crowds.
There are numerous pubs and restaurants around Bibury that you can dive into to escape the winter cold and warm up by a cosy fireplace. Many hotels and restaurants in the area will also adorn their establishments with festive and seasonal décor to get you in the wintery mood.
A visit to Bibury is an incredible weekend getaway in the UK. However, there is nothing like visiting Bibury in winter and waking up to frosty mornings in a cosy hotel. Book a stay at the well-known Swan Hotel, in the heart of Bibury. Alternatively, consider staying the night at Barnsley House, a luxury hotel in the next-door village with an acclaimed restaurant.
Recommended by Samantha from Continuousroamer
Rye, East Sussex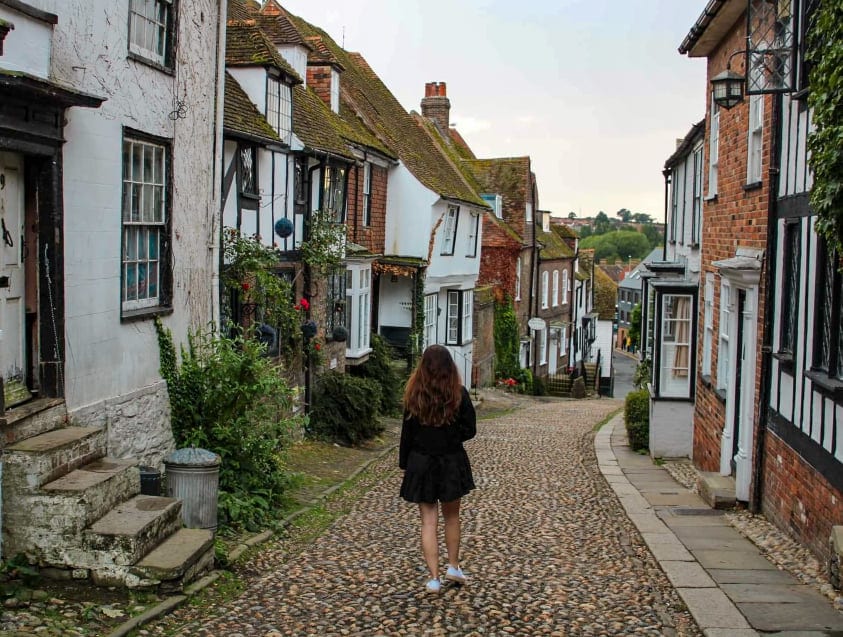 For one of the best places to visit in East Sussex if not all of England, visit Rye. It is full of stone buildings, winding cobbled streets and of course, there are plenty of fun things to do in Rye! And it is at its prettiest in Winter when the snow-covered rooftops on Mermaid Street make for one pretty photo!
Rye is 76 miles from London and is easily reachable by train.
When it's cold outside, the best thing you can do is first grab a cup of delicious hot chocolate from the famed Knoops Chocolate Shop on Tower Forge. Stroll through the town making sure to stop at the top of Mermaid Street for the all-famous view of Rye. And while you're there why not stop into the historic Mermaid Inn for a drink and some yummy pub food by the roaring fire. Another fantastic view of Rye can be seen from the Bell Tower at St Mary's Church in Church Square.
The sunsets in this part of the country are especially pretty in Winter when on a clear evening the sky turns a candy floss-pink colour. Head to Camber Sands, outside of town for the best view of the sunset. Camber Castle, the former fortress of Henry VIII is nearby and is reachable via a one-mile footpath from Rye town. The Castle was built back in 1637 so it's a great way to learn about the history of the town.
To escape the cold you can spend an hour or two in Lamb House, the former Henry James, which houses a varied collection of unique artworks and sculptures.
The best places to stay in Rye include Mermaid Inn on Mermaid Street and Extraordinary Huts, a unique hut-style accommodation just outside of town.
Recommended by Aimee from Snap Happy Travel
Penzance, Cornwall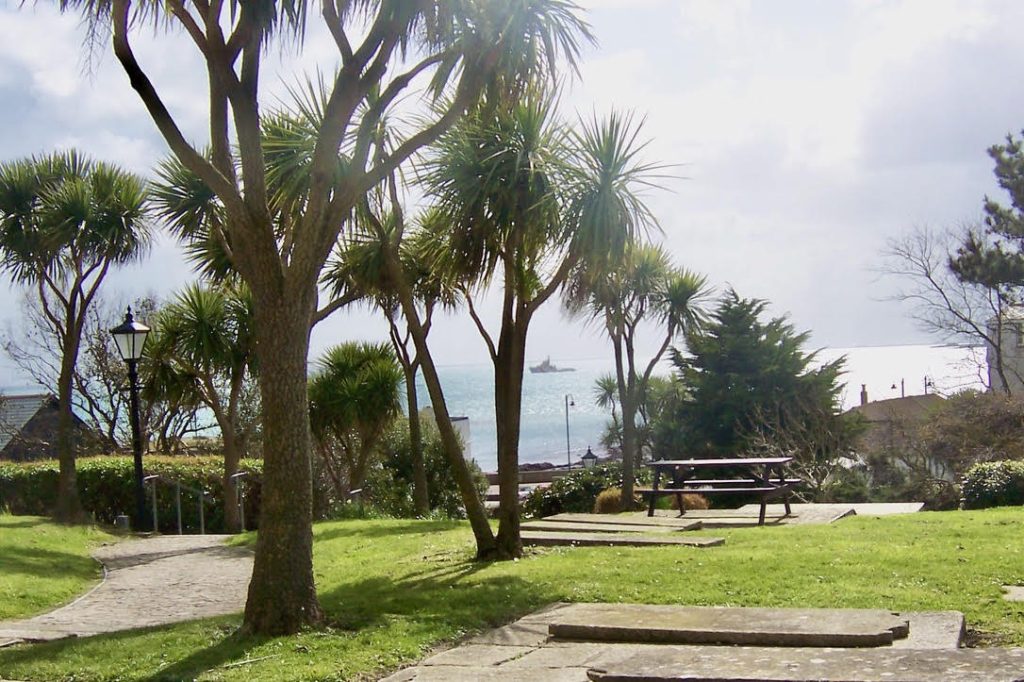 You don't have to leave the island of Great Britain to experience swaying palm trees in the winter. Thanks to the breezes coming off warm Gulf Stream water, Penzance, Cornwall looks tropical year-round. This charming seaside village sits on a hill sloping gently to Mount's Bay. A wide, sandy beach stretched for three miles around Mount's Bay to the village of Marazion.
Morrab Gardens offers a lush escape right in the heart of Penzance. Just up the hill, pop into Penlee House Gallery and Museum to browse western Cornish art, archaeology, and natural history. For day trips, travel across the bay to Marazion and St. Michael's Mount, a stunning castle located on a tidal island that can be reached by a rocky walkway if the tide is out, or by boat if the tide is in.
This region of England has long been known for all things nautical, including pirates and smuggling. You'll find lots of nods to that history around the town with plenty of pirate-themed pubs. During the winter months, there's no reason not to cosy up to the bar at a historic establishment like Admiral Benbow Inn, especially if there's a stiff wind blowing off the English channel. Be sure to check out Penzance's wide offering of small, locally-owned shops too.
A visit to Cornwall isn't complete without a Cornish pasty. You can grab one of these delicious (and historic) meat hand pies right off Penzance's main drag at Mounts Bay Pastry Co.
If you're travelling on a budget, you can't do much better than the YHA Penzance Hostel. Located on the western edge of town in an old Georgian mansion, this tidy hostel provides comfortable rooms, a spacious common area, and full kitchen facilities.
Recommended by Ada from Beyondyellowbrickblog
York, North Yorkshire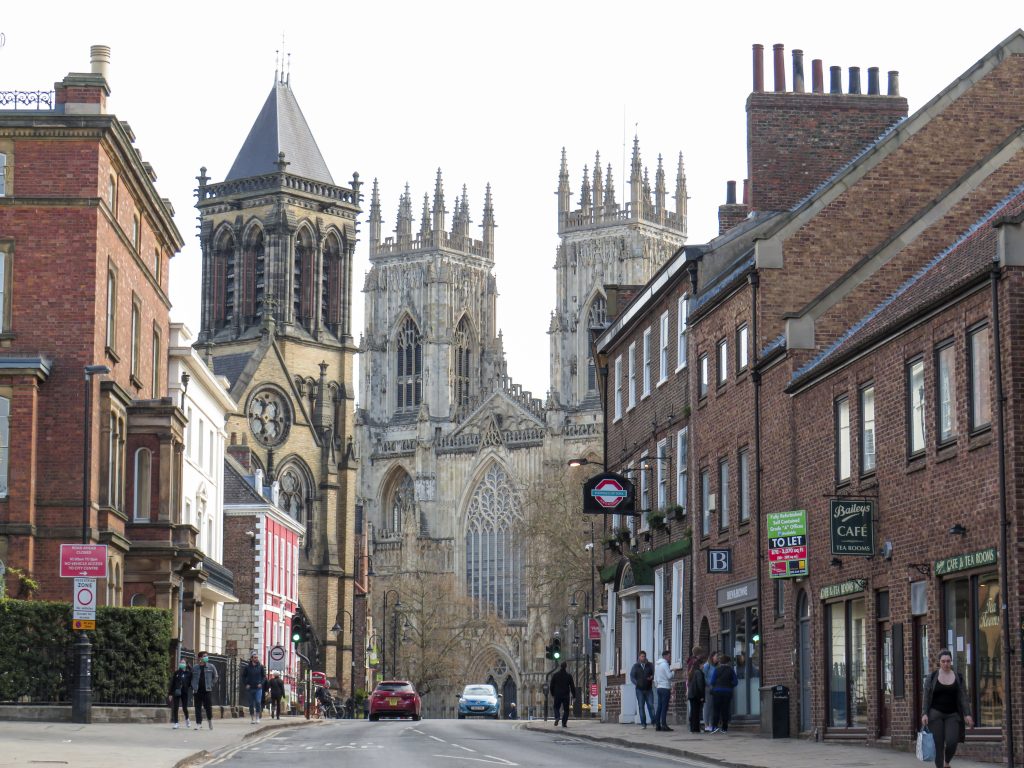 Located in North Yorkshire, York is a charming city to add to your England bucket list. The city has incredible things to do for culture lovers, families and couples, and it's great to visit during the winter months.
One of the main reasons why you want to visit York in winter is St Nicholas Fair, York Christmas Market that takes place in Parliament Street and St Sampson's Square. The Christmas Market hosts many independent stalls that sell unique presents and serve delicious international street food. It's the perfect place for a lively and warm atmosphere.
Apart from York Christmas Market, another reason to visit York in winter is the number of great attractions that are indoors as it can be cold or rainy during the winter months.
If you love learning about the history and culture of a place, make a visit to JORVIK Viking Centre to discover about the arrival of the Vikings to York or The York Dungeon to learn about York's darkest history through actor performances.
A must-see attraction in York is York Minster, one of the most beautiful and largest Gothic cathedrals in England. Its detailed architecture and colourful stained glasses make it a special place to visit.
When the weather is dry and sunny, there is nothing better than exploring York City Walls for incredible views of the city and York Minster.
If you are looking for food and accommodation recommendations, Betty's Café Tea Room is an excellent choice to enjoy a traditional afternoon tea or simply a piece of cake. If you fancy something more international, Los Moros York serves delicious North African food.
York has many lovely hotels, however, for a unique hotel experience, stay at Principal York located next to the train station. The hotel has beautifully decorated rooms, and views of York Cathedral.
Recommended by Cristina of My Little World of Travelling
Windsor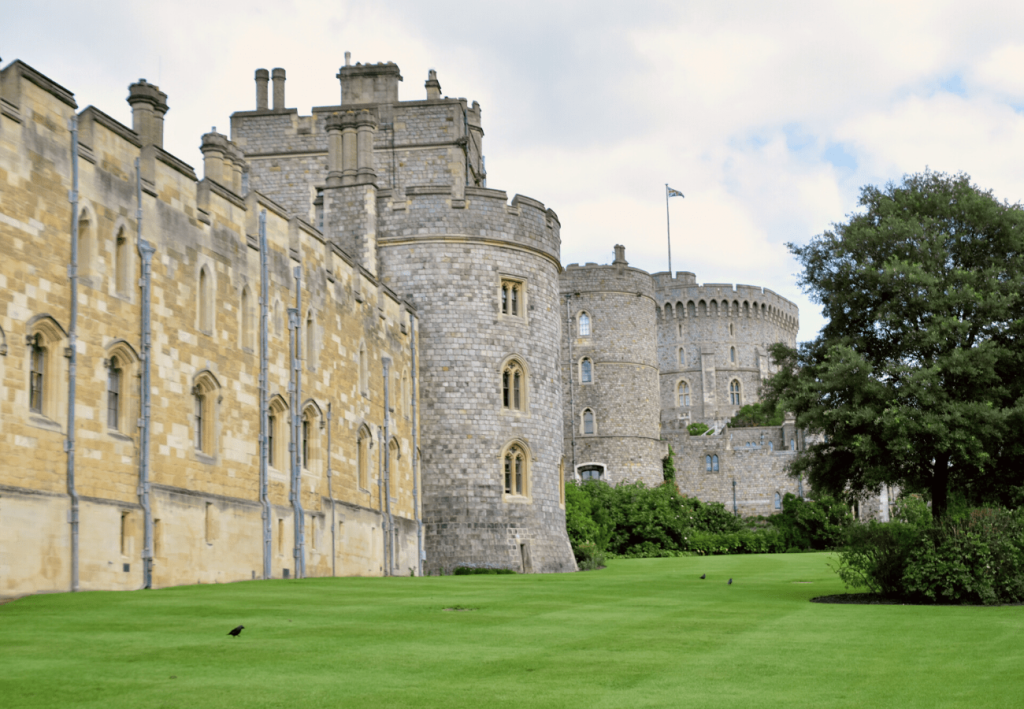 Home to the Queen of England, Windsor is a pretty town that has plenty to see and do during the winter. It is only a 30-minute train ride from London Paddington or 90 minutes on a single coach from London Victoria.

Windsor is beautiful at any time of the year, but throughout the winter, the town really comes into its own. Windsor Castle is the main attraction here, standing tall above the streets and open to visitors for a special festive display.

Plan a wintery shopping trip, as the lights are switched on in the high street and the Christmas Fayre showcases tasty food and drinks, crafts and music. Wrap up and take a stroll on the famous Long Walk before arriving in the town centre.

The theatre always puts on a fantastic pantomime too, which usually starts in November and ends in January. Fill up on some good pub grub in one of the friendly locals before taking your seats. You can try the Bel and the Dragon or head over the bridge to Eton and eat at The Waterman's Arms.

If you've got little ones with you, then you cannot visit Windsor without spending a day at Legoland! The park usually closes for the winter in early November, but there are Christmas events most weekends up until early January. Don't forget you can book to stay at the hotel there too!

Spend an afternoon ice skating on the seasonal (and covered) rink, and don't forget to visit Windsor Great Park for the fascinating multi-sensory light trail through the woods! For a special treat, stay at Sir Christopher Wren Hotel overlooking the Thames. If you're on a tighter budget, check out the local guesthouses or even a Travelodge set in the town centre.
Recommended by Jade from Twotalltravellers
Bamburgh, Northumberland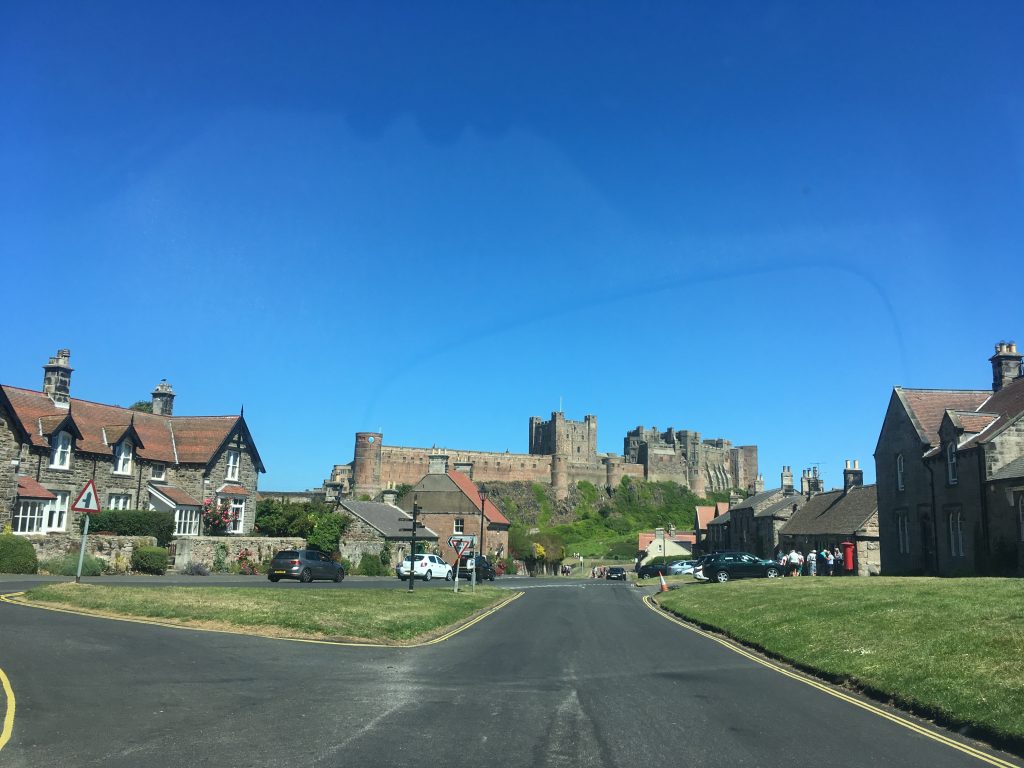 There is a beauty to the wild northeast coast of Northumberland that is starkly visible in the coastal village of Bamburgh. There are miles and miles of wide sandy beach here, hidden valleys and glorious views. There's nothing better than a wild winter weekend here – cosied up in one of the fabulous local pubs in the village, taking windswept walks along the beach or even exploring the Royal National Lifeboats Institute museum here.
Bamburgh is a great place to learn about the coast – it's here that the Victorian heroine, Grace Darling, took part in a heroic rescue of survivors from a foundering ship and it's here also that she's buried. Bamburgh Castle provides hours of interesting indoor activities, with splendid exhibitions and glorious staterooms to explore. There are even stunning apartments to rent which are located within the castle itself with incredible views of the coast.
The Lord Crewe Hotel or the Castle Inn serve excellent home-cooked food – and a visit to the nearby Holy Island of Lindisfarne will supply you with local Lindisfarne Mead, bound to warm the coldest of hearts! A short drive away, the delights of the town of Alnwick provide another castle, more restaurants and places to explore too.
Recommended by Sarah Carter of Northumberland's Best
Durham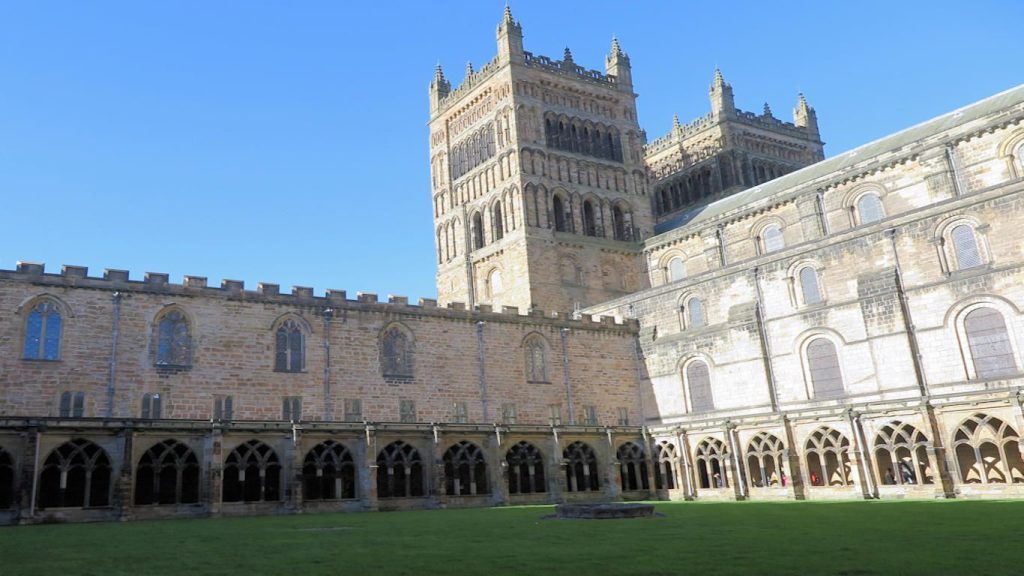 The historic city of Durham is 2 hours 40 minutes by rail from London and just under 2 hours by train from Edinburgh, so it is an easy city to travel to in winter. Visitors do not need to use a car or public transport to explore Durham as it is a compact city that is easily covered on foot.
The city's skyline is dominated by Durham Cathedral, a UNESCO World Heritage Site, which dates back to the 11th Century. The ornate cathedral holds the relics of two saints (Saint Oswald and Saint Cuthbert) and is known for its distinctive rounded arches lining the nave and stunning stained-glass windows. Harry Potter fans will recognise the cathedral cloisters as the exterior of Hogwarts.
In front of the cathedral is pretty Palace Green where visitors can escape the winter cold by visiting the exhibitions at Palace Green Library or on a pre-booked tour of Durham Castle.
If winter weather allows, Durham city centre is a great place to wander. Its stone-flagged lanes are lined with cafes, bars and independent shops. Visit the Victorian era Guildhall and Town Hall in the central Market Place and warm up in the popular covered market which is home to over 50 independent stalls. Winter festivals include the magical Lumiere Festival of light in late November which is closely followed by a city-wide Christmas festival in early December. One of the best places to stay in Durham for facilities and food (as well as unbeatable location) is the Radisson Blu on the River Wear opposite the city centre.

Recommended by Sinead from Map Made Memories
Brighton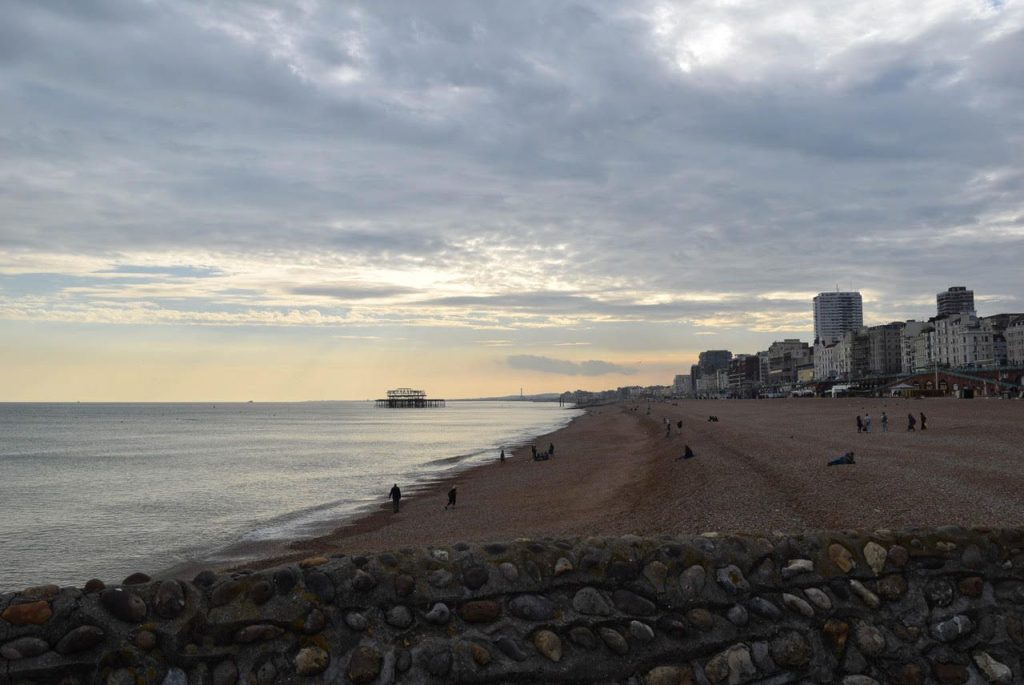 For little seaside town located in the south of England just under 2 hours from London, visit Brighton. This is an incredible summer destination but even better in winter. Brighton will be far less crowded during the colder months and just as beautiful.
Go for a walk along the beach promenade and enjoy views from the pier. The bay is especially beautiful when there is snow although a clear and cold day will be best especially if you're planning outdoor activities. In case it rains you can head to the Sea Life Centre which is the world's second-oldest aquarium. The Brighton Museum and Art Gallery is another fantastic place to add to your winter itinerary for Brighton.
You can also sign up for a beautiful coastal bike ride. Just dress warm and bundle up to brave against the cold, the ride will be more than worth it. Afterwards, head to the Royal Pavilion ice rink where you can try your hand at ice skating. Warm-up at the Balck Mocha cafe with a hot chocolate or coffee. If you're looking for places to stay at the Old Ship Hotel which is centrally located and has stunning rooms.
Recommended by Victoria from Guideyourtravel
Bourton-on-the-water, Cotswold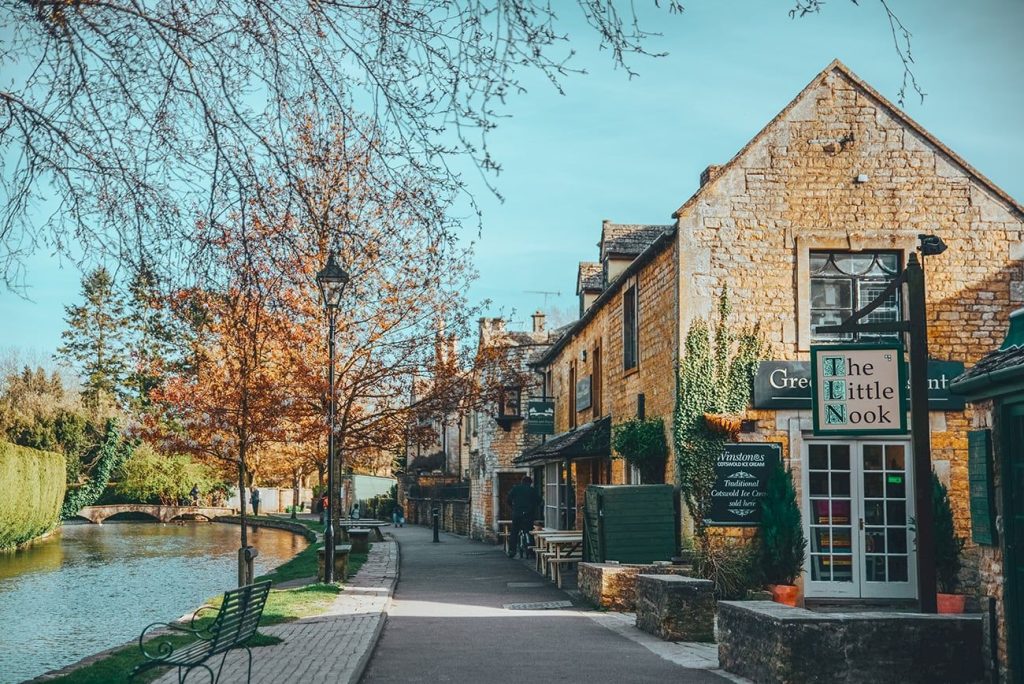 This picturesque village in the rural Cotswolds area of Southern England is Bourton-on-the-water. This village is beautiful to see at any time of year, but it is extra magical in the winter when there's a chance it will be covered in snow. Plus, there are plenty of festive vibes and decorations in town, making it a great place to soak in the vibrant holiday atmosphere.
Bourton-on-the-Water is considered one of the best Cotswolds villages for a good reason. The picturesque River Windrush cuts through the village, and the waterside views are simply beautiful. Taking a stroll by the river is the main thing to do in this village. In December, you'll even come across a Christmas tree on the riverbanks, with its brilliant lights reflecting in the water.
There are many shops, restaurants, and bakeries alongside the river. Many of them are covered in beautiful fairy lights in December and January. Don't miss the small Christmas market or the carol singers if you're visiting in December. During this month, there's also a Christmas Charity Band Concert in town!
If you love wildlife, be sure to stop by the Birdland Park and Gardens, which is home to 500+ exotic birds, including flamingos, parrots, and penguins with winter plumage. There's also an obstacle course playground there for children!
There's plenty of food to taste in Bourton-on-the-Water as well. Enjoy a delicious meal at Rose Tree Restaurant. They serve everything from seafood and meat to vegetarian dishes. If you plan to stay overnight, you can't go wrong with The Lamb Inn. It has an intimate atmosphere and is only a 10-minute drive from the village.
Recommended by Jiayi of The Diary of a Nomad
Harrogate, North Yorkshire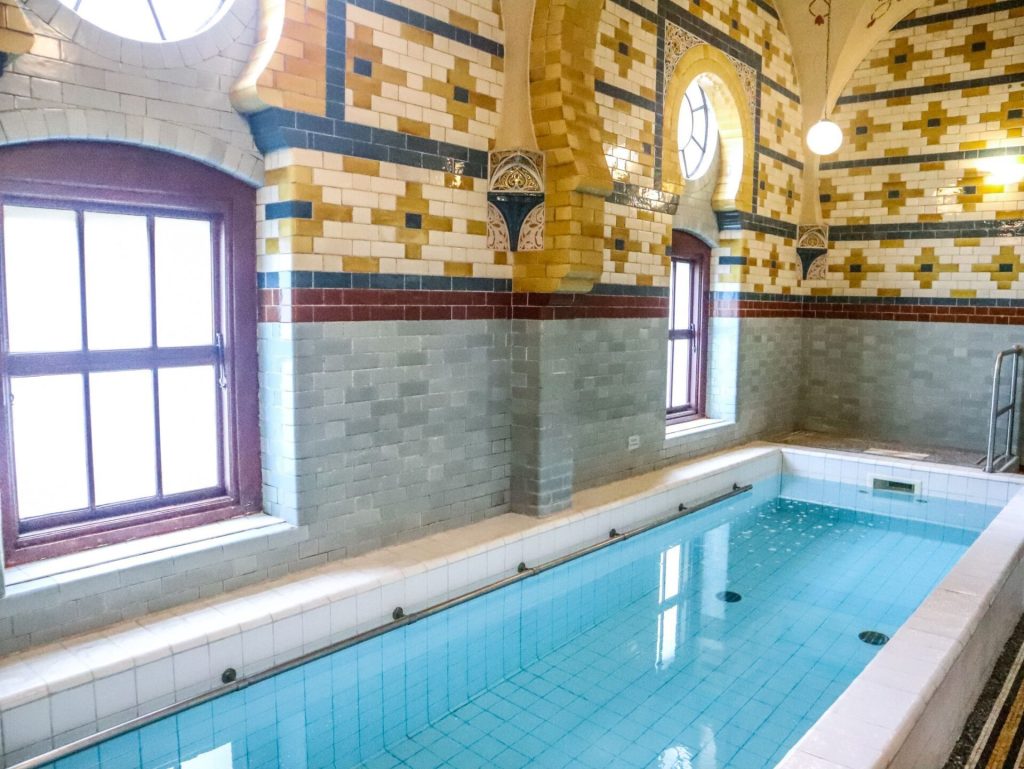 One of the loveliest towns to visit in the winter is Harrogate in North Yorkshire. Tucked away on the edge of the Yorkshire Dales, Harrogate is just 10 minutes away from the A1 motorway between London and Edinburgh, and on a good train line that connects the great cities of Leeds and York.
Within the town of Harrogate, you can explore the incredible Victorian Turkish Baths and Royal Pump Room, browse the classy independent shops along Cold Bath Road and the Montpellier Quarter or take a leisurely stroll around the beautiful Valley Gardens.  Moments from the town you'll find the extensive RHS gardens at Harlow Carr, and you really can't visit Harrogate without experiencing the sumptuous silver service afternoon tea at Betty's.
The Christmas Market in Harrogate is incredibly popular, with tourists flocking to the town to browse the stalls and enjoy the attractions of the town, before stopping for a few drinks at the Fat Badger.
If you're visiting for a weekend, stay at the Hotel du Vin for its stylish French atmosphere and central location or at the atmospheric Old Swan Hotel where Agatha Christie famously hid away for 11 days in 1926 creating a public furore.
For dinner, you really can't beat the Drum and Monkey or the Ivy, or if you fancy posh pub food, try the stupendously good William and Victoria. Make sure you're hungry though – this is Yorkshire, and the portions are huge.
Recommended by Coralie Thornton from Greyglobetrotters
Bath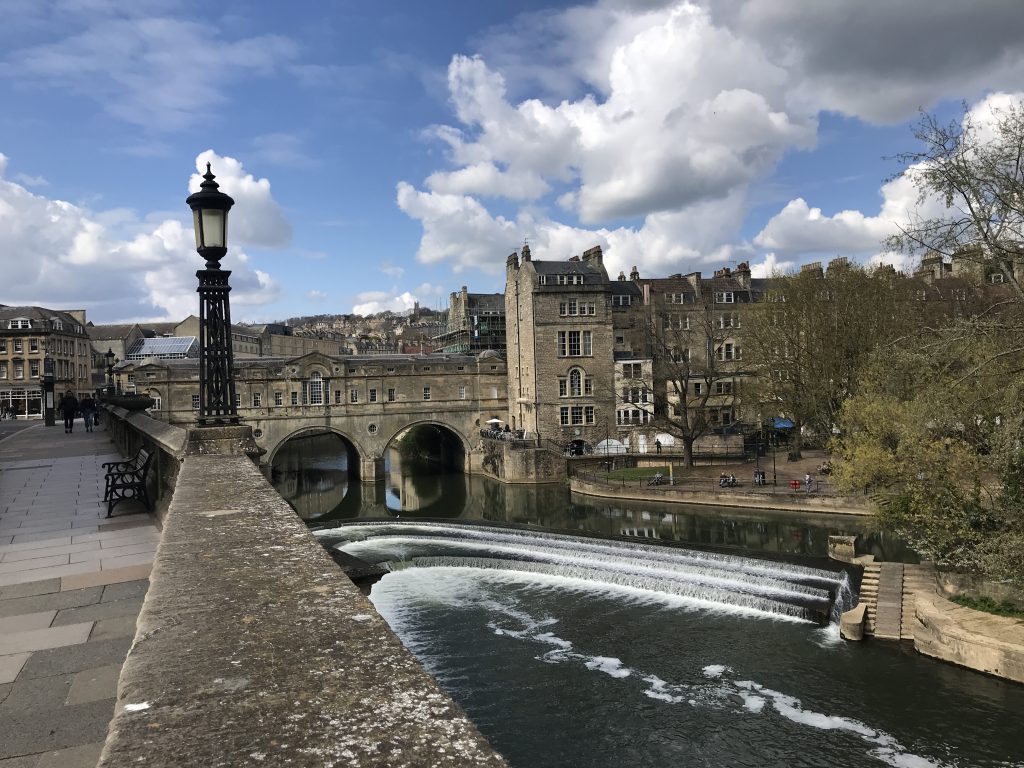 One of the UK's most beautiful cities: Bath. Set in the South West of England and around two hours from London it is a lovely, small city. With picturesque streets filled with Georgian townhouses, it looks like something out of a fairytale and even more so in winter. It's an ideal city for wrapping up warm and just taking to the streets for a good wander.
The Roman Baths are a must-see location and are open throughout the year and they have some really good audio tours you can take. Then why not warm up with a modern version at Bath Thermae Spa, Britain's only natural thermal spa. Soak in the rooftop pools (make sure you book your tickets in advance) which are warm and perfect to relax in.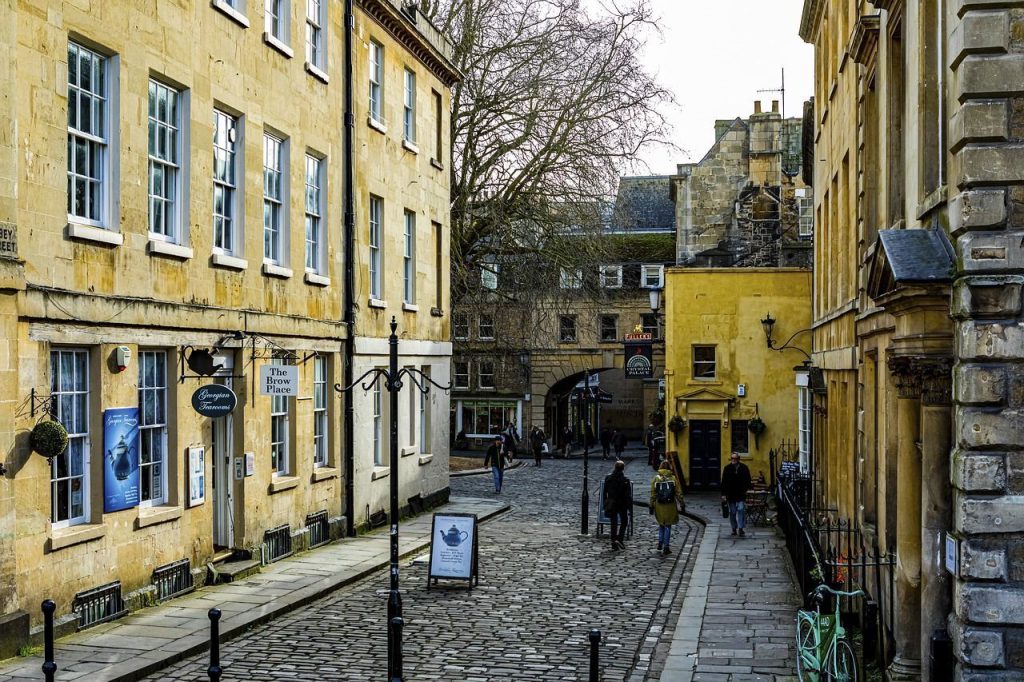 If you're visiting the city in the run-up to Christmas then the market is one of the best in the country with the city centre being filled with wooden chalets and some of the best produce and crafts from the southwest. If you're visiting Bath with kids then don't miss No 1 Royal Crescent which is a fantastic museum dedicated to showing how interiors would have looked in the city's heyday. Stop off for buns at Sally Lunn's set in Bath's oldest house and which has been selling delicious buns since the 17th century. Stay in the heart of the city at the Abbey Hotel which is perfect for an evening wander from which will often see the Abbey all glowing in soft light.
Recommended by Nichola from globalmousetravels
Whitstable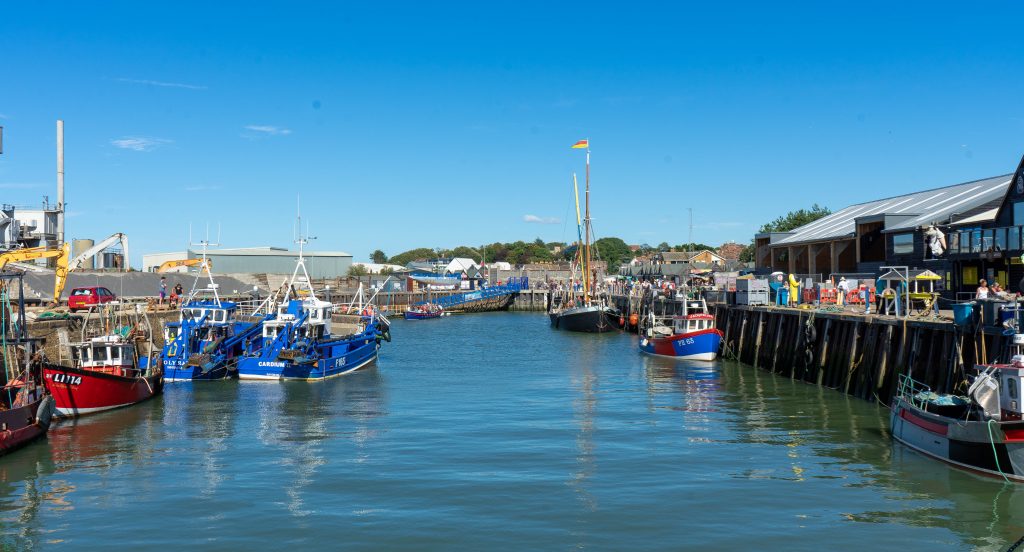 One of the most picturesque seaside towns in the East of England is Whitstable. The town makes a very popular day trip from London and it is usually very crowded during weekends. If you want to avoid the crowds, visit Whitstable in winter, when this town is less busy.
Even if you won't be able to sunbathe, there are still plenty of things to do in Whitstable in winter. Whitstable is famous all over the country for the native oysters that are grown here. Not many people know though that the oyster season runs from autumn until early spring, and not in summer. If you want to taste the local oyster, you must come here in winter. Not all restaurants in Whitstable sell local oysters so, if you want to try the native Whitstable oyster, go to The Forge, Wheeler's Oyster Bar, The Crab and Winkle, or The Sportsman.
Whitstable Harbour is a working one, which means that if you come here early morning, you can see the fishermen come back to shore with their catch of the day. The harbour is also home to a small market, where you can buy artisanal crafts, food and drinks, from local producers.
Besides being extremely charming, Whitstable is also a place where artists like to gather. In the town centre you will find plenty of galleries but also independent and boutique shops that sell handmade items.
If you want to spend the night in Whitstable, check out the old fishermen huts, which have been converted into touristic accommodation.
Recommended by Joanna from Theworldinmypocket
Oxford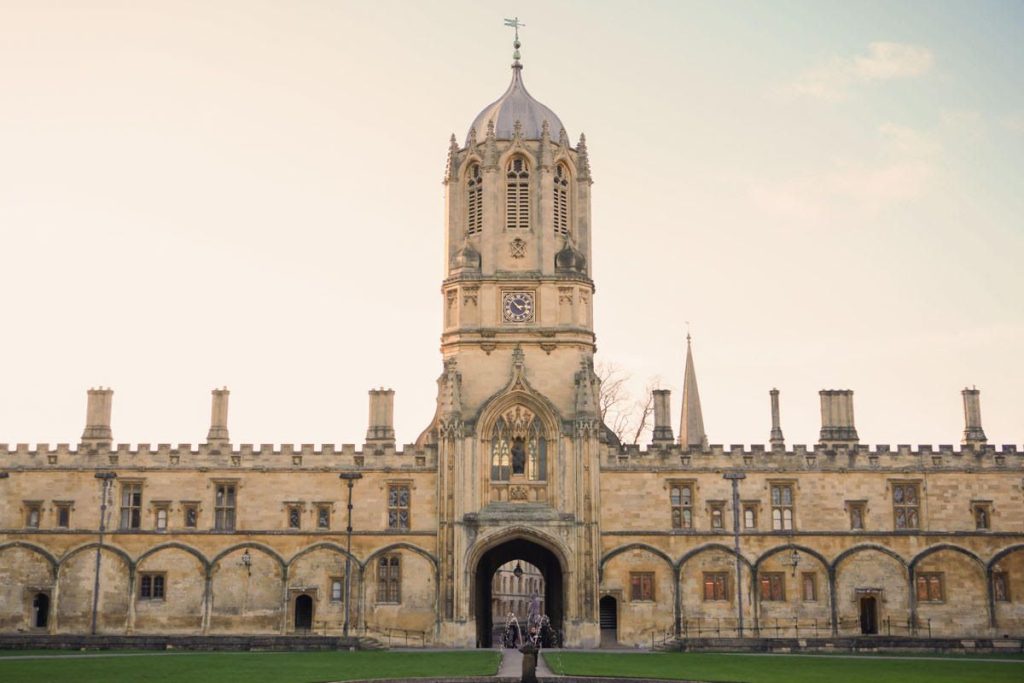 Best-known for its prestigious university, Oxford is a must-visit UK winter destination. Where the summer months see the city awash with tourists, the winter months are much quieter, leaving you the opportunity to rub shoulders with the students and locals and explore the city at your own pace.
Punting might not be on the cards (although you can if you're brave), but there are plenty of things to do in Oxford when it's cold outside. Start with a tour around some of Oxford University's colleges: Christ Church is one of the best-known thanks to its association with Harry Potter (several scenes were filmed there) and Lewis Carroll. Magdalen is another must – with a beautiful deer park that extends out from behind the college.
Of course, you can't visit Oxford without spending at least some time in Radcliffe Square, home to Oxford's most recognisable building – The Radcliffe Camera; with its distinctive dome. The Rad Cam as it's affectionately known is a part of Oxford's Bodleian Library, more buildings of which can be seen a few paces away. Head inside to see the gorgeous interior; in particular the Divinity School with its elaborate lierne-vaulted ceiling (and another Harry Potter filming location). Oxford has a range of places to stay, but The Old Parsonage stands out. A short walk from the centre, it's a chic boutique hotel that's the perfect base for your time in the city.
Recommended by Julianna from Insider's Oxford
Saltaire, West Yorkshire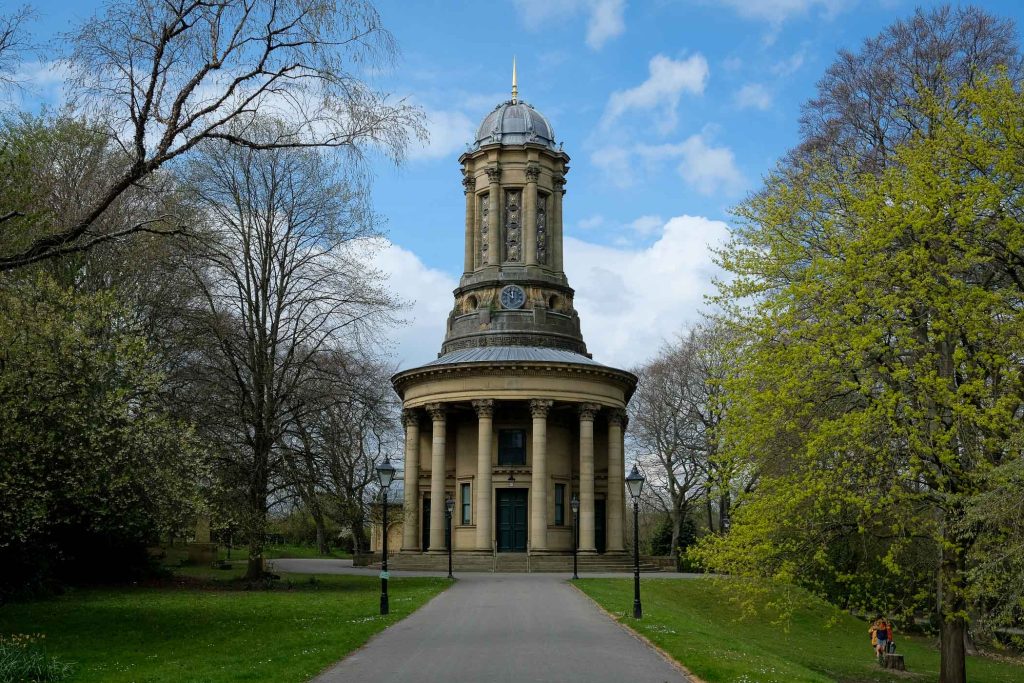 On the outskirts of Bradford in West Yorkshire, Saltaire has a fascinating history that makes it relatively unique when compared to the dozens of mill towns that are scattered along the length of the River Aire.
The town itself was constructed as a purpose-built 'model' Victorian industrial village in 1851 by prominent industrialist and philanthropist Sir Titus Salt. Horrified by the growing pollution problems that businesses like his were causing in Bradford, he decided to up sticks and move his entire base of operations alongside the river Aire, building an enormous mill (the largest in the world at the time). Surrounding the Mill, Salt constructed 850 stone houses for his workforce along a grid of tidy, cobbled streets as well as a hospital, gym, concert hall, park, and one of the most beautiful churches in England. All of this was with the intention of creating a happy and productive workforce.
Although the mill ceased production almost four decades ago, it is still thriving. The walls of the lovingly restored mill sheds host art exhibitions and an enormous collection of works by David Hockney, while the rest of the mill is given over to dining spots and retail space selling high priced homeware, designer jewellery, antiques, and coffee table art books.
Beyond the mill, the cobbled terraced streets remain much as they did in Salt's days and are worth exploring for the historic, Victorian architecture that has earned the village a coveted spot on the list of UNESCO World Heritage Sites, particularly on a chilly winters night when the lanes are lit by the glow of the original Victorian gas lanterns.
Saltaire hosts a number of great events throughout winter and leading up to Christmas, including markets and a series of winter bandstand concerts in Roberts Park. However, the main attraction each year is the 'Saltaire living advent calendar in which windows in 24 houses, shops, schools and churches in the village are illuminated with festive scenes.
Recommended by Dave from manvsglobe
Lacock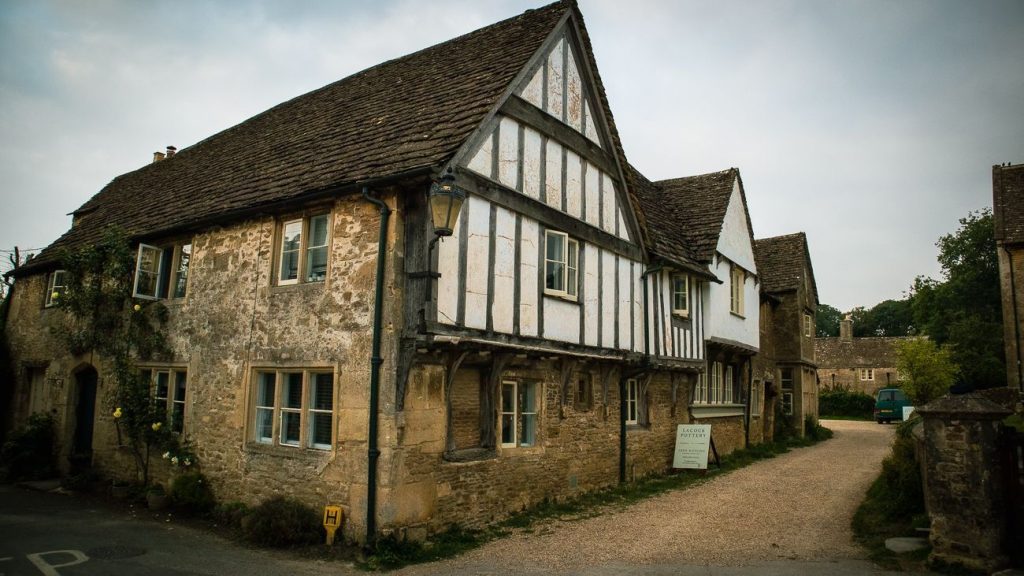 In the southwest of England, near Bath, the village of Lacock is a beautiful place to visit all year round. In the winter months, it becomes an enchanting place to visit. Looking like the picture of a quintessential English village with thatched roofs and wood-timbered buildings, Lacock is one of the most gorgeous villages in the Cotswolds.
The village is owned by the National Trust and it has retained its charm and original buildings. The Trust also runs Lacock Abbey and the Fox Talbot Photography Museum.
The 13th Century Abbey is worth a tour around and started out life as an abbey until the 16th Century. Latterly it became a country house and is now open to the public.
The Abbey was the setting for some of the scenes from the Harry Potter films including the long cloisters featuring as the cloisters in Hogwarts.
From the end of November to Christmas Eve, the Grand Hall is decorated and dressed for Christmas and is enchanting.
Based around four main streets, Lacock is full of quaint shops to look around including divine chocolates at The Chocolate Barn or the gorgeous smelling Quintessentially English filled with handmade soaps, shampoos and smellies.
If you like antiques, there are several antique shops to have a poke about in for a bargain or two. Don't miss the Lacock Bakery for some scrummy treats.
Get cosy in the 15th Century, Sign of the Angel. The restaurant has lovely warming open fireplaces to keep you toasty while you enjoy your meal. If you need somewhere to stay, they also have rooms.
If you want to work up an appetite, there are plenty of beautiful winter walks around Lacock to enjoy
Recommended by Larch from The Silver Nomad
If you found this article helpful then please do share and pin it for others 🙂 See you on the next adventure