Riga is the Capital of Baltic State Latvia and a UNESCO world heritage city. It was also the European Capital of Culture in 2014, all of which makes it a must-see city in Northern Europe. Riga offers visitors the perfect European City break. There is so much to see and do in Riga; it is a buzzing little town known for its beautiful art nouveau architecture, cute Medieval Old Town, colourful and quirky architecture, trendy bars, cheap spas and great food. The best part is that it is so affordable; it is a very budget-friendly destination without having the crazy tourist influx compared to other European cities which adds to its charming character. We will be showing you how to best experience Riga with our 4-day Riga Itinerary.
Although we travelled to Riga without the kids, most of this Riga travel itinerary is suitable for families too.
Where is Riga?
Riga is the Capital of Latvia situated in North-Eastern Europe
Practical Information to Know before you visit Riga
When is the best time to Visit Riga?
Summer is a lovely time to visit Riga and although July and August are the peak seasons of travelling; You can still visit Riga without the crowds compared to other European destinations. Late May to October is the best time to visit. Riga in winter can get really cold and rainy but there are plenty of things to do in Riga in the winter plus you will get to experience the charm of the Christmas markets.
How to get to Riga and Riga City Centre?
Riga International Airport is the closest airport to Riga. Riga airport is situated 15km from the centre.
The cheapest option to get to the centre is by taking the public bus nos. 22 (or 222) which is opposite the terminal building, to the right. The ride is roughly 20 minutes. You can purchase your ticket from the newsagent shop when you come out of the airport for €1.15; or buy your ticket from the bus driver but it will cost €2.
Alternatively, you can book a more convenient private transfer straight from the airport here.
Once in Riga, it is really easy to travel around especially if you are based in the Old Town which is where most of the best places to visit are. If you are going to use the trams and buses then best to buy the tickets before as it is cheaper and the cost is between 1€-1.80€ per journey; very reasonable. For more information on transportation check out https://www.rigassatiksme.lv
Where to stay in Riga?
There are many different options for accommodation in Riga ranging from luxury boutique hotels to cheaper accommodation. The best place to stay in Riga is the old town because from there you can easily walk to all the historic sights, cafes and restaurants. We stayed at the Hotel Rixwell Old Riga; located centrally. This was a fantastic option for us
Here are some other Riga hotel accommodation options
High End – Grand Poet Hotel and SPA by Semarah, located centrally near Bastion Hill. They have spacious rooms and lovely food which you can enjoy in the outdoor area. It is also within walking distance to the Old Town. The spa area has an indoor pool and several saunas and steam rooms.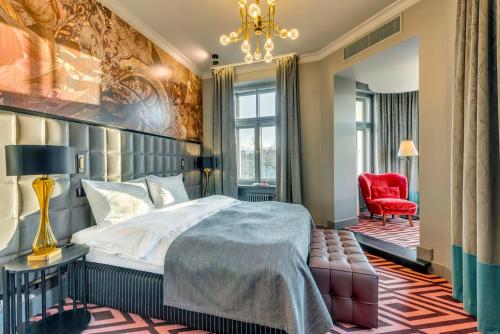 Mid Range – Hotel Rixwell Old Riga, really convenient as it is located in Old Town and from here everything is walkable. You have some wonderful restaurants and cafes nearby. It is also near good transports links here and getting to the Riga airport takes you around 30minutes.
Budget – Central Hostel 15 min walk from the Old Town of the city and conveniently located near the Riga Main Bus Terminal which is great if you plan to travel onwards to Vilnius or Tallinn.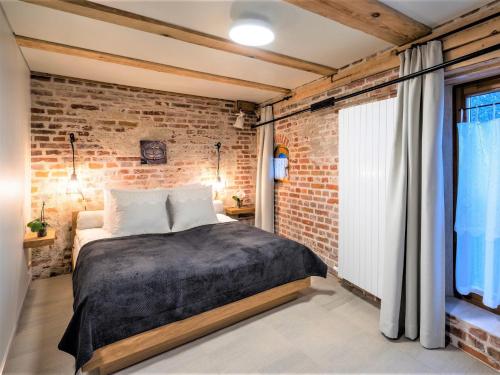 More places to visit in Europe:
Riga Itinerary and the best places to visit in Riga
Day 1 in Riga
Old Town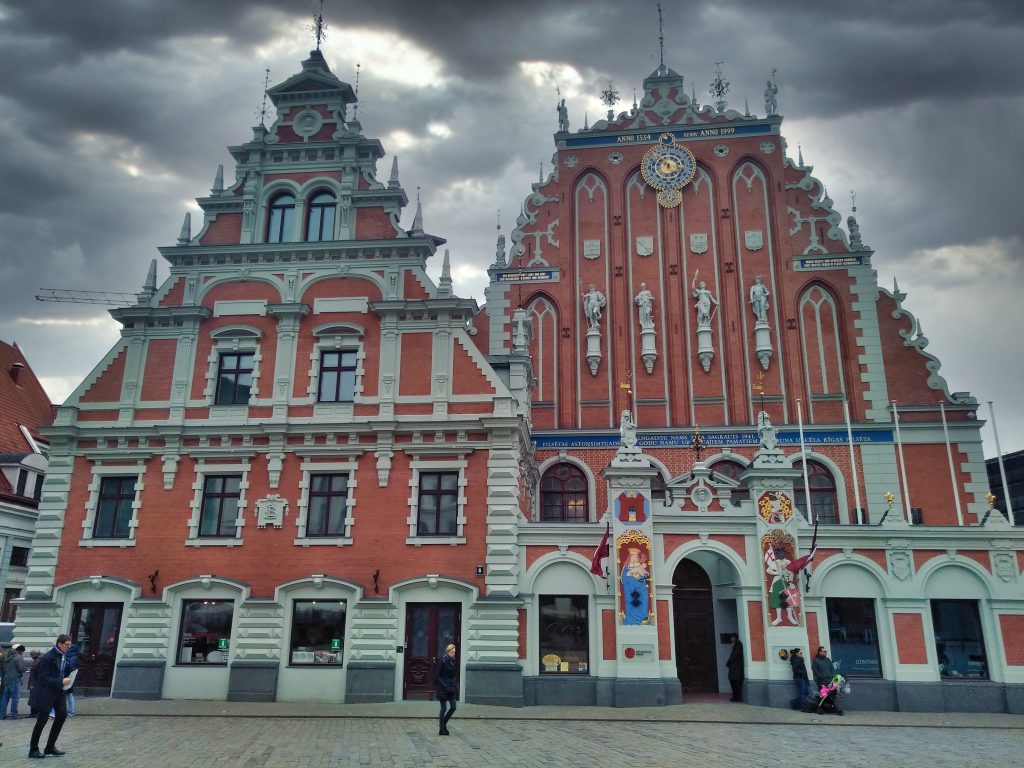 Starting with a Riga walking tour is a great way to discover Riga as the guides are usually so knowledgeable about their towns and always have interesting stories to tell you. You can find a great tour here. We started at the old town visiting the Town Hall Square where you will notice the beautiful and iconic Baroque style House of Blackheads, where the merchants held their banquets and meetings. It was built around 1334 but was completely destroyed during World War II and rebuilt in 1999. It is now a tourist information place which holds concerts sometimes. This is also where the Town Hall is situated.
We then visited the quirky and unique "3 Brothers", the oldest residential buildings in the city. From here we walked past Riga Castle. Continuing we went to Dome Square where the Riga Cathedral is. The Riga Cathedral is the oldest church in the Baltic states which was built in the 13th century and survived through wars and fires. The Cathedral is open between 10 am to 7 pm and costs 3€ to visit.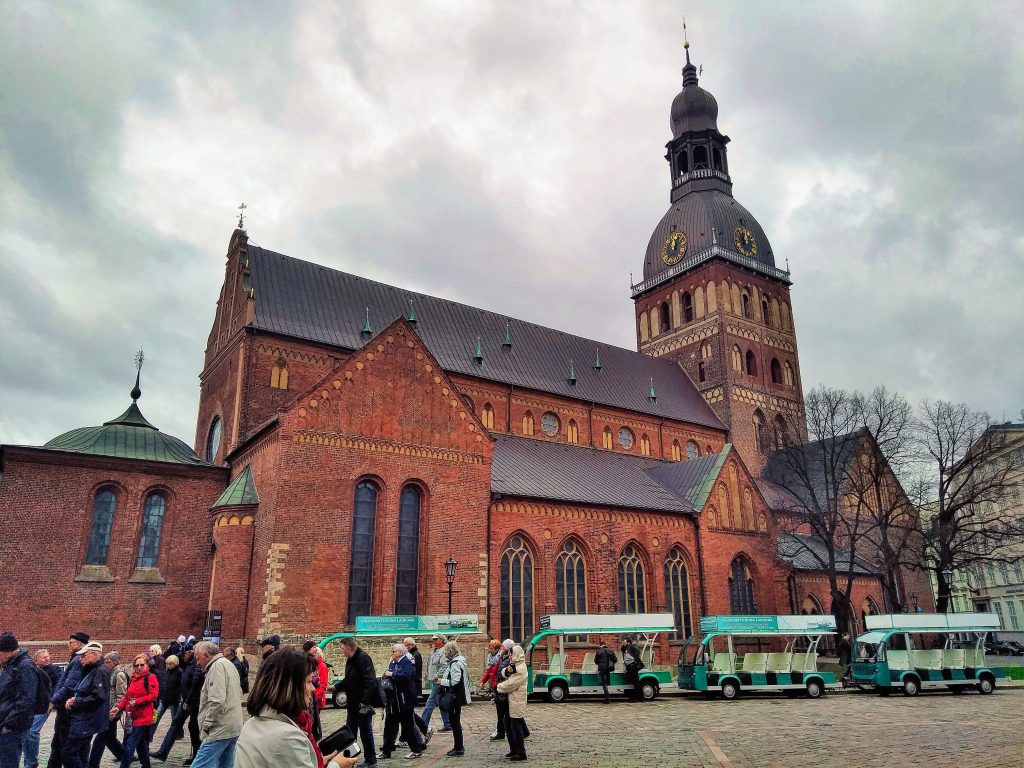 Our next stop took us around the cute medieval cobbled streets of the Medieval Old City and the Swedish Gate; which is a small part of Riga's old city walls that remains today. We also saw the Powder Tower, which is now a Latvian War Museum definitely worth a visit to learn more about Latvia's history and it is free to visit.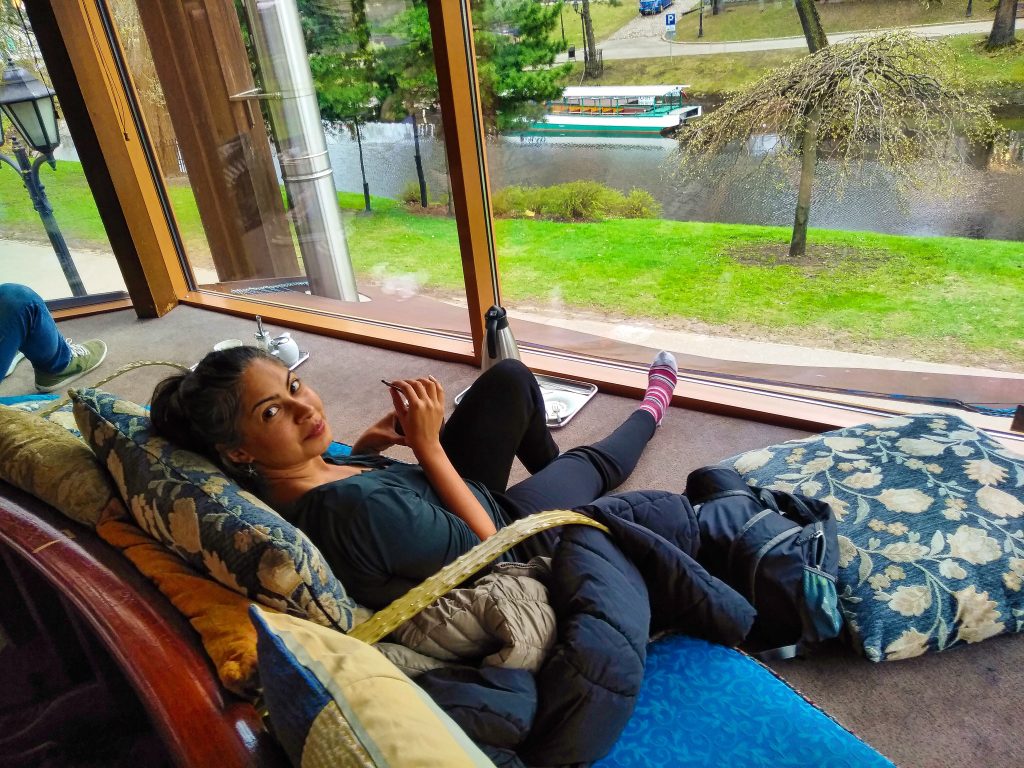 Tea Break
After our tour, we discovered a gorgeous little tea house; Apsara Tea House, close to Old Town Riga; a little bit hidden in the park. If you are a tea lover here you will find all kinds of different teas; there is also a choice of coffees, beers, wine and delicious cakes. What I loved about this place are the cute inside and the view. After climbing the spiral staircase the sitting area is on cushions on the floor and you have beautiful views of the park; pretty unique and relaxing.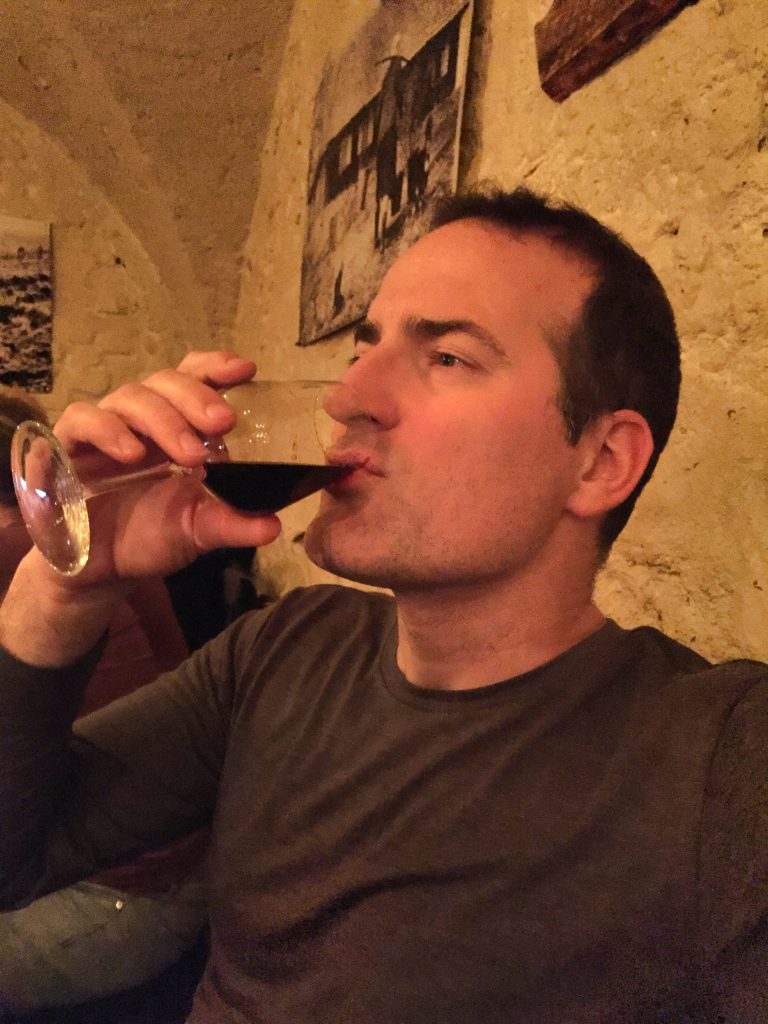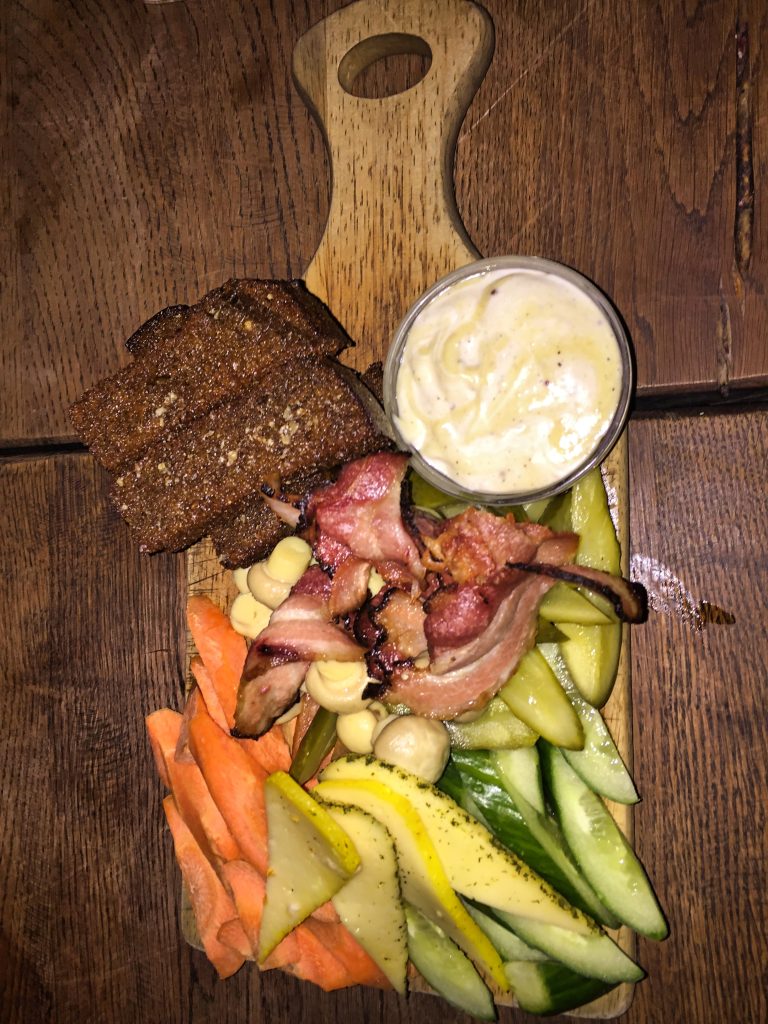 Our favourite place for a real 'Latvian Experience' was Folk Club Ala, a popular bar and restaurant in an underground tavern. This place is great to try some typical Latvian food; make sure to try their traditional garlic rye bread accompanied with cheeses, meats and pickles; so delicious and wash it down with some tasty local Latvian beers. We also really enjoyed the local folk band which just added to the lively atmosphere. We were also told we couldn't leave without trying the famous black balsam liquor. Balsam is a traditional herbal Latvian Liquor made of 24 botanical ingredients and Vodka; it also comes in a blackcurrant flavour which was our favourite.
Day 2 in Riga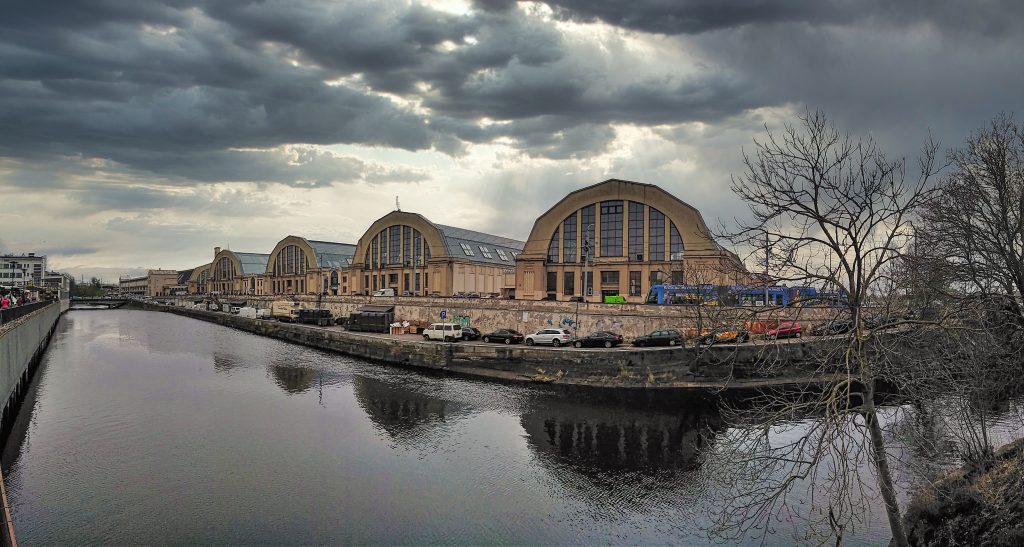 Riga Central market
Our first stop was the Riga Central Market which first opened in 1930 and one of the biggest markets in Europe. It is one of the best places to eat and discover local specialities in Riga including pickles, meats and fish but also clothes, shoes, souvenirs and witness the real local life of Riga; don't forget to buy a punnet of strawberries you will see them everywhere in the season. A great way to discover this bustling place is to do a food tasting tour.
Architecture in Riga
Riga is the Art Nouveau capital of Europe with around a third of the buildings in this style, this form of architectural style breaks away from the rigidity and traditional styles; it has a more decorative and ornamental style with a focus on nature, animals and plants. Head to Alberta Street (around 25 minutes from Old Town) to see beautiful examples of Art Nouveau architecture or Elizabeth Street.
In the afternoon we took a stroll through Riga's lovely green park; Bastion Hill where you can unwind and visit the gardens, canals and cute bridges. In the park, you will also see the Freedom monument statue dedicated to Latvians who lost their lives fighting for independence between 1918-1920.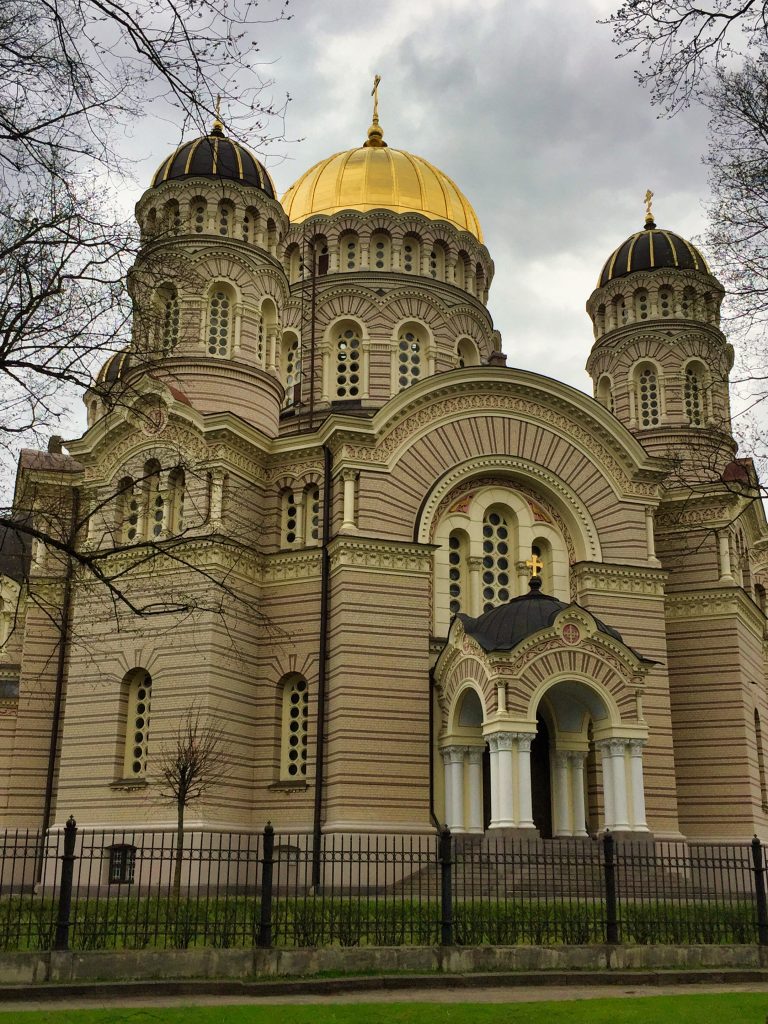 Whenever we are in a new town we also love visiting Cathedrals; the architecture always fascinates me and there is something very serene and calming when you sit down and take a moment of reflection. One that really stood out to us was the Riga Nativity of Christ Cathedral; a Russian Orthodox church in Esplanade Park. It is free to enter; bear in mind no shorts are allowed and women have to cover their heads.
There is plenty of nightlife in Riga; with funky, stylish bars and live music venues which we especially like. We went to Trompete (Jazz Bar and Restaurant) where you can enjoy live jazz and have a meal. They do not have a lot of seating so I would recommend booking beforehand. Or if you prefer to sit outdoors you can find many nice cafes and restaurants in Livu Square.
Day 3 in Riga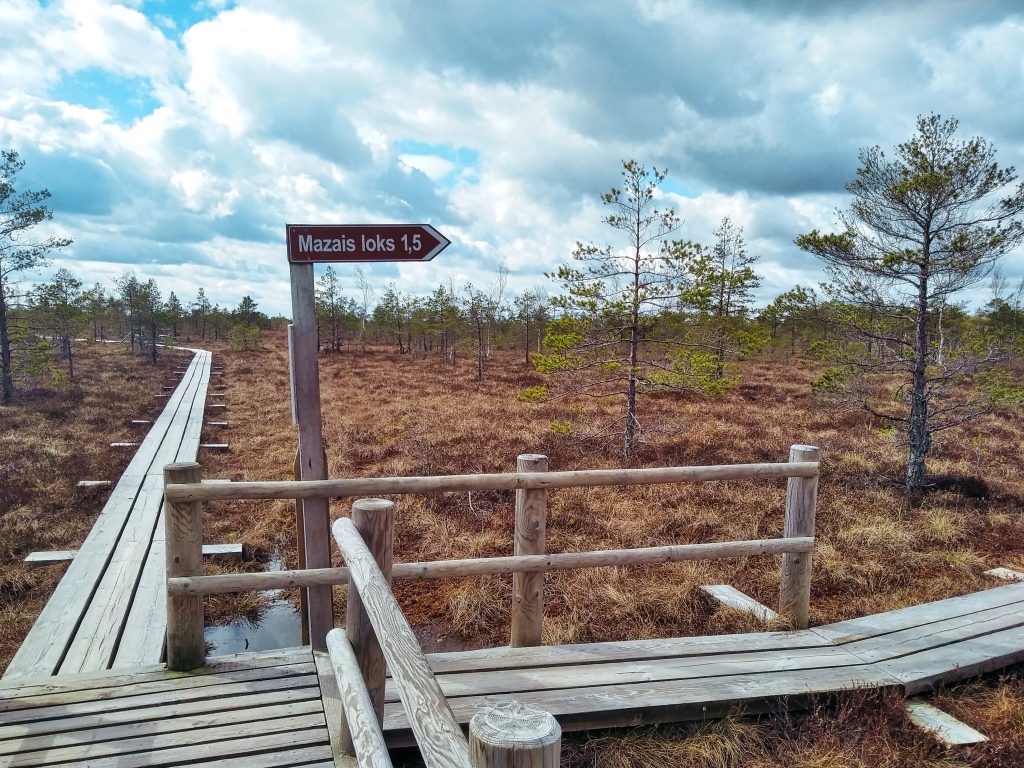 You could easily spend more days exploring Riga's attractions but we were quite keen to head out of Riga to discover a little more off the beaten path. There are several places to visit outside of central Riga which make for easy day trips from Riga like Jumala beach or Sigulda. We decided to head out of Riga to visit the Kemeri National Park roughly 1 hour away, 48km from the Riga centre.
Kemeri National Park in Latvia
Kemeri National Park is really one of the most amazing day trips you can make for in Latvia for the Nature lover. It is also not too far from Riga centre and has easy train links. You can catch the train from the central train station to Kemeri taking the Riga train towards Tukums 1/2. Now this path is not easy to find but we have made a video where it makes it easier so check that out.
We really wanted to do the Kemeri Bog Boardwalk; you can either choose from a short 1.4 km or 3.4 km walk. If you have time definitely do the longer loop because then you climb on the observation tower for beautiful, serene views of the bog.
One of the best ways to experience this is by doing a tour which includes a guide to take you to the bog walk and visit the seaside town of Jurmala.
TIP There were no cafes when we went so make sure you take water and a little picnic with you; a picnic will be included in your tour.
We reached Riga back in time for our spa appointment. You can book some great day spas in Riga and they are so reasonable compared to other European destinations and the quality is great. We chose a small intimate spa experience at Spa Florentina for a 2 hour pamper session. Perfect for unwinding and relaxing for our evening outing to Easy Wine; a chic bar where you can choose your wine and pour it yourself accompanied by some local delicacies.
Day 4 in Riga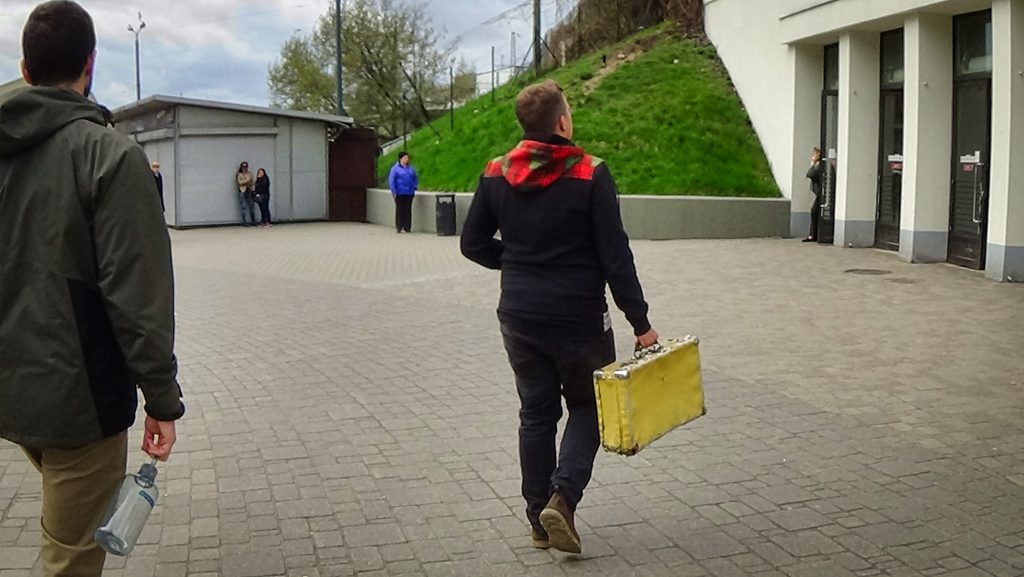 For something a little different, we decided to do an alternative suburb Riga walking tour with Freetour. This will not be to everyone's taste as it is less charming than the Old Town but nonetheless gives you an interesting perspective into the lives of Latvians and the history that shapes it today. We learned how Riga was conquered so many times and instead of breaking down the buildings, they kept these buildings which is why there is such an eclectic mix of architecture. We also got an introduction to Riga's sensitive past and saw Peitav Synagogue; the only remaining synagogue that remained after the Holocaust. If you are interested in this tour you can visit freetours.com. This tour starts at 12 pm outside St Peters Church, your tour guide will carry a yellow suitcase.
After the tour you can visit St Peters Church which was built in 1209; you can climb up the tower around 120m high to take a view overlooking Old Riga and the Daugava River. There is a fee of 9€ and it is closed on Mondays. After that take a walk behind St Peters Church where there are little markets and the famous sculpture 'Bremen Town Musicians' of the donkey, dog, cat and cockerel stacked on top of each other. This sculpture is based on a fairytale by the Grimm Brothers. Note the shiny noses of each of the animals this is because the belief is to rub the noses to get good luck; it is quite funny to see people jumping to try and rub the nose of the cockerel. Have a try 🙂
More places to visit in Riga
If you plan to stay longer in Riga then there are plenty of places you can visit; here are a few more ideas to add to your Riga Trip
Easy Day trips from Riga
Jurmala
How far is Jurmala from Riga
Jurmala is about 40km from Riga and should take around 40minutes to get there from Riga.
Why you should visit Jurmala
Jurmala is perfect for a day out to the seaside, it has a beautiful stretch of sand and is easy and close to Riga centre. Stop at the station Majori
Gauja National Park
How far is Gauja National Park from Riga
Gauja National Park is about 94km from Riga

Why you should visit Gauja National Park?
It is one of the largest National Parks in Latvia and is one of the best day trips from Riga to see pine forests, rivers and castles. You can also take a kayak along the river and makes for a fun trip outside of Riga.
Sigulda
How far is Sigulda from Riga
Sigulda is 53km from Riga and takes around 1hour by train to get there.
Why you should visit Sigulda
Sigulda is one of the most beautiful towns in Latvia and inside the Gauja National Park. It has many places of interest including Turaida castle and Gutmana Cave. It is also a place to come for adventure thrills from treetop adventures to bobsleds. The best time to visit is during the Midsummer festivities in June.
Cesis
How far is Cesis from Riga
Cesis is 90km from Riga and takes around 2hours by train
Why you should visit Cesis
It is one of the best destinations for a day trip from Riga and is located inside Gauja National Park. Here you can visit the medieval castle and castle parks and the beautiful cobbled streets of the old town.
We hope you have found our detailed Itinerary for visiting Riga useful and that you have an incredible stay in Riga whether it be for 24 hours in Riga or longer. There is plenty to discover in this charming town. Do let us know in the comment box any other must see places we may have missed.
Please share and pin this article if you found it useful 🙂