There are so many travel accessories for travel bloggers so it can be tricky to find the right travel gear for you especially as we all have different styles of travel. In this article, we cover the best travel accessories for travel bloggers and content creators starting out. As experienced family content creators, we have to make sure we have the right travel gear to travel smarter and better.
We have also asked some fellow experienced travel bloggers what their must-have items are to help you make a rounded decision of what are the best travel products for you. We are going to show you the ultimate travel accessories that will change your travel experience. It is important to have the right travel products so you can focus on what matters; creating beautiful and professional travel content to share with others.
Disclosure: This post may contain affiliate links or gifted items. You do not pay anything extra but help us to run our travel blog so that we can carry on providing you with travel itineraries and destination guides for free. See our full disclosure policy for more details.
Here are our top 16 essential accessories every travel blogger needs
One of the Best Travel Backbacks, The Arrow Kovered bag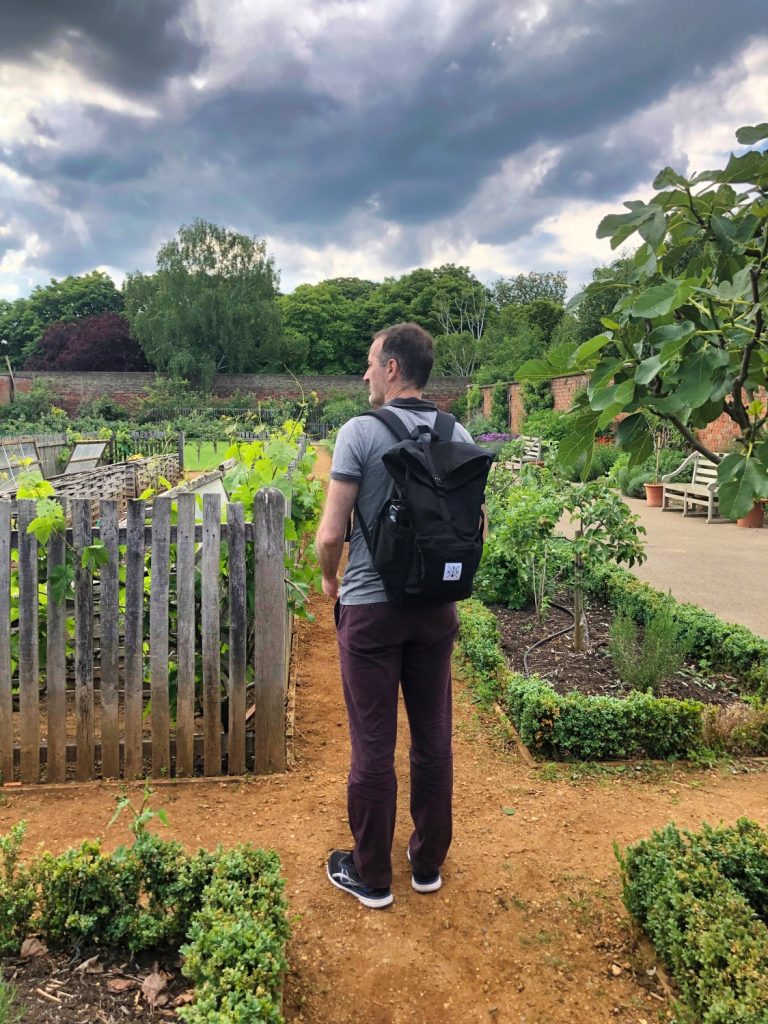 You may have all your travel essentials but don't underestimate the importance of a good, durable travel backpack. Firstly you need a strong bag to carry all your heavy equipment. It has to be comfortable as you will probably take this everywhere on your travels. It also has to have different compartments so that your equipment is easily organised, ideally with a separate padded pocket for your laptop.
The Arrow Kovered bag is perfect for travel as it has all of these features. It is also sustainably made from 100% recycled nylon. It keeps all your items dry due to its water-repelling technology. It also has an anti-theft pocket which is great for putting any essential documents or travel money. As well as being practical it also has a very stylish design.
Recommended by Author of HomeTravelGuide and @travelingbambinos
Go Pro one of the best compact travel cameras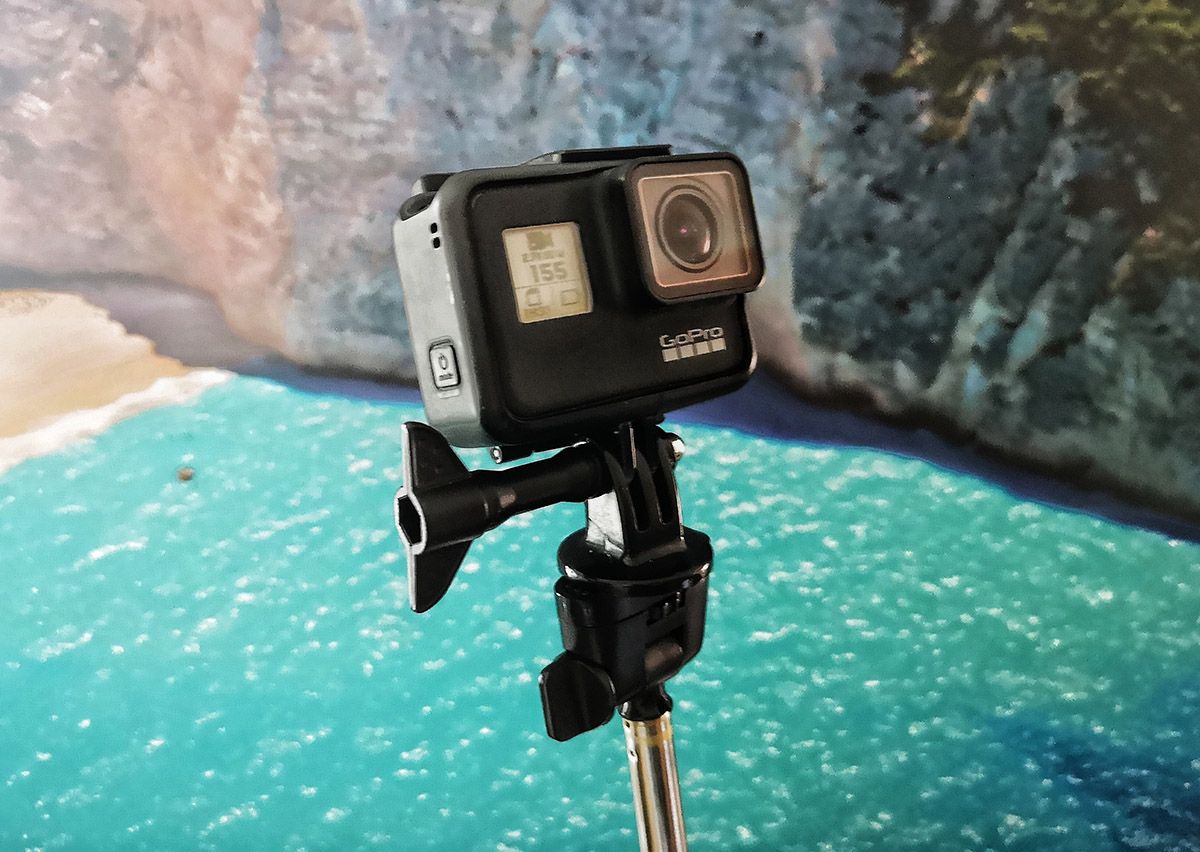 Every travel blogger needs a good-quality camera to create viral content. One of the best backpacking cameras, which is compact and takes excellent videos and photos is GoPro. For instance, GoPro HERO10 can shoot 5K videos and with its weight of only 153g, you can take it with you everywhere.
This lightweight camera is perfect not only for long hikes but also for taking underwater photography. It is waterproof up to 10m, however, you can buy additional accessories that will allow you to take it with you even deeper!
This small camera is affordable and is very popular among travel bloggers. With many accessories available on the market, you can take your GoPro to the next level. Whether, it is GoPro waterproof Dome, selfie stick, or head strip, this small camera will be perfect for every activity. From swimming to cycling, this travel gear will help you to create the best content on the internet.
Recommended by Paulina from ukeveryday
The best gear for travellers is a Tripod with a Remote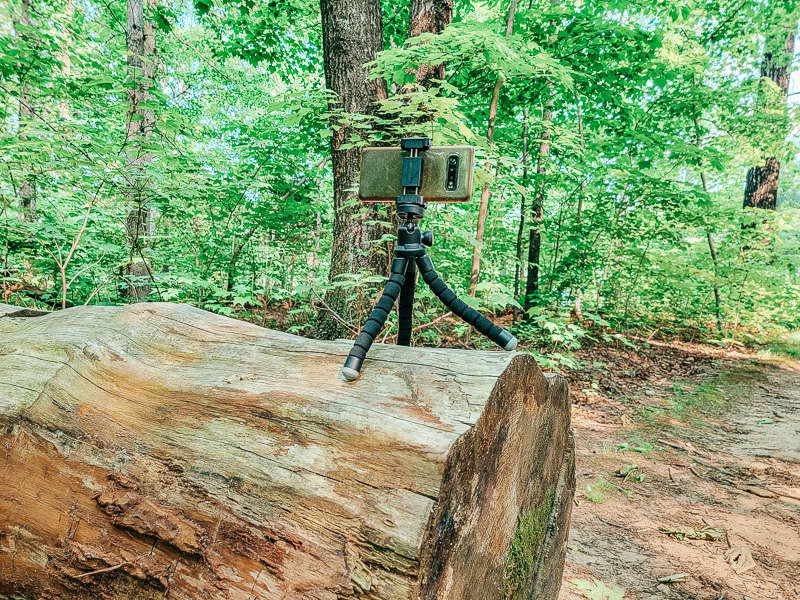 Have you ever wondered how to create those beautiful solo, couple and family photos that just look picture perfect on Instagram? The travel hack is to have a cool travel gadget; a tripod with a remote! It is extremely useful for any travel blogger, and a flexible, mini tripod with a remote is great for both starters and pros. With these tripods, you can easily take pictures of yourself, not needing someone to take your picture for you. This tripod is particularly useful because you can bend the legs completely around a tree branch or pole, or balance on uneven surfaces. It also comes with a Bluetooth remote you can connect to your phone or camera, which you can use to snap pictures without needing to set the self-timer over and over.
A few other useful ways to use a tripod is when taking night sky shots, and when trying to simulate a drone shot. When taking pictures at nighttime, it's really important to have your camera completely still so the picture is crisp, and a tripod with remote picture capability is perfect for that. And putting your camera on a tripod and then holding the tripod high up in the air to take a picture can get a pretty good simulation of a drone shot. Even very inexpensive tripods can give you so much function and value!
Recommended by Stephanie from The Unknown Enthusiast
Invest in one of the best cameras for travel bloggers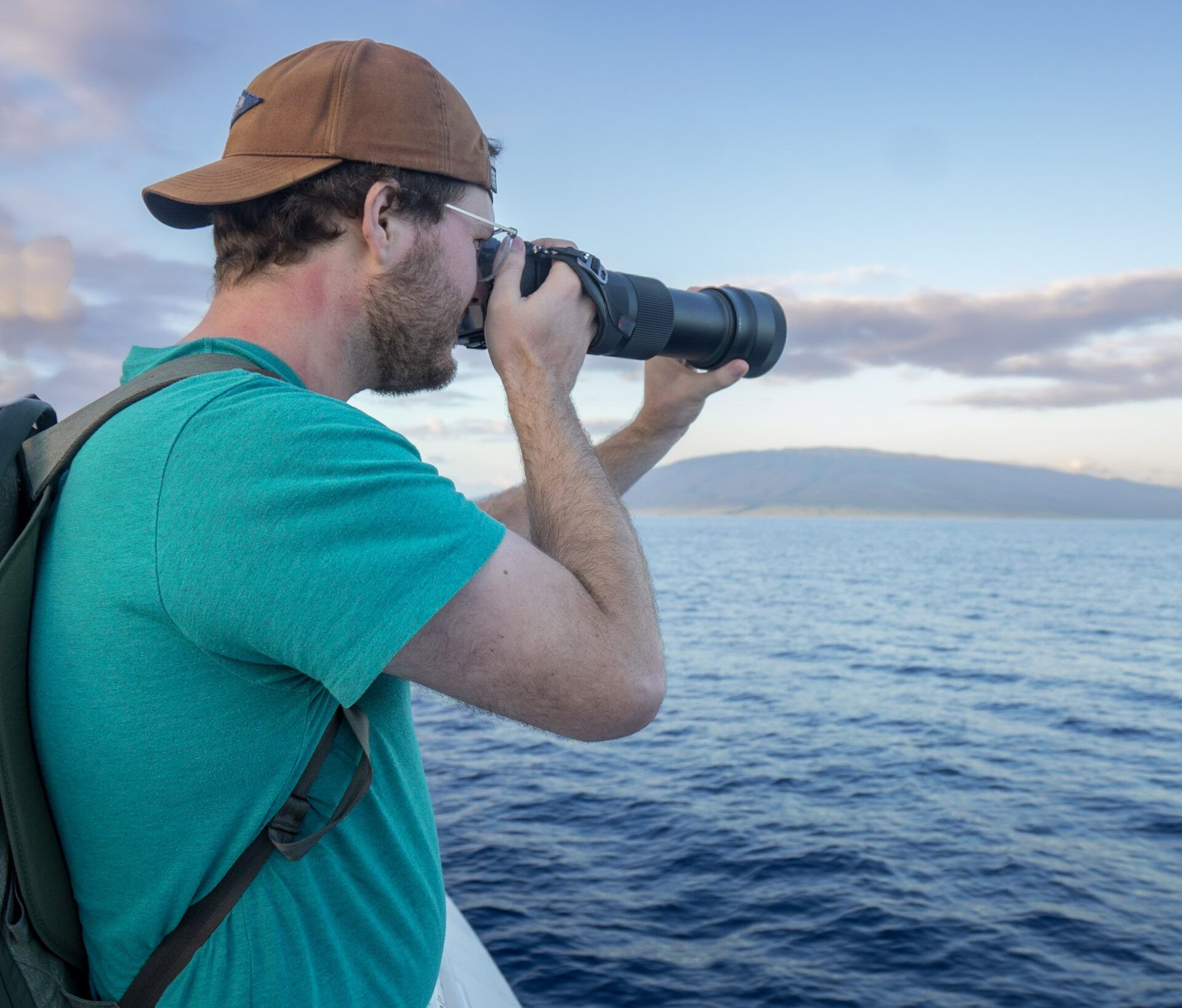 One of the most compelling parts of any travel blog is the visuals- colourful images that will show your reader the rugged natural beauty of Olympic National Park beaches, the chaotic streets of India, or any other destination you're highlighting.
While there are lots of great cameras on the market, the Sony Alpha 7 III is one of the best cameras for bloggers; it is an incredible workhorse, capable of capturing gorgeous photographs and videos. Thanks to its portability, the A7III is perfect for travellers- the mirrorless body is lighter and sleeker than DSLR cameras and you can charge the battery via a USB-C cable, instead of lugging around a separate battery charger.
Its mirrorless body also provides other helpful perks, like the ability to see a live preview of your shot through the electronic viewfinder (which is awesome for photographers still learning to perfect taking manual photos) and a silent shutter, so you can more confidently take photos in spaces where you want to be quiet (like while you're on a safari or at an art museum). Better yet, Sony's Z-series lithium batteries will keep the A7III charged for thousands of shots- so all you need to worry about is capturing your content, not your camera's battery life.
Recommended by Jessica from Up Rooted Traveler
ND Filter to protect lens and filter light intensity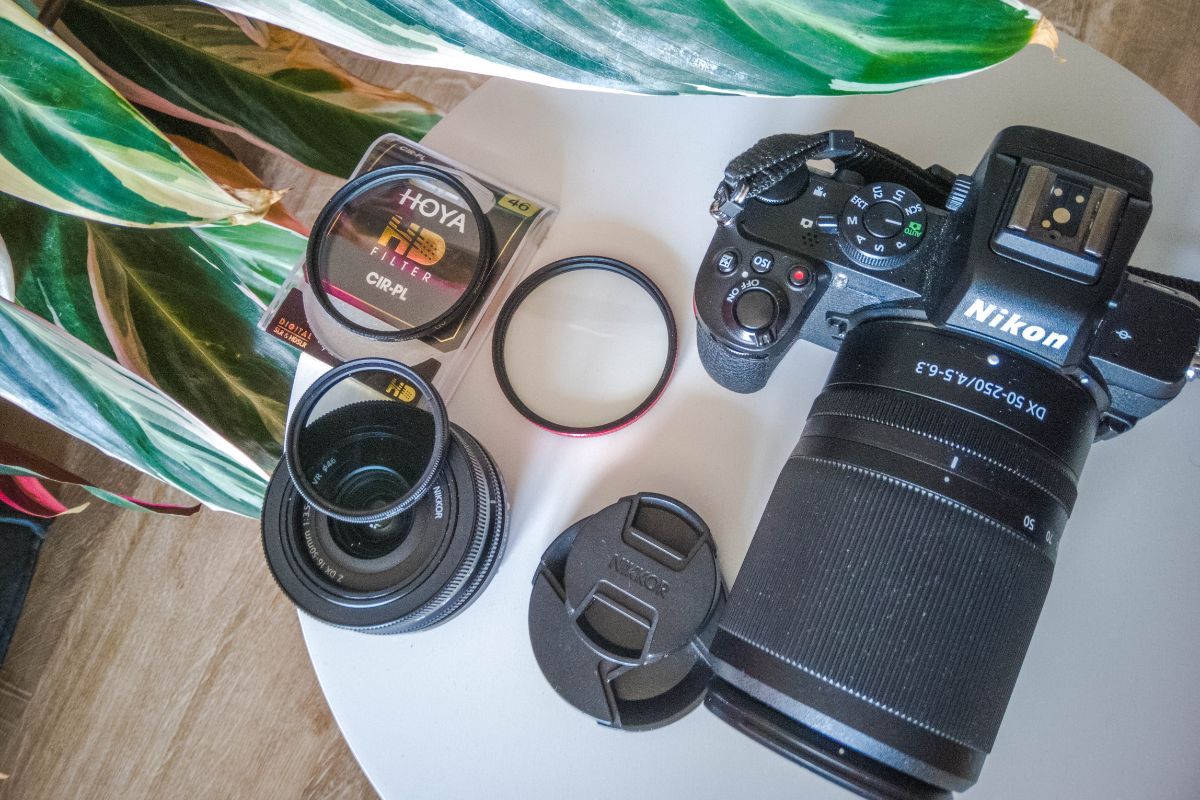 As a travel blogger, you want to capture those amazing visuals. And if you are into cameras and photography especially, you have to have an ND filter. For one, it can protect the lens from the weather (i.e. rain and increased sun) as well as sand and potential scratches.
Unless you completely treasure your camera and keep it locked away safely all the time, you are bound to run into situations where this could happen. An attachable filter can help out. You can even have a clear protection filter for this purpose and can change it out if you do need to after a while.
However, the actual purpose of an ND filter is to filter the intensity of the light waves and colours. As a result, you can really bring out those epic blues in the sky and bodies of water. This is particularly helpful when the two come together, such as on boat rides or to epic places like the lotus lake in Thailand.
You just twist the filter a little and can see the results instantly. Works well on sunny days but can also help out bringing out the greys more in clouds. Plus, it saves you time on photo editing if you love deep blues. It's much more natural this way.
Recommended by Annemarie from Travel on the Brain
Best Travel Accessories, Travel Wallet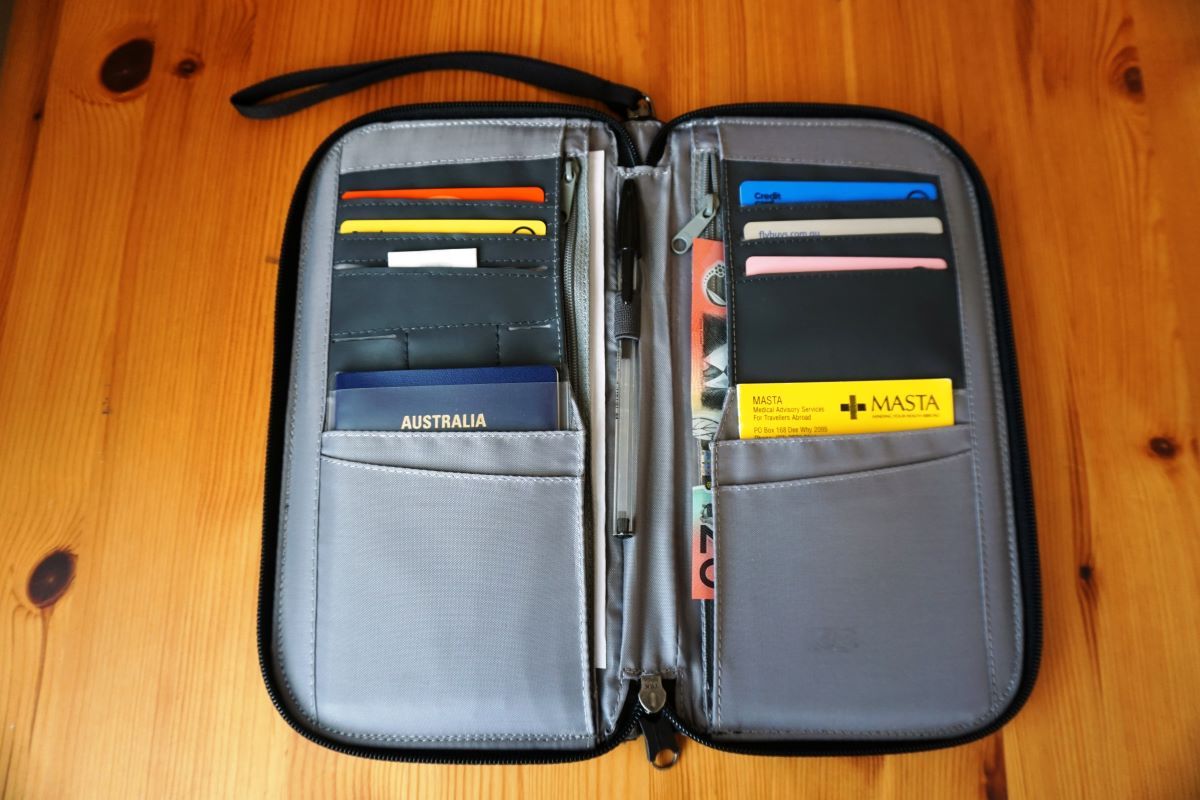 A travel wallet is one of the most useful accessories when you are travelling overseas. It's a large wallet that keeps your money, passport and paperwork organised. You'll have no trouble finding what you need when you need it because you'll have everything in one place and easily accessible. A large travel wallet has many pockets that can hold passports, credit cards, cash in more than one currency, vaccination certificates, extra passport photos for visa applications and official documents such as visa approval letters. It also holds a pen so you can fill out customs declaration forms while you're in the air or apply for a visa on arrival at a new destination.
When you're hands are full of luggage you'll be able to find hotel details, phone numbers and addresses that can get lost on your phone and there's even a special pocket on the front of the wallet for your boarding pass. A travel wallet is one of the most useful things you can pack for your next overseas trip and it fits in your handbag.
Recommended by Linda from Muy Linda Travels
When Tech fails this becomes a blogger essential – Notepad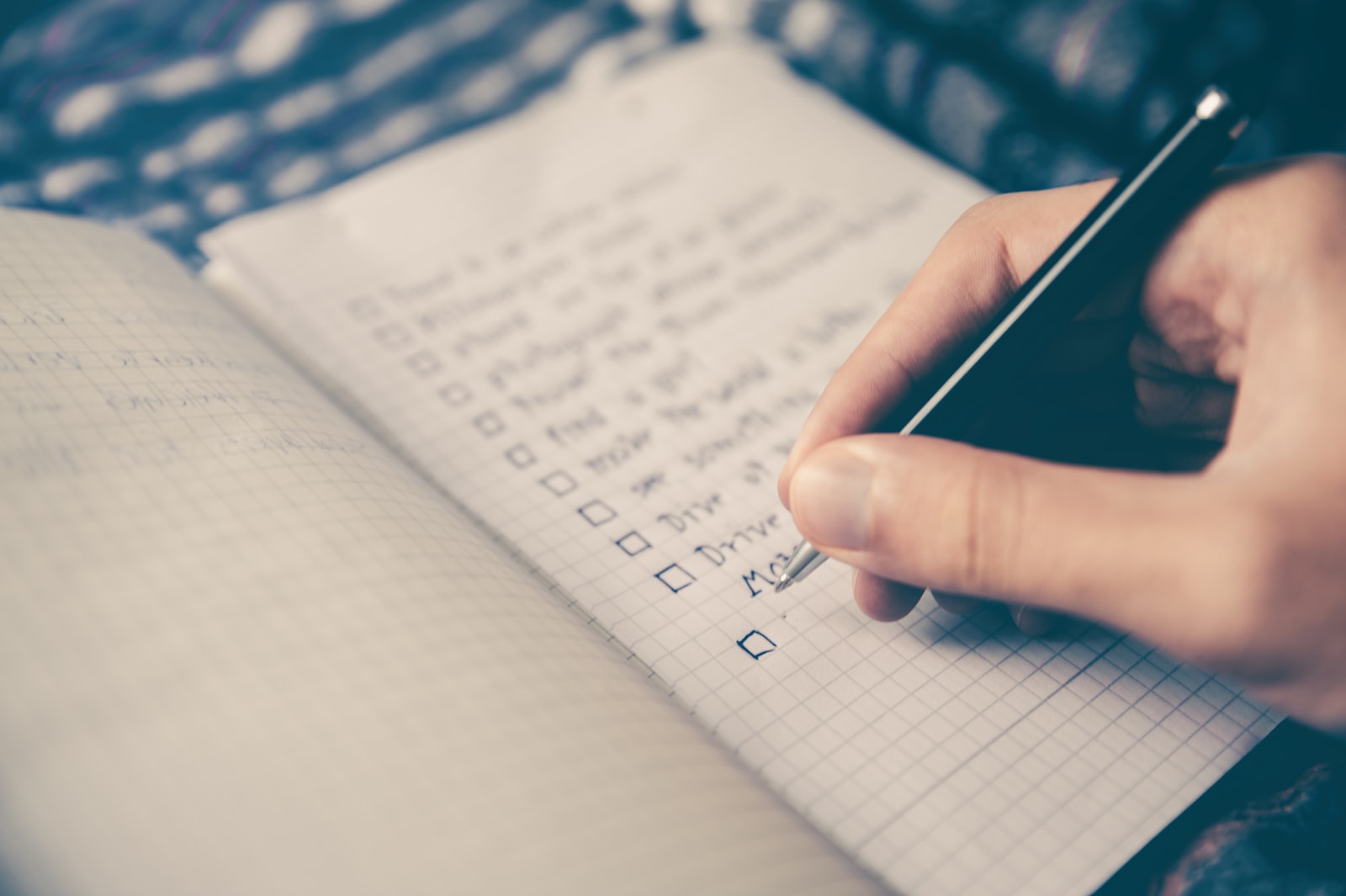 While bringing a physical notebook on holiday with you can seem super old school when we have phones and tablets, it's an absolute essential for bloggers. A notebook is your fallback for the times when long travelling days or remote destinations means that you don't have charged devices or access to the internet. Having a notebook on hands means that you can still get your thoughts on paper right away and start drafting those blog posts while you're on the road. It's a huge help to get a start on content creation right away rather than having a huge backlog to work through when you get home.
A notebook can also be useful for making notes on the go in situations where it might not be as socially acceptable to pull out a laptop or tablet such as on a day tour. It's also a lot lighter so you don't need to stress about using up the baggage allowance.
Look for hard-cover notebooks that are more durable and less likely to get squished in your bag. Something that is small enough to fit in a handbag or daypack is best.
Recommended by Kate from Kate Abroad
Noise-cancelling headphones are going to be one of your best travel items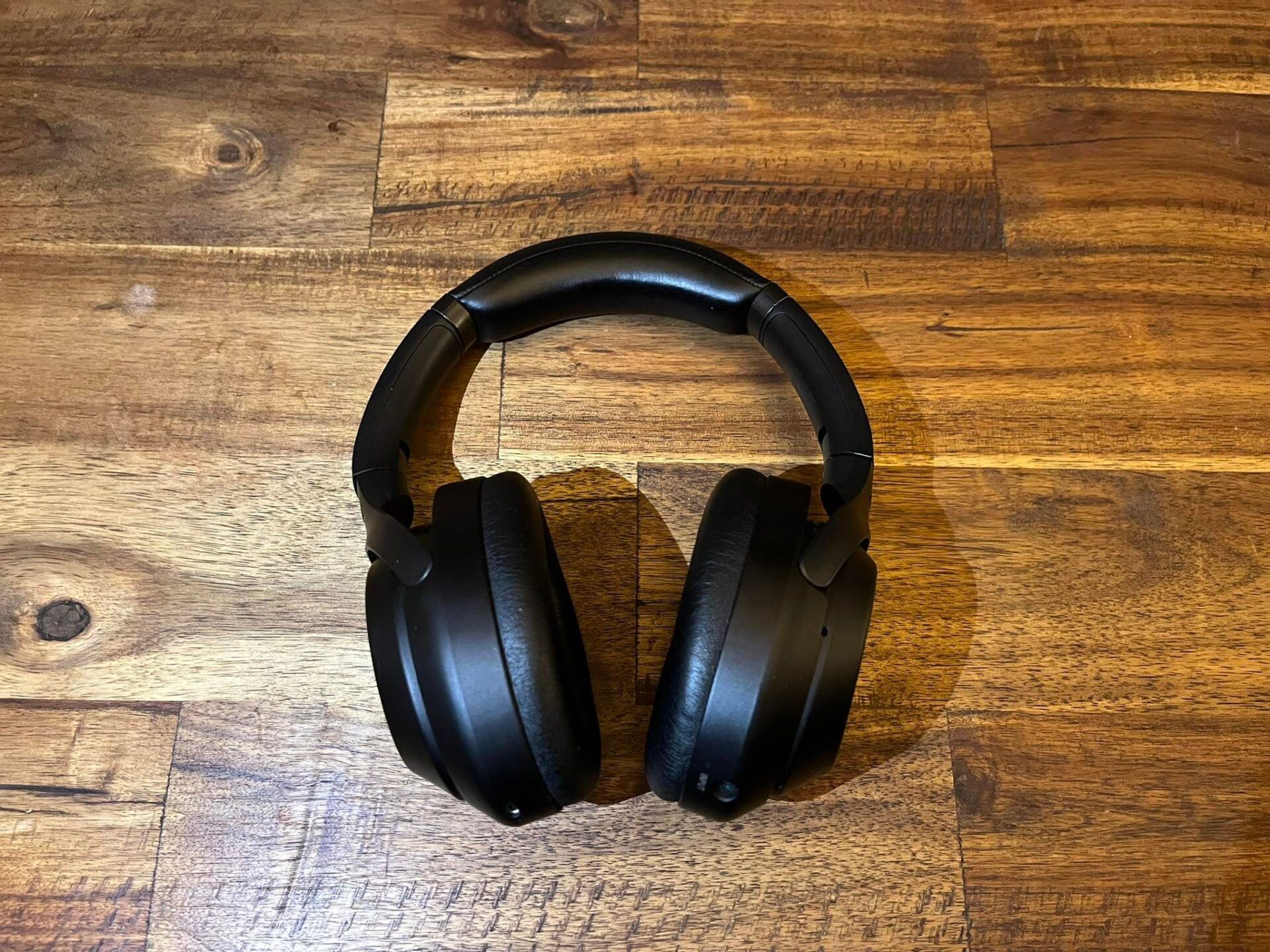 Travel bloggers spend a lot of time (if not all their time) away from the peace and quiet of their home. It's essential to have a way to block out the noise around you in order to get some rest or concentrate on writing or creating your content.
Noise-cancelling headphones are an essential part of the travel bloggers' kit, and the new Sony WH-1000XM5 noise-cancelling headphones is one of the most popular options.
These headphones have some of the most advanced noise-cancelling on the market making them perfect for blocking out the sound of jet engines, screaming babies, train wheels or anything else that can distract you from your work. In addition to the noise cancelling, the sound quality is fantastic, often touted by audio experts as one of the best wireless headphones in the price range.
Finally, one of the best packing tips for travel is to pick out a set of headphones that can fold up. These Sony headphones fold flat making them easy to throw in a backpack or travel pack, essential for content creators on the go.
Recommended by Delilah from Ourtravelmix
A smart travel product, Peak Design Camera Clip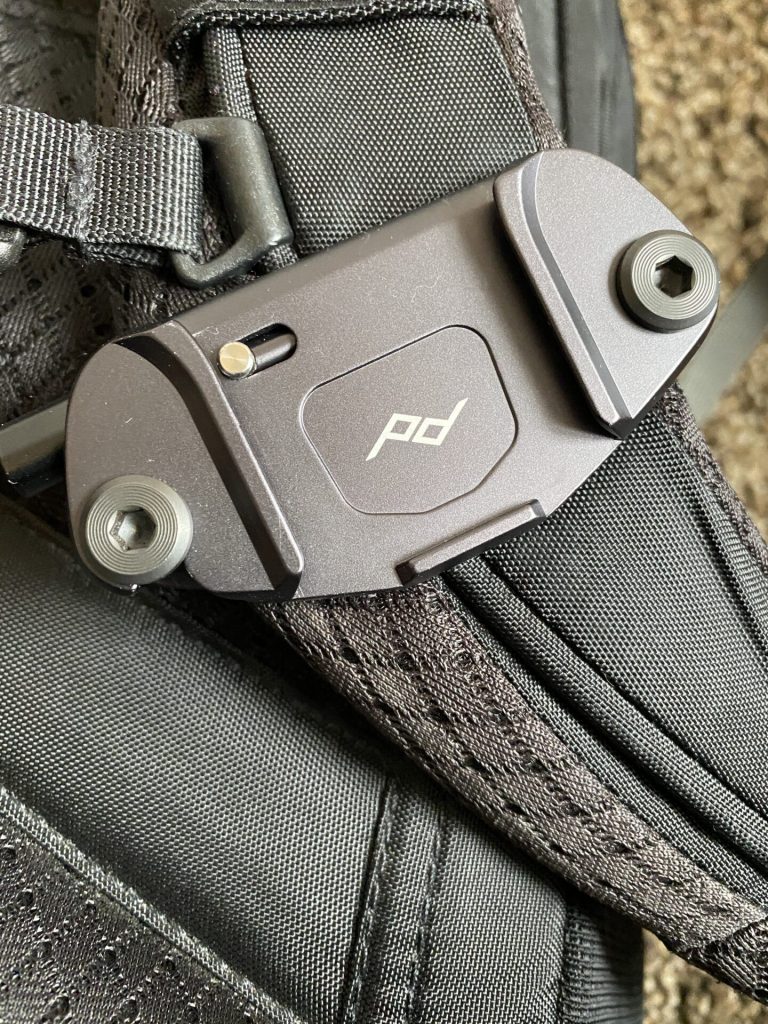 If you are a photographer, you know that sometimes travelling and exploring all day with a camera around your neck can cause a lot of neck strain. The Peak Design Camera Clip is one of the best travel accessories for travel bloggers who love to take photos too. It sure does make travel easier.
The metal Peak Design camera clip easily clamps to your backpack strap for a secure and convenient way to have your camera accessible as you sightsee. Add an Arca tripod-compatible plate to your camera. Your camera then clips on and off the camera clip with the push of a quick-release button as you need to use it throughout the day.
Recommended by Jolayne from Simplyjolayne
Solis Device for access to reliable internet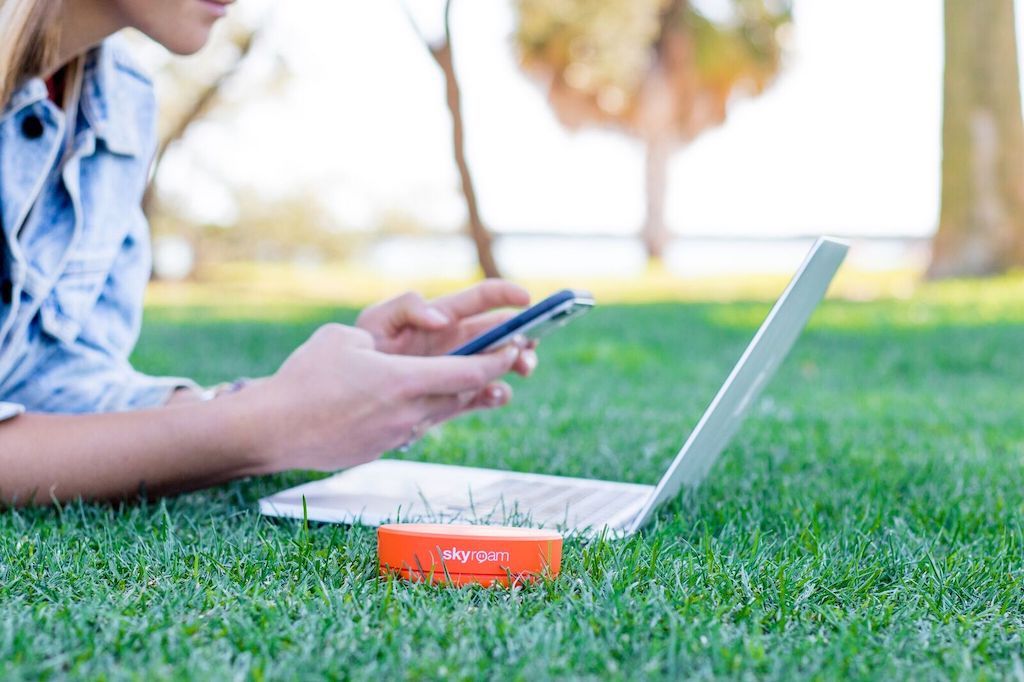 As a travel content creator, you need access to reliable internet no matter where you are, and Solis is one of the best travel accessories you can have as a content creator.
It is your own personal wifi hotspot that gives you access to the internet in over 130 countries. It gives you the freedom to run your business no matter where you are and post content at any time without having to search for wifi at a hotel or restaurant.
What makes Solis different from most other personal wifi devices is that you purchase your wifi access directly through Solis, and you don't need to purchase a separate plan through a traditional phone company.
You can connect up to six devices to a single Solis device, and you have access to unlimited wifi every month. Solis also has a few neat built-in features including a camera and the ability to share your location with a loved one back home.
Solis gives you the ability to run your business how you want wherever you want without limitations and is a must-have travel accessory for travel content creators. The Solis device costs $179 to purchase, and the price of wifi depends on how you purchase it. You can pay $9 a day, $90 per month, or $9 per GB
Recommended by Erica Riley of Travels with Erica
Waterproof Waist Pouch to protect your travel documents
A waterproof waist pouch should be on the packing list of every travel blogger and content creator. The pouch can be used anywhere from swimming in cenotes in the Yucatan to enjoying canyon-side hot springs at Grutas Tolantongo. It can even be worn in saltwater during beach days or snorkelling excursions.
In addition, waterproof waist pouches can hold everything from credit cards and cash to room keys and cell phones. All without the hassle of wearing a neck pouch in the water that gets tangled with every move. Plus, it alleviates the need to carry a backpack or handbag everywhere on water excursions since all of the most valuable essentials are stored safely with you at all times.
A good waterproof waist pouch will have a triple-seal closure in addition to the roll-down Velcro that secures it shut. This ensures electronics and paper items stay perfectly dry. In addition, an adjustable waist length allows the pouch to fit a variety of bodies.
Recommended by Brodi of Our Offbeat Life
Every travel blogger needs a smartphone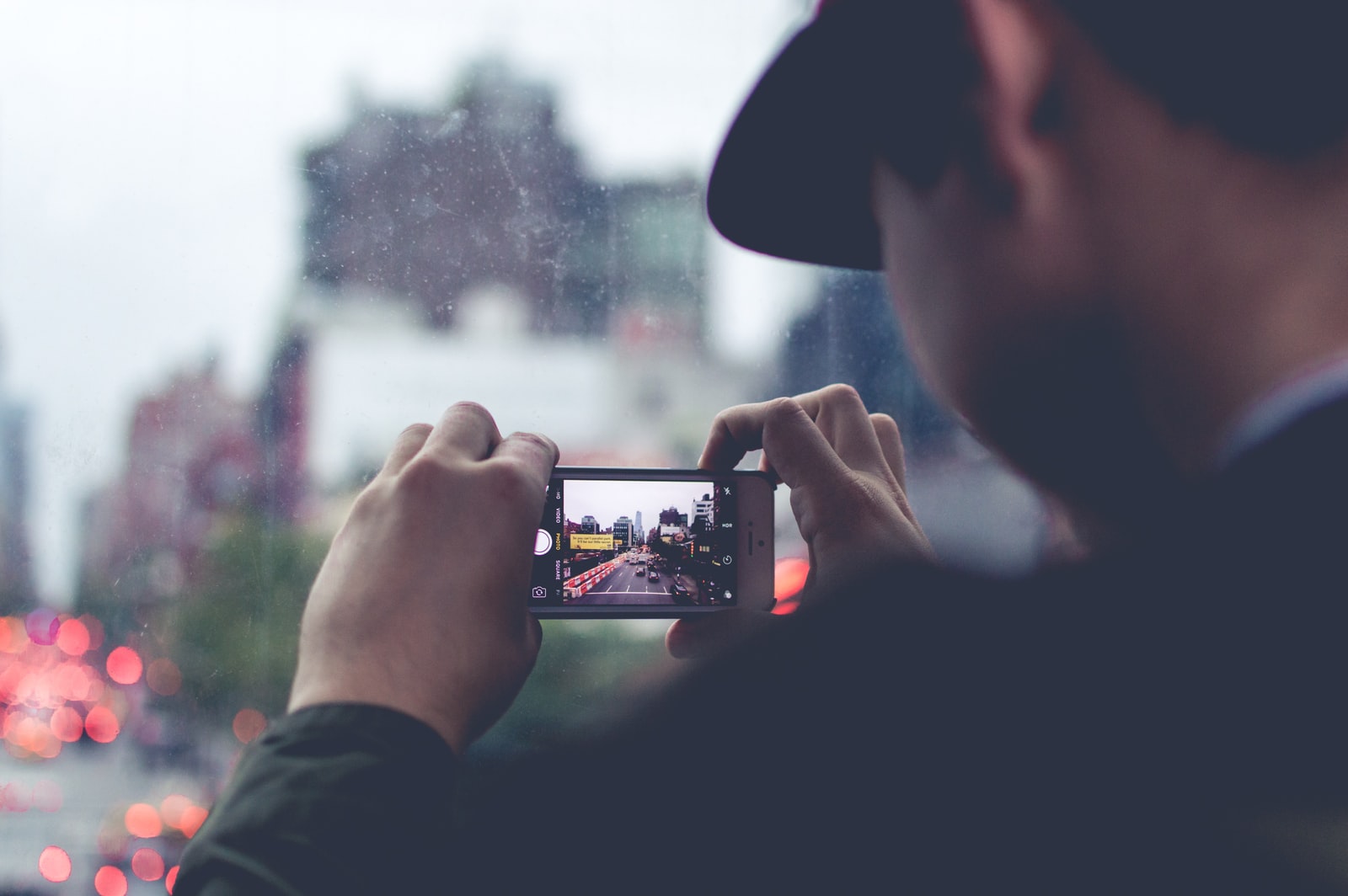 One accessory that travel bloggers can't live without is the amazing iPhone. This smart device has it all!
Just a few years ago, you would have to lug a heavy-duty DSLR camera everywhere just to get a decent photo. These days you can travel light, hiking in faraway places without all the bulk!
The best of what Apple has to offer is the amazing iPhone13 Pro. With its newly redesigned lens, this ultra-wide camera can focus at just 2 cm! It can capture even the smallest details and transform them into magnificent works of art. You will also love that it excels at night photography, capturing details that most standard cameras would miss.
For those that have long days on the road, the iPhone 13 Pro has a vastly improved battery life than in prior years. This is essential for families travelling who use it as a multi-device to watch movies or play music. However, the iPhone 11 & 12 Pro are more affordable and good options for travel bloggers too.
An iPhone these days is also essential to travel bloggers when travelling overseas. After landing at your destination, make a quick stop at a cellular store to get a compatible SIM card.
Keep in mind your cell phone number will be different. But this is a convenient way to continue using your own device. Each country varies, so we recommend researching your trip destination to avoid compatibility issues.
Recommended by Erin from Erins Travel Tips
Universal Portable Charger is a game-changer for bloggers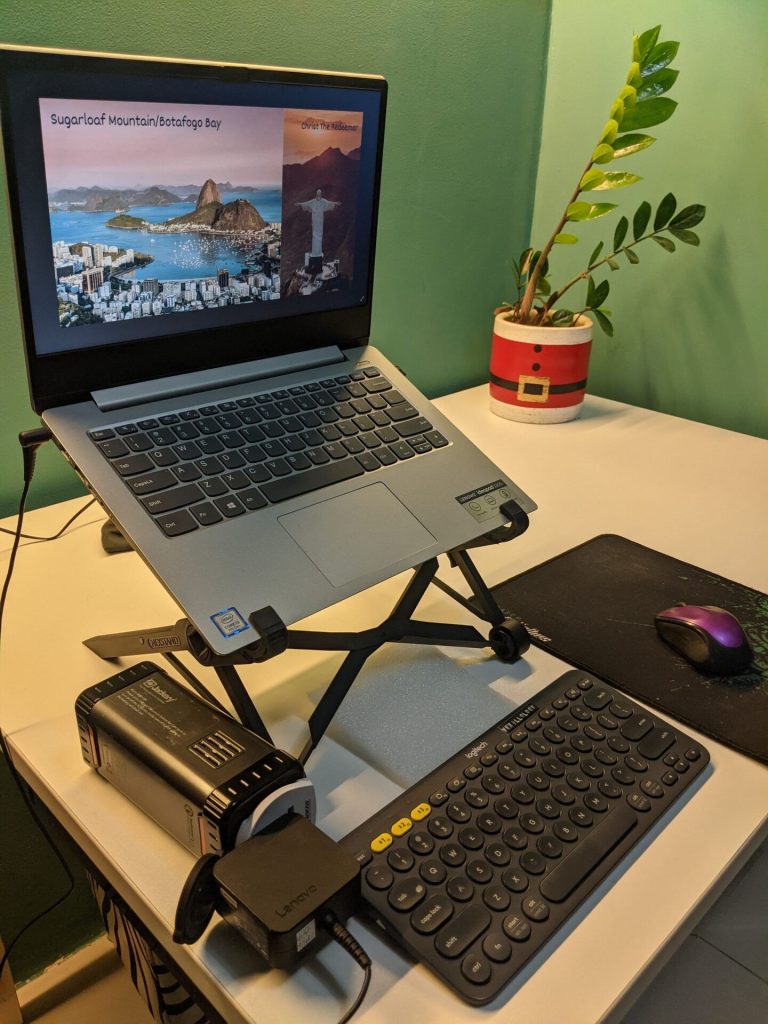 Carrying a universal portable charge is such a game-changer. Finding a power plug in an airport can be a challenge. You have a few hours to kill and hope to use it to do some work, but it's hard to get anything done with a limited battery.
This "power bank" does not only work for a mobile phone, you can also plug your laptop and have your own source of electricity anywhere at any time. It uses AC and features 200V or 80W. It also has three ports; a quick USB port, regular 5V/2.4A, and USB-C in/out 5V/3A. From charging your laptop, mobile device, camera, and even your phone's power bank.
The only disadvantage of this fantastic accessory is how you have to explain to the security checks at airports what it is since you cannot check it in with your luggage. It also weighs about 1 kg (2.2 lbs).
Recommended by Elizabeth of Three Week Traveller
Drone to capture unique content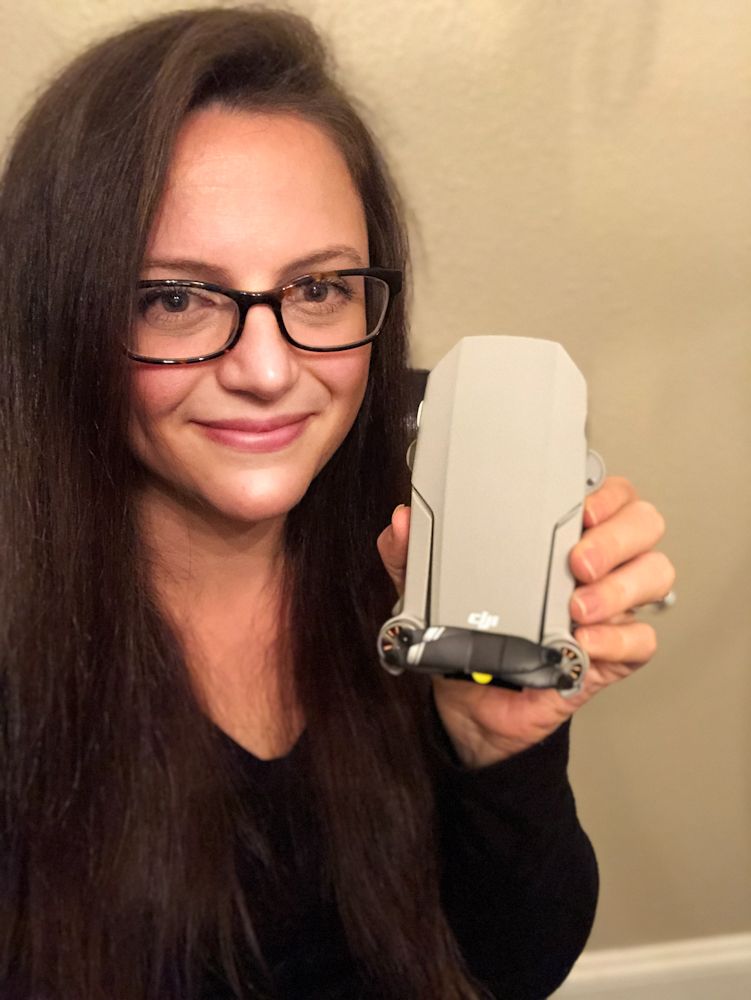 You are preparing to travel and want to take great photos, so you pack your camera. A camera is great not only to capture moments in time for yourself but also be able to share your adventures with your travel community. But what if you can capture those moments from a different perspective like from a bird's eye view. That is where adding a drone to your packing list comes in handy. There are tons of drones out there on the market, so which one should you choose?
The DJI Mavic Mini Series is perfect for travelling. There are 3 drones currently in this series, Mini SE ($299), Mini 2 ($449), and Mini 3 Pro ($759) which just hit the market in the past few weeks. Each one has been improved upon as it's come to market, hence the increasing price point. The reason these are perfect for travelling is that they are small enough to fit in the palm of your hand, easy to use, take great photos and videos (2 and 3 take 4K), and weigh <249 grams, so for most countries they don't require registration (unless being used commercially). So, don't leave home without it.
Recommended by Dr. Rachel from TheRxForTravel
One of the best travel hacks, Inflatable Camping Pillow plus laptop support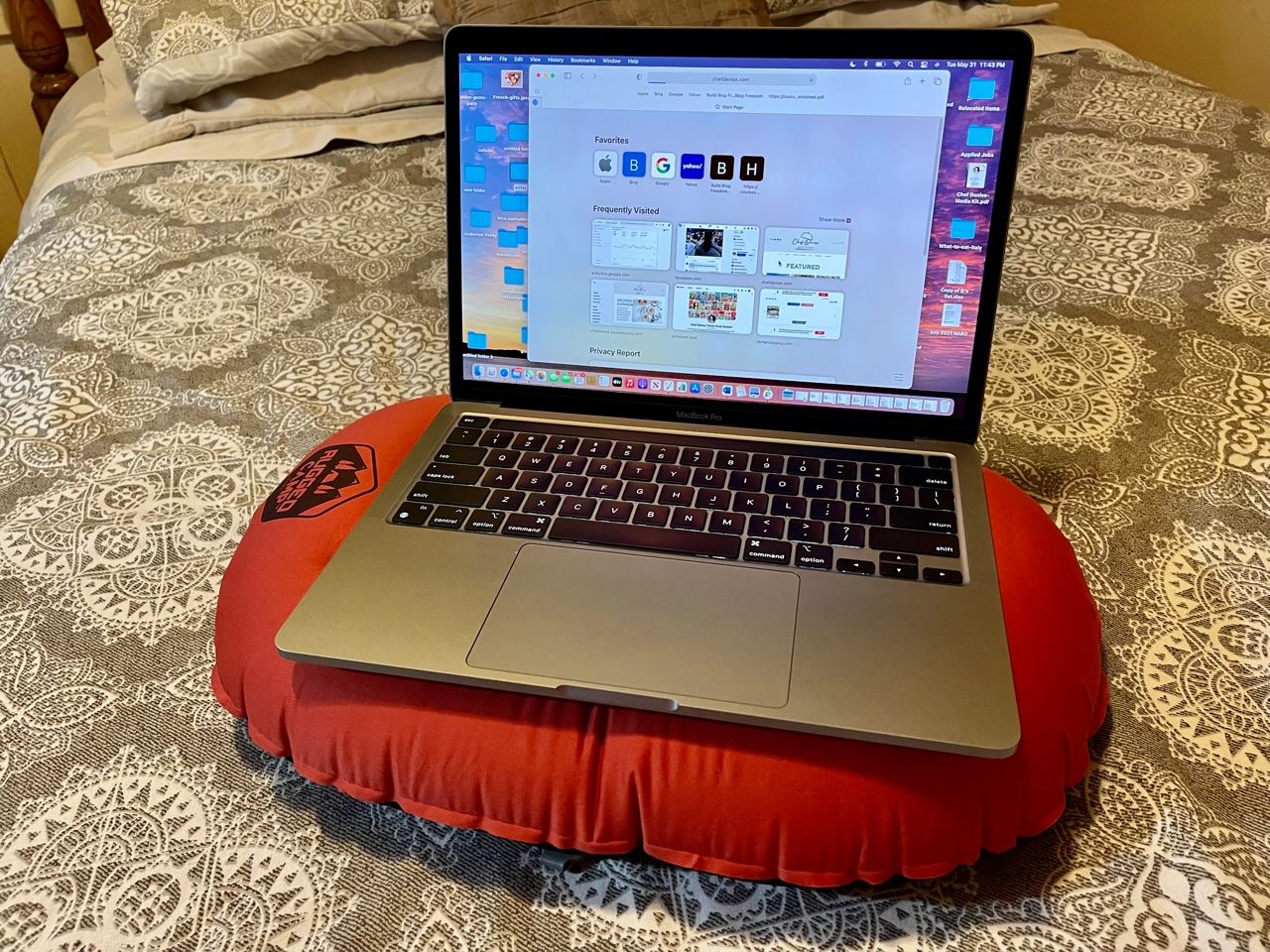 Every travel blogger needs an inflatable camping pillow. Sure, a pillow can come in handy if you're crashing on someone's couch, but it also can be used to help with workspace economics.
Let's face it, working on laptops on your lap is really horrific for your neck. So, when there's no desk in a room, a little pillow on your lap can make a huge difference. Or if you need lumbar support on a couch or a hard chair. Or it can give you a little extra height to read in bed. It can even be a make-shift meal tray to facilitate eating in your room. You'll be surprised by the uses you'll find for this simple pillow.
The Rugged Camp pillow doesn't require any special equipment to inflate. In just a minute, it is ready to go. Likewise, it deflates in seconds and folds neatly into the small carrying case that takes up very little room in your luggage.
Recommended by Denise from Chef Denise
Laptop stand
A nomadic travel blogger practically lives through his laptop, and an ergonomic laptop stand is more of a necessity than an accessory.
The two major points going for this model are the adjustable height and angle. When stretched to its full height, it allows you to stand and work. Since you can bend it up to an angle of 90 degrees, you can place the keyboard and the screen as per your comfort.
When it comes to sturdiness the stand is quite stable and designed to take on a load as heavy as 3 kgs. The hollow-bottom design allows the air to flow through keeping the laptop cool during a longer period of usage.
The stand is compatible irrespective of the make of the laptop, and up to a screen size of 15 inches. Also, you can use the stand as an iPad or large tablet holder – especially handy while watching movies.
The stand's compact size and light weight make it easy to fit into a backpack that you can carry along easily.

Recommended by Vidyut Rautela from Triplyzer
There are many more items and gadgets that can help content creators and travel bloggers to focus on creating great content, but if you are just beginning out then this list is perfect for you and will give you a great start to your blogging career and will give you an idea of what other bloggers are using. Also you may not need all these items depending on what your niche and blogging style is.
Remember to Pin and Share if you found this useful 🙂