When you think of Italy, you probably think of Rome, Florence, Venice and Milan. Turin is somewhat less unknown but as we discovered is a charming city to visit. There are so many things to see and do in Turin, Italy; from the amazing Aperitivo where you can enjoy the city on a budget to the grandeur architecture that takes you back in time. We are proposing our top 10 things to do in Turin.
Where is Turin?
Turin (also known as Torino by the locals) is the capital city of Piedmont in northern Italy. In fact, Turin has one of the oldest Royal History's. It was the birth town of the first King of Italy; Vittoria Emanuelle II of Savoy. This place won't disappoint, with its beautiful piazzas, cathedrals, historic cafes, museums, food and shopping.
Here are my top 10 best things to do in Turin, Italy
1. Start with a free walking tour of Turin
We did a city tour with Angelo (with Free Tour Turin). It was one of the best free walking tours we have done. Angelo was passionate and knowledgeable about his city. He is also an avid traveller and shared many interesting stories of Turin's history and present day.
The tour is between 2-3 hours, in between you may have a short stop for a tea/coffee/juice.
These tours take place From Thursday to Monday at 10.30 AM from Porta Nuova metro station exit.
Angelo will walk you through many areas including Via Roma, Piazza San Carlo, Piazza Carignano, Piazza Castello, Duomo Torino and Via Po. He can also give you good recommendations on where to eat and any other queries you may have.
It is great to start with the tour because in the end, you can always revisit the places that you want to see in more detail.
Don't hesitate to tip your guide if you liked the tour.
2. Visit the Roman Palatine towers
An ancient Roman medieval structure in the middle of Turin. It is an example of a typical Roman gate.
The angular towers are more than 98 ft. This towering structure was supposed to be destroyed in the 18th century but luckily the Duke was persuaded to preserve this piece of history. The Palatine Towers are now part of the archaeological park that has been created in this area.
3. Visit the many Piazza's and Palazzo's in Turin
The biggest square in town is the Piazza Vittoria Veneto; it is at the end of Via Po and directly faces the river and is a nice place to be during the Aperitivo time; One of the most notable; Piazza San Carlo in a typical baroque style.
The area is pedestrianised and is famous for its elegant and expensive cafes.
Here you will see the impressive twin churches of Santa Cristina and Santa Carlo Borromeo. Also present is the statue of Emanuele Filiberto, the duke of Savoy.
Piazza Castello is at the heart of the city, the Palazzo Madama is located here, full of changing history it is now a museum that houses ancient art.
There is also the city's opera house. You will also see a sort of brick skyscraper; which doesn't seem to really fit in. The building is from the fascist era, Torre Littoria; it was supposed to be the headquarters of the Fascist party but was never the case, now it is used as a residential/commercial building.
The Palazzo Reale (Royal Palace of Turin) is located nearby and connected to this building is the Chapel of the Holy Shroud. The Holy Shroud was bought to Turin by the Savoy family in 1578 and some believe that this was the original cloth worn by Jesus.
Not too far is the Palazzo Carignano, with one side a typical red brick baroque style building and the rear a 19th-century facade. This is now the National Museum of the Italian Risorgimento.
4. Visit a museum
You have a few great choices but our favourite was the Museo Egizio as I am always amazed by Egyptian History.
The Egyptian Museum houses over 30,000 Eqyptian artefacts and is really a historian's heaven. To avoid long queues you can book the Skip the line guided mystery tour.
Another striking building that really catches your eyes is the Mole Antonelliana, one of the tallest Museums in the world reaching 167.5m tall. It now houses the Museo Nazionale del Cinema; the National Cinema Museum all about film and cinema culture.
If you are a fan of automobiles, then you can also visit the Museo Nazionale dell'Automobile. For history lovers, you have the Royal Palace of Turin.  
5. Aperitivo time
If you are in this beautiful city then you cannot miss the "Aperitivo time"; definitely my favourite time of the day and Turin has a great atmosphere for this as well as being the home of Martini Rosso, Cinzano and Gancia.
You will find some lovely historic and grandiose cafes where you can have an aperitif dinner between 6-9 pm. All you can eat buffet which includes cheeses, cold cuts, canapes, salads, pasta and vegetables plus a drink for between 10-15 euros.
There are many choices and you can always walk around and look at other peoples plate to see if it looks good to you.
6. For those with a sweet tooth
Don't forget to try the famous "bicerin" at the historic cafes.
There are many lovely cafes to try but a recommended famous one (expect to pay a higher price) is at the Café Mulassano, Piazza Castello or at the Caffe al Bicerin founded in 1763.
For those who are wondering what a bicerin is? Bicerin is made from espresso, chocolate and whole milk or cream; served in layers in a small glass.
7. Another one for chocolate lovers
Go home with a box of Gianduiotto, a speciality of Turin since 1865. These individually wrapped chocolates look like an upside-down boat and are made from sugar, chocolate and hazelnut. You can buy these mouth-watering, melting pralines in the historic cafes or specialised chocolate shops, they make for a perfect present for home.
8.  For a free beautiful view of Turin
Go to the Chiesa di Santa Maria del Monte dei Cappuccini especially during sunset or sunrise, you will have a magnificent view of the city overlooking the River Po.  
9. Shopping
Well, you will not be disappointed with the shopping, there is over 18 km of beautiful arcades. You will find all kinds of shops to suit your budget.
Head to Via Garibaldi or Via Roma is where you will find luxury shopping. We also saw many second-hand bookstalls along the arcades.
If you love markets then make a visit to Porta Palazzo market in Piazza della Republica, (we did not have enough time) but were recommended this one.
We were also recommended to visit Eataly in Via Nizza 230 and the morning market in Crocetta, just off Corso Duca degli Abruzzi. So another excuse to go back to Turin.
10. Turin is a city of Churches and Cathedrals
You can walk all day visiting and passing by magnificent architecturally built Churches and Cathedrals; here are a few you can put in your itinerary:
Chieso Dello Spirito Sancto, The Holy Spirit Church which is near to Piazza Castello
Santuario Basilica La Consolata Church
Duomo di Torino, this is where the 'Shroud of Turin' is kept, the next scheduled time it will be displayed is for 2025. The shroud is kept in a temperature-controlled box to avoid any exposure to light.
Cappella dei Banchieri e dei Mercanti , a Catholic Chapel in the historic centre
Basilica di Superga, You can take the 'tranvia', old tram up the steep hill (about 15 minutes) and then enjoy the beautiful view of the city and the river Po.
TIPs
Depending on how long and what you are planning to visit in Turin; a Torina Piemonte card can save you money on Museums and other tourist attractions and activities
We stayed in the Pacific Hotel Fortino, when we arrived at this hotel we didn't get a good feeling of the location, the hotel was quite far from the city centre. Our advice would be to choose a hotel in the centre because this is where all the real action is.
June and July is the best time to visit Turin along with Spring or Autumn
Avoid travel in April/May as the big Automobile salon takes place and accommodation prices will rise.
If you are a restaurant lover, maybe avoid August as a lot of restaurants may be closed.
We did not get time on this trip but if you want to visit some nice places outside of Turin, we were recommended Aosta, Chianale, Garessio, Macugnaga, Mombaldone, Orta San Giulio (see Lake Orta), Ostana.
We would love to hear your comments and recommendations as well; what did you visit on your trip to Turin?
Thanks and see you on our next adventure.
Asha
Remember to pin for later 🙂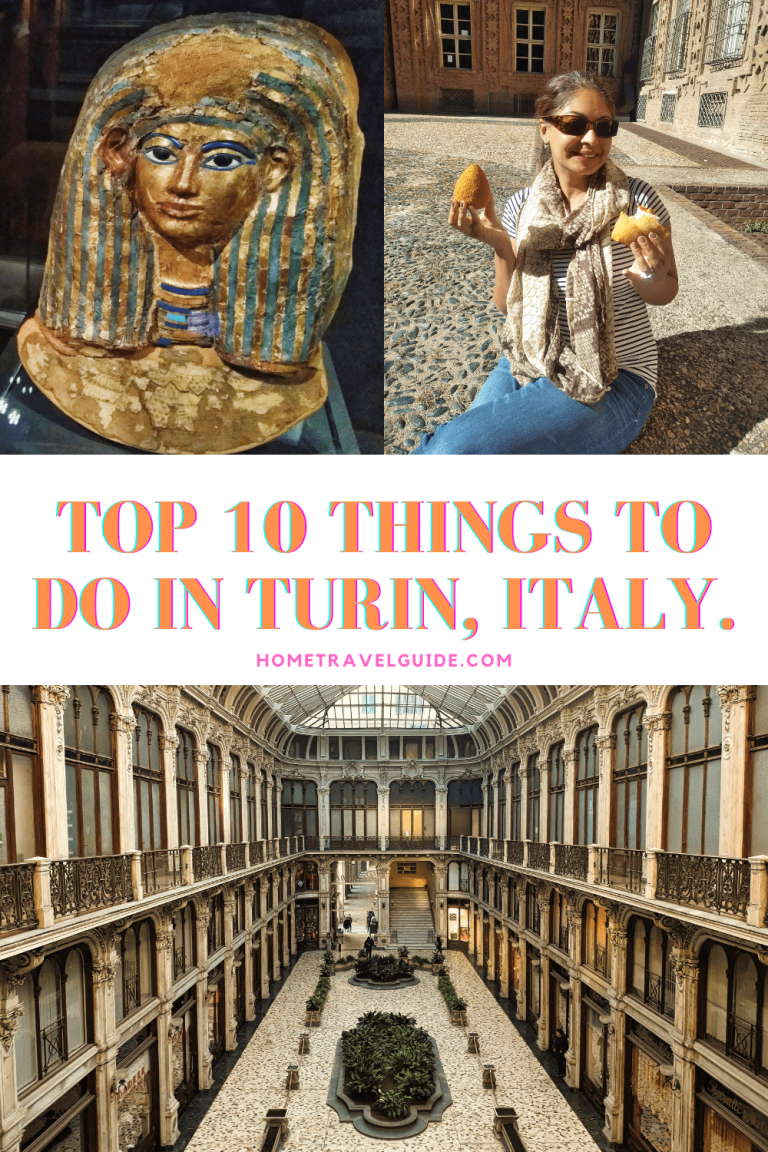 You can follow us on our Instagram for more travel inspiration @travelingbambinos