Why you should visit Chiang Mai?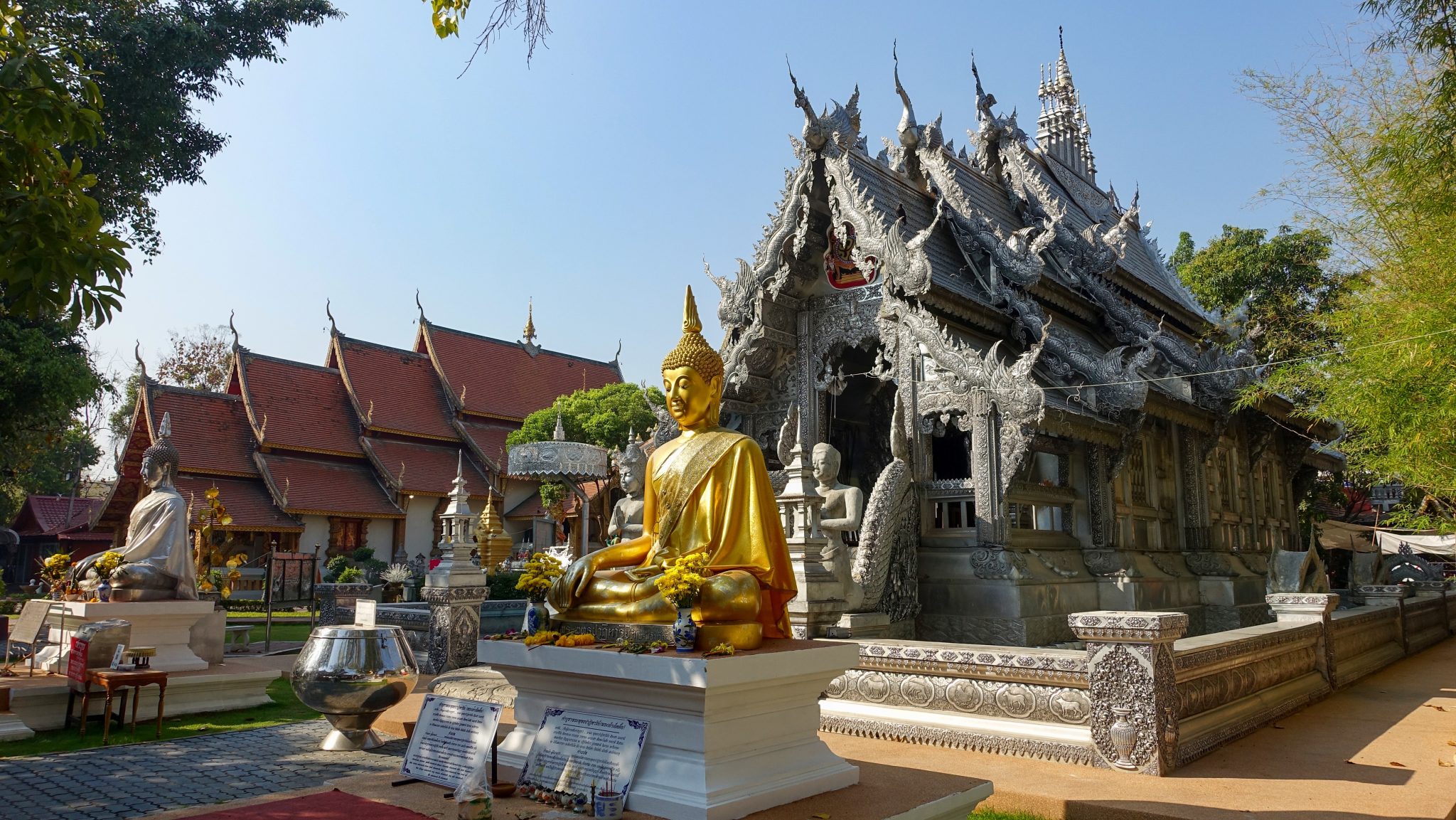 Are you looking for a unique, adventurous, and a culture full of richness for your next destination trip? Chiang Mai City, Thailand is your place. It is the largest city in Northern Thailand and 700 km away from Bangkok.
Chiang Mai offers you mountains for trekking, temples to visit, restaurants and coffee shops to enjoy, elephants to praise, markets to shop and spas to relax. This city is a must and should be on your bucket list.  However, before you visit here are a few practical tips to organise your Thailand travel.
Read our detailed 10-day Itinerary for Northern Thailand here.
Where is Chiang Mai and how do you get there?
Chiang Mai is in Northern Thailand. There is an international airport located about 3 km southwest of the old city. You can also book flights from Bangkok to Chiang Mai which take less time than the bus and train. If you are arriving from the airport then we recommend booking your stress-free and reliable pick-up from here, rather than queuing and ending up paying more to get to your hotel.
You can also get a bus to Chiang Mai from Bangkok, these buses take around 12 hours costing between 450-900 Baht depending on the service provided on the bus. There is also the train that takes you from Bangkok to Chiang Mai by train taking between 11-14 hours; the price is between 580-1653 Baht.
When is the best time to go to Chiang Mai?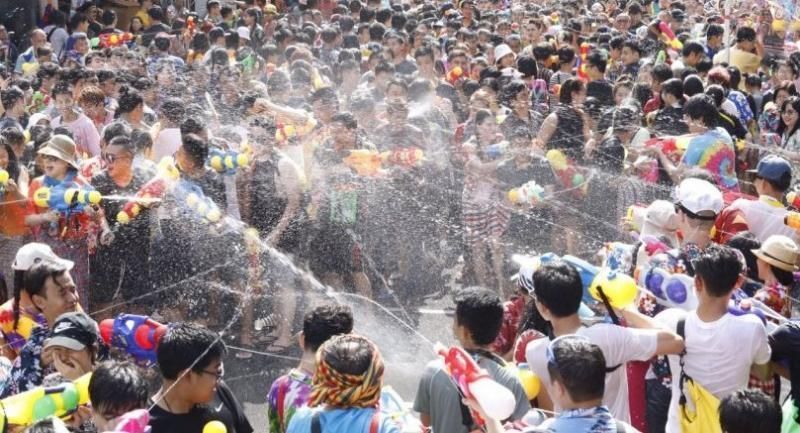 Thailand has basically two seasons, rainy from (May to October) and dry season from (November to April). The low season is between the rainy season and during those months there are no famous festivals to attend. Nevertheless, throughout the dry season there are plenty of festivals and activities to join and here are some highlights:
Festivals in Thailand that you must visit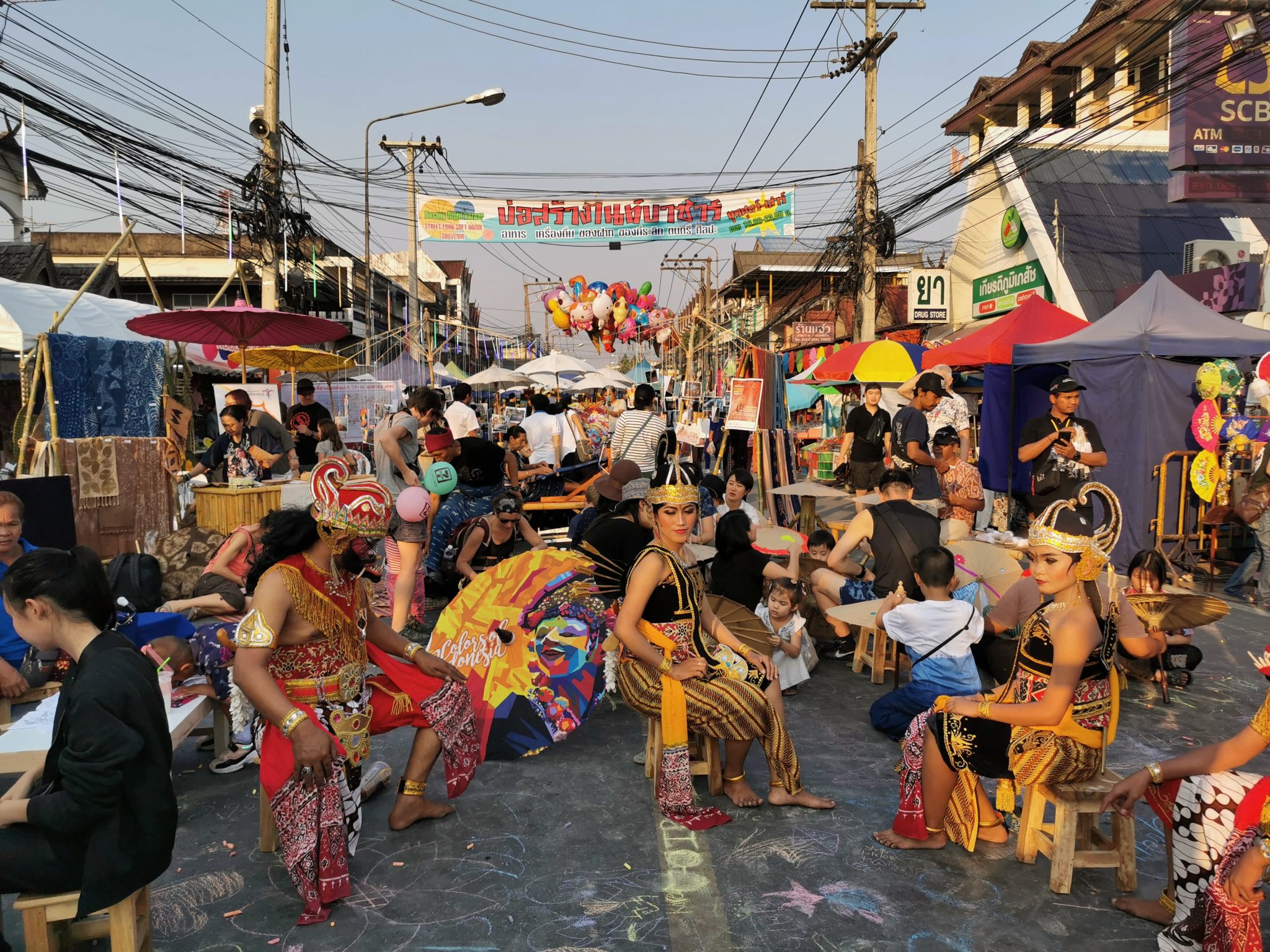 November to February: This time of the year is the most comfortable time to be in Chiang Mai because the temperature hovers around 24°C. Also, around November Loy Krathong and the Yee Peng Festival are celebrated and you do not want to miss these spectacular lantern festivals.
LOCAL INSIDER TIP – A beautiful festival which many tourists don't know about is the A very special festival the Bo Sang Umbrella and Sankampang Handicrafts which happens in the month of January. Colorful umbrellas decorate the streets with parades and street food vendors. It is also a chance to buy some locally resourced gifts for your family and friends back home.
In February, the flower festival is celebrated and the old city around the moat is closed and there are some parades. The most popular places in Chiang Mai to experience the Flower Festival are Thapae Gate, Nong Haad Buak Public Park, and the area around the southwest corner of the moat.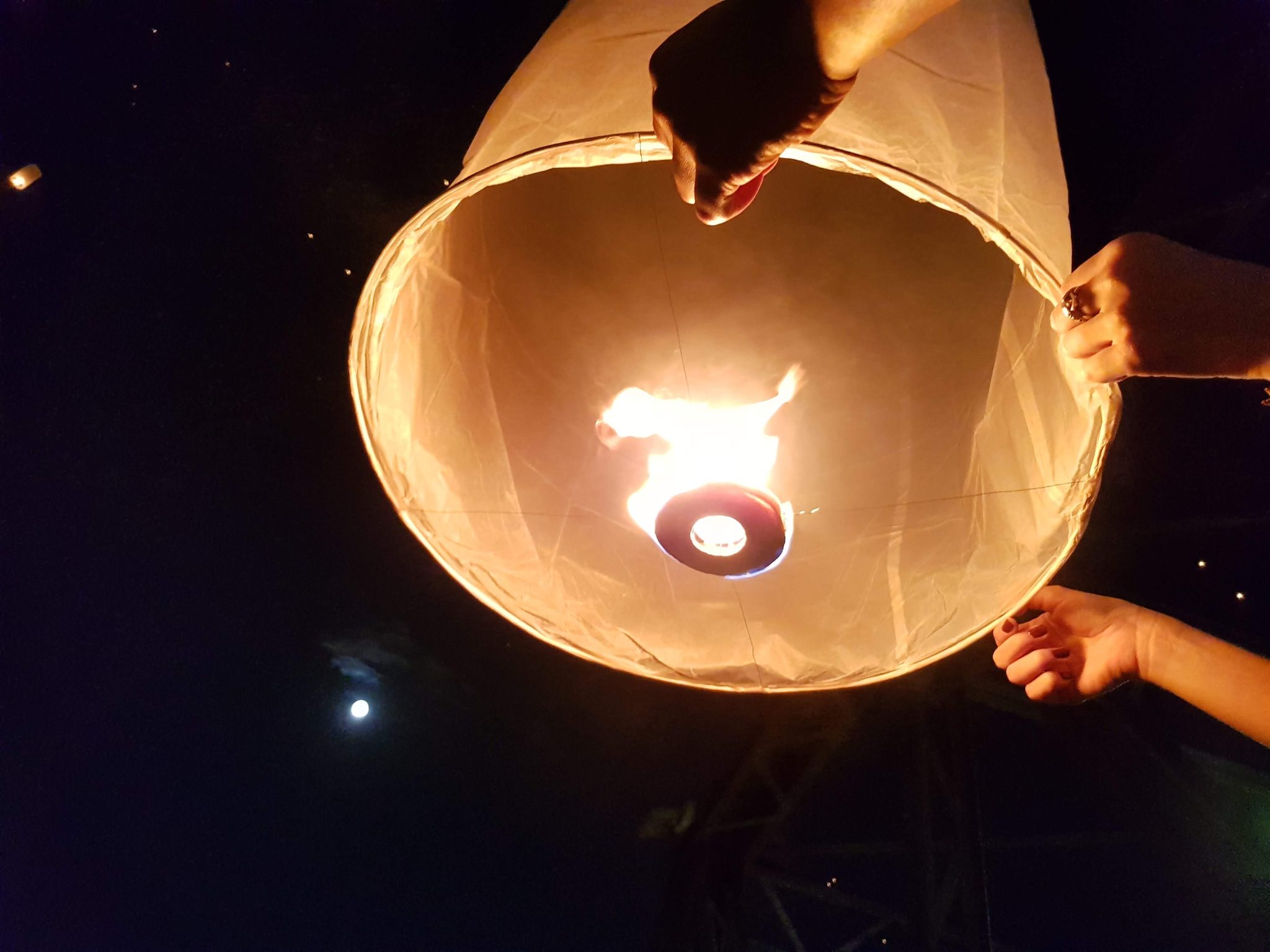 In April there is a major Thai holiday is Songkran, the Thai New Year. It is celebrated around April and there are various Buddhist ceremonies, but the major attraction is the water war. Everyone goes to the streets with buckets and water guns!
What is the best area to stay in Chiang Mai?
There are many locations to stay in Chiang Mai and depending on your budget you can find some of the best accommodations in Chiang Mai. In Chiang Mai, you will find plenty of cheap and clean hostels (from 3 USD), budget hotels (30 USD) or 5-star hotels (150USD ++) and eco-resorts. It is also important to decide if you want to be centrally located or in the suburbs.
Most of the people prefer to stay around the big square because many temples, spas, shops and restaurants are located there. The straight line on the left is also a trending place to stay because of the restaurants/bars and the well-known hotels. This area is known as Nimman (Nimmanahaeminda Road). Book your best accommodation deals here.
What to do in Chiang Mai?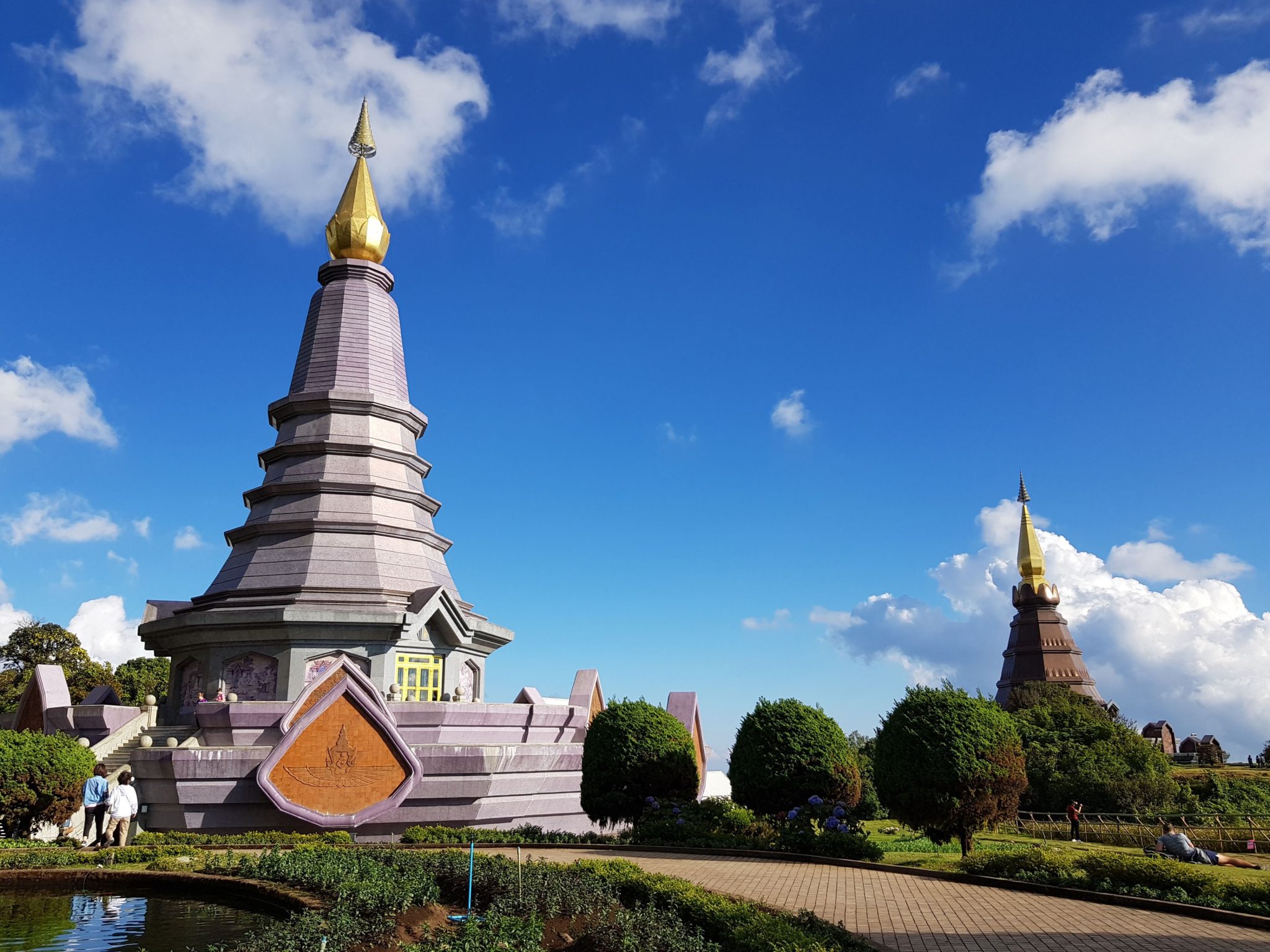 There are so many things to see and do in Chiang Mai. As there are so many attractions in Chiang Mai Thailand I have narrowed it down so that you see the best of Chiang Mai. Here are some of the best things to do in Chiang Mai during your time here.
Chiang Mai has around 117 temples so make sure to add some to your must-visit list Wat Chedi Luang: Also known as the Jedi Luang and "The temple of the Great Stupa", it is located in the ancient walled part of the city. This is one of the oldest temples and the most notorious feature is the enormous and very remarkable chedi (pagoda). This temple was arranged by King Saen Muang Ma to enshrine the ashes of his father and the creation began in 1391 and lasted almost a century.
Wat Phra That Doi Suthep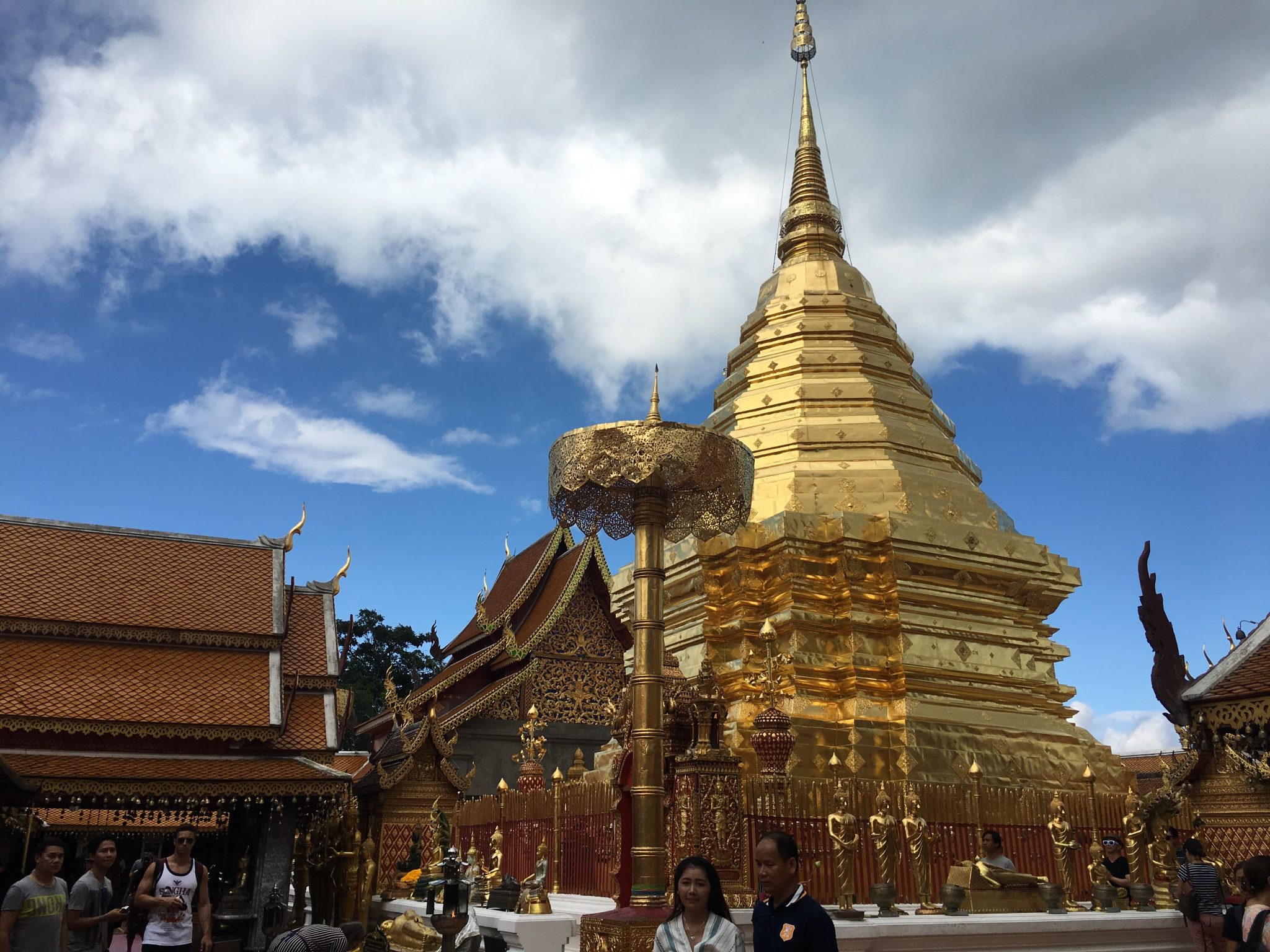 It is the most visited temple in the city because it is on the top of the mountain Doi in northern Thailand. To get there you have to hire a taxi and the drive is around 20 minutes from the city. When you reach the entrance, you have to walk up the 300 steps of the mythical Naga Serpent Staircase. On reaching the top you are welcomed with the golden spire at the centre. On the outside of this central enclave area, you will find the memorial to the White Elephant and the story of how the temple on Doi Suthep was founded. There is a walkway around which directs you to a large viewing terrace with wonderful views of Chiang Mai.
Elephant Sanctuaries in Chiang Mai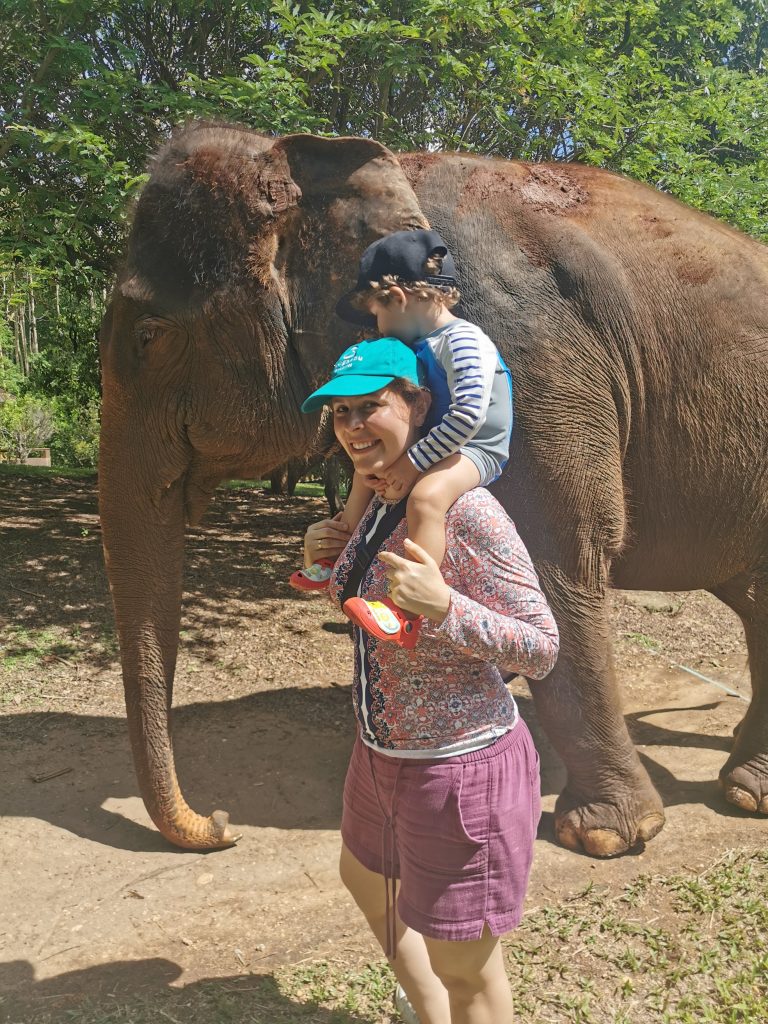 There are many places where you can visit and see the elephants however please be aware that many places have the elephants chained and beaten to train them for shows and rides, the best places to visit are responsible elephant sanctuaries that offer a natural and ethical way to see these incredible gentle giants.
One of the well-known sanctuaries in the city is Elephant Nature Park. The elephants here are mostly rescued and rehabilitated and free to interact and play in their natural environment. If you are interested in booking some ethical places to see elephants then check out some of these ethical and responsible tours.
Trekking
Chiang Mai is a trekking paradise
Chiang Mai is a trekking paradise and is one of the top things to do in Chiang Mai. It is a very popular activity as the city is surrounded by mountains. The most famous places are Doi Suthep–Pui National Park, Doi Inthanon National Park, Ob Khan National Park, Mae Wang National Park, Si Lanna National Park. The first two are the most visited.
Doi Inthanon
Doi Inthanon is one of the most popular national parks in Thailand. It is famous for its beautiful waterfalls notably the Mai Ya waterfall regarded as one of the most beautiful waterfalls in Thailand.
Kew Mae Pan Nature trail
For spectacular views, don't miss the Kew Mae Pan Nature trail. The weather can get quite cold as it is at higher elevations (it is the highest peak of Thailand at around 2560 metres). At the top, there are two pagodas surrounded by lush gardens. The entrance costs around 10 USD for adults and 5 USD for children. Click here for the programs we would recommend.
Northern Jungle caves and kayaking
If you are looking for adventures in Chiang Mai then try the Northern Jungle caves and kayaking then there is a lovely tour that you can do here. You will be taken on a drive from the Northern Thai Jungle to Chiang Dao Valley. Then take a kayak trip on the Mae Ping River through the bamboo jungle. Finally, you will visit the Chiang Dao caves where a local guide will take you to see the Buddhist shrines in the cave. Lunch and pickup/drop off will be provided.
Segway tour
If you would like to mix culture with adventure then try the segway tour which is a 2-hour tour of the city; this is a fun way to explore the city of Chiang Mai; more details can be found in this Thailand Itinerary destination guide. Included is also an eco-canopy zipline adventure.
Take a Cooking Class
It is one of the fun things to do in Chiang Mai and the best way to taste Thai cuisine which is remarkable and famous for dishes with strong aromatic and spicy flavours. There are many local street food specialities that you must try which we have written below.
Travelling and food go hand in hand and the best way to experience this is by booking a local Thai cooking class. There are many cooking classes around the city which include a tour of the local market where you get the possibility to buy your local ingredients and learn about them. You then get to cook together and enjoy all the dishes you make. It is one of the best experiences to try here in Chiang Mai.
INSIDER LOCAL TIP for families with kids; if you are travelling to Chiang Mai with children then they are going to love this unique place in Chiang Mai. Visit Doi Saket and enter hobbitland; here you can enjoy walking through a bamboo path, follow the river that takes you to a suspension bridge and then enter the magical land of treehouses, a hobbit house, playground, a lovely restaurant and coffee shop. It is the perfect place to have a little chill out time and the kids will love it.
Get a Thai Massage, If you fancy a massage, Chiang Mai will look after you. Usually, a Thai massage in Chiang Mai will cost 3 USD an hour and a foot or oil massage is 6 USD an hour in the small shops. But also you have the option to visit the Oasis Spa. This spa is one of the best in Thailand with highly-trained therapists with specialized treatments and you can choose packages from 30 USD onwards.
What to eat in Chiang Mai?
When you are travelling, food offers us a window into a culture, people and a country. And when you travel through the local food, you can have a deeper and more meaningful experience which will enrich your time in Chiang Mai. These are some of the dishes you need to try in Chiang Mai:
Tom Kha Gai (Chicken in Coconut Soup): This dish offers people with a lower tolerance to spice the opportunity to taste a unique creamy coconut milk soup. Like most Thai foods, vegetarian options are easily adaptable by substituting a few ingredients.
Khao Soi (Coconut curry egg noodle soup): This soup is the signature dish from the North of Thailand and Chiang Mai is considered to have the best one. This tasty dish is available in chicken, beef, pork or vegetarian options and has a rich coconut curry base. Also, boiled egg noodles and is garnished with deep-fried crispy egg noodles, pickled mustard greens, shallots, lime and ground chillies fried in oil.
Pad Thai: This is one of Thailand's national dishes and is a go-to for tourists. Pad thai is a fried noodle dish which is usually made with shrimp or chicken, however, the vegetarian option is popular too. It is available on almost every street corner and is a low-cost and delicious meal.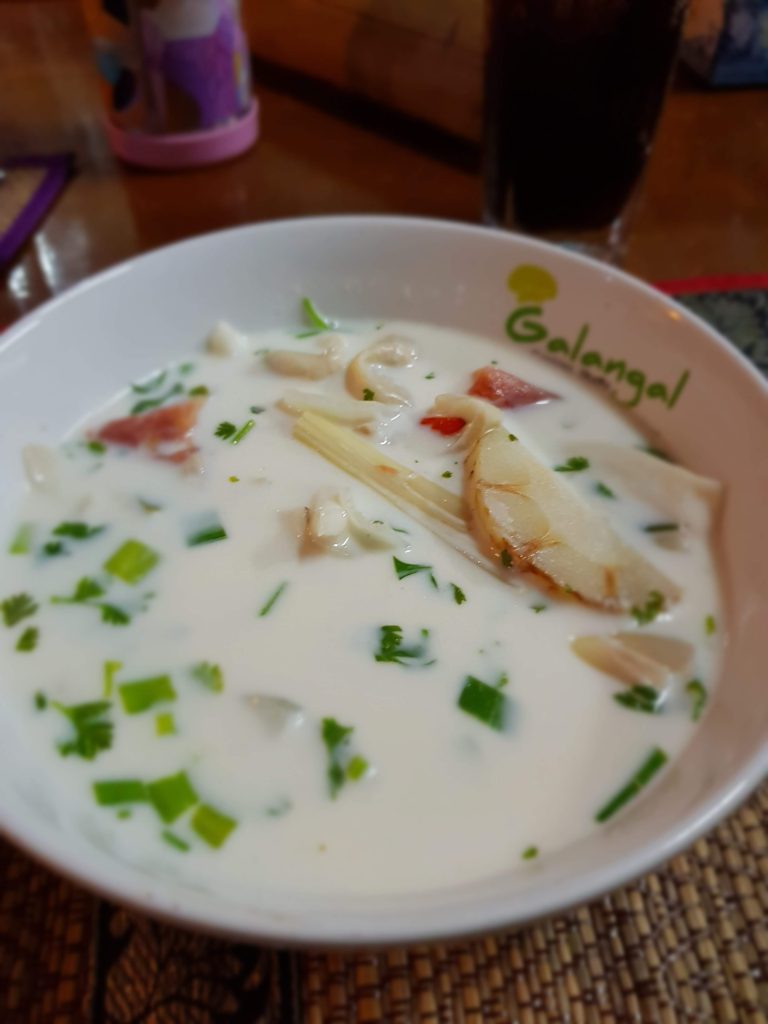 The good thing about Chiang Mai is that you will find street food everywhere in the day and night markets. All those dishes are easy to find and really reasonable.
If you are looking to experience good Thai food in a restaurant then visit The House by Ginger (https://www.thehousebygingercm.com/). They are located in the heart of the old city, Chiang Mai. They offer an authentic and unique twist on traditional Thai dishes.
Visit Chiang Mai
Chiang Mai is a place you will want to keep coming back to; Let the striking mountainous landscape around the city and smiles from its people enchant you.
Guest article written by Lina who currently lives in Chiang Mai, Thailand, as a local she provides insider tips and hidden gems to make your trip to Chiang Mai unique and amazing. This local Perspective of Chiang Mai will inspire you. You can find Lina on Instagram @latinamomtravels.
See you on the next adventure 🙂
Liked it? Pin It!